Woven baskets, mats and hats constitute a small but important part of handicraft textiles. Basketry is one of the oldest and universally practiced art forms to produce useful and artistically beautiful objects. Artisans have preserved their traditional skills over many generations to produce elegant yet strong woven baskets for both functional and decorative use. Baskets are part of the heritage of almost all ancient civilisations and their construction and variety make them desirable decorative home textiles.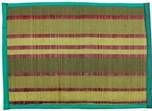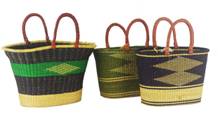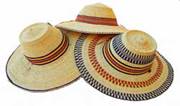 The Indian home textile market of Rs.17,000 cr in 2010 is expected to grow at CAGR 9 % and reach Rs.40,000 cr by 2020. The unorganised sector dominates this market. Home textiles have now transformed into life style items from being just a utilitarian products and their demand is increasing day by day. The handicraft sector plays a significant role in the home textile products and the country's economy. It provides employment to a vast segment of craftsman in rural and semi urban areas and generates substantial foreign exchange, while preserving its cultural heritage.
Traditionally artisans have used natural and locally available material for making such article; usually the fibres are extracted from stems or leaves of plant and are dyed with natural coloring components which are then hand woven to make artistic but useful objects.
Elephant Grass is one of such abundantly available natural material which derives its name from being a favorite food and hiding place for elephants. It is also known as Napier grass and scientifically termed as Pennisetum purpureum, a species of tropical African grasslands which is also found in many parts of Australia, America and Asia.
It has low water and nutrient requirements and therefore can make use of otherwise uncultivated lands. It grows up to 10 feet tall bamboo-like clumps and has yellowish green to purple color. This grass has high biomass production of about 40 tons/ha/year and can be harvested 4 to 6 times a year. The specific advantages of this grass are
Environmentally friendly renewable source
Easy to grow having long life span
Low maintenance cost
Does not need pesticides or fertilisers

Apart from being used for traditional animal feed, this grass finds many uses like pest management, improving soil fertility, protecting arid land from soil erosion, paper pulp production, making handicraft articles and for producing bio-fuel.
Classification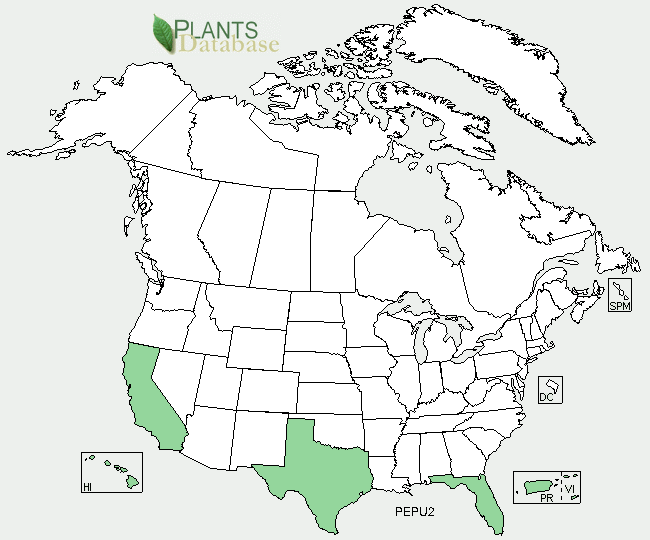 Varieties of Elephant grass are available in nature and their chemical composition varies from region to region and also depends on the time of harvesting. Generally, the protein and cellulosic fibre content decreases while the dry matter content increases as the grass grows old. Generally, Elephant grass harvesting within 60 to 90 days yields material having highest content of crude protein, cellulose, hemicelluloses, and lignin and is best suited for basket making.
| | |
| --- | --- |
| Composition | % |
| Protein | 12.4 |
| Cellulose | 12.3 |
| Hemicellulose | 38.2 |
| Lignin | 10.7 |
| Moisture | 8.8 |
| Dry Matter, Ash | 17.6 |
In India, hybrid elephant grass varieties are also available which are more leafy, fine textured, palatable, fast growing and drought resistant than normal Elephant grass. Hybrid grass contains about 10.2% crude protein and 30.5% crude fibre which make it high-quality forage for cattle.
Basket Making from Elephant grass is well known and practiced commonly in Bolgatanga village located in northern Ghana where they are called Bolga baskets and similar process is practiced in other countries as well. This process requires great practice and skill, as well as serious training before the artisans become weaving expert. The strands of grass are tied in bunches and then dyed using different colors, each part of the basket - the sides, base and handle, needs special straw which is selected after appropriate dyeing.
The uniqueness of these baskets is that they can be "re-shaped" by wetting them with water and then "massaging them back to original shape with open hand. Their robust, bamboo like properties give them desired durability and long lasting sustainability. These baskets are ideal for shopping, storage and decoration. Elephant grass is also used for making table mats, sleeping mats, decorative wall hangings, etc. and can also be blended with cotton or other suitable material.
The Elephant grass is woven by following process:
- Each stalk of straw is split vertically in half
- Two split lengths are rolled and twisted tightly to form a strong strand
- Strands are pre-wetting with suitable wetting agent
- Dyeing with a suitable natural or synthetic dye in a pot
- Drying in open air
- Weaving as per requirement of basket design and size
- Trimming off remaining | extruding straw from the basket
Coloration of Elephant grass
For achieving uniform and level dyeing effect, it is generally recommended to first boil the grass strands in a powerful wetting agent like RUCOGEN WBL (dosage -1 g/l) for 30 min to make then thoroughly wet. This helps improve surface absorbency as well as core penetration during subsequent dyeing.
As the chemical composition of Elephant grass contains both protein as well as cellulosic components, it can be dyed with different class of dyes which are suitable for dyeing natural fibres like cotton, linen, jute, wool, silk, etc. Dyestuffs belonging to chemical class of Direct, Reactive, Acid, etc. can be used for dyeing of Elephant grass.
Considering factors like brightness of shade, surface levelness, dye diffusion inside fibre core, ease of application, simplicity of process and adequate fastness properties (wet and light fastness as the dye should not bleed or fade during handling and use of baskets, mats and hats), Acid and Metal complex dyes are found to score over other class of dyes.
The simple dyeing process involves dipping the Elephant grass strands in required quantity of dyestuffs as per desired shade along with a suitable levelling and an acidic pH controlling agent and boiled for 30 to 60 min depending on desired depth of shade. After completion of dyeing the strands are given a cold wash followed by dyefixing treatment (optional) under acidic pH conditions for 30 min at room temperature and finally air dried.
Given below are generally recommended dyes, chemicals and illustration of self dyed shades on Elephant grass
TULACID | METALAN Dyes - X %
RUCOGAL WSN - 0.5 g/l
RUCO-ACID C - pH between 4 -5
HYDROCOL SUN - 2 3%
TULACID - Acid dyes having excellent uniform level dyeing and optimum fastness properties.
METALAN a range of 1: 2 Metal Complex dyes for simple application process, reliable reproducible results and outstanding wet and light fastness properties.
RUCOGAL WSN specialty chemical to improve uniform level dyeing
RUCO-ACID C - organic acid for optimum pH controlling
HYDROCOL SUN dye-fixer to improve wet fastness properties
Illustrative dyed self shades on Elephant grass: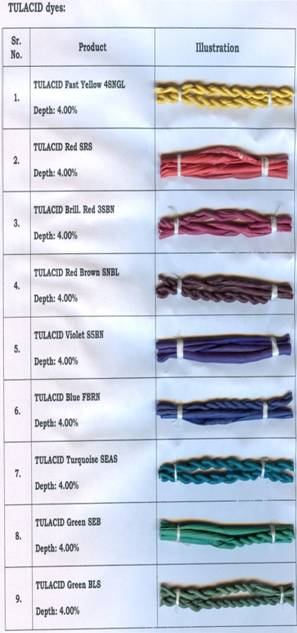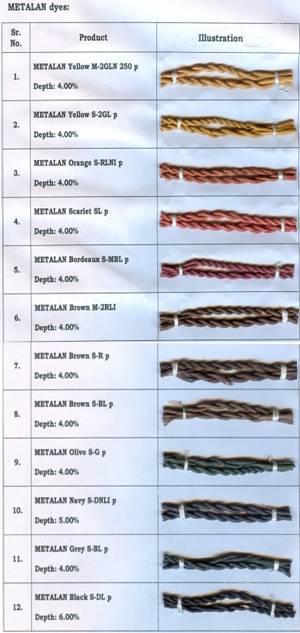 Summary
India has rich heritage of art and craft, each and every part of this country has its own unique handicraft styles. The handicraft sector in Basketry is evolving and creating products according to today's consumer demands. Product diversification and making it contemporary will provide greater satisfaction to the craftsmen. Basket making craft is a traditional heritage providing employment and earning capability to a large number of craftsman from rural area. Overall, the employment in Indian handicraft segment is expected to reach 80 lakhs by the end of 2017 which at present is estimated at 67 lakh.
The Handicraft sector has, however, suffered due to its being unorganized, with the additional constraints of lack of education, low capital, and poor exposure to new technologies, absence of market intelligence, and a poor institutional framework. In spite of these constraints, sector has witnessed a significant growth of 3 % annually. Therefore, dyes and chemical manufacturers like ATUL and RACL have initiated steps to provide dyes application training to make Indian handicraft sector shine at global level.
This art is a major source of income for many artisans. But this sector is still unorganised and decentralised. Collaboration with fashion designing institutes will also support artisans in getting worldly exposure and the traditional art can be retained and saved. Moreover, the new generation of artisans can get different and new innovative ideas which can uplift their economic standard.
Reference
1. Hybrid Napier grass 2. T. Ansah, E.L.K Osafo and Hanne H. Hansen, Agricultural and Biology J. N. Am., 2010, 1(5): 923-929
2. Khan, Z. R., Midega, C. A. O., Wadhams, L. J., Pickett, J. A., and Mumuni, A., Evaluation of Napier grass varieties, Entomologia Experimentalis et Applicata, 2007, 124, 201-211.
3. Deepalayam Dhanapalan, maralika.com/grass/html
4. www.mybolgabaskets.com
5. M.K. Paras and G. Varshneya, handicraft challenges and opportunities, www.fibre2fashion.com
X
MultiCopyPaste
Time to upgrade, it's free!
Simply click on the top left of the extension and register to get access to 10 shortcuts. Your email will remain secure, but we might get in touch for your feedback!
X
MultiCopyPaste
Time to upgrade, it's free!
Simply click on the top left of the extension and register to get access to 10 shortcuts. Your email will remain secure, but we might get in touch for your feedback!