B2C E-Commerce continues growth worldwide, spurred by rapid development of online retail in emerging markets. It is forecasted to top one trillion Euros this year. The leading trends include increasing usage of mobile devices for shopping, growth in cross-border online purchases and use of alternative payment methods by online shoppers worldwide. Apparel is one of the industries benefiting the most from the online shopping boom, being among the most purchased product categories in online retail worldwide.
North America and Western Europe that embraced online shopping first and dominated the global B2C E-Commerce market for many years, now are outpaced by rapid sales growth of emerging markets in Asia-Pacific, Eastern Europe, Latin America, Middle East and Africa. Asia-Pacific is the fastest growing among them and is forecasted to overtake all of Europe in terms of total online retail sales this year and challenge the dominant share of North America within the next several years.
China, India, Indonesia, Mexico and Russia have overtaken the advanced markets of the USA, Japan, South Korea, the UK, France and Germany in terms of growth. Internet penetration and infrastructure in the emerging markets is improving, as consumers gradually embrace the benefits of shopping online. For example, China had a high double-digit growth last year, increasing online retail sales by over two-thirds over the previous year, while in the USA the growth was below 20%. Even so, the US B2C E-Commerce market is still close to double that of China in terms of sales.
A similar tendency is seen in the competition landscape: US-based Amazon.com Inc. remains the global leader by E-Commerce revenues, which are larger than the revenues of the remaining nine companies in the top ten combined. But the growth leaders in the top ten are two Chinese online pure play companies which both conducted IPO this year: Alibaba Group Holding Ltd. and JD.com Inc.
The apparel sector is one of the biggest beneficiaries of the B2C E-Commerce growth. Clothing is one of the most purchased product categories by online shoppers in many countries worldwide. In China, it comprises the largest sector of online retail, accounting for close to a third of all B2C E-Commerce sales and growing at rapid double-digit numbers. In Germany also clothing is product number one by B2C E-Commerce sales which are counted in billion Euros. In the USA, the world's most advanced online retail market; apparel is the second largest product category in terms of sales volume, behind consumer electronics and computers with double-digit sales numbers.
Moreover, clothing B2C E-Commerce has proved to be an attractive market for investment. It has been a leader among online retail mergers & acquisitions in countries such as Russia and Turkey throughout the recent years. The players such as Lamoda.ru, KupiVIP, Sapato in Russia and Markafoni, Modanisa, Lidyana in Turkey raised multi-million investments from companies and organizations including Naspers, JP Morgan, and the World Bank. The most recent highlight of the investment in fashion B2C E-Commerce has been the IPO of the German-based online clothing retailer Zalando.
Even the very traditional luxury fashion segment is starting to embrace the benefits of E-Commerce. The fashion brands of LVMH, Richemont and other luxury groups are gradually 2 launching their own E-Commerce operations and cooperating with online-pure fashion resellers such as the Italian Yoox Group and the UK-Based Net-a-Porter, which both report double-digit figures in revenue growth.
<![if !vml]>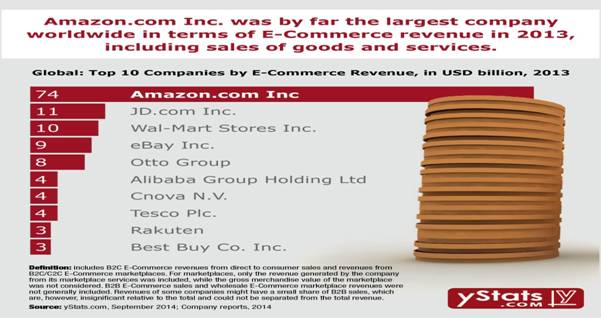 <![endif]>
Some important trends that influence the global online retail market in general and its clothing segment in particular, included mobile shopping, cross-border commerce and the rise of alternative payment methods. M-Commerce is re-shaping the retail industry worldwide, as mobile traffic to retail sites surges and the range of products purchased on mobile grows. According to a global survey conducted last year, books were the category most purchased on mobile among the physical products, followed by clothing. In the advanced markets of Europe and North America the share of M-Commerce on total B2C E-Commerce sales has already reached 10% or even several percentage points above. In the emerging markets where smart phone and tablet penetration is spreading rapidly, mobile shopping is likewise on the rise.
Meanwhile, cross-border B2C E-Commerce is growing to a multi-billion dollar market. Consumers from the USA, Brazil and Australia and other countries purchase directly from online merchants in the UK, France, China and others. Clothing is one of the most popular product categories purchased in cross-border online retail.
Another major trend on the global B2C E-Commerce market that online merchants including from the fashion segment are closely watching is rapid development of online and mobile payments. Offering the most convenient payment methods and adapting them to preferences of online shoppers in different markets is an important point of the successful global B2C E-Commerce strategy. Credit card payments still predominate online, but alternative methods such as usage of E-Wallets is growing at much faster rates than cards. In some emerging markets, non-credit card payments play an especially great role in online retail, including methods such as cash on delivery and in-store payments.
Ms. Tatiana Teplova is Senior Market Research Analyst at yStats.com. Headquartered in Hamburg, Germany, yStats.com is a leading secondary market research organization, committed to delivering up-to-date and objective data on Global E-Commerce and Online Payment markets.