We live in an age that is witness to what many are calling the Third Industrial Revolution: 3D printing, more professionally called additive manufacturing. It has the potential to move us away from the era of mass production and bring us to a new reality of customisable, one-off production. 3D printing or additive manufacturing is the broader term for tool-less manufacturing methods which enables manufacturing of components from 3D model data, usually layer upon layer, as opposed to conventional manufacturing methodologies. This term is also used generically as a synonym for rapid prototyping. The scope of 3D printing is endless from instruments and toys to robots and mechanical parts, there's almost no limit to what a 3D printer can create.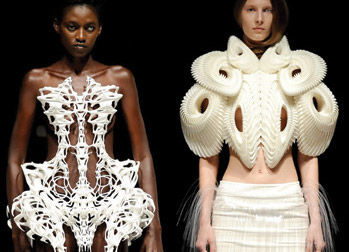 Architects and scientists have been using 3D printing to create models for decades, but it's beginning to show even more potential. From 3D printed buildings to 3D printed hearing aids, this technology could be revolutionary for a variety of industries.
Fashion is no exception, and designers started to experiment with 3D printing around 2010. It is already being used to create new types of art and fashion. It enables designers to produce designs that are complicated, even impossible, to manufacture and this inevitably fuels creativity and innovation. It allows innovation in technique and material and ideas can materialise within minutes, contrary to the traditional manufacturing process. If designers fail with 3D printing, they can easily try again.
Recent successful examples, which have got considerably media coverage, have been the work showcased by Francis Bitonti/Michael Schmidt and Iris van Herpen at Paris Fashion Week.
Architect Francis Bitonti and fashion designer Michael Schmidt collaborated to make a dress for burlesque diva Dita Von Teese. She wore the garment to the Ace Hotel in March for a convention hosted by online 3D printing marketplace, Shapeways. The dress consisted of 2,500 intersecting joint pieces that were linked together by hand. The finishing touches included a black lacquer coating and 12,000 hand-placed Swarovski crystals reflecting Schmidt's iconic glam that attracts a clientele including Madonna, Rihanna and Lady Gaga.
Similarly, Dutch designer Iris van Herpen unveiled 3D printing collaborations on the catwalks of Paris Fashion Week with a leading manufacturer of 3D printers for prototyping and manufacturing and a pioneer in additive manufacturing solutions.