The state minister for textiles announced the government's plans at the recent Consortium of Green Fashion event in Mumbai. And as the event itself showed, sustainable fashion is fast gaining currency among students and experts alike, says Meher Castelino.
Maharashtra may soon establish a textiles park dedicated solely to eco-friendly products. The indication came at the recent Consortium of Green Fashion (CGF) 2015 in Mumbai where the state textiles minister made a case for the sustainable fashion cause.
"Eco-friendly textiles production is the need of the hour, and a textiles park dedicated to eco-friendly products needs to be established," said Minister Chandrakant Patil at the opening ceremony of CGF, organised by Maharshi Karve Stree Shikshan Samstha School of Fashion Technology (SOFT), Pune and Nirmala Niketan College of Home Science, Mumbai.
"The state government is committed to this, and will establish special textile parks for the creation of eco-friendly textiles. The government will lend special support for establishing such industries," announced Patil. The minister also appealed to fashion design students to conduct more research, geared towards the maximum implementation of eco-friendly initiatives. He noted that 'recycle, reuse and reduce' should be the key in designing.
Sustainability in fashion is becoming a trend to watch out for worldwide, and India too is making efforts to bring to the forefront not only the use of organic cotton and fabrics; but also to help in preserving environment and assisting textiles and crafts persons survive in a competitive and fast-moving world. The many initiatives taken by designers, institutes, experts and the government seem to be on the right track, with new plans being chalked out to take this very important agenda ahead.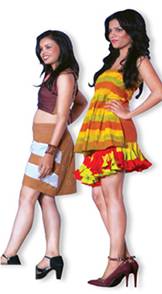 This trend was there to see at the third edition of CGF. The event hosted representatives from renowned institutions, besides fashion designers from Germany, Italy and England. Nearly 1,000 students from 11 fashion institutes across the country participated in this initiative.
"The CGF is a unique sustainability movement, and will achieve noticeable success. We are targeting fashion institutes from where future designers of India are emerging," said Manju Hundekar, Principal of SOFT, and the driving force behind CGF since inception.
Don't follow trends, but highlight traditions
The panel discussions were based on the key concept of 'Benefits of Green Fashion in Environmental, Economical and Social Areas'. The event witnessed the coming together of fashion designers and industry experts such as designer/industrialist Ben Carlton Ramsden from England, Sudha Dhingra (chairperson-Department of Textile Design, NIFT, Delhi), designer Shruti Sancheti, designer Benjamin Itter from Germany, designer Durgesh Jadeja from Rajkot, designer Hemang Agarwal, Rahul Mehta (president-Clothing Manufacturers Association of India and International Apparel Federation), designer Philippe Werhahn from Berlin, Rajesh Balakrishnan (chairman, CGF and CEO Pidilite, Mumbai) and designer Rahul Mishra (first Asian who won the Woolmark Award via video conferencing at CGF).
The panel discussions, on the second day, started with presentations by three experts. Ramsden from the UK brand 'Pants to Poverty', an active underwear brand for men and women started in 2005, revealed how fashion can change the world from "Cotton to Bottom", which is his tagline for the programme. Ramsden has been in India to meet farmers for organic cotton farming, and is helping build India into an organic cotton growing country, besides engaging the supply chain into the movement.
"Some 66 countries came together to form the Organic Cotton Association (OCA) in April 2014 when a fashion initiative called 'Who Made My Clothes' was started to promote transparency among the consumers who should know where their clothes come from and how business is done. On April 24 this year, 62 countries will again take part in this movement," said Ramsden, who is planning to launch a sustainable fashion brand in India.
Dhingra spoke on crafts and green design where the balancing of the five elements is necessary. Dhingra has done her PhD in 'Revival of Natural Dyeing' with Aal (Morinda citrifolia) and handloom weaving in Bastar and Kotpad regions of Chhattisgarh and Odisha. "Green fashion equals sustainability, while crafts/textiles are the largest economic activity after agriculture. The strength lies in flexibility of production and knowledge transfer. This allows for women's empowerment and generates employment, checks migration, and promotes economic growth with low carbon footprints," she said, and gave the example of Panikar village in Kotpad where the dyeing process is done through solar energy and with root barks which give five different shades of red.
Sancheti, connected with the Weaver's Centre in Nagpur, spoke about her 'Pinnacle' label and how fashion should not impoverish the planet. "At times eco-fashion is considered drab and colourless. Designers should ideally be organic, but at times fast fashion, product price points, promotions and places change all this." Sancheti, who works with the Maharashtra State Handloom Weavers Association as well as those in Andhra Pradesh and Madhya Pradesh, emphasised, "Don't follow trends, but highlight traditions. Don't follow the West, which is boring. Engage local bodies for crafts and weavers for every collection using natural dyes and block printing."
The second session had a mixed line-up of speakers. Durgesh Jadeja, fashion designer and PRO of the Udyok Bharti brand in Gondal, Gujarat revealed how the company which was started in a rented room with 11 looms in 1957-58 by Haribhai, now has 2000 women working on the semi-automatic pedal foot-looms. The company supplies handspun woven denim to Levi's, Arvind and Shoppers Stop. The indigo dyeing is organic, and the company also makes uniform fabrics and is a pioneer in khadi production.
Benjamin Ittar of Lebenskleidung Berlin, a GOTS-certified textiles agency which manufactures certified fashion collections in collaboration with partners in India and Turkey, stated how ambition was important in bringing together critical market power, cooperating with all stakeholders, and creating reliable ambitious partnerships.
Designer Krishna Mehta said, "You give back what you take." Be the voice for change, use handlooms, she advised. Mehta has worked extensively with weavers of Maheshwari and the handlooms of Manipur. Her work at Palak in Palanpur, Gujarat revolves around training women who are mentally, hearing and speech challenged. Social responsibility through creating incomes along with team effort is the key to change, she felt.
The final session was a discussion with moderator Itter driving the discussions on how to take sustainable fashion forward and make craft attractive. Hemang Agarwal, managing director of Surekha Group and Trident Honda, Varanasi, creators of premium apparel and fashion textiles, felt students should focus on textiles and crafts. Ela Dedhia, president-chairperson of CGF, hoped that the vision of CGF would continue. "It's a great platform for organic fashion and craft council groups, institutes working with crafts. More competitions and associations with craft groups will help."
Rising Stars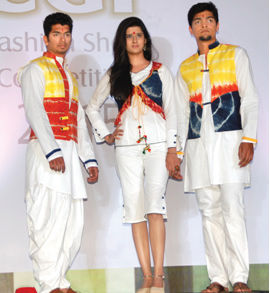 On February 8, the first day of CGF, Nirmala Niketan conducted for its students 12 different competitions based on the concept of green fashion. These competitions saw the participation of around 600 students from various fashion institutes. The competitions included 'Bagovation', 'Block it Up' as well as 'Paithani meets Innovation', 'Tie and Dye', 'Wastessories', 'Boycott Brushes', 'Wise with Structures', 'Photorgreenic', 'Greenography', 'Paint your Patola' and 'Green Act'.
'Wastessories' was a unique competition wherein one had to make fashion accessories from scrap. This event saw Mumbai's SVT College emerging as the winner and SOFT and Nirmala Niketan as co-runner ups.
Mumbai's Sophia College bagged the first prize in 'Tie and Dye' competition and Aurangabad's Beau Monde College bagged the second.
In the 'Bagovation' competition, SOFT won the first prize while the students of PVP Polytechnic, Mumbai won the second.
'Block it Up' was won by Beau Monde, Aurangabad for the block print designs while for 'Paithani meets Innovation', 'Boycott Brushes', 'Wise with Structures' and 'Paint your Patola' it was SOFT Pune that walked off with the awards.
'Greenography' and 'Photogreenic' contests were won by Nirmala Niketan. For 'Green Act' it was SOFT Pune and Nirmala Niketan who won the prizes.
Thesis were presented by students and professors on key subjects such as fabric-based jewellery - a way to reuse fabric waste', 'Integrating Indian craft, design and CSR' and 'Pre-consumer textile waste - Thrash to Treasure'.
Along with these events to encourage traditional crafts, there was a craft market where craftsperson from Gujarat and Maharashtra displayed their products and there was a rush to buy them during the two-day event. Woollen shawls, scarves with block prints, handmade bags, jewellery, home dcor items and even organic foods were on sale.
Green Fashion Quiz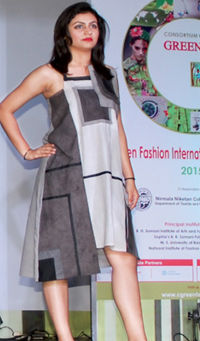 The fashion quiz hosted by fashion Journalist Meher Castelino for the second year was a great success with six teams of three students each from six fashion institutes fending questions related to sustainable fashion, past, present and future trends. Textiles expert Benjamin Itter also quizzed the students on some vital organic terms. It was a closely battled contest with two institutes sharing the first prize - Hardika Parmar, Snigdha Yavatkar, Disha Hegde from School of Fashion Technology, Pune and Miral, Manshi, Sunaina, Tejal from MS University, Vadodara. For the second place too, there was a tie with Zainab, Mohadessa, Eleesha from Nirmala Niketan, Mumbai and Riya Bhansali, Karishma Jain, Kirti Visharia from BDSomani Institute of Fashion Technology, Mumbai sharing the award.
CGF Designer Contest
On the first day, one of the highlights of CGF 2015 was the fashion contest when students from different institutes presented their collections of six garments each, and showcased their versions and creativity in promoting sustainable fashion with "Recycle, Resuse and Reduce" as the theme. The students could dye, treat and embroider the fabrics as per their requirements for the collections.
What was interesting about the contest was that 250 metres of the same natural batiste and heavy poplin fabrics were given for the ten collections by Benjamin Itter's company Lebenskleidung, which helps Indian farmers to make organic fabric for export. This gave a level playing field to all institutes where their creativity was tested in making the most of the same fabric in the best possible way.
Angular Rhapsody in white and grey patchwork featured loose boxy shapes for the men's and women's wear and emphasised minimal wastage of fabrics by using every tiny scrap, thus winning the Most Commercial Award.

Three Cheers was inspired by the galaxy, where contemporary silhouettes for short shift dresses were given the hand-dyed and rinse treatment for the women's and children's wear. The patchwork from waste fabrics created a great pattern, which won the collection the Most Sustainable Collection Award.

When it came to the Jury Award, it was the very unconventional Z Moms that showed the white with gold zipper detailing maternity wear collection ideal for pre and post natal clothes, which a woman can wear with the help of zip adjustments.

The Best Design Collection Award went to From Nothing To Everything where multiprint patchwork was interlocked into squares for bermudas, dresses, jackets, skirts and waistcoats with a solid base in khaki and brown.

The other eye-catching collections were Red Romance inspired by the rose where red, white and green came together to recreate the petal effects of the very theatrical collection.

Snow Zone, a mix of white and maroon stripes for midis and minis with cutwork on sleeves and collars along with accents on the hips in black and white, compared the different phases of snow with a woman's growing years.

Squander less Journey, a fluid indigo natural dyed collection of free flowing wrap dresses, asymmetric hemlines and interesting dyeing patterns had touches of batik. Mili Bhagat paid tribute to the ajrak as well as tie and dye crafts for waistcoats, boleros, bundis and cholis teamed with white kurtas and churidars.

The East Meets West collection with Indian prints in shades of orange, brown, yellow for blouses, pants and smart waistcoats was a good fusion offering.

Finally, a social cause was the theme of the collection They Went To School And Never Came Back making a plea for anti-terrorism and the underprivileged children. The line of kidswear with multicoloured handprints along with slashed denim, waistcoats, pants and shirts got the message across.