The health of the apparel market has improved since the times of the recession of 2008-2011, but it has been a slow, though steady, progress so far. Subir Ghosh looks at the global apparel industry buoyed by a healthier US economy, especially given the possibility of the Trans-Pacific Partnership (TPP) becoming a reality, the announcement of the Foreign Trade Policy (FTP) which was a disappointment for the Indian textile and apparel industry, and the state of the industry in other BRIC nations.
It's getting better; maybe marginally, but better nonetheless. The global apparel industry is expected to grow at 3.5 per cent. The rate of growth will be the same as that last year, marking a leisurely but steady recovery process. In 2013, the industry had grown at 3 per cent, and 2.5 per cent the previous year. The period between 2008 and 2011, during the peak of the global downturn, had seen the growth rate of the industry dwindling to a paltry 1 per cent. The worst, on the face of it, is over.
A quarter into the calendar year, and stepping into the new financial year, it would be pertinent to look at a few challenges, and also at a few trends that may have a bearing on the global apparel industry.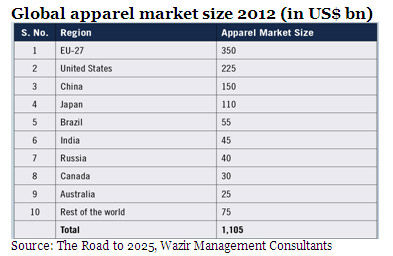 Broadly speaking: How the global dynamics will play out
The global apparel market is stable, but fortunes are likely to be mixed, contends market research provider Euromonitor International. Its 2015 'Apparel and Footwear' edition, released late March, says consumers worldwide spent $1.7 trillion on fashion in 2014, an increase of 4.5 per cent over 2013, at fixed US dollar prices. The estimate is about the fashion industry as a whole, but the numbers do indicate resilience in the market. This is where hope for the industry lies.
The country that can singly tilt the balance is, expectedly, China. It is this same country that now holds a mixed bag, and its fortunes through this year are expected to be mixed. Last year, China registered its slowest growth in a decade. In spite of the sluggish growth, Euromonitor expects it to overtake the US as the largest apparel and footwear market in 2015. China's problems lie not in growth, but in consumers who are fast becoming like their Indian counterparts: price-sensitive and ever-demanding.