The lack of an established supply chain is hampering growth of the innerwear industry. The shortage of high quality raw material for innerwear means brands which focus on quality need to import raw material or entire finished goods, thus increasing the costs and also impeding their ability to price the product attractively in order to drive greater penetration. The innerwear sector has much to contribute to the 'Make in India' initiative, and the latter in turn can be used as a ruse to streamline matters within the industry, writes Suman Nathwani.
It is no secret that the Indian innerwear market is the only market that has more number of brands for men than women. And there are reasons for this.
The Indian innerwear market is one of the most unique markets in the world. In all likelihood, it is the only one where men's innerwear brands are larger in image than women's intimatewear brands. Also, men's innerwear companies spend much more on advertising than women's innerwear brands do. However, it is a fact that the men's brands have been in existence in India for a very long time, whereas lingerie brands have surfaced only in recent years.
There is probably no major Hindi film actor who has not been a ambassador for a men's innerwear brand. In fact, in recent years, this phenomenon has only accelerated. On the other hand, women's innerwear has scarcely been advertised even in print media, and rarely ever on television. It is only recently that a couple of brands have released their TV advertisements.
At a fundamental level, we can say that the reasons behind this lopsided gender bias are more cultural in a male-dominated society. There are hardly any brands that focus only on women; this is because they have historically not been the real consumers, and also because they have limited access to discretionary spending power in their respective households.
Nevertheless, the challenges that women's innerwear market faces in India are not limited to culture; those have a lot to do with market forces as well. While the cultural issues at hand are complex and they would take their own time to resolve, we as marketers should focus on what is in our control. In my opinion, there are three areas that need to be targeted for serious growth of the women's innerwear market - product, communication, and retail.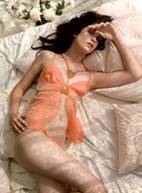 <![endif]>In case of products, Indian women have been starved of any serious product offerings from most Indian brands. These brands have only focused on fulfilling the basic needs of consumers and have failed to expand the market beyond that. It is only with the arrival of brands like Triumph that Indian women have learned about variety and elementary stuff like sizes. These efforts have not only led to some triggers in the demand, but also shaken incumbent Indian brands in adding some variety to their stagnant offers. Yet, the market is tiny as compared to its potential.
Second, communication is harder to address due to the high costs of media and other means of brand-building. Since communication requires educating about functional differences, fashionability and USPs of a particular brand, this needs serious spending and that too on a sustained basis. So far, not many brands have shown that boldness or courage. Also, I don't think one or two brands can change that equation. It would be great if there are at least a hundred-odd brands like in the case of men's innerwear that start communication campaigns all at the same time and continue that for years; that is when the market will really explode.
The last challenge revolves around the lack of availability of quality retail space. Even international brands could not bring in or offer their full range in the Indian market due to distribution and retail constraints. India is probably the only market where women used to and still buy bras in packs of six. The reason is that the whole experience of buying innerwear used to be, and continues to be, in large pockets of the country, so bad that most women wish to get over with the buying process quickly.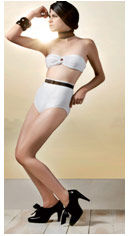 <![endif]>Also, since most women don't know what all different products are available and what is the differentiation, they rather buy tested and proven ones all the time and keep repeating the brand, size and style. This is certainly not conducive for the growth of this category.
The good news, however, is that online retailing offers answers to all the three issues. An online store allows a brand to explain the product in as much detail as required with no limit on copy or column space. Also, an online store allows showcasing as much range as a brand would want without worrying about retail rentals and related costs. And, the consumer gets the convenience of shopping any time, thereby avoiding the prying eyes of sales people at stores. They even have the option of picking from never-seen ranges, and trying out stuff that they didn't even know existed. It is a dream situation for the women's innerwear category to have found solutions to its most challenging issues in online retail. As trends indicate, buying intimatewear will move considerably online in the years to come. However, it will require many more players to open online stores and reach out to the women of India to offer them what they truly deserve.
This is essentially an instance whereby one can both 'Make in India', as well as have a need to make "for" India. Both domestic and export fronts can make the best of the situation. The scope is phenomenal. Most Indian women in rural areas live and work without wearing a bra. There should be awareness campaigns explaining to and educating women about the importance of wearing one. Many women in rural areas also don't wear a bra because they cannot afford one. Indian lingerie companies should make low-cost bras targeting rural markets too to increase the sale of innerwear and expanding the intimate industry in both urban and rural sectors. This will definitely add up to the expansion of the intimate industry in India.
Besides, companies like Victoria's Secret, Calvin Klein and Jockey have manufacturing units in India. Thousands of Indian labourers work for these companies, which have high sale rates abroad than in India, and most of the products manufactured here are exported, marketed and sold abroad.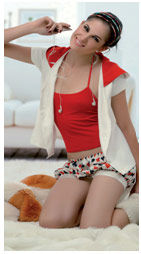 <![endif]>Since India has a large workforce in the lingerie sector, why can't Indian investors invest in this industry thereby pushing it into a position where foreigners would buy their lingerie products manufactured by an Indian company? This is where the innerwear industry needs to go in for an exports push, and ensure that it does not let the 'Make in India' opportunity pass by.
There are other factors to be taken into account as well. For instance, the premier National Institute of Fashion Technology (NIFT) has only a 3-6 month crash course on lingerie. Fashion colleges should come up with a separate course for lingerie, and fashion students should be given placements in this industry. Many students are lured by international companies and have migrated to other countries for better job prospects.