The lack of an established supply chain is hampering growth of the innerwear industry. The shortage of high quality raw material for innerwear means brands which focus on quality need to import raw material or entire finished goods, thus increasing the costs and also impeding their ability to price the product attractively in order to drive greater penetration. The innerwear sector has much to contribute to the 'Make in India' initiative, and the latter in turn can be used as a ruse to streamline matters within the industry, writes Suman Nathwani.
It is no secret that the Indian innerwear market is the only market that has more number of brands for men than women. And there are reasons for this.
The Indian innerwear market is one of the most unique markets in the world. In all likelihood, it is the only one where men's innerwear brands are larger in image than women's intimatewear brands. Also, men's innerwear companies spend much more on advertising than women's innerwear brands do. However, it is a fact that the men's brands have been in existence in India for a very long time, whereas lingerie brands have surfaced only in recent years.
There is probably no major Hindi film actor who has not been a ambassador for a men's innerwear brand. In fact, in recent years, this phenomenon has only accelerated. On the other hand, women's innerwear has scarcely been advertised even in print media, and rarely ever on television. It is only recently that a couple of brands have released their TV advertisements.
At a fundamental level, we can say that the reasons behind this lopsided gender bias are more cultural in a male-dominated society. There are hardly any brands that focus only on women; this is because they have historically not been the real consumers, and also because they have limited access to discretionary spending power in their respective households.
Nevertheless, the challenges that women's innerwear market faces in India are not limited to culture; those have a lot to do with market forces as well. While the cultural issues at hand are complex and they would take their own time to resolve, we as marketers should focus on what is in our control. In my opinion, there are three areas that need to be targeted for serious growth of the women's innerwear market - product, communication, and retail.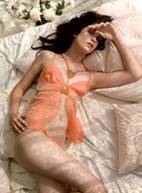 <![endif]>In case of products, Indian women have been starved of any serious product offerings from most Indian brands. These brands have only focused on fulfilling the basic needs of consumers and have failed to expand the market beyond that. It is only with the arrival of brands like Triumph that Indian women have learned about variety and elementary stuff like sizes. These efforts have not only led to some triggers in the demand, but also shaken incumbent Indian brands in adding some variety to their stagnant offers. Yet, the market is tiny as compared to its potential.