Karur has become synonymous with handloom "made-ups" like Tirupur is known for hosiery products. Handloom exports from Karur began on a modest scale with just 15 exporters in 1975, and today Karur has thousands of exporters and products are supplied to world's leading chain stores. Additionally, the Karur Textile Park is a unique facility, says V Ananthapadmanaban, CEO, Karur Textiles Manufacturers Exporter Association.
Karur, one of the oldest towns in Tamil Nadu, has played a significant role in the history and culture of Tamils. Its history dates back over 2000 years, and was a flourishing trading centre in the early Sangam days. It was ruled by the Cheras, Gangas, Cholas, Vijayanagara Nayaks, Mysore and British successively.
The town of Karur, situated on the banks of Amravati, is a municipality and headquarters of Karur district. The district itself has a very rich and varied cultural heritage, and is famous worldwide for its hand-woven home textile products. According to the 2011 census, Karur municipality had a population of 10 lakh, and a literacy rate of 78 per cent against the national average of 59.5 per cent
The home textiles of Karur can broadly be classified into five groups: bed linen, kitchen linen, toilet linen, table linen and wall hangings. Overall, Karur generates around Rs 6,000 crore ($300 million) a year in foreign exchange through direct and indirect exports. With allied industries like ginning and spinning mills, dyeing factories, weaving, around 3 lakh people are employed in and around Karur.
On the international textiles map, Karur has become synonymous with handloom "made-ups" like Tirupur is known for hosiery products. Handloom exports from Karur began on a modest scale with just 15 exporters in 1975, and today Karur has thousands of exporters and products are supplied to world's leading chain stores like Wal-Mart, Target, IKEA, JC Penny, Ahlens, Metro, Carrefour, etc. Today, the Karur Textiles Manufacturers Exporter Association has a membership base of 143.
Approximately 600-700 small-medium and micro enterprises are engaged in the textile export business. Most of these units are family-oriented enterprises and have presence in the entire value chain of the production processes. By and large, these are spread in a 40 km radius of Karur.
The Karur Textile Park Limited (KTPL) project has been implemented under the Scheme for Integrated Textiles Park (SITP) of the Ministry of Textiles. This is one of the ten textile parks that have been approved for Tamil Nadu. The main activity in KTPL is weaving of fabrics for home textiles made-ups. KTPL is located near Manalmedu (Thalapatti and Puthampur villages) which is about 12 kilometres from Karur town, and is spread over an area of 110 acres.
The textile park was inaugurated on February 26, 2011, with a grant of Rs 40 crore from the Union government and Rs 9 crore from the state government. The approved project cost is Rs 116.10 crore, but the actual amount spent for this project so far has been Rs 135 crore. Apart from this, an investment of Rs 100 crore has been made by members towards machinery in their units. Therefore, the total investment made in the park comes to around Rs 235 crore.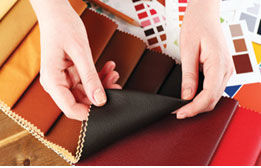 <![endif]>Karur Textile Park is unique as the following activities are undertaken in the campus itself, and no such operations are carried out in parks elsewhere in the country: yarn procurement; hank to cone winding and cone to cone winding; warping; weaving; fabric checking; cutting; sewing; folding and packing for export. Contracts are awarded through formal tender procedures, and all the works are completed in full.
The estimated direct employment for KTPL is expected to be 3,000-5,000, and indirect employment is for about 10,000 people. The villagers within a 20 kilometre radius are expected to benefit from this opportunity. Currently, about 1,500 employees are directly employed by the units in the textile park.
Ten-fold path towards achieving potential
<![endif]>

Requirement of skilled manpower training to empower existing unskilled, semi-skilled manpower

Removal of bottlenecks in establishing home textile industries, which need a textile processing park with the support of government agencies

<![endif]>

Uninterrupted power supply

<![endif]>

Industry-friendly and marketable textile industry policy

<![endif]>

Basic infrastructure to be improved at cluster level

<![endif]>

Improving town infrastructure along with good water supply, sanitation, maintainable road facilities, increased rail connectivity, etc

Reducing complicated government compliances

<![endif]>

Availability of raw materials in standard price / fluctuations to be controlled at least for the quarter

<![endif]>

Control in forex currencies through a standard mechanism

Value addition to the existing marketable home furnishing products
Certifications of Karur industries
Most exporters in Karur adhere to international certification requirements as per the customers' needs. The common certifications include the following:
<![endif]>

SA 8000 - Social Accountability System

<![endif]>

ISO 9001 - Quality Management System

<![endif]>

ISO14001 - Environment Management System

<![endif]>

OHSAS 18001 - Occupational Health & Safety Assessment Series

<![endif]>

OEKO TEX 100

<![endif]>

C-TPAT / GSV - Customs Trade Partnership Against Terrorism

<![endif]>

ORGANIC - Global Organic Textile Standard (GOTS)

<![endif]>

ORGANIC - OE Organic Exchange

<![endif]>

COC - Code of Conduct of the respective Buyers

<![endif]>

Fair Trade

<![endif]>

Reach

<![endif]>BSCI
Some features of Karur Textile Park:
<![endif]>There will be 35 factory buildings in KTPL. These 35 units will operate here permanently in addition to their existing main factories in Karur, so as to handle more orders. Three types of factory buildings are being constructed. The sizes of plots and number in each plot size are:
| | |
| --- | --- |
| Plot size | No. Of plots |
| 1 acre | 22 |
| 2 acres | 7 |
| 3 acres | 6 |
<![endif]>

An exclusive Admin Block to handle the operations of the Park

<![endif]>

In the Amenity Building area, outside the park compound wall, there would be the following facilities:

Canara Bank branch with ATM facility (functional since March 2011);
Sewage Treatment Plant has been installed and functioning to treat sewage waste from units inside the park;
Overhead tank with 1 lakh litre capacity sump has been constructed and is in use for the water requirement of the whole park;
A rainwater pond has been dug up for rainwater harvesting.


<![endif]>

Other facilities planned are listed below. The constructions of the buildings have been completed.
| | |
| --- | --- |
| Facility | Remarks |
| Hospital | Hospital facility- free for employees working in the units |
| Pharmacy | Full-fledged pharmacy attached to the hospital |
| Restaurant | Food items at concessional rates for employees of the units |
| Departmental stores | Provision and other items are also available for employees at concessional prices |
| Readymade shops | Readymade clothes are also sold for employees of units at concessional rates |
| Crèche | This would take care of the children of the female employees of the unit |
| Saloon | For employees of units and nearby village residents |
| Children's park | For children |
<![endif]>

The highlight of KTPL is that people from nearby villages can avail of these facilities, which can also be used by the mobile population on NH-7 since the Park is situated on the Karur-Madurai Highway.

<![endif]>

The water supply has been arranged from Kodaiyur, off Amaravathi River, and pipelines have been laid for the supply of water to individual units.

<![endif]>

A lot of trees have been planted inside the campus.

<![endif]>

The main roads are 30 metre wide and sub-roads are 20 metre wide. All roads have been laid.

<![endif]>

Rainwater drainage and sewage lines have been laid properly and are in use.

<![endif]>

KTPL has procured its own EB transformers and handed over to TNEB. The cost of LT line cabling and the UG cabling have been borne by KTPL.