The long-awaited Trans-PacificPartnership (TPP) has been signed, and is likely to cause an upheaval in globaltrade equations. Though it has not yet been ratified by lawmakers of the 12member countries from the Pacific Rim, the TPP can upset Indias exportapplecart a bit. This news comes in the backdrop of the Parliamentary StandingCommittee on Commerce currently studying how India has been engaging with freetrade agreements (FTAs). The subject of FTAs has been repeatedly figuring inthe news of late following the dismal export performance consistently over ninemonths. The Parliamentary panel may take some time before it submits thefindings, but the subject is worth taking a look at right away, writes Subir Ghosh.
The dropin oil prices and the overall demand downturn has been taking a toll for awhile now, and the numbers that were announced by the ministry of commerce inSeptember were discouraging: India's overall exports declined 20.7 per cent to$21.3 billion in August compared to the corresponding month last year. Textilesexports too shrank by about 7.3 per cent to $1.28 billion in August. Thetextiles industry, like 22 other sectors which have declined, has reasons toworry. During September, textile exporters urged the government to take urgentsteps to boost exports, and strike a free trade agreement (FTA) with theEuropean Union that has been hanging fire for ages.
Even asdemands were being raised and concerns voiced came the news that theTrans-Pacific Partnership (TPP), which was being negotiated for years, had beensigned. The TPP will be the biggest trade agreement struck since the 1994completion of the Uruguay Round, which created the World Trade Organization(WTO), and does not include China and India, two of the largest economies. TheTPP is likely to have an adverse effect on India's textile and apparel exports,among other sectors.
Theissue of FTAs is therefore back in the limelight, and probably for goodreasons. It is also time to take stock of the situation in terms of existingand possible FTAs.
Indiahas 15 existing trade agreements and is currently negotiating another 11 invarious forms. In 2013, India's trade in goods with its various FTA partnerswas about 35 per cent of its total trade, while exports were about 33 per centand imports 37 per cent. This figure has not registered much change in the lastten years. While some comprehensive FTAs with countries like Japan (2011),South Korea (2010), and Malaysia (2011) came into effect after 2005, figuresunfortunately indicate that India has not benefited much in trade in goods fromthese trade agreements. If that is not all, according to the Asian DevelopmentBank (ADB), the utilisation rate of India's FTAs varies between 5 and 25 percent, which is one of the lowest in Asia. Herein actually is opportunity fortrade and consequent growth.
Moves,anyway, are afoot to amend matters. The Parliamentary Standing Committee onCommerce is currently looking at 'India's Engagement with Free TradeAgreements', and is expected to recommend a number of course-correctionmeasures. However, it may be a while before the 31-member Parliamentarycommittee headed by Rajya Sabha MP Chandan Mitra places its report in theHouse. In its submission to the committee, think-tank CUTS International whichworks considerably on the issue of international trade had pointed out,"The government should revisit these trade agreements through cost-benefitanalyses including sustainability impact assessment of FTAs being negotiated orto be negotiated and regulatory impact assessment of existing FTAs. Whilenegotiating new agreements, particularly deeper FTAs with developed countries,India needs to set its targets clearly and take steps for improving itsdomestic preparedness, particularly those of regulatory bodies.
"Forinstance, due to an unfavourable exchange rate regime and low differencebetween referential and MFN tariff rates in Japan, India-Japan CEPA is notcreating more market access opportunities for Indian products, but withdiligent application of safeguards, careful selection of products/ servicessectors and complementary policies to attract Japanese investment withtechnology transfer, it is expected that there will be a huge overall gain tothe Indian economy."
While it is a good idea not to put all eggs in one basket (i.e. not hinging all hopes on a single FTA), critics have wondered whether India has been spreading itself too thin (with far too many trade agreements, some of which are at loggerheads with one another). The solution would obviously be a judicious mix; but with international trade politics always being in a flux, finding that well-judged mix is easier said than done. Nevertheless, it might be a good idea to run through the choices that one has at hand.
An agreement too far
When the Indian government in August called off FTA talks with the European Union after the 28-nation bloc banned over 700 pharmaceutical products from India, many hopes were dashed. Trade politics aside, among those hit the hardest over the deadlock were Indian textile and apparel exporters. While political leaders from both India and members of the EU have expressed hope that negotiations would resume soon, it may be a while before there is a thaw in trade relations.
<![if !vml]>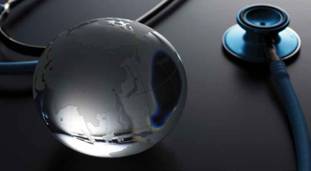 <![endif]>
A statement issued after German Chancellor Angela Merkel met Prime Minister Narendra Modi in New Delhi in early October for the third inter-governmental consultations emphasised how the two sides had "underlined their strong commitment to the European Union-India Broad Based Trade and Investment Agreement and committed to bring about a resumption of the negotiations as soon as possible".
Negotiations over the India-EU Free Trade Agreement, or the Broadbased Trade and Investment Agreement (BTIA) as it is officially called, had been launched in Brussels in June 2007. The EU is also the largest source of FDI inflows into India, accounting for over one-fourth of the total investments.
The EU is one of India's largest trading partners and an investment source too. According to provisional data released by the ministry of commerce for April-August this year, EU countries accounted for Rs 119,212.93 crore worth of exports, which was 16.74 per cent of the total exports basket. The EU is also the largest destination for Indian textile and apparel exports. Total exports to the EU fell 4.47 per cent in April-August compared to the same period last year. With the impasse over the FTA talks, there are apprehensions that the decline might continue, given the economic slump in Europe as well. One of the reasons why Indian exporters have taken a hit on the EU front is the preferential access given to some countries including Bangladesh, Cambodia, Pakistan, South Korea, Turkey and Vietnam. Moreover, discriminatory import duties on Indian textiles in important markets like China and Canada have also hit exports from India. In fact, India has been losing both ways since countries like Bangladesh import cotton and yarn from India to produce textiles and then ironically compete with Indian apparel exports to developed countries, especially those of the EU. The demand of Indian textile and apparel exporters is clear: the preferential treatment given to competitors should be withdrawn, and cotton textiles of Indian origin should be treated at par with others.
Moreover, the EU at present levies an import duty of 9.6 per cent on garments and 5 per cent on other textile items from India, which would end as soon as an FTA deal is struck. India imposes about 10 per cent duty on fabric or garment imports from the EU. Since apparel imports from European nations are negligible and limited to high-end branded clothing, the industry in general feels that the proposed FTA would result in better market access for Indian textiles in Europe. There are many contentious issues that need to be sorted out, among them being taxes in India itself. This can possibly be the first to be sorted out if the Goods and Services Tax (GST) is rolled out by 2016. Even that is uncertain.
The failure to conclude the EU-India BTIA will mean an opportunity lost, and a colossal one at that.
Region-wise exports (in Rs crore), as of September 29, 2015
<![if !vml]>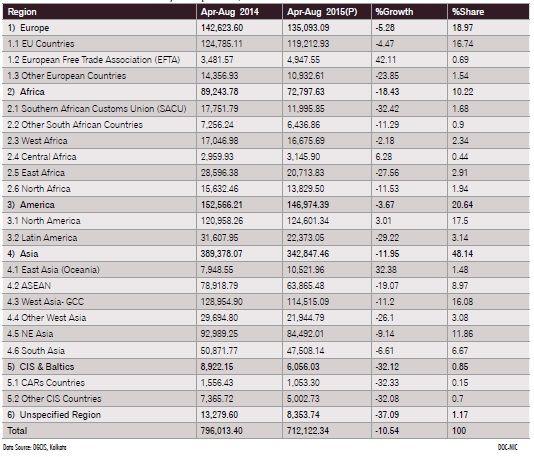 <![endif]>
The age of mega treaties
The yearning for an FTA with the EU is understandable. It is like a low-hanging fruit - considerably easier to reach than other bigger ones that seemed too far-fetched at the moment. The Regional Comprehensive Economic Partnership (RCEP) is one such trade pact. The RCEP negotiations were launched only in November 2012, and it would take time to take shape. Nevertheless, the RCEP has been making into the news as an alternative bloc to the TPP.
The RCEP would include more than 3 billion people, have a combined GDP of about $17 trillion, and account for about 40 per cent of the world trade. The FTA will include ten member states of the Association of Southeast Asian Nations (ASEAN) (Brunei, Myanmar, Cambodia, Indonesia, Laos, Malaysia, the Philippines, Singapore, Thailand, Vietnam) and the six states with which ASEAN has existing FTAs (Australia, China, India, Japan, South Korea and New Zealand). The RCEP will have broader and deeper engagement with significant improvements over the existing ASEAN+1 FTAs, while recognising the individual and diverse circumstances of the participating countries. By nipping possible conflict areas in the bud, the partnership has the potential of taking on the TPP. The participation of India and China, both incidentally excluded by the TPP, is significant. So is the presence of Australia, with which India has been trying to reach a trade agreement over the past few months.
In a discussion paper in September, CUTS International had pointed out, "India's existing record with FTAs has thus far not garnered the anticipated benefits. The flexibility allotted in RCEP may provide India with an opportunity to benefit more than it has in previous FTAs through focused modalities between each of the 15 other negotiating countries. This would be based on their individual trade capacity and what India could gain." India would not like to miss another FTA bus. The same discussion paper had also pointed out, "The RCEP can be an opportunity for India to play an active role in setting trade rules that will both be beneficial in the short-term with regard to market access and regional integration as well as to start upgrading its own trade standards to prepare for the eventuality of higher mega RTA-influenced standards placed at the regional and multilateral level."
The RCEP would be another way of countering certain TPP clauses. The TPP may include a yarn-forward rule which would require Vietnam (which is a member) to make clothes with materials only from TPP member countries in order to receive tax-free import benefits. Exporters from TPP member countries such as Vietnam would get preferential access to the US market as compared to exporters from non-TPP countries like India. Moreover, since the yarn-forward rule makes it mandatory to source yarn, fabric and other inputs that are used in making clothes from TPP partner countries for availing duty preference, this would make garment manufacturers in TPP countries to source their input only from TPP countries, even if the suppliers in that region are not very efficient. Since the RCEP's guiding principles recognise the diverse circumstances of the negotiating parties, it would be a good opportunity for India to counter many of the trade barriers it faces elsewhere. The RCEP negotiations were expected to be completed by 2015-end, but are likely to stretch over. With India's negotiations with the EU running into a roadblock and the TPP very much on the anvil, it's important not to lose sight of the RCEP. It could be a game-changer.
A threat at the doorstep
What was till the other day only a perceived threat on the horizon, is now almost at India's doorstep. On October 5, the US and 11 trading partners across the Pacific Rim announced a landmark trade deal that will link 40 per cent of the global economy. The agreement on the Trans-Pacific Partnership (TPP) - which comprise Australia, Brunei Darussalam, Canada, Chile, Japan, Malaysia, Mexico, New Zealand, Peru, Singapore, United States, and Vietnam - will be the world's largest regional trade pact. The text of the agreement has not yet been released, fuelling speculation on various aspects of the deal. The negotiations were shrouded in secrecy and had caused a stir after Wikileaks published extracts from the then-ongoing parleys. The TPP has come in for trenchant criticism from various sections of society in almost all the participating countries. There is a catch here: the TPP will come into effect only after these are ratified by lawmakers of the partner countries. Given the strident opposition to the treaty within these countries, it may still be a while before the partnership becomes an absolute reality The Office of the US Trade Representative has claimed in a statement that the TPP will eliminate or reduce "tariff and non-tariff barriers cross substantially all trade in goods and services and covers the full spectrum of trade, including goods and services, trade and investment, so as to create new opportunities and benefits for our businesses, workers, and consumers."
India's Trade Share with Its Major Existing and Potential Trade Partners
<![if !vml]>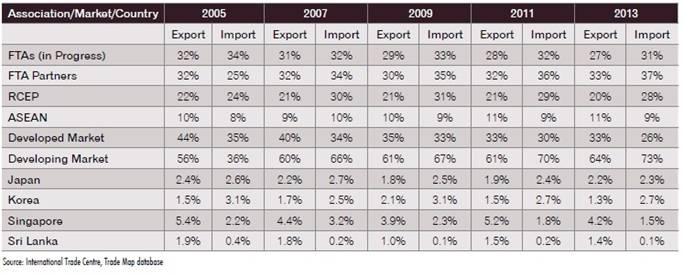 <![endif]>
EU Imports from India (share of total %)
<![if !vml]>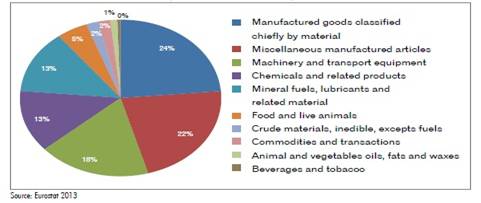 <![endif]>
EU Exports from India (share of total %)
<![if !vml]>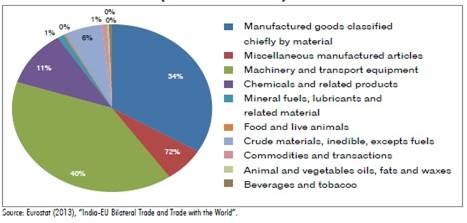 <![endif]>
The TPP includes 30 chapters covering trade and trade-related issues, beginning with trade in goods and continuing through customs and trade facilitation, technical barriers to trade, trade remedies, intellectual property, labour, environment, etc. The two sections that India would like to examine closely once the details of the deal are released will be 'textiles and apparel' and 'rules of origin'. Among its most contentious aspects is an Investor-State Dispute Settlement (ISDS) mechanism that will allow investors to push TPP governments into arbitration. This mechanism may inadvertently allow multinational corporations to undermine governments' ability to regulate them.
The 12 countries have agreed to eliminate tariffs on textiles and apparel, industries which are important contributors to economic growth in several TPP Parties' markets. Most tariffs will be eliminated immediately, although tariffs on some "sensitive" products will be eliminated over longer timeframes.
The textiles and apparel chapter also includes specific rules of origin that require use of yarns and fabrics from the region comprising the TPP countries, which will promote regional supply chains and investment in this sector, with a "short supply list" mechanism that allows use of certain yarns and fabrics not widely available in the region.
Moreover, there would be commitments on "customs cooperation and enforcement to prevent duty evasion, smuggling and fraud, as well as a textile-specific special safeguard to respond to serious damage or the threat of serious damage to domestic industry in the event of a sudden surge in imports."
<![if !vml]>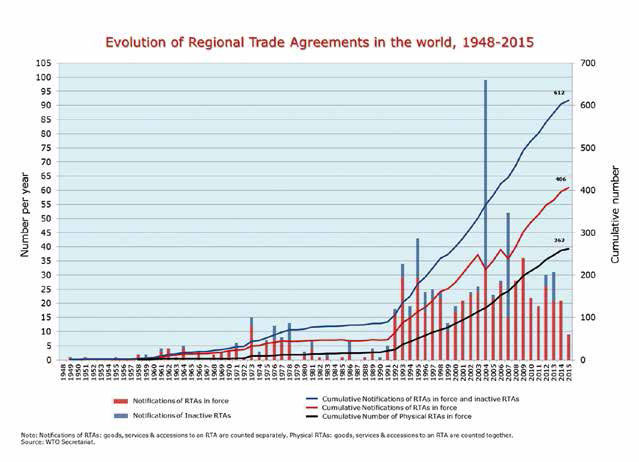 <![endif]>
The Indian textiles and apparel industry will be keen on knowing the details of the relevant chapter, especially in the backdrop of the one on 'rules of origin' which may adversely affect its equations with Vietnam. The textile industry of Vietnam, a major beneficiary of the TPP, currently sells 70 per cent of its products to the other TPP countries. Its apparel exports to the US are forecast to be US$11 billion this year and may reach $55 billion in another ten years. The TPP may also increase Vietnam's exports from the expected "baseline" in 2025 of $239 billion by $67.9 billion to $307 billion, a recent study had predicted. The country's GDP by 2050 may be 10.5 per cent higher than it is without the TPP.
There are other issues that Vietnam will have to grapple with. Like Malaysia, it will have to devote more attention to labour issues since TPP parties will have to abide by the 1998 declaration of the International Labour Organization (ILO). These will include freedom of association and the right to collective bargaining; elimination of forced labour; abolition of child labour; elimination of discrimination in employment; besides having laws governing minimum wages, hours of work, and occupational safety and health. Vietnam will need to beef up its labour laws.
Moreover, Vietnamese textile and apparel manufacturers will have to deal with the "yarn forward rule of origin," by virtue of which all items in a garment from the yarn stage onward must be made in one of the countries that is party to the TPP agreement. Since the country's textile and apparel industry is heavily dependent on raw materials imported from non-TPP countries like China, it will need to change the source of materials to stay in line with the TPP obligations.
Love thy neighbour
Observers have continuously pointed out that India has not paid the attention it should to its neighbouring countries. India is the largest economy in South Asia accounting for more than 80 per cent of the region's GDP. More than 90 per cent of the regional trade of Bangladesh, Nepal and Sri Lanka as well as a major part of their global trade is with India. Trade among the remaining South Asian countries is much smaller than India's trade with any of its South Asian partners. However, trade within the South Asian Association for Regional Cooperation, or SAARC, is abysmally low (at about 5 per cent of the region's total trade), and India's imports from South Asia is less than 1 per cent of its total imports.
In 2006, India, Bangladesh, Bhutan, Maldives, Nepal, Pakistan and Sri Lanka, signed the South Asian Free Trade Agreement (SAFTA) under SAARC (wherein Afghanistan was included as a member in 2007). The focus point was a reduction in tariffs by all members under a tariff liberalisation programme (TLP), except on items that are included in the members' sensitive lists. The SAARC countries also agreed to the elimination of para-tariffs and non-tariff barriers and the adoption of trade facilitation measures to remove barriers to cross-border movement of goods. But so far, SAFTA remains a neglected agreement.
Apart from severe political differences, the main reason why trade has not developed among SAFTA countries is the high transaction costs incurred while moving goods across the borders in the region. The frequent differences between India and Pakistan, Nepal and Bangladesh have not helped matters. As a result, even till 2013 about 90 per cent of the informal trade between India and Pakistan, for instance, was being routed through third countries, especially the United Arab Emirates (UAE).
The disagreements with Bangladesh are more immediate. Bangladesh was the biggest beneficiary of the reduction in India's sensitive list on SAFTA from 744 items in 2006 to 25 in 2011. The original list had included 158 apparel products, which formed the major part of Bangladesh's global exports. In 2008, India allowed 164 textile items from Bangladesh to enter its market at zero duty up to a limit of 8 million pieces per year. The limit was increased further to 10 million pieces in 2011. The agreement required the garment products to be exported by December 31 every year to meet the target.
Bangladesh, however, now accuses the Indian textile industry of dumping for selling their products in that country at throwaway prices. As of now, Bangladesh imports about 15 per cent of its readymade garment fabric requirement from India. On the other hand, Bangladesh is perceived by the Indian textile industry as a conduit for China to dump its cheap fabrics and readymade garments. This discord needs to be sorted out soon.
In a working paper in January2013, the Indian Council for Research on International Economic Relations (ICRIER) had argued that India can take several steps to enhance the pace of regional trade integration in South Asia. Apart from the obvious issues of tariffs, the paper had remarked, "Improved connectivity holds the key to successful integration of trade in goods; however, this will require large investments. While it was extremely important for governments to agree to change the transport and transit protocols, building infrastructure would require financial resources. Member countries would need to think collectively to raise these resources. Otherwise, connectivity in the region may have a setback."
Subject coverage in selected existing FTA and negotiating FTA of India
<![if !vml]>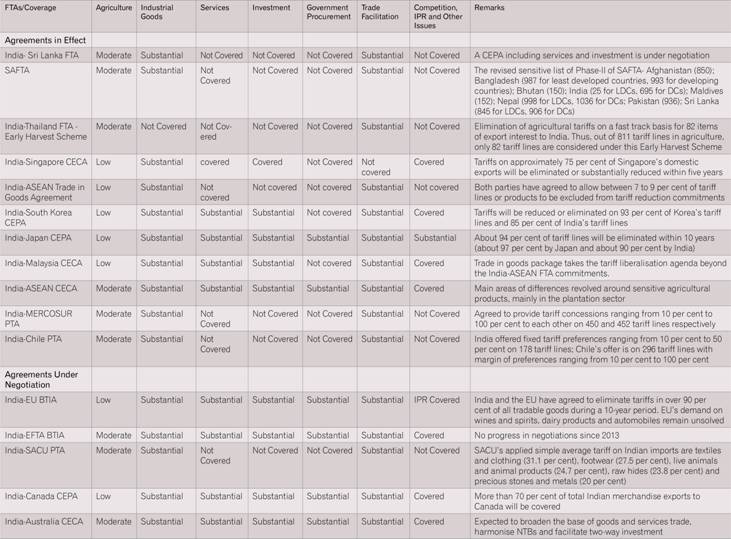 <![endif]>
Source: CUTS analysis based data from Department of Commerce, Government of India: www.commerce.nic.in
The SAARC region is a crucial one. Trade may not be that big, but it is seen by many as a tool that can bring about peace and stability. Unfortunately, it is something of a chicken-or-the-egg debate. A spaghetti western the proliferation of bilateral and regional trade agreements (RTAs) is seen to be a fall-out of the tardy progress in the Doha rounds of talks at the WTO which commenced way back in November 2001 to lower trade barriers around the world, and thus facilitate increased global trade. For almost 15 years now, the parleys have headed nowhere. On the other hand, the cumulative number of physical RTAs in force around the world is 600-plus, according to the WTO database.
The frantic rush by governments across the world to sign trade agreements has resulted in the inking of innumerable deals, many of which are often in conflict with one another. For instance, India has a pact with Malaysia, and also another one with ASEAN, of which Malaysia is a member country. It is therefore time to evaluate how FTAs and RTAs have worked in favour of India. The Parliamentary
Standing Committee will hopefully do the needful, and recommend a way out for the government.
Studying the impacts of RTAs is nothing new. The proliferation of RTAs are said to create a so-called "spaghetti owl" phenomenon (SBP) in global trade. The "spagetti bowl" is a metaphor meant to illustrate the numerous and crisscrossing RTAs, where innumerable applicable tariff rates and a multiplicity of rules of origin (RoOs) must coexist. This situation can impose higher transaction to firms and distort trade and investment flows. Incidentally, much research has been conducted into this by economists Jagdish Bhagwati and Arvind Panagariya, the current vice-chairman of Niti Aayog. Most subsequent studies have concluded that there exists a significantly negative relationship between the number of RTAs concluded by a country and the additional trade value attributed to a RTA conclusion. So, instead of promoting trade, the multiplication of RTAs might instead result trade diversion effects because of higher transaction costs due to a mass of overlapping rules.
At the end of the day, a trade pact is about give and take. Yet, for one to succeed an agreement has to ensure that it is not in conflict with another. Or else, we will land up with a big spaghetti bowl.