The growing demand for fashionable intimate apparel in India is providing a boost to the innerwear market. Fibre2fashion gives an overview of the biggest players domestically and globally along with the evolving fabric trends and designs in the intimatewear industry.
The Indian intimate apparel industry is in the process of achieving new dimensions. Under the 'Make in India' programme, the country is said to present endless opportunities to become the next big manufacturer of lingerie in the world. India presents a growing fashion-conscious consumer market that demands top quality products from well-established global brands. India has an abundance of raw material as well as a large, inexpensive workforce to provide cost effective solutions to manufacturing lingerie.
Fabric Trends and Designs:
Fabrics used for intimate wear over past few decades have been changing.
Late 90s:
<![if !supportLists]>• <![endif]>90 per cent of innerwear wear was made from 100 per cent cotton woven non- stretch fabric.
Early 2000s:
<![if !supportLists]>• <![endif]>10 per cent was allocated to cotton knit fabric.
<![if !supportLists]>• <![endif]>In the following years, 50 per cent of innerwear was made from cotton woven non-stretch fabric and rest 50 per cent was made from cotton knit fabric.
2007-08:
<![if !supportLists]>• <![endif]>30 per cent of innerwear was made from 100 per cent cotton woven fabric.
<![if !supportLists]>• <![endif]>Out of this, 50 per cent was cotton knit.
<![if !supportLists]>• <![endif]>20 per cent was polyester or cotton mix fabric.
2011-12:
<![if !supportLists]>• <![endif]>10 per cent of innerwear made from 100 per cent cotton woven fabric.
<![if !supportLists]>• <![endif]>50 per cent from 100 per cent cotton knit fabric.
<![if !supportLists]>• <![endif]>40 per cent from polyester or cotton mix fabric.
This shows how cotton, the most preferred fabric by intimate wear manufacturers, has been losing ground over time. In later years, cotton was blended with spandex for shaped garments. A few manufacturers used polyamide or elastane fabrics which are skin-friendly and made from third generation yarns. Introduction of Lycra changed the scenario dramatically by way of stretch quality. The perfect fit it offered was highly appreciated and this led to further innovation and properties like anti-odour, anti-sweat, anti-microbial properties that determined the choice of the fabric by manufacturers.
Adding to the list of innovative revolutionary fibres that have user-friendly properties were the likes of DuPont Sorona, Lenzing Modal, Lycra, Inviya, Freshsil, Birla Cellulose and Creora. These fibres have niche properties unmatched by others. Yet another fibre that gained grounds was Modal (a refined version of Viscose). Its blends offered great feel, good dye absorption and lustre.
Local brands and manufacturers preferred to focus on basic fabric rather than innovative products, but competition, entry of international brands and consumer expectations pushed these manufacturers into innovative styles, cuts and fabrics.
Applications of digital prints are increasing in all kinds of garment and in intimate wear industry. Many textile companies have observed more demand of fabric which is soft and in the range of 160 to 180 GSM (grams per square meter). These companies are mainly into knitted fabric and offer various blends like cotton modal, modal spandex and others. They are in the process of doubling capacity by adding more digital printers. Foreign companies who have experience of working for high end brands are looking to penetrate the Indian market with synthetic fabric for both the domestic and export market. India has limited options in printed synthetic fabric of export quality as most mills work with domestic and Indian wear. Besides digital printing, these companies have other printing options like screen and rotary, with added facility for value additions in the same like flock and silicon printing.
New measurement and design techniques combined with innovative materials and production methods are transforming the range, quality and applications of intimate wear. German lingerie designs are showing a new trend towards muted colours such as navy blue, earthy tones and pastel colours like taupe. According to lingerie designers, many new designs are embroidered and have two-tone colour patterns and most of the patters are asymmetrical. Geometrical patterns combined with organic shapes and animal prints are also in fashion. Another trend is the spacer cup bra made from light, breathable material that is soft and fits perfectly. Elegant, luxurious, evocative and desirable, vintage lingerie is also increasingly gaining popularity in both the modern intimate apparel and fashion markets.
Leading innerwear manufacturers in India:
1. Ginza Industries Limited incepted in Mumbai in 1986 and forayed into the lingerie manufacturing and exports business in alliance with Gel mart, USA in 2007. Today, the lingerie export business is well on its way to become the driving force for the company. Customer base is growing both in quantity and quality with names like Carrefour, Walmart, Auchan, and Tchibo to name a few. Their brand Soie, which means silk, in French, has been received with much aplomb and encompasses the perfection. Under this brand the company has a capacity to manufacture 400 dozen sets per day for lingerie and 40,000 apparel products per month. In May 2013 the company added another lingerie manufacturing facility with a capacity of 10,000 pieces per day. Ginza Industries has become one of the pioneers in setting up the entire value chain under its roof for all its intimate apparel manufacturing needs.
Ginza Industries Units for Lingerie Apparel
<![if !supportLists]>• <![endif]>Lingerie Manufacturing Unit, Apparel Park
<![if !supportLists]>• <![endif]>Soei: Lingerie and apparel manufacturing unit
<![if !supportLists]>• <![endif]>Lingerie Manufacturing Unit
<![if !supportLists]>• <![endif]>Eye and hook unit for brassieres
The company's gross revenue for the financial year ended March 2015 increased to INR 34,203.29 lakh from INR 27,458.24 lakh in the previous year, registering a growth of 24.67 per cent. The company has evolved itself into a diversified manufacturer of best-class textiles accessories to world class lingerie manufacturer and is a preferred vendor to international brands. The company expects to grow by double digits in its manufacturing segment in medium terms.
2. Ashapura Intimates Fashion Limited (AIFL) was incorporated in 2006. It is currently a public-listed company and recognised as one of the leading players in intimate wear in India. The Ashapura Valentine group comprises two listed companies: Ashapura Intimates Fashion Ltd and Momai Apparels Ltd. Consolidated turnover of both the companies stood at INR 2,000 million in 2013-14 and for 2014-15 it is expected to cross INR 2,400 million. The company started marketing of sportswear, women's innerwear and lingerie under brands Valentine Sportswear, Valentine Secret Skin and Valentine Pink. The company has an export order of INR 650 million for financial year 2015. They currently export to Middle East and are looking into entering places like Africa and Canada. With the way the company is growing, it is confident of becoming an INR 1,000 crore entity by 2020.
Leading manufacturers globally:
1. Triumph International: The transformation of Triumph International from a small southern German corset factory in 1886 into one of the world's leading manufacturers of lingerie and underwear is a global success story. Today, this company has a presence in over 120 countries all across the world. In 2013 Triumph had its market entrance in the United States of America and Mexico from where it acquired two successful lingerie retailers, Journelle and Vicky Form respectively. Triumph stores in India are strengthened with sales networks in Mumbai, Chennai, Delhi and Bangalore. It has business stakes in all North American markets. Triumph International continues its success story with fashionable quality products, supreme fit and excellent service to style seeking customers.
2. Yintak Intex Co. Ltd: Headquartered in Hong Kong, it is one of Asia's leading intimate apparel manufacturers with over 40 years of experience. Yintak has well established factories in China, Bangladesh and Myanmar. They manufacture 1,10,000 dozens of underwear per month, 70,000 dozens of bras per month and 15,000 dozens of sleepwear per month.
3. MAS Holdings: In 1986, MAS Holdings began with bold product choice of lingerie. Through strong technical competency in complex products MAS Intimates re-defined apparel manufacturing in South Asia. MAS is an innovation driven company which focuses on fashion and lifestyle. It is one of Asia's largest manufacturers of intimate apparel, sportswear, performance wear, and swimwear. Their customer's portfolio includes Victoria's Secret, Marks & Spencer, La Senza, GAP, Soma, DBA, H&M, Calvin Klein, Spanx, Oysho, and Athleta. Producing 160 million pieces of core products- bras (bonded and moulded), shapewear, sleepwear, performance wear and lifestyle wear.
Expected Growth From Global Intimate Apparel Market:
The global intimate apparel market is expected to grow at a CAGR of 3.67 per cent over the period from 2014 to 2019. The global underwear industry is estimated to be worth over US$ 30 billion. The market encompasses a range of lingerie and intimate clothing, with bras representing over 50 per cent of the overall market, briefs around 33 per cent and corsetry more than 10 per cent. The main drivers of this industry are style, evolving fashion trends and factors such as novelty and comfort. The intimate apparel market in the United States of America was valued at US$ 13.50 billion in 2014 and is expected to reach US$ 16 billion by 2019, growing at CAGR of 3.46 per cent. TechNavio's analysts forecast intimate wear market in China to grow at a CAGR of 17.99 per cent in 2014-2019.
Lingerie Market in India, Expected growth and the Future:
Classification of Indian Lingerie Market:
<![if !vml]>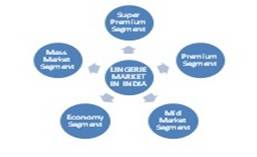 <![endif]>
In terms of value and volume, a major share of the lingerie market is held by mid market and economy segments. The super premium and premium segments are relatively smaller, but fast-growing segments. The premium and super premium segments of the lingerie industry are advancing following a consumer shift from economy and mid-market segment to the premium segment.
Technopak has estimated the innerwear market in India (organised and unorganised) at INR 17,750 crore and expects it to grow three times in ten years. Women's wear accounts for 61 per cent of the total innerwear market. The innerwear market for women worth INR 9540 crore ($ 1.7 billion) is the fastest growing category among women's apparel, growing at a CAGR of 14 per cent and expected to reach INR 18,380 crore (US$ 3.4 billion) by 2017. The Indian innerwear market is estimated to reach INR 59,540 crore by 2023. Consumer's distinctive shifts from price sensitive to brand sensitive and preference for bold colours and innovative designs are the key trends in this segment.
The lingerie market may become the next fashion statement. Indian manufacturers are already on the move to fulfil expected demand. This big trend looks promising and is expected to stay for the next few years.
References:
1. Forbesindia.com
2. Knittingindustry.com
3. Bofsource.com
4. Indiaretailling.com
5. Dpa-international com
6. Ginzalimited.com
7. Indiainfoline.com
8. Triumph.com
9. Reportlinker.com
10. Franchiseeindia.com
11. Masholdings.com
12. Yintak.com