Flexibility, quality, environmental performance and innovation are four specific areas of improvement and opportunity that brands and retailers are investing in to increase the value, or the perception of value, of their products. International Apparel Federation (IAF) Secretary-General Matthijs Crietee explains how each area translates into machinery needs.
In 2015, the concept around which many developments in the entire clothing industry supply chain are hinged must be value. Countless sales periods in most mature markets have eroded the consumer's sense of value of apparel. In my own country of domicile, the Netherlands, we are seeing a recovery in the retail volume of apparel after a seven-year recession. But in terms of value, the sales of apparel are hardly picking up. This is because consumers have simply been taught to spend less on clothing. The combination of the entry of big global discounters and the excessive use of discounts to maintain sales volumes by independent retailers has decreased the average price a consumer pays for an article of clothing.
Brands and retailers have different strategies in place to restore the consumer's sense of value of clothing. These are key to understanding the needs, including the machinery needs, of the apparel industry. Flexibility, quality, environmental performance and innovation are four examples of specific areas of improvement and opportunity that brands and retailers are investing in to increase the value, or the perception of value, of their products. In this article I will explain how for each area this translates into machinery needs.
The issue of flexibility
In one segment of apparel retail, the ability to deliver to the consumer the products that are in fashion at exactly that time is what drives value. A consumer will pay a small premium because he or she is given the assurance by the retailer that the article bought is trendy. This is fast fashion, and it will only become more important. For a clothing manufacturer, fast fashion translates into flexibility, and for a machinery producer, this translates into machines with fast changeover times.
<![if !vml]>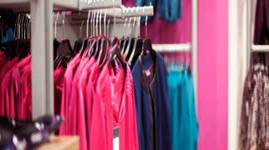 <![endif]>A garment producer entering the fast fashion game must have invested in machines suitable for a flexible way of production, making it viable to produce short runs. These can be machines performing traditional tasks but making use of programmable stitch patterns, automated material handling systems, and robotic controls.
Many of these machines were put on the shelf during the 1990s, but the move to fast fashion is also driving more production closer to point of consumption, which makes automation easier to justify. There are also machines that perform tasks in entirely new and more flexible ways. Good examples of this last category are digital fabric printers, vision guided cutting machines, and machines that communicate with workers, management, and other machines to better control quality and productivity.
The issue of quality
Quality as a requirement is as old as garments themselves, but it may be heading for a revival. Especially in Europe and in the US, we see a consumer backlash against the trend of fast fashion and cheap and disposable products. This trend may be spearheaded by the food industry where the enormous efficiency of the supply chain and the power of retail have made food relatively very cheap. Supermarket chains are struggling to survive round upon round of price wars and in response they are 're-teaching' consumers the value of food. Ahold, a Dutch chain, is explaining to its customers that they sell six types of chicken. The first category is cheapest and most industrially processed, with least regard for the animal and the sixth, most expensive category has chickens reared in a more animal-friendly environment. It fits into a trend of 'slow food' as opposed to 'fast food' and we see this developing in clothing as well. Consumers consciously chose clothing articles that will last longer and they accept that these are more expensive. They literally want more value for money. This does, however, seriously raise the bar for quality, and garment manufacturers working in this category must make a big effort to make faultless garments. This is a positive trend for machine manufacturers as there is a strong correlation between quality level and machine performance and hence, price. Also, because quality is consciously used to raise the value perception of consumers, garments ideally contain easily visible attributes of quality sometimes requiring extra operations and specialised machinery.
The issue of environmental performance
The relation between value perception and environmental performance is very complex, but that doesn't mean it isn't there. It may turn out that a certain level of environmental performance will become a prerequisite for a garment to be in a certain value level. Dropping below this performance makes the product just as unsaleable as a garment with poor quality. Depending on the quality of the consumer information systems that are being developed, a particularly strong environmental performance may enable a premium to be put on the garment's price. In this respect, it is wise to closely watch the SAC, the Sustainable Apparel Coalition, that is currently the main vehicle by which brands and retailers work together to develop a standardised communication system about environmental performance. This system awards points for different aspects of environmental performance; added together it forms a single score. For garment manufacturers it may be useful to see what their investments in new energy saving machinery, can add to the environmental performance of their customers.
It may be useful particularly to see where the potential to save water, or energy or both, to reduce the use of harmful chemicals, or the opportunities for recycling are greatest and start investing there. Often, investments in environmental performance pay themselves back quickly because saving energy or water or reusing fibres obviously also saves money.
In any case, neither garment manufacturers nor the machine industry can afford to wait until the end consumer starts to pay a premium for more environment-friendly garments. The complex system does not work like this. In many segments, investments are needed just to remain in the game. A major initiative in Germany called Industry 4.0 will fundamentally change the way the machines communicate and perform to produce better quality and more environment-friendly products. Industry 4.0 will enable the connection of machines, products, and people.
It currently identifies nine technology areas that will be integrated to change the way manufacturing is done. They are: Big Data and Analytics, Autonomous Robots, Simulation, Horizontal and Vertical System Integration, The Industrial Internet of Things, Cyber security, the Cloud, Additive Manufacturing, and Augmented Reality.
It becomes more difficult when processes are reengineered. A good example is 3D design and product development. Potentially, designing and developing products and eliminating the need for physical samples saves money, and water and energy (which would have been used to make and to transport physical samples). But it requires major organisational changes; so, it is difficult to predict when and how fast the trend towards 3D design and product development will take off. But it will grow eventually and bring with it different hardware and software that garment manufacturers will buy.
The technology already exists to allow products to be developed as digital products and communicated globally. Existing CAD systems can be integrated with 3D visualisation technology to allow for accurate fabric/garment characteristics to be captured and demonstrated on 3D virtual models. Such technologies as body scanning, avatar engines, virtual dressing, and motion capture will enable products to be created, developed, and approved before needing to convert them to physical products.
The issue of innovation
Innovation is back in fashion. And this is good news for suppliers to the fashion industry. More brands and retailers are looking at ways in which new technologies, or new combinations with existing technologies from outside of the industry, can add new value to their products. Examples are:
1. Fabrics that incorporate nanotechnology allow for features to be designed into products. Such features include stain resistance, odour absorption, wrinkle resistance, water repellency, insulation against heat or cold, UV protection, electricity generation, and more. Machinery must deal with nanotechnology.
2. Wearable Technology started with such items as smart watches, activity trackers, smart glasses, clips, arm bands, wrist bands, and other devices that would provide immediate feedback to the consumer. And now wearable technology is finding its way into the clothing industry. Garments are now being created that have the ability to track performance in 3D. They capture biometric data like temperature, heart rate, speed, and intensity of workouts. The manufacturing industry will be faced with an increasing demand for machines that are able to literally integrate electronics or for example solar panels into garments.
3. Made-to-Measure will become more mainstream as manufacturing systems that incorporate robotics and automation along with Lean production systems are established in local markets. Consumers will carry their personal avatars on their smart phones and use RFID and QR codes to try clothes on while in a store, on a train, or reading a magazine. Orders will be placed electronically and fit information will be transmitted automatically to the vendor. Standard sizes will still exist, but a better match will be made when body scanners have been placed in medical facilities, fitness centres, and stores around the world.
4. Waterless Colouring of fabric will not only save tremendous amounts of water and waste treatment, but will allow brands and retailers to detail the style, size, and colour of products within a couple of weeks of being available on the store shelf. To conclude, machinery manufacturers today face new or renewed demands for products coming from the acute need of brands and retailers to add new value. <![if !vml]>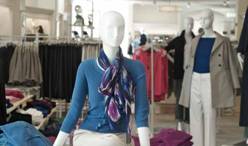 <![endif]>Machinery manufacturers also face complex demand. Quality and environmental performance often reinforce each other, but flexibility and quality may clash, while a client needs both. To create a good match between the changing needs of brands and retailers and machinery producers, excellent dialogue in the supply chain is crucial.
In the end, innovation will not slow down or stop. It will continue and the entire supply chain, including the machinery industry must move along. We must eventually all prepare for the time when 3D printers are in the home, and clothing can be produced as needed for the occasion.
About IAF
The International Apparel Federation (IAF) is the world's leading federation for apparel manufacturers, their associations, apparel retailers and the supporting industry. IAF's membership now includes apparel associations from nearly 60 countries representing over 150,000 companies that provide products and services to the apparel industry - a membership that represents over 5 million employees. The many corporate and associate members of IAF are prominent companies or institutes in production, retailing, technology, business services, logistics, fashion fairs and education.
IAF stands for:
<![if !supportLists]>• <![endif]>Cooperation between buyers and suppliers. IAF membership reflects this.
<![if !supportLists]>• <![endif]>Helping the industry become more knowledge intensive.
<![if !supportLists]>• <![endif]>A global approach to global responsibility, focusing on improvements.
<![if !supportLists]>• <![endif]>Harmonisation of legislation helping the industry to cut unnecessary costs.
<![if !supportLists]>• <![endif]>Offering practical support to our members.
<![if !supportLists]>• <![endif]>Being a truly global platform for networking and information exchange.