The textile machinery industry needs to produce machinery which is competitive in terms of technology as well as costs so as to persuade the textiles industry to source their machinery locally rather than importing them. In addition, the textile engineering industry should be able to offer a complete range (value chain) of machines to the textiles industry, writes the Secretary-General of the Textile Machinery Manufacturers' Association (India), Saktiprasad Chakraborty.
The textile engineering industry (TEI) in India is one of the five key sectors of the capital goods industry. It has been the cornerstone of the textile industry over the last 75 years. It has created a strong engineering base capable of manufacturing almost the entire range of machinery for the three main sectors of the textile industry: spinning, weaving and processing. Except for the spinning sector, majority of the textile machinery demand of India is met through imports - mainly as investment in latest machines by the large organised mill sector. With a growing market, the manufacturing scenario in India is improving in keeping with the 'Make in India' push given by Prime Minister Narendra Modi and the recently announced scheme for enhancement of competitiveness in the capital goods sector.
Textile machinery manufacturing in India began in the 1930s with spares and accessories. In the 1940s, it opened its account in complete machinery. Most of the machinery makers initially started in collaboration with foreign companies. Over seven decades, the TEI established its machine-making capabilities and has the potential to be the manufacturing hub for the world second to China. There are over 1,400 textile machinery makers in India. There is no necessity to increase the number, but there is an absolute necessity to upgrade the manufacturing facility of the existing units in the MSME sector to make them capable of manufacturing hi-tech machines. The TEI needs a Technology Upgradation Fund Scheme (TUFS) for modernisation of the manufacturing facility/infrastructure.
TEI: At a glance
<![if !supportLists]>• <![endif]>Consists of more than 1,400 units, with a total investment of ₹9,100 crore
<![if !supportLists]>• <![endif]>Production ₹6,775 crore approximately
<![if !supportLists]>• <![endif]>More than 80 per cent of the units are SMEs
<![if !supportLists]>• <![endif]>Capacity is ₹11,000 crore
<![if !supportLists]>• <![endif]>Provides direct/indirect employment to over 285,000 people
<![if !supportLists]>• <![endif]>Meets 45-50 per cent of the demand of the Indian textile industry on an average
<![if !supportLists]>• <![endif]>Projected growth of TEI by 2016-17: ₹14,300 crore from ₹7500 crore in 2013-14
<![if !vml]>

<![endif]>
Production exports and demand
The total provisional production of textile machinery and parts & accessories during 2014-15 recorded a slight increase of 3 per cent - ₹6,960 crore over ₹6,775 crore achieved during the previous year, with poor utilisation of installed capacity at 63 per cent. Proportion of local sales to imported sales of textile machinery has remained at level of 40:60. This ratio has become adverse in the past years as second-hand shuttle-less looms together with Chinese low-tech looms continue to be imported at not only concessional or zero rates of duty but also under favourable terms of TUFS.
Exports during 2014-15 had been estimated at ₹2,466 crore as against ₹2,277 crore achieved during 2013-14. Numbers are expected to be better in 2015-16. Exports of TEI have been gaining rapidly on account of foreign direct investment (FDI) who earmarks part of their production for Asian developing countries.
Local demand for equipment is obviously dependent on future conditions of the textiles industry and its growth. Our industry, although the only one which enjoys the benefit of TUFS that ensures lower cost of capital and guarantees faster rate of return, is unable to make steady and continuous investment. This is largely caused by uncertainties in the TUF scheme regarding fund allocation and in some of the years, total suspension of this scheme in the Union Budget.
Capability of domestic manufacturers
<![if !vml]>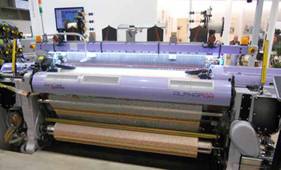 <![endif]>India is self-sufficient in ginning and spinning machinery except auto feed and auto doff auto coner and open end spinning machine. Qualitatively and quantitatively the weaving preparatory machinery manufactured by domestic players are also enough to meet the demand. It is only the main weaving machinery i.e. high-tech shuttle-less rapier looms above speed 350 rpm that is not made in India. Similarly, airjet and water jet looms above 600 rpm are not made in India either.
Almost all types of processing and finishing machinery is being produced in India now, except for special purpose machinery like continuous decatising machine and wider width processing machines whose demands are limited. More than 50 per cent of the requirement of processing and finishing machinery is being met by domestic manufacturers.
There are about 50 SMEs manufacturing synthetic machinery. These are mainly located in Surat, Ahmedabad, Vadodara and Rajkot. The total capacity of ynthetic machinery is ₹1000 crore. About 90 per cent of the demand is met indigenously.
The total capacity of jute machinery is about ₹70 crore. The technology of jute machinery is comparatively older. Import of jute machinery is to the level of approximately ₹10 crore.
Many important attachments and accessories developed indigenously compare favourably with international technology standards. These include weft straighteners, cloth guides and other sophisticated instruments and attachments. About 80 per cent of the requirement is met from domestic sources. The total capacity is ₹850 crore and about40-50 per cent parts are supplied to OEMs.
<![if !vml]>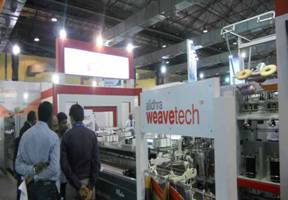 <![endif]>Except for some critical items of parts and accessories like compact spinning attachment, automatic yarn splicer, PLC controls, dedicated components for shuttle-less looms, electronic controls for high speed shuttle less looms, electronic dobby, electronic jacquards (this is a recent development), microprocessor and PLC controls for warping and sizing machines, hi-tech temperature indicator and controller and few other components and accessories are being imported. It is estimated that parts/components/ spares and accessories worth ₹1,500 crore are being imported.
It is true that there are no manufacturers of industrial quality garment making and hosiery knitting machines. However, there are domestic sewing machinery makers and also ordinary knitting machine makers. The technology gaps in these areas are large. So is the case of technical textile and nonwoven machinery sector.
It is needless to mention here the reasons for the skewed development of different categories of textile machinery in the country which is mainly historical. Only one point needs to be mentioned here: that the government had no capital goods sector policy since Independence. Now, when it has been observed that value addition is lacking and the contribution to GDP from this sector has become very minimal, the new government has been pursuing vigorously to come out with a comprehensive policy to boost the ailing sector.
Policy framework needed to strengthen the sector
In the era of globalisation, the textile machinery industry needs to produce machinery which is competitive in terms of technology as well as costs so as to persuade the textiles industry to source their machinery locally rather than importing them. In addition, the TEI should be able to offer a complete range (value chain) of machines to the textiles industry. In contrast to manufacturing cost structure in developed countries where the cost of labour is very high, interest and power costs for producing textile items in India are relatively higher.
The TEI is now capable of meeting the demand for spinning machinery as its installed capacity has reached 6.0 million spindles. The technology is at par with imported machinery except for a few items. Specifically for the weaving segment, while planning their future production of hi-tech machinery, the TEI will have to choose the appropriate state-of-the-art technology. At present no foreign players are ready to part with their technology. The present rules, regulations, duties and taxes do not encourage FDI. There is no clear advantage for FDI to come to India as there is no level-playing field. Imports continue to be the cheaper option and the textiles industry prefers reduction of import duty and excise duty to facilitate their procurement of imported machinery in a big way.
In case of processing and finishing machinery, the limited requirement of hi-tech finishing machinery is not conducive for indigenous development. Many of the reputed European companies have been taken over by the Chinese. There are few companies which perhaps could be taken over by Indian companies. The government may extend its financial support to such take-overs. There had been some FDI in processing sector, examples being Benninger India and Menzel India. A few more examples might be there. The scenario that existed 10 years ago has changed considerably.
Most of the processing machines are custom-built. The quality of the machines depends on the quality of raw material (stainless steel, etc) and electronic monitoring and controlling systems used. It is not difficult for domestic manufacturers to provide all necessary electronic controls and monitoring systems required as per customers' choice. Machines like continuous scouring/ bleaching/ washing/ dyeing plants are now in the production range of domestic manufacturers.
<![if !vml]>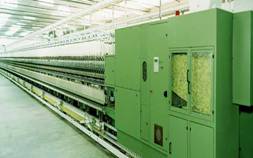 <![endif]>European manufacturers are using the latest electronic gadgets for automation and better processing results with low material to liquor ratio. The indigenous machinery available now is also with low material to liquor ratio and capable of processing fabric with comparable results at a very reasonable cost. Except for some wider width processing machines and special purpose finishing machines for which there is limited demand, all other machines are available in the domestic market.
Some machines like tricot, warp knitting machines are manufactured by a few companies in Germany and Japan as world over their demand is limited. Same is the case of rotor spinning, airjet spinning machine and auto coner with auto feed and auto doffing. Such machines may continue to be imported for indigenous requirement. It is now being developed by Lakshmi Machine Works, Coimbatore.
It is true that the TEI was largely dependent on borrowed technology. Efforts to strengthen indigenous R&D efforts and technological back-up were almost nonexistent earlier. Except in the spinning machinery segment, no worthwhile investment in R&D efforts to achieve any meaningful technological breakthrough was made before 2000. It would, however, be perfectly in order to encourage FDI in priority areas, while giving adequate support and thrust to development of indigenous high technology through vigorous, and focused R&D.
Foreign manufacturers should be encouraged to invest in manufacturing units in India by providing a level-playing field so that they can supply machinery of the latest generation from local units and not resort to supply of complete machinery from their existing plants in their own countries or in third countries. This is perfectly feasible as India with its TUFS in place for the XII Plan is the most promising market for the textile engineering industry. In view of the demand emerging from TUFS, the TEI should enter into joint ventures with support from the government. This would not only bring the latest technology to our doorstep, but also reduce the cost of such machinery due to low wages and overhead costs in India. While providing employment and saving valuable foreign exchange, it will also hopefully spur the domestic TEI to accelerate its R&D efforts and other competitive strategies.
With regard to import of high-tech, state-of-the-art machineries, there can be no objections if all such machineries are not produced indigenously. However, the TEI should be encouraged to invest in technology and modernise itself to meet the domestic needs for such machines.
The availability of indigenous high-tech machines would reduce the dependence of the textiles industry on imported machines and result in substantial import substitution. In fact, strengthening of the TEI will enable both the textile industry and the TEI to reduce their dependence on import of quality goods/machines and step up exports and net foreign exchange earnings/savings, and thus, sub serve the larger interest of the national economy.
Fiscal policy changes
For strengthening the TEI, it is felt that the policy with regard to the TEI should be guided by the following considerations.
1. The inverted duty structure should not exist. There should be a level playing field.
2. The GST should be implemented and it should not exceed 18 per cent. Till With regard to import of high-tech, state-of-the-art machineries, there can be no objections if all such machineries are not produced indigenously. (OMNI plus SUMMUM Air jet Loom) the GST is implemented, all duties and taxes being paid by domestic units should be included in the CVD.
3. GST should be imposed on textile industry at a minimum level of 8 per cent.
4. The first and immediate pre-requisite of putting the domestic industry at par with imports is to allow import of inputs for the manufacture of textile machinery at 10 per cent below the rate applicable for complete imported machinery and equipment.
5. The production of sophisticated machinery containing large number of imported parts has automatically been rendered uneconomical as such machines cannot compete pricewise with imported machines. This anomaly of input tariffs should be removed and a level playing field should be provided to the TEI by reducing the import duty on the raw materials, components and accessories to zero per cent.
6. Providing stable fiscal policy environment like not suspending/ revising/ modifying.
7. Technology Upgradation Scheme. Allocation of TUF amounts in budget to be made in consultation with the textiles industry.
8. Write off @ 200 per cent of R&D expenses while calculating taxable income.
9. For identified groups of equipment where technology gaps are bridgeable in 3-year period, imports be allowed at zero duty. However, the same be raised to 15 per cent, as also, disallowing of TUF facility for imports, once the equivalent technology is available locally, giving signal to foreign machinery manufacturers to invest in India.
Necessary entries in the tariff structure should be made in such a way that there is no difficulty for domestic manufacturers to import their required parts/components and accessories without any special formalities like obtaining permission prior to import. The procedure to import the complete machinery should be applicable for part/components and accessories.
Under no circumstances excise duty or GST (when implemented) should be nil as this would mean nil CVD for imported machinery, thus putting indigenous manufacturers at a disadvantageous position as against the imported machinery which will be cheaper by that extent. This might deal a fatal blow to the domestic textile machinery manufacturing industry as the operating margins are very low.