Asia-Oceania dominating and fastest growing region in global textile machinery market
Textile machineries are used to produce yarns, fabrics, and threads and in the finishing processes of the textile industry. There are four major types of textile machinery, namely, spinning, weaving, texturing, and knitting machinery. Spinning machines are used in producing yarn or threads from fibers, whereas weaving machines are used in production of fabrics from yarns, and threads. Texturing machines introduces new properties like bulkiness, covering power, elasticity, soft touch, natural aspect, hygroscopicity and easier processing in filament yarn. Knitting machines produces knitted fabrics from yarn and threads in a semi or fully automated fashion.
The global textile machinery market is estimated to grow at a promising rate of 13.8% from 2015 to 2020, owing to growing textile and apparel industry, and growing demand of nonwoven textile products and automobile in emerging economies. Asia-Oceania had the largest market share of 89.0% in the global textile machinery market in 2014. China, India, Indonesia, and Bangladesh are the main contributors to the textile machinery market in Asia-Oceania. The textile machinery market of South East Asia had market share of 13.5% and 15.1% in textile machinery market of world and Asia-Oceania respectively in 2014. Spinning machinery had the highest share of 94.5% in the Asia-Oceania textile machinery market of 2014.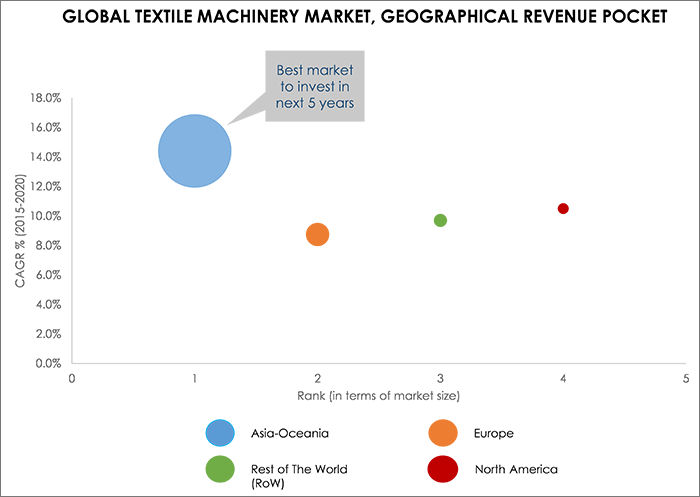 The global export of textile and apparel industry has reached to $741 billion in 2014 from $537 billion in 2009, by growing at a CAGR of 6.7%. The textile machinery market is directly dependent on textile and apparel industry, hence the growth in textile and apparel industry would be a key driver for the textile machinery market of Asia-Oceania.
The second hand machinery market is earning popularity in developing nations such as, China, India, Bangladesh, Indonesia, and others. The ups and downs in the market of these countries do not favor making high investment for purchasing new machines made by leading European manufacturers. It encourages textile companies to buy second hand machinery. The buying of used machinery is advantageous in many ways. The buyer can control the investment amount, as the machines are sold at throwaway price. Once they are renovated they are as good as new. In addition, used machines are quickly made available which supports the textile companies to remain competitive by making small investments.
Asia-Oceania has highest number of spinning and weaving mills in the world. Thus, Asia-Oceania had the highest installed capacity of spinning and weaving machinery, with a share of 83.4% and 81.7% respectively in the global installed capacity in 2014. The higher volumes of installed capacity of spinning and weaving machinery in Asia-Oceania is the result of growing production volumes of yarn and fabrics in this region. Asia-Oceania has been a key region in trading of textile machinery. Spinning machinery had the highest share of 26.4% in global import of textile machinery in 2014.
The key players in the textile machinery market are Batliboi Ltd, Benninger AG, Intertrad Group, Kirloskar Toyoda Textile Machinery Pvt. Ltd, Lonati SpA, Lakshmi Machine Works Ltd., Navis Global, Rieter AG, Santoni SpA, Savio Macchine Tessili SpA, TMT Machinery Inc., and Voltas Ltd. Majority of these player are focusing on technological innovations to upgrade textile machineries, to meet the demand for sophisticated automated machines that deliver higher quality output with reduced energy consumption, and there by reducing the operations cost.