Most textile-apparel brands are failing on sustainable cotton benchmarks, a recent survey of as many as 37 international brands has found. Lack of uptake of more sustainable cotton is being seen as a massive missed opportunity. Subir Ghosh leafs through the 36-page report.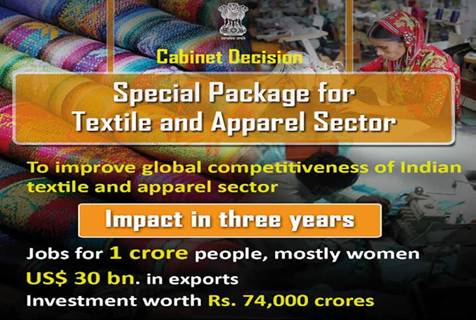 The June 22 textile package announced by the Union government is being described in many quarters as the proverbial stitch in time. But whether it will, like the proverb foretells, be able to save nine, is a question that needs circumspection.
That said, there is little doubt that the ₹6,000 crore package has come as a much-needed whiff of fresh air for a desperate industry that has been gasping for breath. The last two Budgets had little on offer for the textiles and apparel industry, and the National Textiles Policy (NTP) is yet to see the light of day. Of course, a package is no answer for a policy, especially when the package in question is not moored in a straight-jacket, all-encompassing policy; but as they say, desperate times call for desperate measures. In that, the package is definitely a boost for industry. And that's why it has been welcomed by industry.
It's also quite clear that the package does not wish to supplant that NTP, which has been hanging fire for reasons unknown. The package is short-term: it looks at yielding results only over the next three years. And as a ministry official subsequently told a newspaper, the Centre wants to implement its package over the next three months, and thus promote employment generation, economies of scale and boost exports.
The package, on the face of it looks quite brief, but its effects are going to be far and wide. The promises, made in terms of numbers, are quite ambitious: jobs for 1 crore people, mostly women; $30 billion in exports; and investment worth ₹74,000 crore. All that in a matter of three years. An official statement described it thus, "The package is a strategic decision that would strengthen and empower the Indian textile and apparel sector by improving its cost competitiveness in the global market. The measures assume significance due also to its potential for social transformation through women empowerment; since 70 per cent of the workforce in the garment industry are women, majority of the new jobs created are likely to go to women."