The United Kingdom European Union membership referendum popularly referred to as the Brexit referendum, saw investors worldwide lose more than the equivalent of $2 trillion on June 24. Now that the initial panic has subsided, Subir Ghosh decides to look at how Brexit will affect the British fashion industry and the opportunities it offers Indian exporters.
It's a big industry by any measure-one that not only generates huge revenues for the country's economy, but also offers equally immense employment potential. The British fashion industry had revenues of 28 billion in 2015, and employed about 880,000 people-rights from manufacturing to retail. It's one of the sectors that is going to more than feel the pinch with the June 23 referendum calling for the exit of the United Kingdom from the 28-country European Union (EU).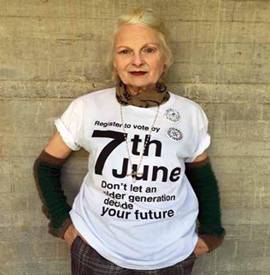 On a scale of severity, the hardest-hit in the industry with Brexit (a portmanteau of "British" and "exit") would be fashion designers, followed by stores. It is little surprise therefore that designer were not only extremely vocal about voting to "Remain" within the Union, they even held rallies in London urging the people not to "Leave" the bloc. Shortly before the referendum, a survey carried out by the apex British Fashion Council (BFC) found that an overwhelming 90 per cent of British fashion designers wanted to remain in the EU. And, many campaigned too. In the first week of June at fashion showcase London Collections Men (LCM), Christopher Raeburn presented pieces emblazoned with the emphatic word 'In', while Cozette McCreery and Sid Bryan of Sibling made their final bow at the same show wearing 'In' T-shirts. Legendary Vivienne Westwood was among 282 leading creative figures who signed an open letter opposing Brexit, and even urged the public to vote to stay through a blog post on June 15. The desperation of the industry was writ large.
For an industry already feeling the pinch because of a pound that is weaker against the dollar, the tumbling to a 30-year-low did mean that there would be more earnings for high-end stores from sales to tourists. That too at a time when the luxury sector has been virtually stagnant, and HSBC predicted that the pound would plunge deeper still. For a country that a British newspaper itself acknowledged as a nation of shopkeepers, retail numbers mark the bottom line for the fashion industry. The Telegraph quoted a retail analyst revealing that 84 per cent of high street stores have been running lucrative promotions to offload stocks. Since most big-name retailers import in dollars and a domestic price rise is imminent, holding on to stocks doesn't make business sense.
Prices and imports/exports can have strategies, but the one factor that neither designers nor stores have control over is that of the free movement of people, that is crucial to the industry. This was best explained by designer Patrick Grant to the Financial Times: "In our own factory, two-thirds of the workers are eastern European, because we don't have the skilled labour in this country. We talk about apprenticeships, but don't have an education system that delivers young people ready to take it on. We've been trying to find apprentices in Blackburn for a year now: it's been incredibly difficult." Since immigration was a major factor in the referendum that voted to Brexit, the fashion industry is already, quite frantically, trying to lobby for skilled workers and talent.
The human resources crunch will not just be of immigrant workers employed in the UK; it works the other way too. Designers will no longer be able to move as freely around mainland Europe as they could. Setting up shop would be more difficult, and expensive too. On this, realities are stark: for budding fashion designers, Brexit certainly has nipped opportunities in the bud. On the other hand, today's designers and brands with cross-border interests and investments are not sure how things will eventually play out. For instance, fashion conglomerate Kering owns a number of British brands, and now faces a logistical nightmare. Yet, it is not that the loss will be Britain's alone. Mainland Europe has long been luring young British designers; they are going to lose out on a talent pool too. But opportunities are not the only matters at stake here, for fashion is also a lot about intellectual property rights. In another year, the EU will be moving to the Unitary Patent System, and that's when designers will have to start from scratch on the patent front, all over again.
Nothing is going to change overnight, of course. It will still take Britain another two years to sever itself from the EU. In the interregnum, it will not be party to decision making, and will still have to abide by existing EU treaties. Just as the fashion industry there has enough breathing space, the rest of the global textiles and apparel industry too has enough time to react to the situation.
Like many other countries, Indian textile producers and apparel manufacturers to see this as an opportunity. But to fill in the huge gap created in the global textiles and apparel industry by Brexit, one may have to react quickly. The EU is a major destination for Indian exporters, accounting for 37 per cent of the total ₹111,236 crore worth of readymade garment exports in 2015-16. The UK market constituted an impressive 40 per cent chunk of this.
Now with Brexit, British brands will have to spend more on production, and pay in dollars to Chinese suppliers-a cost that will keep rising till the Brexit aftershock is fully absorbed. In this, one cannot disregard the fact that not every British label is going to be adversely affected. There are many whose costs are measured in pounds, and who earn their revenues in dollars or euros. But, since most of the garments that British brands and stores sell are imported (produced abroad), companies will not be able to stop importing. Indian exporters can make the best of this only if they can score over the Chinese in cost competitiveness and better lead times. For that to happen, India will need to ink at least a preferential trade agreement (PTA) with the UK at the soonest possible. As it is, the India-EU free trade agreement (FTA) still seems a long way from materialising, and Vietnam has been reaping rich dividends from its preferential status with the EU. True, the UK is also a major destination for Vietnam, but that country will now need to tread carefully. Vietnam is member of the Trans-Pacific Partnership (TPP), which itself is in jeopardy now with Brexit.
Nevertheless, it is not the end of the world. The UK is not going to be dead outside the EU, and it is not the only market that India needs to tap into. On the first count, not every European country is part of the Union now. The affluent European Free Trade Association (EFTA)-comprising Iceland, Liechtenstein, Norway, and Switzerland-is not part of the EU. Many of the former Soviet republics, including Russia, are not members either. The former Balkan states are also not members, but that's because they are not eligible yet. On the other hand, the UK is not the only new market available to Indian exporters; it is just another one, and that's all. India will still need to ink an FTA with the EU, and look at countries that fall out of the ambit of the TPP and the Transatlantic Trade and Investment Partnership (TTIP), both of which will be impacted by Brexit.
About the author:
Subir Ghosh (www.subirghosh.in) is a Bengaluru-based writer and researcher.