The online fashion rental market in India, pegged at $3-4 bn, has been exploding with mushrooming startups and existing players even attracting seed funding. Obviously the fashionistas no longer believe in buying expensive designer wear when they can rent it at a fraction of the cost. Nivedita Jayaram Pawar explores this new trend in luxury clothing.
It's not taboo anymore to turn up at a high profile luxury event in clothes that are rented and not owned. Instead, it's considered practical and economical considering the sartorial demands of an increasingly busy social calendar. A hectic social life coupled with the onslaught of social media has made repeating ones clothing or accessory almost unforgivable and even social harakiri. So in such circumstances it makes little sense to invest thousands of rupees in clothes that will be worn once and be relegated to a corner of the cupboard.
What's the buzz all about
A decade ago, renting high-end designer wear was more or less unheard of. Women who didn't want to purchase an expensive dress for a one-time event were left to borrow from a friend. Designer gown and accessory rentals were the exclusive territory of celebrities and their stylists. But all that has now changed.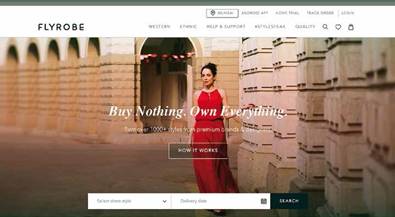 The allure of 'no ownership' is now moving beyond housing and cars. High end fashion is now one of the biggest rental industries on the rise. It makes perfect sense for people who can't afford luxury brands but do appreciate the quality. The new generation raves multiple experiences and desires to be fashionable and trendy, without the pressure of permanent ownership. While the international market is huge for wardrobe rental services, with successful ventures like rent the Runway, Lending Luxury, Girl Meets Dress, etc, in India this trend is still in its early days.
Shilpa Bhatia, an erstwhile Hindi film stylist, was among the first few to tap into the potential of luxury rental as early as in 2005 when she launched The Clothing Rental in Mumbai. "It was always a herculean task to source garments for all the advertisements that I used to style. Brands would often request for Armani suits and red carpet gowns without a budget to support the request. I would run around crazy trying to create a fancy look and would be frustrated when the tailor didn't get the right finish. That's when I decided to invest a small amount on certain classic products that I would have a need for often. It started out just to ease my styling career. Slowly other stylists discovered us and started renting from us. They too noticed the value in our goods." The Clothing Rental today has two stores in Mumbai apart from an online presence. Offering similar deals are a number of online fashion rentals, including flyrobe.com, swishlist.in, stylebank.in, liberent.com and stage3.co. Renting outfits has become common for those once-in-a-lifetime events (wedding, mehendi, sangeet, bridal showers, bachelorette parties) that require a level of luxury that's not necessarily worth the long-term investment.
Moreover no one wants to be seen repeating outfits, especially in an age when social media captures everything. "The younger women live in a world of Instagram and Snapchat where they hate repeating clothes and rent from us to look great whenever they go out on weekends, date nights, parties, etc. Our older customers rent from us for weddings, family celebrations and office events," says Pranay Surana, co-founder and chief operating officer of Flyrobe a Mumbai based fashion rental service. An IIT B graduate he launched Flyrobe along with ex-IITians Tushar Saxena and Shreya Mishra in 2015.
"Renting as a new paradigm in consumer behaviour in India is exploding. Gone is the premium attached to ownership - now it's more of a burden. Be it in traditional markets like housing or now for cars, music, videos as well as fashion, renting allows people to add variety in their choices and makes their money go further," says Radhika Bansal, cofounder of Gurgaon-based Swishlist. in, an online door-to-door fashion rental service that delivers Indian and western designer clothing across 45 cities in India.
Rent the Runway
The concept of luxury rental is simple: Customers can choose from designer garments, handbags, sunglasses, jewellery and other accessories they like, rent it for a couple of days at a fraction of the retail price and then return it. The company will send their courier partner to your door to pick up the outfit. Some companies even allow you to own it by paying the retail price for the item. While most of these services have a virtual store to rent from, there are a few that are also actually brick and mortar retail.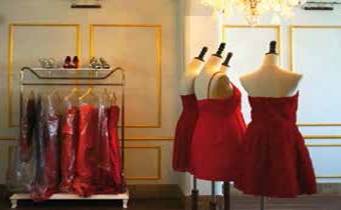 The average rental price is 10-15 per cent of the retail price of the product. The security amount is usually 50 per cent of the rental. One can rent a Jean Paul Gaultier gown or a Herve Leger dress for Rs 3000, Rohit Bal lehenga for Rs 5000, a cocktail dress by BCBG for anywhere between Rs 800-1,200. Men's suits like Hugo Boss and Armani range from Rs 1,500-2,500. Other options include heavy-duty bridal wear, semi-formal and informal dresses, coats, suits and ghaghra cholis for dandiya nights. The Clothing Rental even stocks fun and quirky pieces like fur jackets and crystal encrusted bracelets. "We often get calls from ladies saying 'Are you serious, this outfit is mine for an evening for only 2K,' and that never fails to bring a big smile to our faces," says Bansal. The garments are dry cleaned and steam ironed after every use. Delhi based Swishlist works with drycleaners Presto to ensure every outfit is clean and looks and smells fresh when it reaches the customer.
Flyrobe which claims to have partnered with designer labels like Outhouse, Masaba Gupta, Ritu Kumar, and Shehla Khan supplies western wear on-demand with a three-hour delivery timeline and the ethnic wear on advance booking. "We get 70-100 orders every week. A garment is rented for three days, but the security deposit is taken only on ethnic wear, which is more expensive, and not on the western wear. We take 20 per cent of the security deposit on ethnic wear," clarifies Surana. Flyrobe even sends a fit expert to customers' homes to ensure that the garment is fitted to specification. This service is only available for ethnic wear garments. Some sites also offer styling tips and alter an outfit to suit your size. Apart from tie-ups with both international and Indian designers, garments are also sourced from New York, Milan, Paris and Hong Kong. "Diwali and peak wedding season between October to March are our busiest months," informs Bansal.
Making perfect business sense
In the past few months, the online fashion rental market in India which is pegged at $3-4 bn has been exploding. There are several startups mushrooming in this space with existing players even attracting seed funding. Flyrobe raised Rs 11.3 crore (around $1.7 million) in seed funding led by Sequoia Capital. Recently, Mumbai-based Panoptic Solutions Pvt. Ltd, which operates online fashion rental platform Blinge, raised an undisclosed amount in its first round of funding led by Anupam Mittal, founder and CEO of People Group. "Our customer set encompasses women 22 to 35 years of age and beyond, and has been growing at more than 60 per cent month-on-month. Our repeat user base is three times of the benchmark for any other fashion e-commerce company. With increasing technology adoption and fashion consciousness in India, we definitely think now is the perfect time for such an idea to create a huge impact. Who doesn't value getting a great dress at the tap of a button and a chance to look new every time, economically?" asks Surana. Swishlist which is currently self-funded by the co-founders plans to bring in investors to fuel the next wave of growth in the coming months.
Recovery dilemnas
Apart from dealing with stains and damaged pieces, recovering the cost takes time. A gown worth Rs 30,000 will have to be rented at least 10 times to recover the cost before the company can start making profits. "We also have to look after the maintenance of the garment. I remember purchasing a gown worth Rs 4 lakh and there were no takers. How do I recover that money?" asks Bhatia. A security deposit is collected along with the rental to protect against damage and late returns which is refunded at the time of return of the outfits.
The future
<![if !vml]>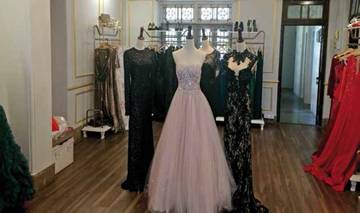 <![endif]>Flyrobe has recently launched in Delhi and Ahmedabad and plans to expand to other cities including Pune, Bangalore, Hyderabad, Chandigarh, Jaipur, Ahmedabad and more. The company even plans to launch a subscription service in the future to power women's daily office wardrobe. The Clothing Rental which already owns two stores and mobile applications available on iOS and Android intends to stregthen its digital footprint before expanding to newer locations.
Though it is too early to predict where the sector is headed, renting has clearly found favour with this generation that values experiences over possession. It's the perfect way to dip your feet into the season's newest trends without any strings attached.