Fashionaccessories for children has a bright future, says Sweta Kumari.
Remember dressing up your dolls indifferent costumes and matching jewellery? While you were choosing hairaccessories for your doll from your sister's hair clip collection, you may nothave imagined that kids' accessories would soon become big business.
The latest trend in children'sfashion is to look good and feel better. Even if the clothes are not expensive,they can be enhanced with chic accessories. Designers of all segments arethinking of different aspects of a child's life as they design and sellclothing and accessories. The internet, with endless shots of celebrityoffspring like North (daughter of Kim and West), Harper (daughter of Victoriaand David Beckham), Suri (daughter of Tom Cruise) and Blue Ivy (Beyonce'sdaughter) is fuelling demand for a designer childhood. As children develop aliking for fashion and ongoing trends, they cherry-pick their clothes andaccessories on their own. With online shopping, it has become stress-free andconvenient for them to hunt for the things of their interest.
Irrespective of age, young onesfrom infants to older children are promising customers. Social factors likerapidly decreasing birth rate, parents having children later in life and a glutof baby-boomer grandparents with more disposable income today than ever havecombined to make childrenswear highly lucrative. The most apparent is designerstuff. Little Marc Jacobs launched in 2005; Stella McCartney Kids in 2010;Lanvin, Marni, Gucci and Fendi Kids all arrived in 2011, and Dolce &Gabbana brought up the rear in 2012. The biggest player? Burberry.
<![if !vml]>
<![endif]>
<![if !vml]>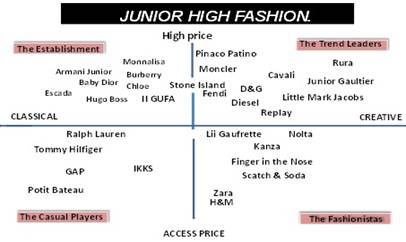 <![endif]>
Generally, children are grouped according to age.
*Infants or babies up to two years
*Children above two to eight years
*Children above eight to 12 years
Fashion accessories can be roughly categorised into two areas: Those that are carried, and those that are worn. Traditional carried accessories include purses and handbags, eyewear, hand fans, parasols and umbrellas, wallets, canes and ceremonial swords.
Accessories that are worn may include jackets, boots and shoes, cravats, ties, hats, bonnets, belts and suspenders, gloves, watches, jewellery, muffs, sashes, shawls, scarves, socks and stockings.
Although the trend is new, you may find it difficult to find a contemporary child who will compromise with looks, outfits and accessories.
Clothing
Kids do not pay much attention to apparel. Yet they want a range of clothes in the cupboard. Gone are the days when mom and dad would go to a store and shop for their children. Today's kids are inquisitive and precise and choose everything that is bought for them. Fashion trends are different for boys and girls but irrespective of gender, the childrenswear market is flooded with graphical prints. All big brands from Zara to H&M are full of these designs, driving kids and their parents crazy. Teenagers also like to play with different looks with help of fashion accessories.
<![if !vml]>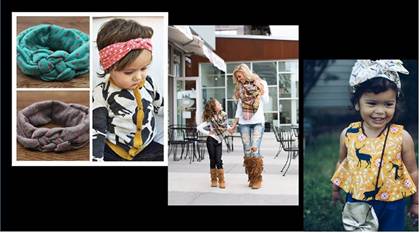 <![endif]>
Shoes
This segment of customers also pays attention to shoes. Some prefer sporty shoes while some fancy trendy footwear. Among teenagers, girls prefer heels and look-alikes of their favourite celebrity or craft new designs absolutely exclusive of their own. With Halloween around the corner, Nike has taken out its new range by adapting its Air Foamposit with a fittingly spooky Jack-o'-lantern print. Camper, on the other hand, has come up with futuristic shoes. Mythography and Bonus are experimenting with vintage denim patchwork sneakers. Fendi's colour blocked fur sneakers are masterpieces in their own right.
<![if !vml]>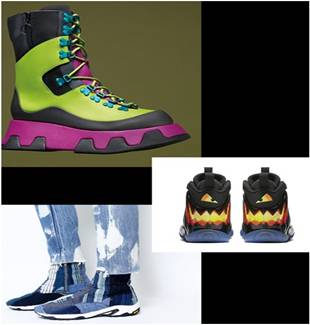 <![endif]>
Sunglasses
Children are fascinated by eyewear, especially by different styles of sunglasses. This passion for eyewear often competes with or beats the love for apparel. There are innumerable brands that offer variety with enormous designs, styles and tints.
Haute fashion brands like Rayban, Gucci, Dior and Police have created junior collections emulating the designs of their most valued and finest iconic shades for grown-ups.
<![if !vml]>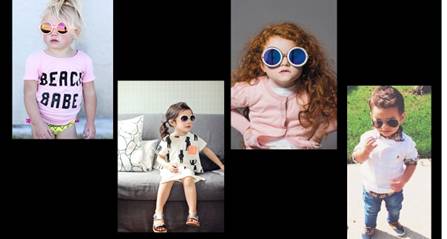 <![endif]>
Handbags
Most little girls are fascinated by designer handbags. They try to match them with their attire. Designer bags are an indispensable accessory to complete an ensemble, be they heavy and spacious bags or small and delicate clutches. Most children want a bag to hold their must-haves and keep them safe. Designer bags include lines for babies, juniors and teens, boys and girls. All big designer labels from Gucci, Dior, Coach to Louis Vuitton are working on these lines. Christian Louboutin launched fairytale-inspired bags which was an instant hit among girls who could afford them.
<![if !vml]>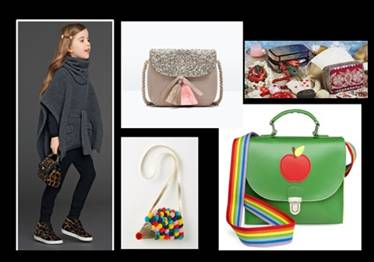 <![endif]>
Hairstyles
Kids love to play with hairstyles and to enhance hairdo using different fashion hair accessories and haircuts. Teenage girls generally flaunt anything from bobs, pigtails, pixie cuts, neck-length cuts to straight, long hair. Hairstyles for boys can be different and they can choose from bowl cut, Caesar cut, flattop, buzz and many others. Hair accessories have become big business. All big brands are working on it.
<![if !vml]>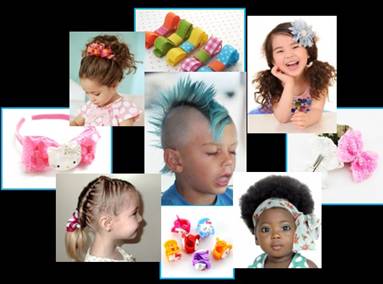 <![endif]>
Miscellaneous fashion accessories
Some accessories like scarves, umbrellas, caps, stockings and jewellery may not be divided into major categories but they are vital in cultivating and crafting divas.
Fashion trends for kids are as unpredictable as the young wearers and thus, fluctuate. Children are impulsive buyers and promising customers. They have the power to persuade, influence and pressurise their parents' purchasing pattern, and all retailers are aware of the fact that the childrenswear market is one of the most lucrative segments in the global apparel industry. In that niche, fashion accessories play a promising part. For many designers and brands, the childrenswear sector is where the money is.
<![if !vml]>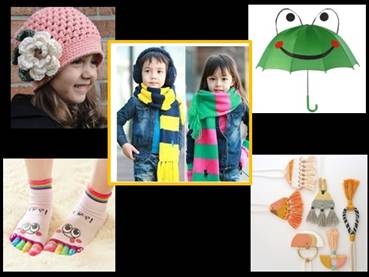 <![endif]>
Reference:
1. Wikipedia
2. Weconnectfashion.com
3. Fashion-history
4. Pinterest
About the author:
Sweta Kumari is senior faculty in Footwear Design and Development Institute, and a qualified accessory designer from NIFT. She has studied fashion styling at FIT- New York. She is the curator of the luxury accessory brand, Nuvon.