Fashion accessories for children has a bright future, says Sweta Kumari.
Remember dressing up your dolls in different costumes and matching jewellery? While you were choosing hair accessories for your doll from your sister's hair clip collection, you may not have imagined that kids' accessories would soon become big business.
The latest trend in children's fashion is to look good and feel better. Even if the clothes are not expensive, they can be enhanced with chic accessories. Designers of all segments are thinking of different aspects of a child's life as they design and sell clothing and accessories. The internet, with endless shots of celebrity offspring like North (daughter of Kim and West), Harper (daughter of Victoria and David Beckham), Suri (daughter of Tom Cruise) and Blue Ivy (Beyonce's daughter) is fuelling demand for a designer childhood. As children develop a liking for fashion and ongoing trends, they cherry-pick their clothes and accessories on their own. With online shopping, it has become stress-free and convenient for them to hunt for the things of their interest.
Irrespective of age, young ones from infants to older children are promising customers. Social factors like rapidly decreasing birth rate, parents having children later in life and a glut of baby-boomer grandparents with more disposable income today than ever have combined to make childrenswear highly lucrative. The most apparent is designer stuff. Little Marc Jacobs launched in 2005; Stella McCartney Kids in 2010; Lanvin, Marni, Gucci and Fendi Kids all arrived in 2011, and Dolce & Gabbana brought up the rear in 2012. The biggest player? Burberry.
<![if !vml]>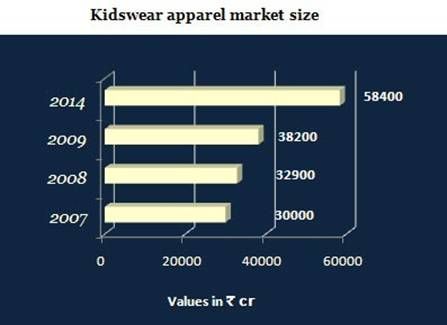 <![endif]>