The most important feature of jute is its biodegradable nature. That makes it environment-friendly, says Satya Narayan Bag.
If you pitch jute products against plastic, jute scores high. It pollutes the environment far less and can be used multiple times. Jute is bio-degradable. It is mainly grown in India and Bangladesh. Countries like China, Thailand, Myanmar, Nepal and Bhutan are also involved in jute cultivation. Jute has versatile uses because of its physical and chemical properties such as high tensile strength, low extensibility and better breathability.
It is known that the United States of America, Iran, Syria and Turkey have increased their import of jute products. Turkey is the largest importer, followed by India. In 2012, import contribution of jute products by India was 15.26 per cent of overall world jute products imports. Countries that are environmentally conscious are now using natural products, instead of plastic, to keep the environment clean.
Results and discussions: Table 01 shows the supply position of raw jute. It has increased from 2014 -15 to 2015-16, but dropped in 2016-17. Total distribution positions of raw jute bales followed the same pattern as supply of jute bales.
Table 01- Supply and distribution of raw jute (lakh bales of 180 Kgs)
<![if !vml]>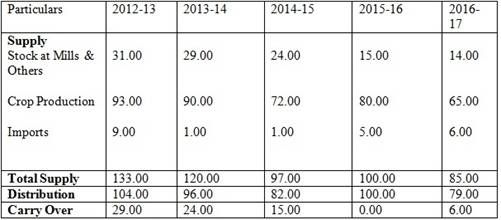 <![endif]>
Both supply and distribution of raw jute bales were better in 2015-16 due to higher crop production and higher import of raw jute from Bangladesh.
Table 02 explains the production of raw jute around the world. Globally, raw jute production (in lakh bales) was increasing from 2008-09 to 2013-14. Higher crop production in India and Bangladesh was due to heavy rains. This translated into higher production of raw jute in 2010-11 and 2011-12.
Table 02 Production of Raw Jute (lakh bales)

Both India and Bangladesh enjoyed increased raw jute production from 2008-09 to 2013-14. In 2011-12, India produced 54.28 per cent of the world's total jute production and Bangladesh produced 44.5 per cent, second next to India (Fig 01).
Figure 01: Production of raw jute in different countries
Table 03 exhibits the export potential of raw jute around the world. Export of raw jute had increased from 2008-09 to 2011-12 and touched 25 lakh bales in 2011-12. Thereafter it dropped to 12 lakh bales in 2013-14.
Table 03 Export of Raw Jute (lakh bales)

Bangladesh is the world's leading raw jute exporter. In 2011-12, Bangladesh exported 92 per cent of the total global export of raw jute.
Table 04 Value of Export of Jute Goods (In crore)

Table 04 shows that export of jute goods like hessian cloth and bags decreased from 2011-12 to 2014-15 by 23.5 per cent. The export value of sacking cloth and bags increased from 2010-11 to 2014-15 by 16.6 per cent. So, hessian cloth and bags were earning higher foreign exchange value than sacking cloth and bags. Gradual decreasing export value was observed for carpet backing and yarn from 2010-11 to 2014-15. On the other hand, export value of other jute goods increased by 132.3 per cent.
Table 05: Export of jute goods (In thousands)

Table 05 explains quantity of export of jute goods from 2010-11 to 2014-15. Only the export quantity of hessian bags and sacking bags has increased by 94 per cent and 78.7 per cent respectively from 2010-11 to 2014-15.
Table 06: Jute Diversified Products (JDP) (Figures in crore)

Table 06 explains the export value of diversified jute goods in India. Export values of shopping bags has been increasing from Rs 125.4 crore in 2010-11 to Rs 247.5 crore in 2014-15, an increase in value of 97.35 per cent. In the same period, floor coverings increased to 77.67 per cent of export value. Other Jute Diversified Products (JDP) grew in the same period to an estimated 79 per cent increase of export value. Several entrepreneurs are engaged in JDP manufacturing. Young entrepreneurs are interested in manufacturing JDP and export Jute Diversified Products. Table 05 shows that Indian JDP in the foreign market has good demand and a bright future. People are demanding diversified jute products for environmental and other reasons.
Export of diversified jute products is increasing in India. Clients are looking for blankets, decorative fabrics, floor coverings, handbags and shopping bags, handicrafts and other gifts items. The National Jute Board has extended its activities to marketing these products abroad. These initiatives have helped the jute industry start a new era.
Table07 Production of Jute Goods



Table 07 shows how total production of domestic jute goods has decreased by 22.25per cent from 2010-11 to 2015-16. Hessian and sacking cloth production have decreased by 19.6 per cent and 17.17 per cent respectively in the same financial year. This is because of cheap synthetic bags being used to pack foodgrain.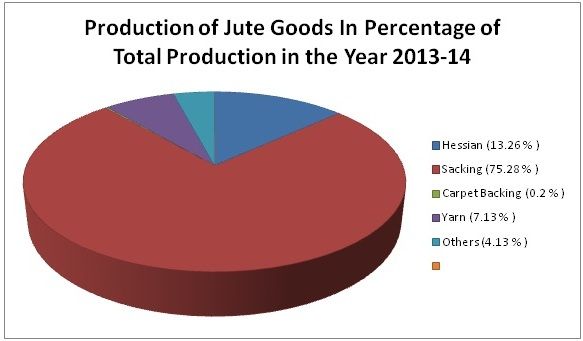 Figure: 02 Productions of Jute Goods in 2013-14
Figure 02 explains the percentage of different jute goods in 2013-14. Production of sacking, in terms of quantity, was highest at 75.28 per cent of the total production of jute goods. Hessian came next with 13.26 per cent.
Table 08: Production of sacking Bags (Tonnes)

Table 08 explains the production of sacking bags in different years. Overall, production of sacking bags dropped from 2011-12 to 2015-16 by 23.8 per cent due to low demand in the face of cheap plastic bags. In 2015-16, as figure 03 shows, B. Twill bags contributed 93.8 per cent to the overall sacking bags production, followed by 3.1 per cent of A. Twill bags, 0.82 per cent DW Flour, 0.2 per cent Heavy Cees bags and 1.97 per cent of other sacking bags. B Twill bags, therefore, are the major sacking bags used for food grain packaging.
However, all stakeholders need to recognise and accept that jute bags have advantages. They are eco-friendly and bio-degradable. To keep our environment clean, we need to increase the use of jute packaging material.
Figure 03: Production of Different Bags in the Year 2015-16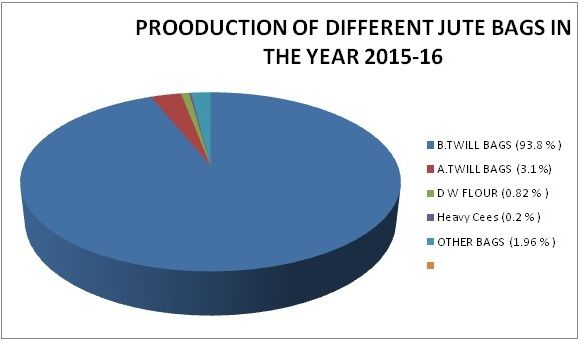 About the author:
Satya Narayan Bag is a development manager at Bally Jute Company Ltd
Images courtesy:
1. IJMA July 2016 issue
2. IJMA July 2015 issue
Reference:
1. Ijma.org
2. Worldjute.com
3. Ijira.org
4. Jutecomm.gov.in
5. Jci.gov.in
6. Jute.org
7. Bis.org.in
8. Commerce.nic.in
9. Uia.org