The year gone by saw a number of mergers, acquisitions and launches in the e-commerce space in India. The year also saw cutthroat competition between the Big Two of online retail, Amazon India and Flipkart, a battle where fashion emerged as a key factor. Subir Ghosh looks at the key developments taking place in the online fashion space.
<![if !vml]>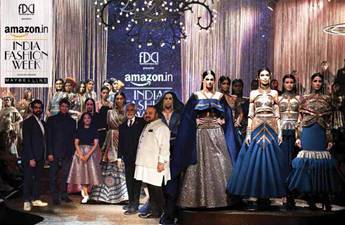 <![endif]>Estimates vary, but trends are by and large clear: e-commerce is growing, and fashion has emerged as a critical component driving online sales in India. The year 2016 saw a flurry of activities in the e-commerce space, with a lot of these related to apparel. The question in one's mind is no more of whether e-commerce will grow or at what rate; it is now more about the dynamics of the fashion segment itself, as also about who will race ahead in online fashion sales.
Of Numbers, Trends and Conjectures
One of the primary ways to know and understand a market is through numbers. But when estimates and predictions of different analysts differ from one another by huge margins, a stakeholder has little choice but to believe the one he/she wants to. In fact, this is what is true of the numbers related to India's e-commerce sector that have been bandied around through 2016.
The gap between the most bullish and conservative estimates is unbelievably yawning-a whopping $70 billion. Global financial services firm Morgan Stanley has estimated that e-commerce sales in India will reach almost $120 billion by 2020; banking and financial services group UBS Group AG, on the other hand, had predicted that online retail will rise only to $48-60 billion by that year. Other estimates fall in between, with RedSeer Consulting predicting $80-100 billion, Goldman Sachs estimating $68.8 billion, and Google-AT Kearney looking at $60 billion. All analysts looked at gross sales, and left out discounts and cancellations from their estimates. Yet, all of them were unanimous in what would drive online retail: rising sales of smartphones and mobile Internet connections, rising incomes, uninterrupted flow of capital, shortage of organised retail stores and improvement in e-commerce infrastructure such as logistics and payments.
In February 2016, Morgan Stanley said in a report, "We now increase our 2020 estimate (of India's e-commerce market) from $102 billion to $119 billion. This takes our estimate of the total Indian Internet market size from $137 billion to $159 billion (now including online food aggregation business)." Morgan Stanley said a global macroeconomic slowdown could affect the flow of venture capital/private equity (VC/PE) money into India, thereby slowing gross merchandise volume (GMV) growth and lowering valuations.
Morgan Stanley argued, "We expect Internet penetration to increase from 32 per cent in 2015 to 59 per cent in 2020, translating to a near-doubling of the Internet user base." It estimated that India would have 320 million online shoppers by 2020 compared to 50 million in 2015. "Per capita incomes are likely to double by 2025, this should drive higher aspirations of the Indian consumer." UBS Group AG had made its predictions in April last year. Online retail sales could touch anywhere between $48 billion and $60 billion by 2020 from $4.47 billion in 2014, driven by an explosive growth in smartphone penetration and the resultant increase in mobile commerce, UBS said in the report. "Profitability has to happen much before 2020, otherwise investors will be in trouble, as it'll be tough to justify valuations. E-tail is replicating the role of the distributor/wholesaler and the retailer in the traditional brick-and-mortar supply chain, in our view. We argue that if the margin available to these two components of the supply chain currently in offline is adequate to cover the operating costs of e-tail, then it is definitely a viable business."
The UBS Group had pointed out something that will in all likelihood be crucial to growth. Discounts, which had fuelled the growth of online retail, were estimated to drop 7 percentage points as a percentage of GMV. Then, operating costs were estimated to fall 4 percentage points as a percentage of GMV as companies benefit from economies of scale. UBS felt that if e-commerce companies can cut discounts and operating costs, their average gross margins will jump to about 15 per cent in 2020 from 8 per cent in 2015, UBS estimates.
"(The estimated drop in discounts) remains the key for surprise to our estimates of break-even (by 2020) and ultimately profitability," the UBS analysts wrote. This, however, did not happen in 2016. The success of all mega shopping festivals organised by online giants Amazon India and Flipkart during the year were heavily subsidised by irresistible discounts.
According to a study released by the Internet and Mobile Association of India (IAMAI), with a compound annual growth rate (CAGR) of 30 per cent between December 2011 and December 2015, Indian e-commerce stood at ₹1,25,732 crore. This was expected to hit ₹2,11,005 crore in 2016. Online shopping came after online travel, which was valued at ₹76,396 crore. According to IAMAI, apparel and footwear sales grew by 52 per cent, from ₹4,699 crore in December 2014 to ₹7,142 crore in December 2015. This segment was expected to reach ₹72,639 crore by the end of 2016.
There are obviously differences in how much e-commerce will grow in volumes and at what rate as well, but what is certain is that it will keep growing at a fast pace.
Fashion as a Driver of E-commerce
Of course, e-commerce itself is fine; but what about online fashion?
Well, if existing numbers are anything to go by, travel (including airlines, railways and hotel bookings) remains the top driver of e-commerce in India; fashion comes next and is not too far behind. This trend is going to continue, with each not in conflict with the other.
The year 2016 was extremely exciting and happening for e-commerce in India, primarily online shopping. The big two of online retail-Amazon and Flipkart- kept dominating business headlines, innumerable fashion startups mushroomed, and investments boomed. There is little doubt in anyone's mind as to how important fashion has become. What remains to be seen is how much this segment will grow, since the bottlenecks remain. For instance, according to IAMAI, cash-on delivery (COD) accounted for as much as 76 per cent of transactions in 2015. But with the government drive for a cashless economy, e-tail is bound to take a hit in the short run, and both the volume and rate of growth will depend on how consumers take to online payments. Given this disruption in the market, many of the analysts might want to revise their growth estimates. Many others might want to assert that this is only a teething trouble so to speak; growth is inevitable.
This growth factor was highlighted in a report released by Google and AT Kearney in 2015. At the launch of the report, Nitin Bawankule, Google India director for Ecommerce and Online said that the Indian fashion market was all set to cross ₹2 lakh crore mark by the end of 2020. Bawankule said, "By 2020, India is expected to generate $100 billion online retail revenue out of which $35 billion will be through fashion e-commerce. Online apparel sales are set to grow four times in coming years." Online searches are a good indicator of trends, and Bawankule contended that as per data from Google, every third search query on their platform was related to fashion and accessories, and such queries were increasing at a rate of 65 per cent every year.
Buy why this sudden craze for fashion? An explanation for this came in March 2016 through a report that was commissioned by online fashion retailer Koovs.com and published by management consultancy Technopak. The opportunity for Western fashion brands was huge, it said. Out of India's 240 million households, at least 50 million were "aspirational global consumers."
Mary Turner, chief executive officer of Koovs, said the company, which sells high-street and premium brands such as DKNY, Warehouse, Vans, Nike, Giles at Koovs and Henry Holland for Koovs, was seeing "significant and accelerated desire for Western style and culture" that was driven by unprecedented access to the Internet and social media. The report said the arrival of e-tailers such as Amazon had brought great credibility and investment in the e-commerce business model.
The entry of Amazon some twoand- half years back has possibly been a gamechanger, and its tussle with Flipkart needs to be examined minutely (more in the next section). Apart from the usual competition in the marketing and promotional spheres, the two giants have been jostling considerably for the fashion e-commerce space. How much the battle for a foot-hold by two can transform into a stranglehold for one is what is going to drive online fashion sales in the future.
<![if !vml]>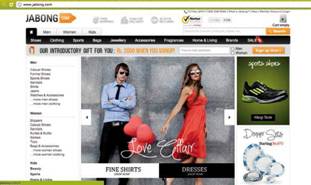 <![endif]>But the battle has already begun. In September Amazon India launched Symbol, a private fashion label, in a bid to capture the high-margin e-fashion segment. Symbol, an Amazon Exclusive label, was described as a "western-wear brand which straddles formal and casualwear." But since India's rules for foreign direct investment (FDI) does not allow inventory-based online retail, Amazon India has tied up with Cloudtail India for this label venture.
Amazon's move came as a riposte to Flipkart-owned Myntra acquiring fashion portal Jabong in July, a transaction that gave the Flipkart group almost 70 percent of the online fashion market. As of now, Flipkart Fashion offers over 60,000 brands, 5 million styles, over 8 million listings and over 100 million searches in a month. This vertical accounts for gross sales (pre-cancellation) of roughly ₹300-400 crore a month, accounting for close to a fifth of the portal's sales. The churning in the e-commerce space is a reflection of the rivalry between Amazon India and Flipkart, and fashion has emerged as a key factor in this frenetic competition. Keeping track of this is RedSeer E-tailing Leadership Index (ELI). According to the third version of ELI, Flipkart was India's most popular e-commerce platform in the three months to October, just ahead of Amazon India, which has spent hundreds of millions of dollars to build loyalty with Indian shoppers.
The index, published on a quarterly basis in Mint, is compiled by research and advisory firm RedSeer Management Consulting. RedSeer surveyed some 6,000 online shoppers in 30 cities, tracking prices of more than 600 mobile phones across India's top six e-commerce firms. ELI considers three metrics: trust in a brand; product assortment and prices; and the overall buying experience in terms of ease of using the e-commerce platform, delivery speed/consistency of orders and ease of product returns or cancellations. It does not reflect sales performance or losses.
Big, New, and Niche players
When predictions about e-commerce were being made in India even a few years back, the discussions were all about either online travel or lifestyle products; fashion almost always never either figured in futuristic debates or dominated headlines.
But with the Big Two of Indian e-tail-Amazon India and Flipkart- going the fashion way, the discourse has undergone a radical shift. It's already a question of whether Amazon or Flipkart can emerge as the largest retailer of apparel in the country. Both companies know this well, and have been ramping up their offerings through Amazon Fashion and Flipkart Fashion respectively.
Fashion and accessories have been driving sales at Amazon US, and the company there is predicted to become the number one US apparel retailer by 2017. Even though Amazon was founded in 1994, it did not enter the apparel market till 2002; now it's slated to overtake Macy's. According to Cowen and Company, Amazon's growth in the US is being driven by three factors: key brand partnerships, private label lines, and live shopping programmes. Brands like Calvin Klein, Lacoste and Nicole Miller have all signed up with Amazon. It now has 34 per cent more fashion buyers than Target, and 2 per cent more than Walmart. Amazon is seriously big.
All this also begs the question: can Amazon, both in the US as well as in India, do what it did to the books/ publishing industry?
The trend has not gone unnoticed by others. In April 2016, Reliance Retail entered the online fashion fray with ajio.com. The online store was to feature a collection of over 200 international and Indian brands as well as its own offerings. The store planned to leverage Reliance's sourcing, supply chain and retail capabilities as a differentiating factor. This venture preceded the rollout of the Reliance conglomerate's Jio 4G telecom service. This was the third major fashion venture by a big retail company: in October 2015 the Aditya Birla Group had launched abof.com to sell apparel brands owned by its group companies and footwear and accessories. In August that year, the Shoppers Stop chain had tied up with Snapdeal for an exclusive online store. The Tatas too have launched TataCliq, but that is not an exclusive fashion outlet. The days of snail-paced growth are a boring dream of the past: the Indian e-commerce sector registered a CAGR of 34 per cent between 2009 and 2014. Even by the most conservative estimates, online retail will more than double up in the next four years.
Small-time Town, Big-time Business
Driver factors are many. With increasing Internet penetration in tier-II and III cities, online shopping too has been increasing there. Interestingly, women in these cities and towns have been playing a major growth driver. In any case, in tier-1 cities, women have traditionally been more active buyers than men and outspend men online by two-to-one, and one-quarter of women in tier-I cities make mobile purchases. But now, online buying aspirations of women in small cities and towns are increasingly converging with the aspirations of women in metros and mini-metros.
Among those who have these women in mind is Mirraw. Co-founder Shailesh Jain elaborates, "We are a marketplace for ethnicwear, and the majority of our products appeal to women. Women from tier-II and III cities make a special case for our products because they find it difficult to buy trends from across the country in one place. To add to that, the value-add services that we offer including ordering on phone and the comfort of cash on delivery attract these women to our platform.
Unmatched range and incremental value give us an edge to serve our female customers based out of these cities. Imagine buying a pure kanjivaram silk sari from your house in Himachal Pradesh, or getting your hands on the latest designer jewellery from Mangaluru.
"The number of orders we receive from these cities have been very good and shown an upward trend. With increase in rising incomes, penetration of 3G/Internet and rising aspirations, we are positive to build a $10 million business just from these cities by 2016-end. We get over 25,000 orders/month from tier-II and III cities, most of them in the age group of 25-35."
Jain also talks of traction. "Every category has a different traction based on the location of these cities. Up North, tier-II and III cities buy more of anarkalis and saris. Kanjivarams and patolas are a big hit. Leggings have also picked up really well among both tiers. On the other hand, in the South we have seen huge traction on jewelleries. Handwoven Jaipuri razais and silk saris are also catching up. We have seen a 100 per cent jump in the sale of these categories during festivals like Id and Diwali. The average order value is anywhere between ₹2000 and ₹5000."
Devangshu Dutta, chief executive of consulting firm Third Eyesight, explains, "The trend of increasing number of women shopping online in tier-II is supported by multiple factors: expansion of offerings catering to women, cash on delivery, improved delivery into smaller cities and, perhaps most importantly, the lower penetration of large retailers and brands in the smaller cities.
"In many instances, in fact, e-commerce and retail chains are at the same nascent level of penetration into these cities, and the speed at which online players can penetrate is far quicker than their offline counterparts. A bare extrapolation would project online players taking over significant share of the market in small cities in the next 3-5 years. However, there needs to be a significant push from the online companies-given that capital is becoming scarce and they're also now pulling back on discounts, there is bound to be a slowing down on their part. At the same time, offline retailers continue to grow slowly but steadily. Shopping is a social and experiential activity, as much as it is a transaction of need and convenience, and offline retailers have some distinct advantages over e-commerce platforms due to this."
Navin Mistry, head of retail exports at eBay India continues, "The Indian e-commerce sector is fast growing and consumer preferences are constantly evolving. The recent past has witnessed significant growth in the lifestyle segment with the category contributing significantly to the GMV. Increased mobile penetration across geographies in tier-II and III markets has enabled buyers to shop with ease and stay in tune with the latest fashion trends. Previously, consumers from smaller markets found it difficult to gain access to lifestyle products with ease but with the entry of e-commerce in India, the situation has changed significantly. All lifestyle brands are now available at the click of a button with widespread reach across small towns and regions in India.
"Increased disposable income and enhanced access to the online space has further propelled the growth of the lifestyle segment in these smaller markets. Tier-II and III markets continue to remain a key focus area as these markets contribute to 49 per cent of the total GMV in the lifestyle sector on ebay.in. One of the primary reasons for expansion of the online lifestyle segment is the increase of female customer penetration from 18-35 years across all markets. Female buyer penetration is increasing tremendously in tier-II and III towns in India."
All this has been happening without too much of a shift in strategy. For Kraftly, for instance, "Focus will remain on digital marketing. With increasing shift into social media, Instagram has seen a boom with over 50 million users. Seller communities on Instagram are into unbranded selling. So, going forward, Kraftly will be taking up digital advertising with the focus on Instagram and Facebook." Co-founder and chief executive Saahil Goel continues on the women factor, "An online portal does not demand any documentation, a shop takes a mere 30 seconds to set up and product upload on the app can be done right away by taking a picture and uploading it. The delivery processes at Kraftly are included in-house and very safe and secure. The delivery proofs of collection (POCs) always make sure the deliveries are on-time and verified from Navin Mistry, eBay the customer's end."
Taxes and Bottlenecks
For a country where almost three-fourths of online transactions were based on COD payments (according to the IAMAI report mentioned earlier), the demonetisation move of the Indian government as well as the drive towards a cashless economy will be a dampener for those who have predicted growth for the e-commerce sector; certainly in the near future.
Jain of Mirraw says, "Though the trend is changing slowly, COD is still a favourite among our customers. I think the touch and feel factor still matters to them. But we have been noticing a positive trend change whereby more customers have started using netbanking, credit cards. As more trust and comfort builds up over time we will see a swing in the preferred payment method."
The COD angle cropped up in debates immediately after ₹500 and ₹1,000 currency notes were demonetised in early November. All major online retailers either suspended COD services or capped the value of online orders almost immediately. At that point, almost 30 lakh orders were said to be in the pipeline to be delivered as COD services. The push for cashless transactions was not easy initially; in a matter of two weeks both Amazon and Flipkart were reported to be offering discounts to the range of at least 50 per cent on many of the products on sale. Online retailers, as well as most other businesses, are now focusing their attention on card-on-delivery transactions. For this, the procurement of point-of-sale (PoS) machines obviously needs to go up by leaps and bounds, but this also becomes critical since most COD sales are from tier-II and tier-III towns.
The demonetisation has also slowed down the path towards the Goods and Services Tax (GST), which in any case had run into a stumbling block since the rates could not be finalised owing to differences between the Union government and many state governments. GST was supposed to have benefited e-commerce companies the most.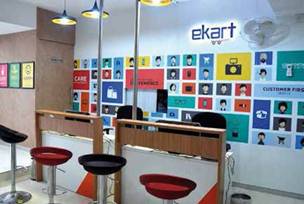 Nitin Bhatia, founder and chief executive of Trend Arrest, says, "There's a lot of uncertainty around GST right now. There are many questions that need answering before we can assess impact. For instance, the VAT rates currently for apparel are around 5 per cent but with GST the tax may be 18-20 per cent. This clearly may mean lower sales and margins both. There will be a need for changes in technology that we use too-the customer facing as well as the backend accounting. We definitely need a change in our tax structure-here's no doubt about that. We currently have so many different layers of taxation with such complexity that the administrative costs are way higher than countries where GST is used. So, we are looking forward to positive changes to our tax structure but it has to be in a way that the cost doesn't rise."
Varinder Singh Jawanda, founder of TrendyBharat, adds, "Under GST, India would become a common market and drive uniformity, reduce compliance costs. Due to restrictions on cross-utilisation of input of central taxes against state taxes there is price escalation due to taxes sticking to products sold. A number of e-commerce transactions are also undefined in tax laws (e.g.: e-wallet, gift vouchers, drop shipments, advance receipts, COD, etc.). With interstate transactions becoming tax neutral vis-a-vis local sales under GST, the warehousing strategy of e-commerce companies would also need re-engineering to meet client proximity needs and not be driven by tax consideration. On the positive side, pricing of product, profitability would be more predictable and agnostic to the destination of the customer. For e-commerce companies who buy stock, store inventory and sell, in place of 12.5 per cent excise, they will have to shell out 17-18 per cent GST, thus driving up prices. They will also be taxed on unsold inventory held in warehouses."
There are other current hindrances that should be ironed out sooner or later. Abhishek Samdaria, business head of Reflete, believes more and more retailers will limit stocks and try to focus on customised merchandise in every major product category. "The major issue in any fashion retail business is always excess or dead stocks. This is a major reason why most brands fail to make a mark in the market in the long run as most of their resources get exhausted due to unsold leftover stocks. By limiting this problem, a company can achieve great success in the retail market. Going forward, a lot of technology, research and development has to be induced in working so as to minimise wastage/leftover stock and optimise sales with stock in hand."
The Days to Come
There can be no two arguments about this: online fashion will grow, and the times ahead are going to be very exciting for the textiles and apparel industry.