Any fashion jeans beyond US$ 250 today come under the super premium category. Despite growth and visibility in this category, super premium denim is yet to achieve a significant market share.
All denim watchers wonder "what super-premium denim is?" Is this only a jargon of word or it really exists? The history of denims from the period of James Dean and Marlon Brando in Hollywood to the advent of Gloria Vanderbilt and Calvin Klein, as designer jeans, saw a sporadic upward movement of denims in terms of price, through better cuts, styles, fits, etc. No one dared to define a cut-off price to describe super-premium denim. A price of US $75 got tagged with the premium denims, whereas super-premiums still remained elusive in its definition till the beginning of new millennium. Today, any fashion jeans beyond US$ 250 come under the super premium category.
Meanwhile, luxury world got a bombshell from "Z tyre" of Dubai sometime back, by their announcement of "world's most expensive car tyre" sold for ₹4 crores. Embedded with 24 carat gold and specially selected diamonds, a set of 4-tyres was recently sold for US$ 600,000 setting the Guinness World Record for the most expensive set of tyres. They were decorated by Italian artisan jewellers and designed in Dubai.<![if !vml]>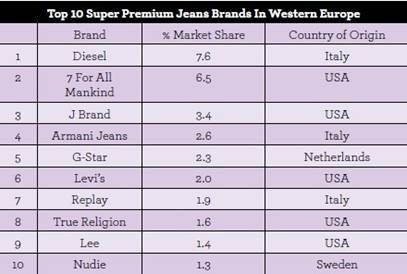 <![endif]>
Denim aficionados, particularly in the fashion world, being challenged by such unprecedented development would love to review the world of super premium denim.
It is highly exciting and interesting to know that a pair of jeans outsmarted a set of record breaking tyres and many other global luxury items. Kudos to the open secret!!
In fact, in the beginning of 90s, Diesel reigned as a global leader in the field of super premium denims, though not being a part of the above table today.
<![if !vml]>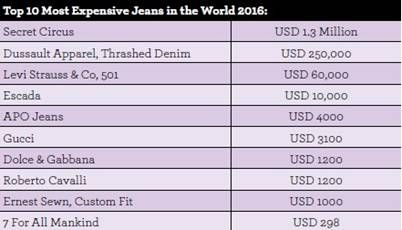 <![endif]>Premium denims continued their ride in the 1990s till the global recession in 2008 when US denim was hit hard. Western Europe showed strong resilience to recession and displayed appreciable year on year growth. Super premium denims, in the recent period showed the fastest growth and are continuing as shown below.
In 2013, EU imposed additional import duty on US made girls' and women's jeans that adversely affected US export of super premium categories. However, made in Los Angeles, United States tag generated continued interests in EU denim fans for True Religion, J Brand and 7 For All Mankind like Bestsellers. Today's consumers look beyond good look, great feel and solid performance to environmentally sustainable wears. Cone Mills, USA, once world's leading denim fabric producer and original supplier of Levi's 501 denim, being under high pressure for survival at the beginning of the millennium, bounced back through sustainability and bringing age old selvedge denim as super premium denims.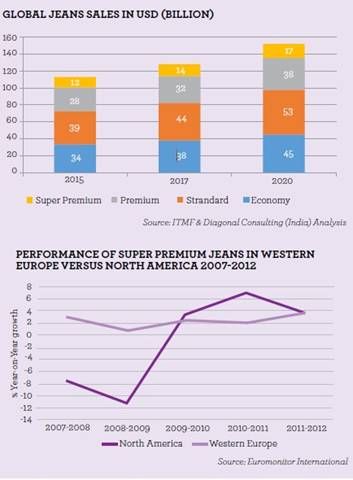 Other than the established super premium denim brands and retail players, a whole host of new entrants like D-Bar, a sub terranean denim lounge at Beverly Hills, Destination Denim - Shopping Centre at Selfridges, Swedish Cult "Nudie" Jeans, MiH (Made in Heaven) have made their presence felt in this category. Heavier authentic denims are also back into fashion.
True Religion, as a part of its fall marketing campaign, recently showed its luxury 'Phantom' to retailers. High-priced super-premium denim lovers, in their current preference to antilogo trend in fashion, are accepting Phantom as 'newest and hottest'.
Benzak, a super premium Japanese jeans brand now produced in Europe, is meeting high expectations of European buyers.
Gucci brings back specialised acid wash once again in 2016.
Despite growth and visibility in this category, super premium denims is yet to achieve a significant market share. The world of fashion and the role it is expected to play in its growth are yet to be explored adequately by the leading designers, brand makers and retailers. Rich natural fibers like wool and silk are yet to see their presence amongst this category.
About Dr. P R Roy
Dr P R Roy is a PhD in textiles from the University of Manchester, United Kingdom and a former Group Chief Executive (Textiles) of Arvind Mills Ltd., based in Ahmedabad, India. Roy has a rich experience in industry, research and teaching of over 40 years. As management consultant (textiles), he is currently advising various textile mills to shape up their future and also extending them technical and managerial support. He is an expert in textiles and is also revered as "Father of Denim in India". Dr Roy spearheaded the major development on indigo wool and silk at Malwa Industries, Ludhiana that was subsequently patented by Malwa.