Women consumers control about USD 28 trillion inannual consumer spending. Diagonal Consulting (India) analyses the history andevolution of jeans as a modern dress habit for women.
It has always been exciting and interesting totrack the global female economy. Harvard Business Review, in the recent yearsdealt with the topic to have a fresh assessment. "Women now drive theworld economy".
Globally, women consumers control about USD 28trillion in annual consumer spending. In aggregate, women represent a growthmarket bigger than China and India combined - more than twice as big, in fact.Given those numbers, it would be foolish to ignore or underestimate the femaleconsumer. And yet many companies do just that, even ones that are confident.
Michael Dells' experiment with women's laptopshas been a classic example of the above that forced him to go to the School ofMarketing Hard Knocks. "You spoke and we listen"-Dell had to respondto the users.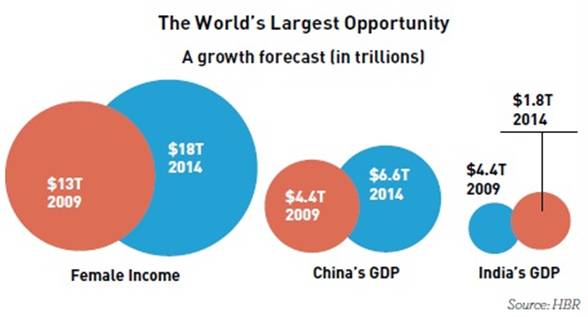 The history of women's fashion has been as oldas the human civilization and that too widely varying in different parts of theworld, greatly influenced by the monarchy, society and historical culture andhabits. However, fashions in the sense of modern dress habits including jeansand pants are fairly young.
"Jeans is an attitude, not a pair ofpants". Jeans had originally been designed as men's work pants but in the1870s, western women who worked along with men on ranches and farms began towear men's jeans. Savage refers to Willy Mathews, who in the 1870s outfittedherself in her brother's clothes to get a job as a cowpuncher.
Fashion has always been key to how women havepresented themselves to the world and how society has wanted to present womento the world. From panniers that emphasized wide hips to shoulder pads thatemphasized power, the fashion of the time tells our history in great detail.
During the First World War, women worked infactories, drove ambulances, tended the wounded in fielded hospitals and bynecessity re-managed their wardrobes to suit the times - skirts became evenshorter, hair was either tied up or cropped and fashion designers were for atime outpaced by the march of history itself.
In 1930, Vogue magazine ran an advertisement depicting two society women in tight fitting jeans, a look that they called"western chic". About 80 years ago, Levi Strauss and Co., forever changed women's fashion with the introduction of Lady Levi's Jeans - the world's first jeans exclusively for women. Historically, women and jeans did not mix. At the same time, they were fighting for their right to vote, womens punky enough to don denim were ridiculed. To practice functionality of jeans,some wore their husband or brothers' 501 s. Levi Strauss & Co., took a risk altering the course of women's fashion.
First developed for western women wearing Levi's jeans on farms and ranches, the new line was also aimed at women vacationing at dude ranches, working cattle or horse ranches, that welcome guests flocking from the eastern states or even Europe. Although jeans for gals were brand new in 1934, Levi Strauss & Co., had been offering women's clothing as early as 1918. That year company created "Freedom - All s" a one-piece garment whose name evoked the emotion of World War 1.
Creating women's jeans, a decade later proved progressive. The liberating lady Levi's line caught on quickly in the west.
By the mid 1930's, department stores were stocking Levi's jeans and western boots in the women's section. After World War 2, jeans manufacturers would offer a pant for women, similar to those of men,but with a "side opening" instead of a fly front opening. It was not until 1958 that adjustments were made in the design of women's jeans to account for female shape, and in the 1960's, women's jeans became available with the fly-front zipper opening. Lady Levi's gave women - a rare option at the time -pants - tot customary through World War 2.
The sense of fashion freedom that lady Levi's jeans inspired 80 years back continues with today's latest denim fits and finishes that are now available across the globe. We, in India, in the recent years are in the same footsteps including spandex based women's jeans.
Marilyn Monroe, one of Hollywood's top names steered US female fashionistas towards jeans that eventually was led by designers like Gloria Vander built and Calvin Klein. Post 1980's - 90's and in the new millennium, the fashion changes came through various cuts, fits, styles and feels.
Recent study by the present authors reveal alist of leading brands/retailers catering to women's jeans for the upmarketfashion wears. Some such names are Gucci, 7 For All Mankind, True Religion,Diesel, Dolce & Gabbana, J Brand, Armani, G-Star, Levi's, Nudie etc.
In the new millennium, sustainability leads tofashion needs over and above look, feel and solid performance. D-Bar at BeverlyHills, Destination Denim at Selfridges, Swedish Cult 'Nudie', MiH - Made inHeavens, Benzak - a super premium Japanese Jeans, all are creating ripples inthe women's fashion jeans segment.
Replay, very recently introduced a brand-newjeans for women which the brand feels is a perfect blend of smooth factor,sensuality and a rich and attractive fabric. The jeans use a patented RECALLsystem to abolish creases in the knees and bottoms.
Alexa Chung predicts 2017's new denim trend asenters 'He for She', a global activist group demanding gender equalityworldwide, from abolishing child marriage to eliminating wage gaps. 'He forShe' works with leaders in every field to champion human rights. "Wedecided the party should be in their honour," Alexa explains because it isimportant. India, still by far predominantly, a saree market for women isinching towards jeans in the urban and semi urban markets. Coming years wouldbe more definitive in accepting jeans culture, thus creating a new fashionsegment. Denims' phenomenal growth in the recent years in India pinpoint thedirection.