Do you appreciate the smooth and luxurious feel, quality finish, custom-made look and comfortable wear of a garment? Credit the interlining, say Dr A K Choudhary and Sheena Bansal.
Interlining, the feature that does the trick, is a trim used in almost every garment. It is a layer of knitted, woven or non-woven fabric between the fabrics of the garment. It prepares its form, reinforces and prevents stretching. Even though interlining is an invisible part of a garment's interior, its construction and the fusion process and shell fabric influence sewability, durability, appearance and mechanical properties of the garment. Interlining is important in building shape into detail areas such as the front of coats, collars, lapels, cuffs and pocket flaps. It stabilises and reinforces areas subject to extra wear and stress like necklines, facings, patch pockets, waistbands, plackets and button holes.
Uses of Interlinings
Interlinings are used for various objectives.
1) For thickness, firmness and extra strength for a formal look to shirt collars and cuffs.
2) To give a firm, thick base to an embroidered logo.
3) Interlining is soft and flexible and is an insulator, so it can be used in winter coats and pants for a thicker layer.
4) Used behind thin fabrics, it gives it a thicker and more appealing look.
5) Used behind embroidery, it makes the piece look thicker and enhances the look.
6) Sewing clothes is easier and faster with interlining.
7) The colour of interlining can be chosen according to the colour of the garment.
8) Interlining affects the comfort of the garment, which is important to the wearer.
Required properties for interlining
Interlining in garments is characterised and assessed by engineering properties like:
* Tensile and elastic properties - Tensile and elastic properties of shell fabric influence properties of stabilised garment parts and influence compatibility with the interlining.
* Bending - Bending properties of shell fabric and interlining ensure suitable appearance and fall of stabilised garment parts.
* Shearing and surface properties - One of the earliest actions of a buyer is to touch a garment to estimate how the fabric will perform. The characteristics of textile surface, determined visually or by subjective estimation of a handle, are important for evaluation of the quality of fused garment parts. Prospective wearers expect smooth surface and comfort especially in the collar and cuffs which touch the skin. So, physical properties like thickness, compressibility, surface friction and stiffness of shell fabrics fused with interlining are important and define usage comfort.
* Fabric handle and drape of garment - The mechanical properties of fabric or fused fabric assemblies determine their purchase. The fabric handle -- such as soft, plain, rigid - is the psychological perception of a fabric's character. It is measurable and can be defined on the basis of the fabric's mechanical and physical properties.
Categories of interlining
Interlinings are categorised on manufacturing methodology and finishes applied on the structure. Three main manufacturing technologies go into making interlinings.
1. Weaving - Plain woven, twill woven or canvas weaves
2. Knitting - Weft knitted or warp knitted
3. Non-Woven - Needle punched, spun bonded, thermal bonded etc.
These interlinings are treated with specific coatings like water repellent finish, stiffening finish, wrinkle free, anti-microbial finish to enhance performance of interlinings with garment functionality. Special finishes help the commercial wash processes in garments.
According to usage like embroidery, backings are made from specific material like easy tear or water soluble (hot or cold) to provide easy handling and proper finish to embroidery.
Two broad categories of interlining
According to application, interlining is divided into two categories, fusible and non-fusible. About 90 per cent apparel is made with fusible interlining and only some extra- delicate, special material like georgette, chiffon, silk, transparent and delicate fabric, crepe and seer sucker are stitched with non-fusible interlining. Shell fabric is mostly used as interlining for non-fusible interlining. Similar colour woven interlining may also be used. Since fused interlining is used in most apparel, some technical points must be taken care of.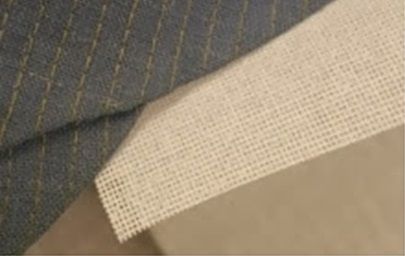 Figure: Interlining in Apparel
Fusible interlining
Interlining which uses a thermoplastic resin to attach the face fabric is known as an adhesive or fusible interlining. It is used for convenience. Functions of fusible interlining in garments include easy manufacture of garment due to stability of shell fabric, added volume due to good formability, silhouette and shape retention of garment due to repetition of dry cleaning, appropriate flexibility, improvement of the look, fall and applicable properties of a produced garment. Fused interlining should have excellent adaptability. There should not be any bubbling after washing.
Non-Fusible Interlining
Non-fusible interlining is an additional layer inserted between the outer fabric and regular lining of a garment without chemical bonding. Earlier, only woven materials were used as interlining in apparel. With developments in the textile and fashion industry, knitted and non-woven interlinings with adhesive to adhere to fabric have become a major success. The process of attaching non-fusible interfacing differs from attaching fusible interfacing. The methodology includes pattern making for interlining, cutting with seam allowances and stitching to adhere. Extra margin is cut before the garment is sewed.
So, the right selection and method of attaching interlining to the garment significantly enhances its quality and aesthetics.
Important activities related to interlining in apparel engineering
For target quality in garments, some measures need to be taken before bulk manufacture. These include:
1. Sourcing interlining material
2. Pattern making and marking parts of garment where shape needs stabilising
3. Methodology of fusing or attaching interlining
4. Type of fusing machine
5. Defects and preventive measures
Sourcing interlining material:
Interlining is procured as per the requirements of body fabric or garment type. The body fabric weight, stretch and bonding characteristics affect selection of interlining. The final look or stabilisation determines characteristics of interlining selected. Here is a chart with classification and selection of interlining according to requirement: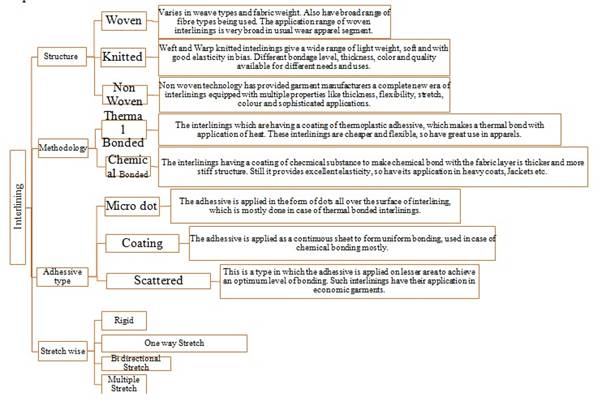 Pattern making and marking parts of garment where shape needs stabilizing
After analysing what the parts of the garment require, the manufacturer decides where the stand or stiffness may be required and chooses appropriate interlining. Patterns are prepared and marked according to the shape of the part. Use of interlining may depend on the requirement of
(i) Construction methodology
(ii) Luxurious or comfortable finish of garment
Sometimes, during construction we use interlining on the armhole curve to avoid seam slippage, puckering and roping. Inbound seam or any single layer placket requires fused interlining for extra stiffness. Pocket flap, chest piece and waistband need fused interlining for extra strength and smooth finish. Almost 100 per cent of formal apparels need stiffness in the collar, cuff, facing, side vent, slit end and fused taping which would stretch during wear.
Methodology of fusing or attaching interlining
Most new fusible interfacings fuse with steam. Some fuse with a dry iron for better results. Be sure to note:
Temperature setting - usually wool/steam setting. Low temperature fusibles use setting for silk.
Moisture - steam or dry iron; damp or dry press cloth.
Time - or number of seconds heat must be applied. Most lightweight interfacings need 10 to 12 seconds. Heavier weights require 15 seconds.
Pressure - some interfacings require firm pressure to force the heat-sensitive resin into both interfacing and garment fabric.
These parameters are set through sample testing before bulk production for any kind of machine, whether flat bed or roller type. Few guidelines on parameters for different fusible interlinings are given in Table 1. While deciding pressure, time and temperature adhesive on other side, conditions like air bubbles and yellowness in fabric should be taken care of.

Figure 1: Layout of fusible interlining applied using moving belt interlining machine
Few parameters that should be checked before starting bulk production:
Dwell time

Roller pressure

Fuse line temperature

Fusing condition like thermostat setting

Bond strength

Surface appearance

Dimensional change

Table 1: Guideline for different fusible interlinings
Fusing machines
There are two kinds of fusing machines. They differ in working principle and are selected as per manufacturer's requirements.
Roller type or continuous moving belt: This is the most commonly used machine in industry since it can attach most fusible interlining. It is more expensive because it consumes more power. Latest machinery heats by steam instead of by a heating element and saves power.
Flat-bed type: This machinery has a flat surface where interlining and fabric parts are kept and pressed with the upper surface. It is useful when interlining is attached on the complete garment. This avoids extra crease on the rest of the apparel but is rarely used.
Defects and preventive measures
Few defects that appear in while attaching interlinings are colour change due to bonding, accumulation of static charge, colour patches, rip in interlining, adhesive strike through or shrinkage of parts. So we need to take preventive measures.
Quality checks to prevent defects
Interlining colour should be selected according to shell fabric colour so there is no colour variation among garment parts with and without interlining.

The fabric and interlining materials could be provided antistatic finish, if required.

Temperature or pressure parameters should be checked to avoid colour changes or burning.

Fused interlining should not come off at least till five washes.

Surfaces should be properly cleaned. No loose and coloured threads should be left especially in white or light coloured fabrics.

Temperature of machine should be checked through temperature check strip at least twice a day. A written record should be kept with tested strip.

Adhesive must not strike through from other side because of excessive pressure and heat.

Wash shrinkage must be checked before mass production. Provide margins to compensate.

Identify appropriate kind of interlining through proper testing.
Methods of resin coating
Resin is applied on the base fabric to coat it using different methods. Methods of resin coating affect the properties of fusible interlining.
Scatter coating: Resin is sprayed on base fabric by a spray head. Then temperature and pressure are used to fix resin on base fabric. The molecular size of resin varies between 150 to 400 microns. Properties of interlining are not uniform all through in this type of coated interlining, so it is cheaper.

Dry dot coating: Powder of resin is applied on the base fabric in dot form by an engraved roller, then the base fabric is passed through an oven, where temperature melts the resin. Due to pressure of the roller, the resin sticks to the base fabric. There may be 3 to 12 dots per cm. Size of resin particles vary from 80 to 200 microns. For fine fabric, finer dots and for coarser fabric larger dots are used. Property of this type of interlining is uniform.

Paste interlining: Resin powder is converted into paste by chemicals and water. The paste is printed on the base fabric. Then, applying temperature, water and chemicals are evaporated from base fabric. Very fine dots are produced by printing technique with resin size 1 to 80 microns. Property is uniform.

Film coating: Resin is melted by temperature and applied on one side of base fabric as very fine film. Polyethylene as a resin is used for film coating. Flexibility of film coated interlining is less in this.

Emulsion coating: Resin is made into emulsion with chemicals and water. Then base fabric is passed through this emulsion and it picks up emulsion. A squeeze roller controls amount of emulsion take in. Fabric is passed through an oven where interlining is dried. This interlining becomes hard after fusing.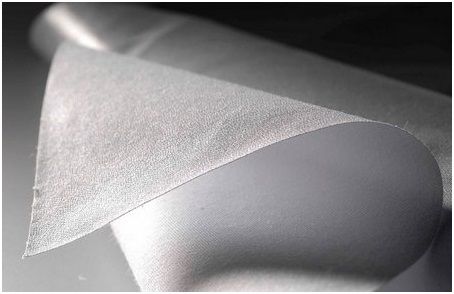 Fusible interlining
Continuous Fusing Press Machine
It is the most common fusing machine with continuous moving belt (Figure 2) used in garment manufacture. Garment component and interlining are first placed on the revolving feed sheet of the continuous fusing machine. The revolving feed sheet carries components in the fusing chamber where components are transferred to another revolving flat sheet. The fusing chamber maintains required fusing temperature. Then components pass through a pair of pressure rollers where fusing pressure is maintained by speed of revolving sheet of the fusing chamber. Fused components are transferred to revolving delivery sheet. One operator continuously feeds and another operator continuously receives fused components in the delivery side. Production is higher and fusing quality is reasonably good.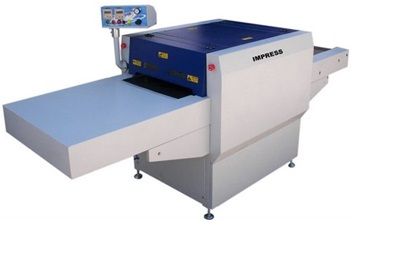 Figure 2: Continuous Fusing Press Machine
Parts of continuous fusing machine:
The machine consists of three zones: feed zone, fusing zone and cooling zone
a) Feed zone - Belt is before the fusing chamber to place the fabric and interlining.
b) Fusing zone - Main chamber with heating units (direct power or steam), speed controlled continuous belt, two pressure rollers (pneumatic or loaded).
c) Cooling zone - Fused fabric parts are allowed to cool down up to room temperature.
d) Heating units are heated to provide constant temperature set for a particular type of fabric and interlining assembly. It is controlled through a digital regulating panel.
e) Belt - Speed of belt is controlled to achieve desired time of fusing. Regulating knob specifies the time in seconds.
f) Two pressure rollers are placed in the fusing chamber and the roller pressures are produced by spring or pneumatic power and they have the condition to increase or decrease the required heat.
Working principle
a) Interlining as well as fabric assembly are placed in feed zone and passed to the fusing chamber.
b) In fusing chamber, essential heat and pressures are applied.
c) Direct heating or indirect heating can heat interlining.
d) After heating, required pressure is applied by two pressure rollers.
e) Fusing time is controlled after controlling speed of feed sheet.
f) Fabric is taken out from fusing chamber.
Advantages
a) Mostly used in the country
b) Higher production
c) Quality fusing
d) Suitable for pile fabric
e) No possibility of fabric shrinkage
Disadvantages
a) High cost
b) Large space requirement
c) Different bond strength of fused parts
Uses/Application
a) For woven/knitted fabrics fusing
b) Fusing for the whole roll of fabric and interlining.
This validates the fact that interlining must be chosen after informed deliberation so that the garment may benefit from its properties.
About the authors:
1. Dr A K Choudhary is Associate Dean (student welfare) and Associate Professor, Department of Textile Technology, Dr BR Ambedkar National Institute of Technology, Jalandhar.
2. Sheena Bansal is Associate Professor, Department of Textile Technology, Dr BR Ambedkar National Institute of Technology, Jalandhar.
References
1. Textilelearner.blogspot.in
2. EsraZeynep YILDIZ, NilgunOZD?L, Subjective and objective evaluation of the handle properties of shirt fabric fused with different woven interlinings." TEKST?L ve KONFEKS?YON 24(1), 2014, PP: 47-55.
3. Zeinab Amar, Ghada Al-Gamal, "Effect of Different Types and Orientations of Fusible Interlinings on Men Striped Shirt Cuffs," Journal of American Science 2015;11(3)
4. Textileschool.com
5. Sewmeyourstuff.wordpress.com