Cross-cultural values and ethics have shaped the world of fashion into an awe-inspiring platform, says Riya Jain.
With the world becoming a global village, with creative minds growing wider, with technology in the fashion industry growing manifold and with experimentation becoming the trend du jour, the fashion world is witnessing an era of mix and match. Think designs infused with cultural, social and geographical diversities. The world today is cross-pollinating trends and creating those fashion breeds we didn't ever imagine would ever exist.
The world in its raw form is a thesaurus of art and cultures, where one idea is synonymous with other and linked to many others.With east meeting west, traditional meeting modern cuts and patterns, fashion today has become more interesting. Like other industries from music to food and films, fashion has its own set of fusions that has created a-never-like-before impact in the industry.
Traditional Indian jacquards and silks used on the international runway are curated in exclusive designer couture garments. The indelible influence of traditional and aesthetically pronounced Indian fabrics has hit the markets and international runways, twisting and turning into a variety of silhouettes that has made a statement.
Marchesa's Spring 2013 collection was a tribute to Indian brocades and the saree. The cross-pollination between rich textiles and Marchesa signature drapes led to outfits that were worthy of the red carpet.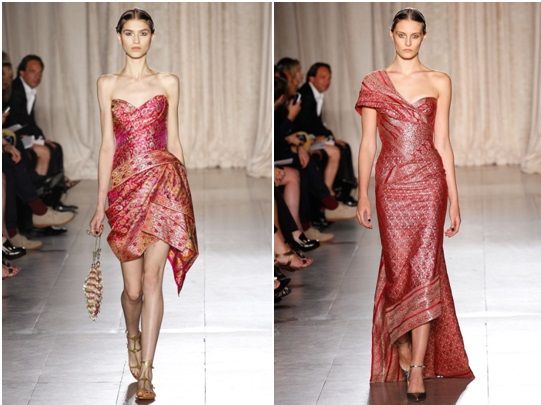 Chanel's Pre-Fall 2012 collection - Bombay Paris was also inspired by and dedicated to amazing Indian textiles. Alexander McQueen, Dior, Armani Prive, Jean Paul Gaultier and Louis Vuitton have cross-pollinated Indian textiles and drapes with their own creative ideas and stunning outfits.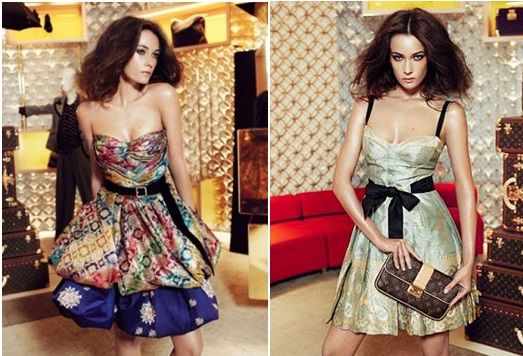 Yet another trend that has been in vogue is denims. No other trend has gone through so many avatars. The most common use of denims is in jeans. Even jeans have undergone multiple versions from skinny to boyfriend and bell bottoms and the newer versions of shredded, fringed and patched, each version weaving its own everlasting magic.
Since its introduction in the 1870s, denim has come a long way. Designers like Manish Arora have experimented with denim with a touch of India. Balmain mixed organza and denim. Footwear and accessory designers are using denim on their products. Denim is enjoying the best of all worlds.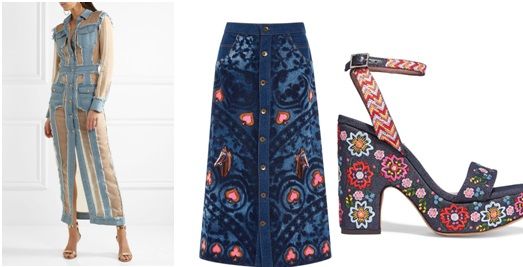 Another trend is athleisure. Deirdre Clemente, professor of history at the University of Nevada said, "Athleisure perfectly fits with a variety of trends that have been culminating for a century," a weird hybrid of business casual and athletic wear. To make workwear comfortable, trend gurus are incorporating sportswear fabrics like spandex and lycra into workwear, starting a new trend meticulously cross pollinated and here to stay. The trend was conceptualised with the idea of healthier and more comfortable lifestyles. Athleisure is a trend hybrid that reflects a lifestyle shift. Today, this unusually stylish hybrid has grabbed up to 17 per cent of the American clothing market. With designers like Stella McCartney, Yoji Yamamo, Alexander Wang, Rick Owens and others teaming up with sportswear brands like Nike, Puma, Adidas, athleisure is on the upswing.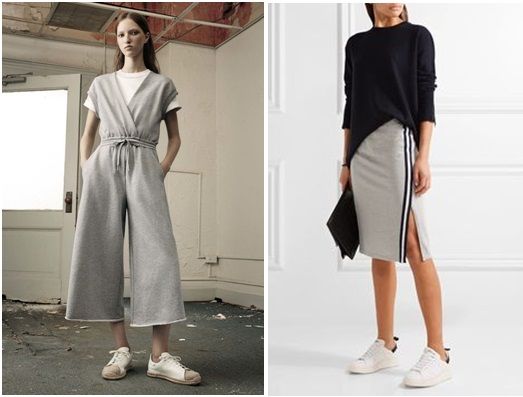 These are just a few hybrids. The fashion industry is progressing towards creating hybrids that are widely appreciated. The fusion of various trends from around the world, explored from all avenues, is picking up at a tremendous pace in the fashion industry as consumers ensure they fly off the racks.
Fashion is magical. You never know what will come next, what will last and what will turn out to be a fad. The versatility in fashion is what is appealing and awe-inspiring.
About the author:
Riya Jain is a fashion design graduate from INIFD, and a fashion stylist from London College of Style. Besides working as adesigner and stylist, she is an ardent fashion- knowledge seeker. She owns andoperates a blog by the name Fashionblahblah.
Pictures courtesy:
Pinterest