Keeping in mind that the season's topical patterns gesture to past impacts, Autumn/Winter 17-18 is without question energising. A new interpretation of femininity weaves all through, booming an assessment seen on the catwalks that are as of now picking up commercial pace. As WGSN reveals, colours for this season will be richer, fabrics/ textures more refined and looks will draw from nature as an answer to the digital world. The four noteworthy patterns towards this are: Design Matters, Earthed, Nocturne and Infusion.
Design Matters
Sustainability being the front line of this trend, fabrics/ textures will progressively originate from natural and recycled/ reused materials. Palette tones are diminished, with a practically "smudgy" grey cast to them, and "abnormal" vivid will round out the color set. The general palette has a worn/ ragged, engineered/modern feel.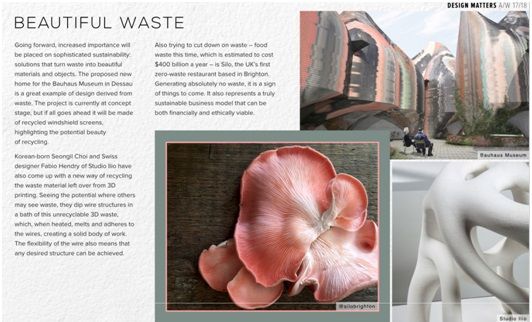 Fig 1: Inspiration from Nature
Source: Images Source Pintrest
Colour direction:
Core hues will be blues, rust, pea and yellow with somewhat creamier tone. Improved turquoise being key shade for the season yet it will be richer, functioning admirably for both street and night wear. Infused Grey will play well with the season's green tones-having a more backwoods like quality-for both men and women. Chalk pink stars as the palette-hotter with a look that is dustier and more transitional, moving from the spring/summer season into harvest time/winter. Dark blue will stay a staple shade though repositioned for easygoing wear.
Fashion outlook: Fashion look for Autumn/Winter'18 is what WGSN called "industrial couture" -- another way to deal with utility where easygoing wear is given to a greater extent a form makeover. Shapes will wind up feminine but also architectural; think: contemporary utility.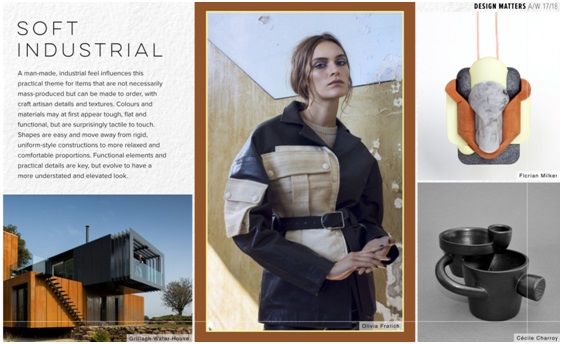 As consumers look for athletic-style wearables that can move into the workday, what will be seen more is a casual way to deal with dressing; fabrics and garments that can be adjusted for all seasons of the day or a wide range of interests. With consumers' expanding interest in sustainability, reused, recycled fabric material will be sought in various blends with space-dyed impacts in texture.
Fabric source: Fabrics in this trend interpretation are of a refined modern quality, with utility textures getting gentler and premium. Wool will be a focal point fabric, herringbone weaves with tweedy impacts will show up, heavier, cover weight fabrics will see prominent use and woollen wears will be military enlivened, with a thick however delicate look, ideal for fitting and isolates.
Deconstructed works of art that explore different avenues regarding article of clothing development yet adjust with the utilisation of conventional textures will be vital, and designers will once again take to blocking and piecing. Double twofold materials, wadded weaves, yarn and pattern blending will wed in one texture for an interwoven and patchwork appeal.
Design clue: Comfort is the new luxury. Interiors from the 1950s will reflect on menswear as softer pastel tones work their way to being fashion-forward. Retro echoes stay of huge significance. Past the 70s now it is increasingly the sumptuous and charming 80s that are in focus as also flashbacks to the 30s and 40s with weighty material and uniform resonance.
The idea of pretty yet damaged will be vital, with outfits showing sewing and weaving that copies repair and little points of interest that make a more contemporary approach to embellishment.
Earthed
The second of the season's pattern Earthed, is a compelling, passionate shade palette moved by nature. The idea according to WGSN is "nature as a story for the digital world."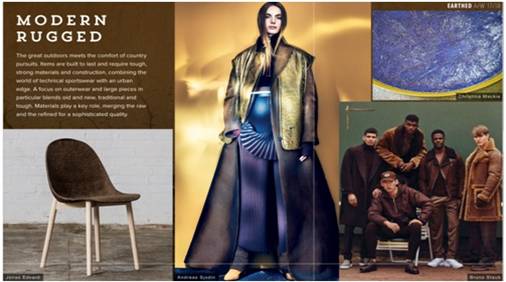 Colour direction: Color hues come in blazing tones, saffron and orange with ochre undertones. Red garnet has been essential in the Asia-Pacific spot for quite a while and it's significantly prime going into Autumn/Winter '18. Fire will be the season's orange, propelled by both fall and nature, yet more extreme to refresh the opulence display. Blue flame, a practically violet tone, moves from a core colour to being a fashion shade that will be well known for relaxed and occasion wear markets.
Fashion outlook: Urban and countryside ring a bell for this trend with suiting and blend of outwear with tweed for a relaxed weekend lifestyle look.
Menswear will focus on the "New Nomads" with a free-form blending of formal, sports and outerwear for an altered customised look. Forest rangers will motivate military-type textures; there will be dull denims and adornments that are better considered and fine designed.
Fabric source: It's especially an anecdote about tweeds, yet more advanced. Leaves and foliage will show up in examples and we'll see rich, thick printed blended yarns with a craftsman, hand-lingered look that is refined and yet downplayed.
Custom checks will update archetypal outerwear with bolder hues and scale in fabric textures that are delicate and blanket-like. Layered utility will be the military look reframed for something that's more urban and routine fabrics like polyester and nylon will go up against an enlivening update for the season, as punched ombre.
Design clue: Organic forms like flora and foliage; velvets and masses will go up against somewhat natural looks; textures will have gentler surfaces like gather, score and moss.
The trend carries with it a continuation of fake hides and extravagant textures, and "lush abundance" in brushed woollens and weaves with skimming threads played out in rich gem tones.
Nocturne
As the name proposes, Nocturne, "investigates obscurity from a positive viewpoint," WGSN indicates. It's a magical and dim pattern that is coming through.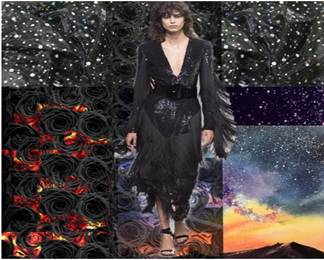 Colour direction: Blues, night shades and purples will be key takes, with hues blending in classy but dark and mystifying ways. Amethyst-a major colour for the season is the trend's purple, which fills in as a highlight shade and combines well with darker lapis for a "touchy" combo.
Night shades in somewhat blue will help ground the season for winter and reds will be recovered-more hoisted. Cymophane (a gemstone) will be the season's yellow, but corrosive and golden for a formal look.
Fashion outlook: It's especially an evening time state of mind, similar to tuxedo dressing for daywear, practically Yves Saint Laurent-enlivened. The trend takes menswear fitting and updates it for a cutting edge womenswear look. Fitting will accompany detail that helps remember uniforms or martial arts gear in a dark and moody way, and convertible articles of clothing that can move from night to day easily (read: pajama shirt styles).
Fabric source: Fabrics will show discontinuous light, with flashes of it showing up on texture surfaces like in cotton and silk shirting, and patterns that have a kind of vanishing/blurring impact on the fabric. Quilting and padding will continue to be key but in dim tones accented with shine. Indigo denim stays essential; however textures will be refreshed by soft foil coatings that lend richness to the denim fabric.
Design clue: For womenswear, embellishments, enhancing trims, yarns, beads, gems and other surface adornments will convey sparkle, and on the more casual side, gothic glitz will include frayed, laddered and distraught looks to combine with statement pieces. "It's another disguised direction," clarified WGSN. In combination of fabrics like vinyl, neoprene, rubber and leather new, novel textures with crude excellence will show up.
Infusion
Dynamic amongst exemplary and contemporary, the season's exceptionally refined story is infusion - a new style of opulence where chic materials blend with luxury.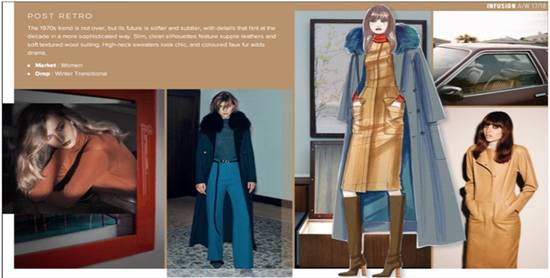 Colour direction: Soft grays, camel tones and warm retro shades colour the trend. Billiard green is one of the palette's most energetic and vivacious shades that will function admirably with pinks and reds. Scarlet will be a core accent to take us into the New Year palette. Browns have been less in fashion in recent years, but WGSN has seen the colour winding up noticeably more vital. It's incredible for top of the line materials and truly sumptuous textures. Mustard will take on a more radiant quality than in seasons past, work well as both as an accent and statement colour.
Fashion Outlook: The 70s impact will be present but rich materials will refresh the trend.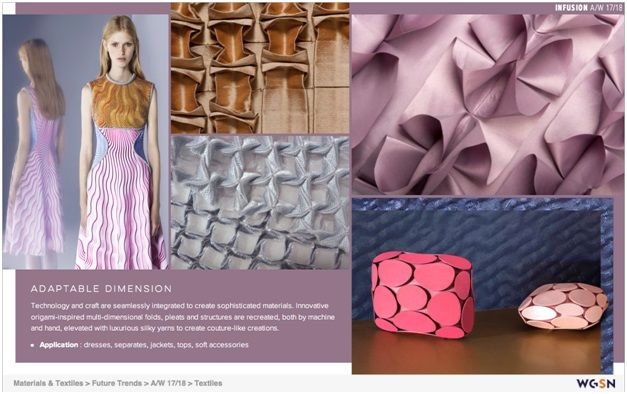 Fabric Source: Satins and silks will be worn from top to bottom as a fashion statement and even loungewear will include an elegant style. Velvet assumes a core part in this trend, providing textural ease and a luxurious and relaxed feeling. Tweeds for the season will be faintly retro and extra interior focused, and fabrics in common will be a great deal about everyday glamour.
Design Clue: Performance fabrics will see a lush update in this trend and croquets, sheen and quilting will be key takes. In addition dimension, adaptive pleats or manipulation of tech effects will be obvious yet made in luxurious, silky materials. Florals will be core encouraged by chintz and upholstery fabrics for autumn/winter.
Thus the trends for Autumn/Winter 17-18 emphasise the 3-dimensional with glaze and neat look. From nature to art movement's retro geometrics, oriental and baroque motifs are the key trend in fabrics. Materials flounder in extravagance, outlines are blended and improving components are toyed with again making new looks and style affiliations. There are no taboos and even the most extraordinary material blends and shade accents are permitted.
Layering, smudged patterns, overlay, 3-dimensional look and playful repeats blend with ornate yarns and prints. Padding and quilting techniques being key for the season's soft and textural look. Tartans and checks composing reused materials, 3D yarns with 3D structures in woven and knits are the highlights.
Product finishes is another key element in design this season. Fabrics show glimmer and sheen by use of different printing, metallic yarn and sequin embellishments. Fringes, tassels are among few of the many end finished look.
About the author
1: Ms. Fauzia Jamal, Fashion & Design management Consultant & Senior Guest Faculty, NIFT New Delhi MBA International Fashion Management, Coventry University London Campus, UK MFA Art Education, Department of Fine Arts, Jamia Millia Islamia University.
2: Ms. Anu Sharma, (PhD) Research Scholar Department of Fabric and Apparel Science Lady Irwin College, Delhi University, Assistant Professor Department of Textile Design National Institute of Fashion Technology.