With the growth of e-commerce through platforms like Amazon, Flipkart and Jabong, many would-be fashion entrepreneurs found an opportunity to fulfill their aspirations. While fashion holds the potential to create a successful business, it is not as easy as it seems. Many entrepreneurs who thought fashion to be an "easy" business to get into, realized too late that the field is as complicated and technical as any engineering discipline, and requires cultivated skills, says Supriya Ghurye
For fashion entrepreneurs looking to launch their own brand, an understanding of the design process and manufacturing is critical. Knowledge of related elements and processes, such as style, fabric, cut, trim, fall, consumption, dyeing, and embroidery, right up to the end product is crucial to succeed in any fashion endeavour.
So for those planning to launch a fashion brand, here is a summary of the steps that go into creating a fashion collection that people would want to wear.
Fashion forecast
Through research of current and past trends, the designer tries to get a feel of the kind of styles that will be popular in the upcoming season. Every designer's understanding and interpretation of trends is different. A number of agencies like WGSN and Pantone release their trend and colour forecasts up to a year in advance. These are used as reference points by designers for the collection as well. If you are planning to hire a freelance fashion designer to design your collection, it is best to involve them from this stage to get the best results.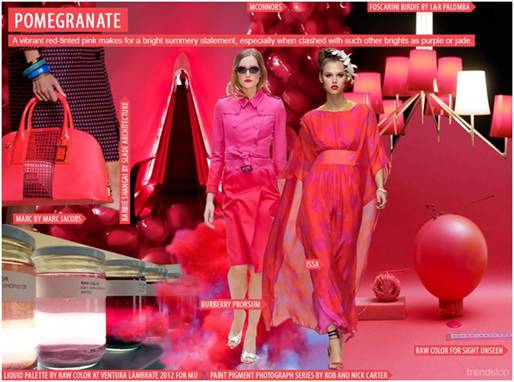 (Image courtesy:goo.gl/CQFZNJ)
Mood Board
Once an idea of colours, trims, cuts and silhouettes is achieved, a theme, known as a mood board or concept board, is set by the fashion designer. It is a combination of images, words and ideas, which represents the designer's thought, and from which inspiration to create each piece of the collection is drawn.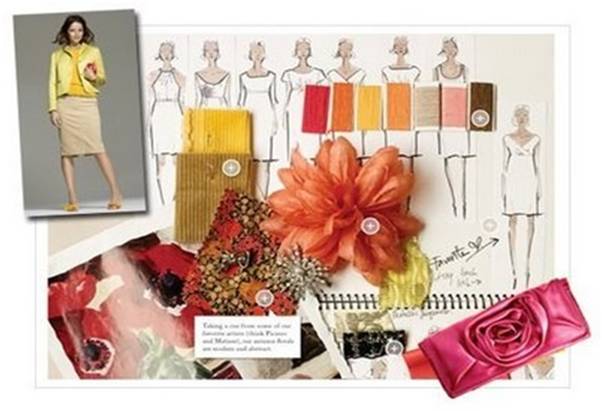 Example of a Mood Board (Image courtesy: goo.gl/tsmiwB)
Range Planning and Style Selection
A collection consists of a number of designs, all based on the underlying theme of the mood board. Depending on the economics of manufacturing and merchandising, a collection plan is put together, which may range from 5-30 individual designs. This is also the stage at which your product mix (e.g. dresses, tops and bottoms), level of embellishment (print, embroidery, trims, etc.) and final pricing range is determined.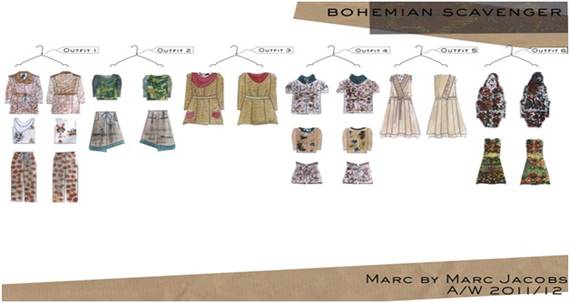 Range Plan (Image Courtesy: Marc Jacobs, 2012)
Concept Sketches
These are the first impressions of how the design of each piece will look. Concept sketches are the start of the actual garment creation process. Most entrepreneurs hire freelance fashion designers at this stage to fine-tune their design ideas.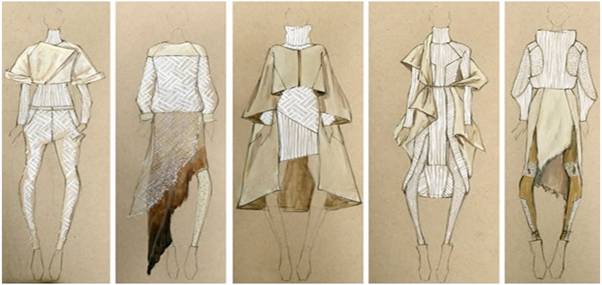 Concept Sketch (Image Courtesy: Tim Nguyen, studentartguide. com)
Choice of Colour, Trim, Fabric and Embellishments
Once the concept sketch is ready, it goes into detailing and elaboration, where the final design takes shape, based on the type of fabric, colour and embellishment being used. Another factor is the target pricing of the garment, as the cost of production has to fit into the norms decided earlier.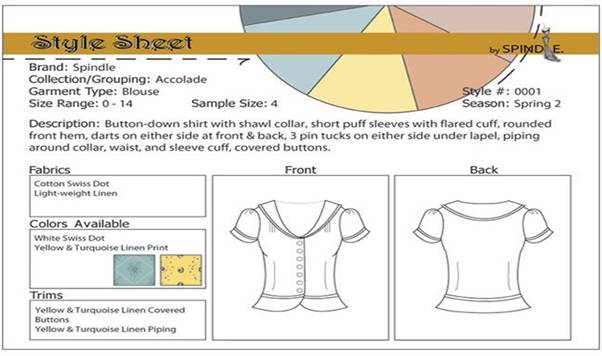 Style sheet (Image courtesy: goo.gl/k9vcvC)
Techpack
This is the stage at which technical details of each individual design are created as a guideline for the manufacturing process. A techpack is a communication tool between the designer or fashion brand and the factory manufacturing the garment. It contains exhaustive details about fabric, style, stitching parameters, trims, embroidery, label placement and the measurement charts for various sizes. While not all fashion designers provide techpacks, it is best to have them, as they are a permanent record of the designs you are looking to create.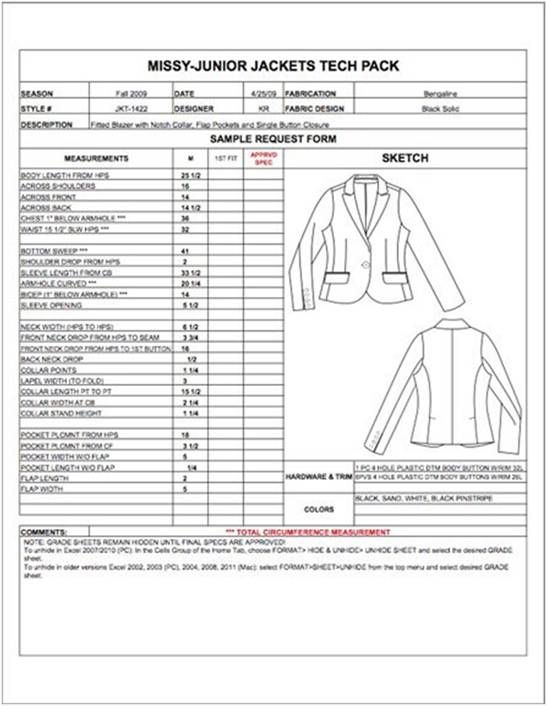 Tech Pack Example (Image courtesy: Mypracticalskills . com)
Pattern Making
Patterns for the entire size range are developed from the measurement charts provided in the techpack to determine factors, such as garment fit and fabric consumption. They are the basis of procurement negotiation and ordering of raw materials for production.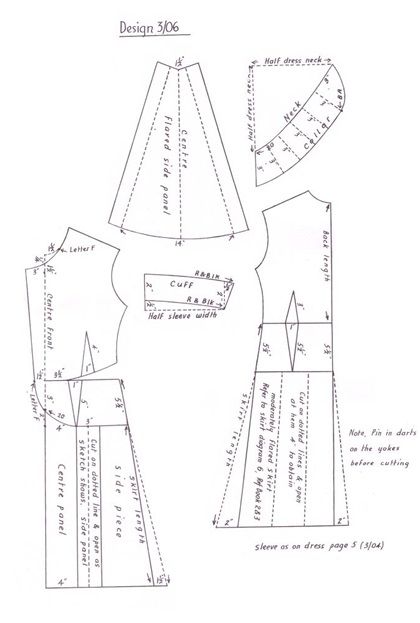 Example of a garment pattern (Image courtesy: Fashion Era)
Prototype Development
Once the collection is finalised, it goes into prototyping, where a set of samples are created to test the feasibility of the design in practice. Called proto sampling, this is an exhaustive process to determine the final fit and styling of the garments. These can go through multiple iterations to get the final look and fit of the garment.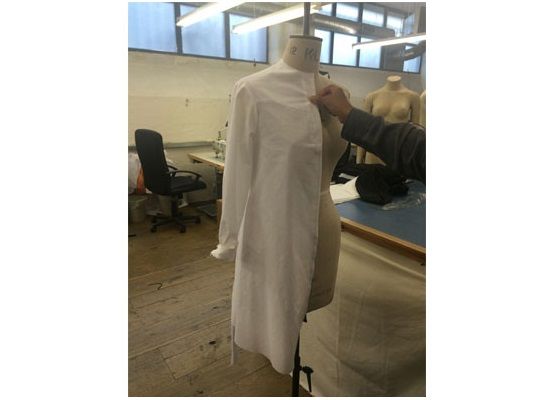 Proto Sampling (Image Courtesy: See-Saw Clothing)
Manufacturing
Once the proto samples are pronounced as acceptable, the process of design is complete and manufacturing takes over. Depending on the complexity and uniqueness of the designs, the manufacturing cost and effort is worked out and the designs go into bulk production.
Conclusion
While the entire process is not simple, having a clear understanding of the design and development aspects is critical to successfully launching your collection. Getting help from professionals, like a freelance fashion designer, will make this process easier and profitable. Having formal training in a fashion design discipline also helps. A good designer will be able to minimise the pain of actually conveying an idea into a wearable garment and improve the chances of your success as a fashion entrepreneur.
About author:
Fuel4Fashion is a consulting studio that caters to new and upcoming fashion brands with a diverse portfolio of services, that is owned by Supriya Ghurye, is a freelance fashion designer. She has 14 years of fashion industry experience with domestic and international fashion companies and start-ups. Supriya is also a successful graduate of the Cherie Blair Women's Entrepreneurship Program, and a contributor to the book "Becoming a Fashion Designer" by Lisa Springsteel.