The new Garment & Apparel Policy 2017 of the Gujarat government will enhance cost-competitiveness as well as ease of doing business in the state, say Varun Vaid and Disha Acharya
The Gujarat government has announced its new Garment & Apparel Policy 2017. The policy aims at creating one lakh new jobs, generating an additional Rs3,000 crore of exports, and attracting Rs1,600 crore of investment in the apparel sector over the next five years. The fiscal and non-fiscal support announced under this policy are aimed at enhancing the cost-competitiveness as well as ease of doing business through apparel manufacturing units in the state.
Gujarat has the presence of the entire textiles and apparel (T&A) value chain, starting from availability of raw material, yarn production, fabric production, up to apparel and made-ups manufacturing units. Gujarat contributes to 27 per cent to India's cotton fibre production (1,600 million kg), and in case of manmade fibre production, the state's share is nearly 50 per cent. Almost 30 per cent of India's mill sector production of fabric (640 million sq m) comes from Gujarat. The state has 14 sanctioned textile parks, which is second highest in number among all the states.
It also has the highest number of medium and large textile processing houses and is home to more than 50 per cent of India's processing machinery manufacturers and 90 per cent of weaving machinery manufacturers. Moreover, it contributes around 25 per cent to the country's technical textiles output. The T&A exports from the state account for around 12 per cent of total T&A exports from India. Gujarat has a huge installed capacity for T&A production with Rajkot, Ahmedabad, Navsari and Vapi as major spinning clusters and Anjar, Ahmedabad, Surat, Vapi and Mehsana being major weaving clusters. Due to these key strengths, Gujarat is home to leading textile sector companies such as Arvind Mills, Welspun, Alok Industries, Raymond, Mafatlal, Aditya Birla Nuvo, among others.
Table 1: Installed Capacities in Gujarat Textile Sector
<![if !vml]>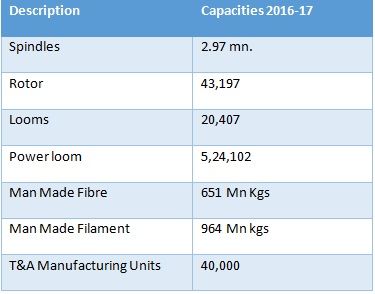 <![endif]>
Source: Office of Textile Commissioner
The Gujarat government had launched its textile policy in 2012 to promote investment and employment in the T&A sector which offered investment incentives such as interest subsidy, power subsidy, stamp duty exemption, support for establishing textile parks, building skill development centre, etc. It helped attract significant investments worth Rs20,000 crore into the state and created 2.5 million jobs, mainly in the segments of ginning & pressing, yarn manufacturing, few technical textile categories, training centres and textile parks. In order to provide a further thrust to the sector and attract investment in the downstream value chain, the state government has now identified apparel manufacturing as the engine for growth and released a dedicated incentive package under Garment & Apparel Policy 2017.