Close to five years after plunging into an existential crisis,Bangladesh's textiles-apparel industry is close to turning over a new leaf,writes Subir Ghosh.
The Rana Plaza disaster of 2013 has been cited so often when talking about the state of Bangladesh's garment industry, that it has virtually become a clich. It has also, for the same reason, remained a blot on the industry-one that refused to go away. But four years since the global textiles-apparel-fashion industry was shook to its very core, things are probably beginning to look up, and the bloody stains of 2013 that resulted in the official death toll of 1,134 is slowly starting to fade into history.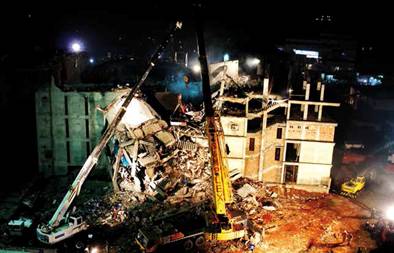 Consider just a handful of developments only in the month of January. On January 22, trade unions representing Bangladesh's textile workers reached a $2.3m settlement with an unnamed multinational fashion brand that was accused of postponing the process of fixing life-threatening hazards in factories. This came barely a week after the government announced the formation of a new wage board that would formulate a salary structure within six months.
The watchwords are gradually changing; those are now safety, compliance and welfare. For a country whose exports are heavily reliant on how much of apparel is manufactured and sent to the Western countries, the readymade garments (RMG) sector needed a new face: one that is human.
Settlements to start with
The announcement of January 22 revealing that a well-known brand would be coughing up a huge amount was a turnaround in many ways. All these days, since the Rana Plaza tragedy, efforts seemed to have been allegedly slack in ameliorating matters for workers. But this was a victory, and for once it was neither the Bangladeshi government nor its industry were in the dock.
The settlement of course had taken time in being inked, after a two-year arbitration process under the legally binding Bangladesh Accord for Fire and Building Safety that was instituted after the Rana Plaza incident. The brand, which cannot be named under the terms of the settlement, will pay $2 million to fix issues at more than 150 garment factories in the country. An additional $300,000 will be paid to the two unions-IndustriALL Global Union and UNI Global Union. This amount will fund their joint "supply chain worker support fund," an initiative that supports union backed efforts to improve pay and conditions for workers in global supply chains.
The landmark case was heard at the permanent court of arbitration at The Hague, and had been filed in October 2016 after the two unions alleged that basic safety features at factories, such as the presence of locked gates, structural faults and a lack of fire doors and sprinkler systems, had not been addressed despite pledges to the contrary. Even while the case was on, one factory went and hiked its remediation rate of 56 per cent to more than 90 per cent in October 2017. Others bided their time, waiting for the case to reach its natural conclusion.