Enhance the customer experience and transform your business to survive and prosper in the luxury digital era
The trajectory of digital in luxury has come into sharper focus. Digital is a critical source of growth and a powerful way to increase brand equity by creating brand advocacy and a compelling story. Digital also enables companies to reimagine key enterprise processes, both front-end and back-of-house. A 'Luxury 4.0' operating model is emerging, in which brands and retailers use data to build customer intimacy, capture emerging customer preferences, and streamline the process of turning ideas into new products. Brands can enhance the customer relationship and restore the authentic personal experiences that defined luxury when it was confined to a small elite. Finally, the trajectory of digital will likely bring further disruption, for which players in the luxury market should prepare.
Experience: the dynamics of the digital luxury journey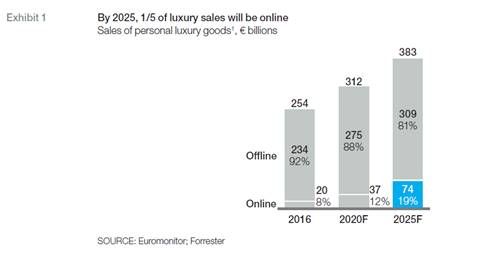 Online sales of personal luxury goods - apparel, footwear, accessories, jewellery and watches, leather goods, and beauty and perfume - account for 8 percent of the €254 billion global luxury market, or about €20 billion. That is up five-fold from 2009 and we expect online luxury sales to more than triple by 2025, to about €74 billion (Exhibit 1). This means that nearly one-fifth of personal luxury sales will take place online.
Digital is having an even greater impact on how luxury shoppers choose brands and goods. Nearly 80 percent of luxury sales today are "digitally influenced", meaning that, in their luxury shopping journeys, consumers hit one or more digital touch points. The typical luxury shopper now follows a mixed online/offline journey, seeking the advice of peers on social media or looking for suggestions from trusted bloggers before entering a store, then often posting about their purchases afterwards. The luxury shopper who begins and ends the customer journey offline is a vanishing breed - representing just 22 percent of all luxury shoppers.
The impact of digital on consumer behaviour and luxury purchases varies by product category and price point. The biggest luxury categories for online sales are beauty products, apparel (ready-to-wear), and accessories (handbags, small leather goods, etc.). Watches and jewellery trail these categories in terms of purely online sales because of their higher price points. Consumers shopping for affordable luxury are more inclined to buy online than "absolute" luxury shoppers. Overall, consumers in the affordable luxury segment are younger, with the millennial segment being over-indexed, and hence more willing to experiment. In between are "aspirational" luxury consumers.
Luxury shoppers have enthusiastically embraced the digital lifestyle. Nearly all (98 percent) have smartphones, compared with 65 percent of the general population. Furthermore, enthusiasm for the online lifestyle spans age groups among luxury consumers - it is not just a phenomenon linked to millennials. For example, baby boomers (aged 50 and over) use an average of 3.5 mobile devices compared with 4 for millennials. Boomers spend 16.4 hours per week on the Internet, not much less than the 17.5 logged by millennials. About 75 percent of boomers use social media, compared with 98 percent of millennials. When it comes to digital, millennials lead the way and are teaching the older generations new behaviours as well as setting expectations for the quality of digital interaction with brands.