The days of leather bags are waning, and those could soon be part of fashion history. Meher Castelino looks at seven brands that make bags from fabrics.
The best handbag completes the look for a woman, and there are always numerous styles to choose from. But, it is the material of the bag that has become a crucial factor in the 21st century with both buyers and manufacturers increasingly taking a tough stand on cruelty to animals. It is no wonder, therefore, that fabrics and crafts have now taken over as the base for most handbags, and the overall result is a colourful, stylish, glittering look that is favoured and welcomed by women all over.
Bhavik Dattani, Espelho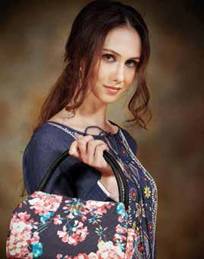 100 per cent fabric fantasy
A fashion graduate from the BD Somani Institute of Fashion and Technology, Mumbai, Bhavik Dattani detoured into handbag designing in 2008 with his brand Espelho. Today, he recollects, "I aspired to create a brand which embodies passion, creativity and youthfulness. The brand commenced with the launch of handbags, wallets, sling-purses, clutches, bridal hand-purses, keychains, etc, and confined itself to targeting a stylish audience. I had a passion for design and possessed a good knowledge in fabrics and garments. We started with humble beginnings and one store in Santacruz, and now we have three fully-owned stores, and supply to over 100 stores in India."
Espelho has come to be known as a classic blend of fashion and utility-based bags that move from travel to office and parties. Says Dattani, "We think through each small detail before designing a product-it should be utility-based and look chic, stylish and trendy. We experiment with colours and prints. We're in fact known for our utility-based ideas for some of our products." For Dattani, the Made in India stamp is important along with the fact that Espelho is a 100 per cent "vegetarian" brand that is anti-leather. "Our USP is providing international standard quality, in which we have made a name for ourselves."
When it comes to selecting fabrics for the bags, Dattani states, "Choosing a fabric is the most important decision when designing a bag. We use different fabrics like satin in digital prints, classic brocades, organic jute and synthetic fabrics. We travel around in search of the perfect fabrics to suit the collection, style, trend, comfort, weather, etc. We handpick some of the best fabrics, which are unique and trendy. We also do matching sets of handbag/wallet of the same fabric, which is very well accepted by our clientele."
Handbags come in different shapes and sizes, and the best fabrics are tough, have thickness, durability and coating behind them for support. Lovely classic brocades, synthetic materials and jute are some of the fabrics which work well. The best thing about these fabrics is they don't tear or get stained by liquids. So, they make for great options. Fabric bags are easy to maintain, and they do last longer if they're stored in the right way, ideally in an upright position in a cotton pillowcase. Small bags can be used for brunches or day parties; the deeper colours can even be carried in the night for dinners. Clutches look super chic and stylish when made in fabrics, but big handbags with fabrics become a little difficult to maintain.
"We recently launched a practice routine maintenance sheet for our customers on how to care for their handbags. These points go out with the copy of the bill, and have been a thoughtful addition for our customers. We believe that a fabric handbag should last you longer and look stylish when you carry it."
Dattani manufactures 2,000-4,000 units per month in different fabrics, and reveals, "We believe in affordable luxury. Our collection is stylish, chic and trendy, yet budget-friendly, and doesn't pinch the pocket. The price for handbags starts at ₹1,980, wallets at ₹580, while sling purses are in the mid-range of ₹1,280. We have a plethora of colours in each style and try using pastels, vibrant hues, monochromatic tones." New collections are created every three months. "We experiment with styles, shapes and hues to suit trends. Every quarter, we have something unique and interesting. We do a mix range of corporate handbags, party clutches, bridal and wedding hand purses, daily use handbags and wallets."
The Espelho branding is a standard on all handbags. Accessories are the best embellishments, which go with the brand. "We also have a stunning collection of key-chains, mini cash-envelopes to keep in handbags and matching sets for young girls. Keychains work the best especially in cases when there is a plain subtle handbag, and a pop of embellishment steals the show," concludes Dattani.
Manish Kelshikar, Bagforever
Everlasting fashion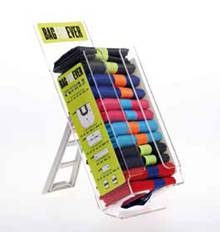 Research reveals that a trillion plastic bags are consumed worldwide each year. The total plastic waste in India is estimated to be 15,300 tonnes per day. Only 60 per cent of total plastic waste is collected, the rest remains uncollected and littered. It costs $4,000 to process and recycle one tonne of plastic bags, which can then be sold on the commodities market for only $32. Only one per cent is recycled. Therefore, the world is sitting on a plastic time bomb. So, why do people still prefer "use-n-throw" polybags. Why not use reusable bags, more so when the current ones available are neither convenient nor durable, and of course not fashionable.
Looking at such a global environmental issue, Manish Kelshikar felt the need to put his fashion designing skills in the right direction. A design graduate from NIFT, with an MBA in retail management from FIT, New York, Kelshikar worked in the US with Wal-Mart, Kmart and Sears till 2001. Having extensive experience in the Indian fashion market with Shoppers Stop as design and product head, he started DSGN Inc in 2009, the only BPO in India, which successfully catered to international fashion brands from the US and Europe, providing them an efficient and cost-effective designed/developed ready-to-buy fashion apparel and accessories solutions. In 2013, BeForBag was launched-the only all-canvas youth fashion bag brand in India which won the Walt Disney Design Excellence Award.
"Our vision is to make each one of us 'reusable bag-ready.' We dream to be a 'global synonym' rand for a reusable carrying solution and empower each one of us to be the change we seek in the world. Our mission is to help protect the environment for tomorrow's generation by providing an eco-friendly alternative to disposable bags that have caused so much damage to the environment globally. It's not just a bag; it's the thought behind it," declares Kelshikar.
"BagForEver is a foldable-fashionableconvenient, multi-utility, colourful bag made of apparel-grade polyester fabric made out of recycled PET bottles sourced from Taiwan (since it's not yet available in India). These bags are lightweight, portable, water-repellent and each one holds the equivalent of four supermarket plastic bags, thanks to reinforced seams. It has a capacity to carry up to 25kg of weight and is washable. The price of each BagForEver is only ₹99. Each BagForEver bag can replace at least 300-400 plastic bags per year. These are all-season utility bags. We manufacture them in bright and fun colours suitable to men and women of all ages and profiles." Adding further to social responsibility, he states, "We manufacture BagForEver at Tihar Jail as a part of our innovative social impact manufacturing strategy. We have a manufacturing capacity of up to 10 lakh bags a month."
While BagForEver is popular for its one style of foldable multi-utility bag, "we have also innovated many reusable bags like Shoe-care Bag, Laundry Bag, Car Trash Bag, Foldable Back Pack. BagForEver is made out of one fabric that is lightweight, super-strong and water-repellent. The folded bag (2.5"x4") weighs only 40 grams. It's washable and easy to maintain."
The reaction of the customers has been overwhelming since BagForEver is the perfect alternative for polybags, and is an extremely popular gifting product among customers and corporates. "Use of BagForEver will bring about a huge positive effect on the environment!" hopes Kelshikar.
Amir And Mumtaz Jaffer, Cheemo
Crafting in ethnic fabrics
Started in 1968, Cheemo has been a pioneer in the handbag business. Started by Mumtaz and Amir Jaffer -both from a leather and bag background, the brand has evolved into the 21st century, and in 2017 still creates an impact on the high-fashion handbag market. "We are a boutique brand; so, the Cheemo bag is quite different from what is available in the market. We work with 1st to 3rd generation Indian artisans who are experts in hand-crafted bags," says Mumtaz. Cheemo in Devnagiri script means "little or small" and that is how the brand wants to remain-very exclusive, catering to a highfashion market.
The fabric handbags constitute a big section for Cheemo. Raw silk, denim, velvet, jute, silk, kantha, cotton, ikat and tapestry are some of the materials used. Getting the fabrics from wholesalers, exhibitions and weavers, Mumtaz reveals, at times the designs are different but the fabrics may be the same.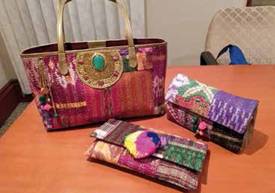 Thousands of metres of jute and raw silk are procured, while for kantha it could be hundreds of metres. Getting the right fabric has never been a problem. The most expensive bag at ₹8,995 has silk stripes with velvet, and is enhanced with a giant gem encrusted antique gold piece. Denim with mirror work and embroidery costs ₹3,995, while kantha with metallic and jute with emblems come for ₹2,995 each. Quilted silk totes are popular at ₹1,995. The collections comprise totes, clutches and potlis. "Nearly two-third of our collection is in fabrics. We create 15 pieces per style, with 10 new styles designed every week. We do six collections a year with some odd pieces being continuously designed," reveals Amir. Cheemo sells 10,000 bags annually, with 3,500 of them in fabric. About 600 bags are produced a month.
At times, a Cheemo clutch for a wedding or a formal occasion can be so over-powering in its design and beauty that women have even designed their clothes around the bag. "The best fabrics for clutches are silk, kantha and velvet, while for big bags and totes, jute, denim, raw silk and tapestry are ideal. For the ethnic potli, I love to design with raw silk or velvet," informs Mumtaz, who instinctively knows, which fabric will look good in a particular design. Making handbags in fabrics is not difficult.
"We just have to take care that the gluing is perfect. Quality is very important. If the bag is in light coloured fabric, one has to be careful, but they can be laundered easily," adds Amir. Adding to the beauty of the bags are the carefully selected brass fittings, encrusted with stones, chains, pompoms, tassels, jadau, mirror work, embroidery and trinkets. "Today, fabric bags are very much in vogue especially with foreigners who love them in Indian materials," states Mumtaz.
Nina Lekhi, Baggit
A certified vegan brand
When a handbag brand is PETA-certified vegan, then every product made has to be cruelty-free. Baggit, started in 1990 by Nina Lekhi, is one of India's fastest growing fashion accessory labels. Merging fashion with functionality, the handbags cater to a wide cross-section of buyers. "We experiment with a lot of fabrics. We like canvas; also do mix-and-match combined with fabrics, and use nylon for bags launched only during monsoons. We are now exploring denim as a fabric, which was utilised for the Nina Lekhi brand range. This range of denim bags made it big with unique embellishments integrated with the accessories to make them stand out. The safety pins and rusted bottle caps along with denim gave the collection an edgy and raw feel," informs Lekhi.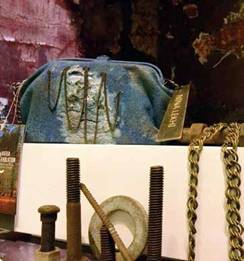 Most of the fabrics are sourced from outside India, but the rest of the materials and fabrics are sourced from the Indian market. Baggit's price for products ranges at ₹2,000-5,000. Baggit introduced a premium range under the label Nina Lekhi. The styles of bags offered are formal, semiformal, occasional, casual and others. Baggit has been experimenting with the styles, and has been adding new elements to match the international standards, and cater to the needs of the Indian audience.
"We introduce our collections on a month-onmonth basis to keep pace with the current market trends. In addition to these, the seasonal collections spring/summer and autumn/winter are the major highlights of the year. Baggit has always been a vegan brand, and it is easier for us to produce bags with fabric as our design team and production team is in-house. We have a hold on the entire process which usually is not there if the stock is outsourced. With authentic artistic skills of our artisans and designers, everything goes in line with the plan. We usually go through a lot of experimentation phases, which enables us to create from a mix of materials. The flavour of the season is denim that we are experimenting with."
The team travels globally to stay updated with trends. The inspirations and unique elements are picked up after researching the global market and reputed portals. They go hand-in-hand, be it a wallet, a multi-utility pouch, a passport pouch, handbags, slings; all will not just be stylishly attractive, but also practical to use. Relevant consumer research is conducted according to which products are produced, catering to the needs of all. "As far as fabric bags are concerned, they are appreciated by the buyers; but at the same time, there is a need to educate the Indian buyer about the utility and fashion of the fabric," adds Lekhi.
Embellishments in the form of heritage art like embroidery, knitting and quilting are added. "Besides these, elements like tassels, zippers and many more are used as embellishments in our collections. For the Nina Lekhi Denim Collection, we had used safety pins and rusted bottle caps as embellishments to give the collection an edgy and raw feel. Fabric bags are easy to maintain. They still have to be taken out once in a while from the wardrobe to make them breathe. We also attach the maintenance directions in our product labels so that it is a ready-reckoner for the customers," concludes Lekhi.
Mansi Gupta, Tijori
Ethnic armcandy
When Mansi Gupta, founder and CEO of Tjori started the brand with just five persons in 2012, she wanted to make it into a global brand, which would be wellknown among connoisseurs of art and handcrafted products. That was exactly what happened within just five years-the Tjori brand is available in the US, UAE, Australia, Singapore and many global cities. The Tjori range comprises garments, saris, jewellery, shoes, stylish bags as well as their recently launched in-house 100 per cent Ayurveda and organic personal care range. The Tjori website caters to the Indian and global markets with a large assortment of products.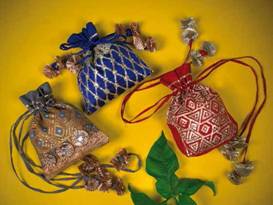 "We are passionate when it comes to redefining traditional Indian prints and designing them into contemporary silhouettes. For handbags, we use the best cotton, silk, dupion, jacquard, durry, PU, cotton with prints like ikat, ajrakh, bagru, kalamkari and brocade. We ensure that the fabrics are sourced from the best regions so it is ikat from Andhra Pradesh, brocade from Varanasi, ajrakh from Gujarat, bagru from Rajasthan, kullu from Himachal, and kalamkari from Andhra Pradesh. Our prices are affordable at ₹800-3,000 and we are constantly creating new designs. We offer 120-140 collections in a year," says Gupta.
The styles which are offered range from tote bags, bucket bags, box clutches, potlis and sling bags. "We don't have travel bags as of now, as they need a material with thicker gauge for durability. We pick the best fabrics for our bags. However, our selection will be voile-with good thread count as it is thicker and hence provides durability. At times, it is challenging as the fabrics are light and soft wherein giving them strength and stiffness is difficult. If not done neatly, it will ruin the look and feel of the bag."
Tjori produces 300 bags a month, and Gupta informs, "We have both utility as well as fashion bags. Even if utility is our priority we do not compromise on the look of the bags and the essence of the brand. All our styles are thoughtfully designed keeping the latest trends and silhouettes in mind. There are a lot of additions to the bags to give them a stylish look; so, we have hardware like rivets, studs, and hangings; while the tassels and fringes are made from cotton and PU.
When it comes to the care of the bags, Gupta feels that it is fairly easy to maintain and clean them. The regular precautions for the cleaning of fabrics are followed for the bags as well. The feedback has been encouraging. "We have always received great feedback and appreciation from customers. They find our collections unique, and make them stand apart from the crowd. Our customers have expressed that our selection provides them great choices for work, wedding and formal occasions," reveals Gupta.
Rafique Malik, Metro Shoes
Keeping with the trend
Moving with trends is important and that is what Metro Shoes has done ever since the late Abdul Malik Tejani started it six decades ago with a single store in Colaba, Mumbai. Now, son Rafique Malik has expanded the stores into 100 cities across India in three formats-400 stores are Metro, the leading footwear brand, 187 for Mochi started in 2000 for the young cosmopolitan buyer, and 115 Walkway outlets started in 2009, which are value-format stores. There are 52 SIS in D'Mart and Hyper City, and 46 Crocs stores. It was in May 2015 that Metro signed a National Retailer Agreement with Crocs, Inc. USA for opening their Exclusive Brand Outlets (EBOs) in India.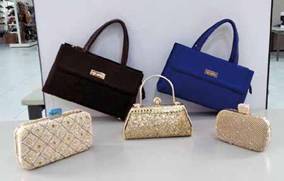 "The bags in our stores follow the popular trend, and the need to go environment-friendly with fabrics is now important. So, we use jute, silk, cotton silk, polyester, zari and brocade, which are sourced across India where we have a widespread network of suppliers. The prices for the bags are around ₹990-3,500. Some 4-5 collections are created annually and with our expertise and network of suppliers we hardly face challenges to manufacture any material for the bags," says Malik.
The bags are a mix of both utility and fashion and can easily go along with various wardrobes. The styles comprise workbags like totes and shoulder bags, which are very popular as well as fancy evening clutches and wrist strap bags that are ideal for weddings and formal parties. "The best fabrics for the bags are jute, silk and polyester, and we produce 1,000 bags in each category annually. Embellishments play an important part for our bags; so, we have different types of embroidery with zari, stones, sequins and leather to add value to the bags," he adds.
Shilpa Iyer, Kalamargam
Crafted for fashion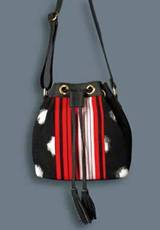 A relatively young brand in the home decor and lifestyle products, Kalamargam started by Shilpa Iyer a year ago has made great progress. Bringing the beauty of Indian fabrics and crafts to the forefront, Iyer feels, "The USP of our brand is Indian handmade. India is so rich in crafts and handlooms that it is our endeavour to put the artisans and weavers in the spotlight. We use handwoven and hand-embroidered fabrics. We produce 90 per cent of our fabrics. We have our own looms and units in Andhra Pradesh and Telengana for ikat and kalamkari. The remaining 10 per cent is sourced from less known artisans and weavers from remote villages that we travel to. We need a certain thickness for bags, and we are able to produce the right fabrics from our superior quality handlooms," she says.
The bags are priced ₹2,000 upwards, and Iyer explains, "It is quite easy to produce bags since fabric production is in our control. We follow stringent quality checks. We want people to take pride and embrace local crafts." Since the response has been amazing, she is now shipping large quantities of her bags globally. Since there are no maintenance issues they can be used daily. The website of the brand offers a large collection to choose from. "We don't follow seasons and trends since the focus is on the artisans. A lot of our collections are weather-dependent as well. We make bags for all age groups for both men and women right from totes to laptop bags. Our designs are minimalistic with the focus on textiles and crafts." Producing 700 bags a month, there are interesting embellishments like block printing and hand embroidery-all done by traditional craftsmen.