After a lull of a few years, the Turkish textiles and apparel industry is on an upswing. The investment climate is positive, though some uncertainty remains. Jozef De Coster reports from Istanbul.
In the middle of April this year, the Tuyap Fair and Conference Cenre in Istanbul hosted four simultaneous textile events: the 34th International Textile Machinery Fair (ITM), the 7th International Technical Textiles and Nonwovens Exhibition (Hightex), the 15th Istanbul Yarn Fair, and the 8th International Textile Conference (ETT) organised by the Marmara University. The conclusion drawn from the four events was clear: the current investment and business climate in the Turkish textiles and apparel sector is positive. However, the future remains a bit marred by uncertainty.
The Istanbul Yarn Expo learned that Turkey's spinning sector is more resilient than Europe's. While much of the spinning capacities of the European countries has disappeared, Turkey is still an important yarn producer and exporter, both of cotton yarn and synthetic yarn. Last year, Turkish yarn exports amounted to $1.6 billion, with Italy, the UK, Belgium and Iran being the biggest customers. Cotton yarns represent somewhat less than 30 per cent of Turkey's total yarn exports, while synthetic yarns (filament yarns and staple fibres) add up to 70 per cent.
Turkey's imports of yarn are much bigger than its exports. In 2016, Turkey imported about $3 billion worth of spinning products. The main countries of origin were China ($682 million), India ($552 million) and Indonesia ($322 million). Turkey is mostly importing synthetic yarn. The country's cotton yarn imports in 2016 were less than 18 per cent of the total yarn imports.
Machinery exhibitors confirm investment surge
Investments in the Turkish textiles sector, which over the last few years were weak, are now strongly increasing. Not only have Turkish textile manufacturers said so, but Adil Nalbant, president of Temsad (Turkish Textile Machinery Industrialists Association) has affirmed as much. From spinning to garment manufacturing, the entire supply chain is jacking up capacities. Among the ongoing investments is that of the leading nylon and polyester yarn, tire cord manufacturer Kordsa, which is investing in a 7,000 tonne polyester yarn capacity in its Izmir factory. Betting that the positive investment climate will continue, Turkish fair organiser Tuyap is expecting a record number of exhibitors (430) and visitors (more than 40,000) at the coming Istanbul Clothing Machinery Fair in September.
Johan Verstraete, vice-president (marketing, sales & service weaving machines) at Picanol, said that on the first day of ITM 2018 Picanol hosted more visitors than in all four days of the previous edition of ITM. The Belgian Picanol Group is a leading producer of rapier and airjet weaving machines of which the consolidated turnover in 2017 was €640 million, while net profit amounted to €91.6 million. According to Picanol sales director Kurt Lamkowski, rapier weaving is still the main technology for Turkey, while China, India and Pakistan are the main airjet markets.
Turkish textile companies are not only investing in Turkey, but abroad as well. The Turkish Tay Group recently partnered with the Algerian government to launch the biggest textiles investment in Africa ($1.5 billion). Forty-nine per cent of the investment (Tayal SPA) belongs to the Tay Group. According to Turkish magazine Aksesuar Dunyasi, recent investments made by ten Turkish textile companies in Serbia has already exceeded $100 million. One of these investors is the Ormo Group, which is said to be the largest exporter of handknitting yarns in the world. Ormo invested €0.5 million in a yarn production facility in Lebane, in southern Serbia, and it plans to invest an additional €0.5 million in 2018. The Serbian government spent €1.7 million in the renovation of the old premises of an insolvent state-owned company where Ormo installed the woollen yarn spinning mill.
Indian exhibitors at Istanbul Yarn Expo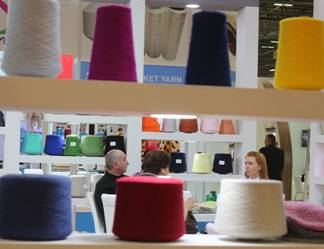 Ravindra Kumar, joint director of The Cotton Textiles Export Promotion Council (TEXPROCIL), was pleased that many Indian companies (68, to compare with 19 in 2017) exhibited in the 2018 Istanbul Yarn Expo. Dyed cotton yarn from India was well in demand. Sales personnel at the booth of the Rameswar Group (Ahmedabad and Kolkata) were so satisfied with the commercial results that they wanted to suggest fair organiser Tuyap to extend the article range at Istanbul Yarn Fair to fabrics and clothing. Rameswar Group itself would benefit from such an extension because the group is not only involved in spinning yarn, but is in the business of manufacturing workwear too.
A Ilavarasu, chairman and managing director of SA Aanandan Spinning Mills, Rajapalayam, is an eager collector of labels and certifications like Oeko-Tex, GOTS, Better Cotton Initiative, CMIA, Fairtrade, Flocert. He remarked that for Indian yarn exporters the price competition with countries like Turkey is tough. However, Aanandan Spinning Mills avoids brutal price competition by offering special products like the hybrid yarn Suvin (of which Aanandan is the largest licensed producer in the world), yarns for tea bags, cotton sewing threads, environment-friendly PES-yarns licensed by Toray, among others.
Another Indian exhibitor was Indian Rayon, a unit of Grasim Industries Ltd (Aditya Birla Group), the largest manufacturer of 100 per cent viscose filament yarn (VFY) in India. Last year, rumours circulated in Istanbul that Indian Rayon intended to build a viscose staple fibre plant in Turkey. However, this did not happen. At the Istanbul Yarn Expo, Harish Maheshwari, general manager (exports) of Grasim, promoted Raysil viscose filament yarn as "the fashion yarn" from Indian Rayon.
Sagar Metallics Pvt Ltd from Surat, a manufacturer of metallised film, coated film and all types of metallic yarn which started production in 2009, has rapidly become the largest manufacturer of metallised yarn in India. According to the company brochure, Sagar's annual production capacity of metallic cord is 4,000 MT. Managing director Mayank Patel was happy with the company's maiden participation at the Istanbul Yarn Fair. Exports represent 25 per cent of Sagar's total revenues, a share that undoubtedly can be increased.
In the Turkish market, Sagar Metallics will have to compete with Betareks, Istanbul, a company that calls itself 'world leader in metallic yarn'. Levent Onen, vice-president of Betareks, elaborated on the claim: 'World Leader in Metallic Yarn' is a slogan I devised to distinguish ourselves from local competitors. Our production capacity and market share is more than that of all our local competitors combined. We produce 300 MT of metallic yarn per month under one roof at our plant in Sinop. We have been in the yarn business since 1972 and in the production of metallic yarns since 1993. We travel all around the world, and have visited dozens of metallic yarn producers in India and China who are the other two major producers. We are certain that ours is the largest integrated plant under one roof. We do not claim to be largest by production volume, but we are certain we are one of the top 3-4 in the world. Even the largest producer in India does not come anywhere near 1,000 tonnes of metallic yarn per month. We have a wider range of products, and functional yarns compared to anyone in China and India. Also, we tend to produce much finer and more valuable yarns."
'Green' production is more than a catchy slogan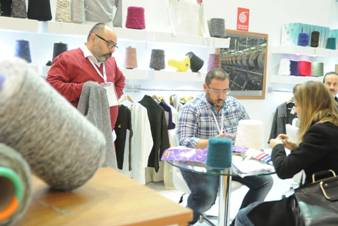 Over the past decade, Turkey's environmental laws and conservation efforts have been eroding. Environmental issues like loss of biodiversity, air and water pollution, greenhouse gases and land degradation are aggravating. And yet, at the Istanbul Yarn Fair, several Turkish textile manufacturers demonstrated their commitment and ambitions in the pursuit of sustainable production.
The Usak region of Turkey is an important producer of regenerated yarn. Kempa? Iplik manufactures regenerated cotton/polyester open-end yarns (white and dyed). Haksa uses only strictly selected material. Sesli Tekstil, also from U?ak, produces regenerated yarn from 80 per cent recycled cotton and 20 per cent original polyester. Export representative Eray Dal of Sesli Tekstil said that Sesli's regenerated yarn, which is cheaper than original yarn, is popular in Turkey. Sesli exports its regenerated yarn all over the world. Dal is sure that worldwide demand will continue growing.
However, Turkey's largest integrated regenerated yarn manufacturer and largest polyester fibre maker, Gama Recycle, is not located in the U?ak region, but in the southern town of Gaziantep, near the border with Syria. Gama Recycle is currently producing about 500 tonnes of fibres per month from plastic bottles. In 2017, exports amounted to around $15 million, but the company hopes to increase exports to $25 million in 2018 and $40 million in 2019.
In western Turkey's industrial town Bursa, Erman Iliman, a former tech professional who worked at IBM EMEA in London, has set up a factory that every day spins 5 tonnes of plastic bottles, saved from landfills, into yarn. Challenging Gama Recycle, the Bursa-located factory wants to raise daily production capacity to 20 tonnes by 2019 and 40 tonnes by 2020. Currently, because of the limited production capacity, the factory is unable to meet all export demands.
Successful regional player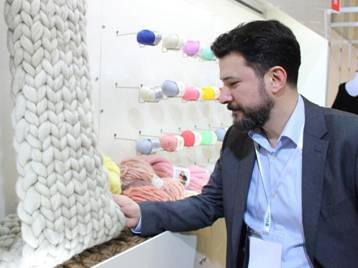 Several countries consider themselves as the centre of a region or a continent or even as the centre of the planet. However, in most cases their 'centre' claim is based on illusion. Not so for Turkey. Thanks to its own weight (81 million inhabitants), its Ottoman history, its customs union with the European Union, its good relations with Russia and Iran, its proximity to Africa, Turkey is a regional centre, well positioned to play an important role in international trade.
At the 15th International Istanbul Yarn Fair, the second largest yarn fair in the world, exhibitors said that in no other international exhibition they could meet business visitors from so many countries.
While developing into an upper-middle-income country, Turkey surprisingly not only could keep afloat a strong textiles industry, but an internationally competitive garment industry as well. Last year, Turkey exported around $10 billion of textiles and around $17 billion of garments.
Koray Yurteri, who as director of the large textiles centre Tekstilkent in Istanbul has a privileged view on the development of Turkey's domestic and export business, explained that the crisis which affected the sector in 2017 is a thing of the past. This year, the industry is definitely doing well.
Labour-intensive garment industry stands firm
While Turkey has a higher level of production costs compared to Far East countries, it can offer Western, Middle East and Russian customers a double vertical supply chain (synthetics and cotton) and speed to market. Brands can make small orders, and do not have to carry extra stock.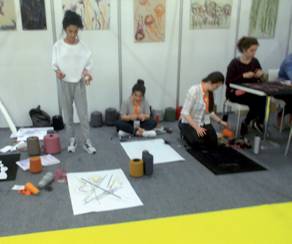 Nurettin Karagoz, spokesman of the important clothing centre Giyimkent in Istanbul, believes that Turkish clothing exports, especially to EU markets, will continue increasing because high Chinese salaries are making China less price-competitive. Also, Turkish apparel has a better quality image than Chinese apparel. Moreover, the gradual depreciation of the Turkish lira is giving exporters a tailwind.
Turkish garment trade associations would like the government to give the industry a push in the form of incentives, subsidies and schemes, because international competition is heating up. They point towards Pakistan and Bangladesh which over the years have increased their apparel exports to the EU, Turkey's main apparel export market. In 2017, $12.2 billion or 71 per cent of Turkey's total clothing exports were shipped to the EU. Not only do Bangladesh and Pakistan enjoy cheap labour costs, they also have duty-free access to the EU market, Bangladesh under the 'Everything But Arms' scheme and Pakistan thanks to its GSP status.
Predictions are difficult
For the time being, it looks as if the wars and the socio-political instability in various neighbouring countries, and even the influx in Turkey of more than 3 million Syrian refugees in 2016-17, don't much affect the development of the Turkish textiles and clothing industry.
Some observers believe that under the strong leadership of President Tayyip Erdogan, Turkey will be able to move quickly into the high-income status. They are impressed by Turkey's performance under Erdogan (who was prime minister from 2003 to 2014 before becoming president). Macroeconomic and fiscal stability were at the heart of its performance, enabling increased employment and incomes and making Turkey an upper-middle-income country. Poverty incidence halved over 2002-12. Extreme poverty fell even faster.
However, other observers predict that Turkey will gradually lose its spirit and power since more freedom-loving, creative, educated and wealthy people want to leave the country. On April 18, Erdogan called snap elections for June 24, saying economic challenges and the war in Syria meant Turkey must switch quickly to the powerful executive presidency that goes into effect after the vote.
Maybe a stronger presidency can speed up reforms that can bring down high inflation and high unemployment. But other problems affecting the Turkish textiles and apparel industry have to be addressed: the lack of skilled workers and textile students, the needed shift from traditional products to sophisticated technical textiles, and the alleged exploitation of Syrian refugee workers.