Over the last few years, a vibrant and growing startup scene in the textiles and fashion industry has sprung up all over Europe. Jozef De Coster reports from Brussels.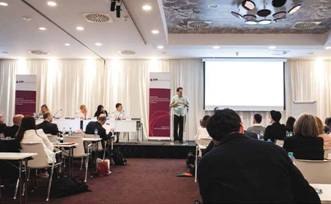 Our times are fond of innovation. Many textile and apparel companies mention "innovation" in the text of their Vision and/ or Mission statements. But then, where can more daring-even disruptive-innovations be found, than in startups? This was at the heart of the European Apparel and Textile Confederation Euratex in russels on April 17-18-the First European Textile Startup Summit.
Lutz Walter, Director of the Innovation and Skills department at Euratex, enthusiastically hailed the some-20 young starters who pitched their company at Brussels, saying: "Over recent years, a vibrant and growing startup scene in the textiles and fashion industry has sprung up all over Europe. This event will bring together this new breed of brave young textile innovators and startup entrepreneurs who bravely challenge the incumbents in this long-established industry, and open entirely new markets for textile-based products and services."
Starters, who are definitely optimistic people, are also happy people because-at least for some time-they live in an exciting present while dreaming of a great future. Most of them are not aware that nearly all innovations are either intrinsically useless or-even when useful-are never put into production (look at the fate of most of the many thousands of patents which every year are registered in the textile patent databases).
Also, most starters do not expect that their smart, well-aimed business project-when introduced in the market-will enter the inexorable world of cybernetics, where feedbacks of all kinds will force them to adapt the project, not once, but again and again. Some philosophers explain the whole sad history of mankind as an example of "cybernetics-of-the-second-order."
Opportunities abound
As Italian industrialist Paolo Canonico, president at ETP (European Technology Platform of Textile and Clothing), explained in Brussels: one can easily defend two divergent views on the current state of the European textiles and apparel industry. A pessimist will remark that in Europe this industry has shrunk into a niche industry specialising in hi-tech products which for the time being are relatively safe from attacks by Chinese and other foreign mass producers.
Since 2005, when after a period of 30 years the Multi-Fibre Arrangement (MFA) no longer adequately protected the industry, the total annual turnover of the European textiles and apparel companies has fallen by nearly 20 per cent. Many parents continue thinking that the textiles and clothing industry is a sunset industry and try dissuading their children from taking up courses in textile schools. The average age of European textile workers is increasing. Textiles and garment companies find it increasingly difficult to find employees with the right skills.