The Central Board of Indirect Taxes and Customs (CBIC) has announced that import duties on 50 textile products will be doubled. The move, which comes in the wake of increasing imports from countries like China, Vietnam, and Bangladesh, may not be enough, writes Gagan Singla
India as a country has been very vocal about its support for indigenous industries in the last half a decade or so. It has a rich textiles heritage, with artisanal tradition dating back to the third century. However, more recently their survival had become rather challenging. The prominence has diminished gradually, largely due to competition from foreign goods. The government of India has systematically targeted to improve the situation under the Make in India initiative. In its latest attempt, the Central Board of Indirect Taxes and Customs (CBIC) has announced that import duties on textile products will be doubled.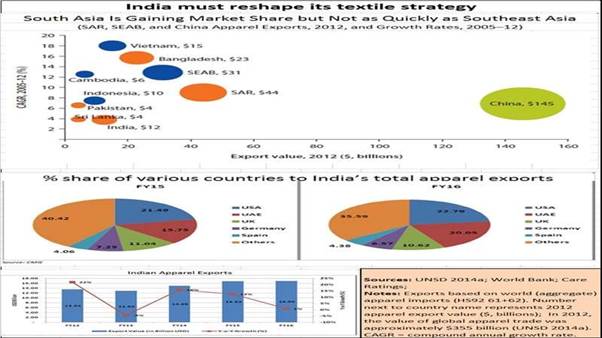 http://www.freepressjournal.in/analysis/lost-opportunities-of-the-textile-editorial-editors-pick-ananlysis-textile-industry-industry-era-r-n-bhaskarindustry/962757
CBIC's decisions on textile products
Such a move from the CBIC comes on the back of India's steady decline in the garment manufacturing business due to imported products from countries like China, Vietnam, and Bangladesh. This is not the first time that such an initiative has been undertaken. In October 2017 too, the CBIC had increased import duties on textiles.
However, back then, it was applicable to more number of products. Despite these measures, the apparel industry witnessed a downtrend in exports, which was also reflected in their performance in the share market. Yet, at the same time, the imports of textile fabric, yarn and other production related materials increased significantly at the rate of 8.58 per cent.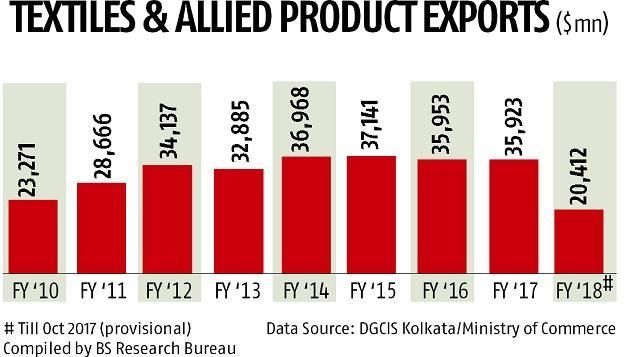 https://www.business-standard.com/article/economy-policy/textile-exports-may-fall-10-15-in-fy18-following-paring-of-tax-exemptions-117112700963_1.html

This time the focus is only on 50 items where the import duties have been doubled to 20 per cent. As a result of this increase, customers will find shopping for dresses, woven fabrics, trousers, carpets, suits, and baby garments, etc, to be more expensive than earlier. High-end brands like Chanel, Gucci, Burberry, and Fendi and other companies which sell their attires in India made at different manufacturing hubs will feel the impact. Additionally, the government of India has increased the rate of ad valorem duties on several textile goods.
Reactions to the move
Indian consumers and producers have greeted this move of the government with mixed reactions. The foreign designer and branded attires becoming dearer was a major concern among the majority of urban, upwardly population of the country. However, many also believe that keeping the big picture in mind, the step makes sense. If such a move pays off, then one can expect significant improvement in the apparel segment among Indian brands. Apart from protecting the textiles industry, it could also prove to be a useful tool in providing more employment opportunities.
All this being said, there is also a certain degree of concern regarding this move from those who are directly involved in the fashion world. The reasons for this are far reaching. First, the government's previous endeavour had failed to bear fruits as the market for the readymade textile garments dropped by 12.3 per cent to $13.5 billion, despite the measures taken in 2017. Hence, many believe that merely protecting these industries through import duties may not be sufficient.
Second, Indian manufacturers still need to import materials like tapes, ribbons, trims and source fabrics, etc, from countries like Hong Kong and China. As a result of this, the cost of their garments too will increase. Hence, the competition will still be stiff to an extent. Moreover, on the international stage, the indigenous industries could continue to struggle, which means that the export aspect of the problem may not be taken care of.
Another issue which could need attention is that under such circumstances, where Indian products will cost more owing to increased cost of imported raw materials from abroad, the cost of goods produced in Bangladesh remains unchanged. This is because countries like Bangladesh enjoy free market access in India. Hence, indirectly, they could end up being the biggest beneficiaries of this policy.
Innovation and improvement
Overall, an overwhelming majority of the section have supported this decision keeping in mind the nation's interest. However, many expect other initiatives to be taken which can further benefit the textiles industry in India. Merely increasing import duties on products of international competitors is not sufficient. There must also be efforts made to strengthen the infrastructure.
Technical knowledge must be more readily available among those youngsters who aim to pursue a career in textiles. This will ensure that the overall quality of textiles in India improves as per the times. Innovation, like in any other sector, is a critical element of textiles too. Encouragement should be given to those people who have innovative ideas. Hence, ample focus needs to be given to those areas from a broader perspective to find a long-term solution and plan for the development of potentially one of the most profitable sectors in the world.
About the author: Gagan Singla is the CMO of AngelBroking, a leading stock broking and wealth management firm in India.