The first fashion school for professionals in the field of denimwear and jeanswear is set to open in Italy's fashion capital Milan with a twoweek workshop, reports Cristiana Bonzi
When it comes to fashion education programmes, Milan is definitely an international reference point for students, with its array of top schools such as Marangoni, Domus Academy, IED and most recently Raffles. The Italian fashion capital has again reaffirmed its place in nurturing fashion specialists and enriching the calendar of courses on offer thanks to a brand new institute that aims to train experts in indigo canvas.
The first Italian school devoted to denimwear and jeanswear-one of the few in the world-indeed has been set up. Founded by Gianni Fontana, fashion marketer and lecturer, and Cristian Murianni, cofounder of the Milanese Denim Boulevard fair, the Denim School of Milano was officially launched on July 9 with the endorsement of Acof Moda Milano, a fashion institute established in 1956 and closely related to the fashion industry. Besides Fontana and Murianni, the school boasts of teachers and lecturers like denim design specialist Mohsin Sajid, owner of Endrime London brand and Luca Sartor from the Italian menswear tailor's house Riedizione, whose expertise is renowned. Candiani Denim (denim textiles), Tonello (garment finishing technologies) and Bozzetto Group (textile chemicals) are, at present, the technical partners.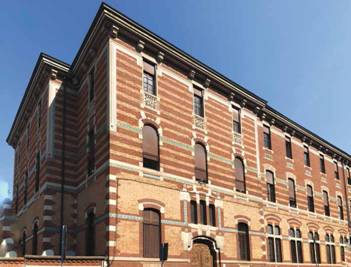 The school will throw open its classrooms on September 24 for the first workshop-an overall two-week theoretical and practical course through which students will first explore denim culture and history. Then, they will approach basic aspects of design, manufacturing and dyeing techniques in a three-day laboratory, at the end of which they will be able to create their own pair of jeans. The course is open to everyone interested in deepening his/her denim knowledge and therefore it doesn't require any specific preliminary skills. Those with a basic technical ability will be able to make the most of this opportunity.
In 2019, the school will expand its educational assortment with a one-month short course and a one-year full course. In addition, there would be a series of free seminars and custom-tailored projects for denim companies and brands in search for their staff to be properly trained.
The Need
Why open a denim school?
"With Cristian, one of the major experts in denim history," co-founder Fontana explains, "the idea was to prepare such kind of professionals-who are often seen to be lacking in the denim industry-and provide them proper job opportunities." He clarifies, "I mean professional profiles-people who have deep knowledge not only about costume, history, design, communication, but also about fabrics and manufacturing techniques, and know exactly how to wash, treat and age a traditional denim five-pocket."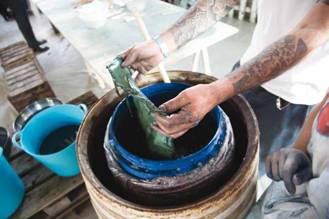 Jeans mark a 150-year culture, being the first practical working clothes that factory workers would wear, followed by the post-War period in becoming symbols of disobedience, and now representing a must-have in everyone's wardrobe, thanks also to designers who have made them valuable trendy outfits. "So, they are to be considered as a fashion item through which we can interpret contemporary trends," Fontana concludes. Then again, that jeans remain sales driven also need to be taken into account.
But, what are the best qualities of a traditional pair of jeans?
Fontana underlines, "There is an actual culture (of belief) that circulates among connoisseurs, who don't settle for any ordinary pair of denim fivepockets. Male amateurs, for instance, demand the selvedge. But the list of examples could be endless, including little quirks that sometimes slip into obsession, like washing the pants as little as possible to making the colour become more and more valiant by wearing them (you can easily avoid dirty odours by placing them in the freezer)."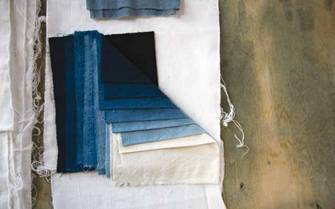 In general, we can say that combining Japanese denim quality standards in spinning, dyeing (with natural indigo paint), weaving and finishing with American machines for cutting to size, sewing and washing is the best way (to do it)." In particular, "shuttle looms are better than automatic ones to weave more comfortable denims, no matter how imperfect, and the best dyeing is made once the pants are put together, thus allowing them to fade less homogeneously with their use over time."
Modern technologies allow for processing in many different ways, but what about sustainability?
"We care a lot about sustainability," Fontana asserts.
"We interpret it as an ethical imperative, together with our technical partners, who are also very interested in this issue." In fact, Candiani Denim- considered as the greenest textiles company in the blue world-will produce by the end of 2020 a residual free denim fabric, that would be 100 per cent biodegradable and compostable.
So would Tonello, who have aways been attentive to perfecting sustainable technologies that respect the environment by consuming less energy, few additives and water, as also caring about the healthiness of the garments treated in their machines. And the Bozzetto Group too, for whom both major and minor economies in water, energy, air, waste and materials drive continuous improvement.
And so would begin a new denim era.