The Green Fashion India (GFI) event, this time in its sixth edition, saw industry leaders and experts addressing a sizeable crowd of fashion students. Meher Castelino reports.
How green is fashion in India? Is it on a sustainable path so that all stakeholders in the fashion business get a fair and equitable deal? These and many more questions were asked and debated by delegates at the 6th edition of the Green Fashion India (GFI 2018) at Goa in the first week of October.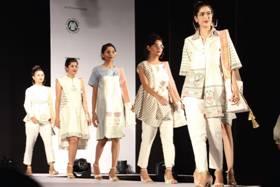 The event, an initiative of the Maharishi Karve Stree Shikshan Sanstha's (MKSSS) School of Fashion Technology (SOFT) at Pune, was also attended by nearly 500 students and faculty members from 16 fashion and textiles institutes, besides of course a galaxy of industry leaders and experts. Subjects deliberated ranged from the business of sustainability to recycling/ upcycling/reducing/reusing and from slow fashion to how theories can be made part of daily life and the environment be protected.
The main theme was 'Green Connect for Social Design' that aimed to bring together creativity, technology, craft, social influences and young enthusiastic minds towards promoting green fashion. Industry leaders presented their visions about sustainability; experts also judged a variety of papers and fashion contests.
Manohar Ajgaonkar, Goa's minister for tourism, and Rahul Mehta, president of the Clothing Manufacturers Association of India (CMAI) and advisory board chairman of SOFT, inaugurated GFI 2018. The minister spoke about the need to be careful about buying even as new fabrics and clothes were available all the time. Mehta underlined the need for sustainability to be economic, social and environmental. He regretted that his generation had destroyed the planet and urged the next generation (the students at the event) not to repeat the mistake. "Think green from today or tomorrow will be black," he concluded.
Among others who shared their thoughts were Promoad Gorhe, MKSSS chairman; Manju Hundekar, GFI secretary; ND Patil, MKSSS vice-chairman; and Mohana Kadam, GFI president.
Discussing Fashion
The keynote addresses set the pace for GFI 2018 with Benjamin Itter, co-founder and CEO of Lebenskleidung and strategic advisor of GFI, making a hard-hitting presentation on the state of the industry. He pointed out India's textiles history was well known and the country was now the largest producer of raw cotton. While the West is known for consumption, India and China have been known only for production. But now, there will be a shift since India's population stands at 1.35 billion with 800 million being under 35 years of age.
Bosco Henriques, founder of Biodye India Pvt Ltd, spoke on "Walking Back Towards the Production of Textiles in a Sustainable Manner" and asserted that Indian textiles were a currency of the past. Muslin, embroidery, brocades, chintz, resist dyeing, kalamkari were all India's specialties. Bharat Kamat, chairman of Indian Green Building Council Goa, emphasised the need for green buildings so as to conserve natural resources like water, which was important to do when talking about sustainability. Adrien Roberts, director of education at AC&M and trustee at Graduate Fashion Week, London showed a film on sustainable projects by Gucci and ACM students in pushing the recycle-and-reuse theme further.