The Green Fashion India (GFI) event, this time in its sixth edition, saw industry leaders and experts addressing a sizeable crowd of fashion students. Meher Castelino reports.
How green is fashion in India? Is it on a sustainable path so that all stakeholders in the fashion business get a fair and equitable deal? These and many more questions were asked and debated by delegates at the 6th edition of the Green Fashion India (GFI 2018) at Goa in the first week of October.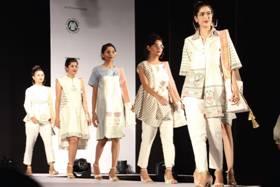 The event, an initiative of the Maharishi Karve Stree Shikshan Sanstha's (MKSSS) School of Fashion Technology (SOFT) at Pune, was also attended by nearly 500 students and faculty members from 16 fashion and textiles institutes, besides of course a galaxy of industry leaders and experts. Subjects deliberated ranged from the business of sustainability to recycling/ upcycling/reducing/reusing and from slow fashion to how theories can be made part of daily life and the environment be protected.
The main theme was 'Green Connect for Social Design' that aimed to bring together creativity, technology, craft, social influences and young enthusiastic minds towards promoting green fashion. Industry leaders presented their visions about sustainability; experts also judged a variety of papers and fashion contests.
Manohar Ajgaonkar, Goa's minister for tourism, and Rahul Mehta, president of the Clothing Manufacturers Association of India (CMAI) and advisory board chairman of SOFT, inaugurated GFI 2018. The minister spoke about the need to be careful about buying even as new fabrics and clothes were available all the time. Mehta underlined the need for sustainability to be economic, social and environmental. He regretted that his generation had destroyed the planet and urged the next generation (the students at the event) not to repeat the mistake. "Think green from today or tomorrow will be black," he concluded.
Among others who shared their thoughts were Promoad Gorhe, MKSSS chairman; Manju Hundekar, GFI secretary; ND Patil, MKSSS vice-chairman; and Mohana Kadam, GFI president.
Discussing Fashion
The keynote addresses set the pace for GFI 2018 with Benjamin Itter, co-founder and CEO of Lebenskleidung and strategic advisor of GFI, making a hard-hitting presentation on the state of the industry. He pointed out India's textiles history was well known and the country was now the largest producer of raw cotton. While the West is known for consumption, India and China have been known only for production. But now, there will be a shift since India's population stands at 1.35 billion with 800 million being under 35 years of age.
Bosco Henriques, founder of Biodye India Pvt Ltd, spoke on "Walking Back Towards the Production of Textiles in a Sustainable Manner" and asserted that Indian textiles were a currency of the past. Muslin, embroidery, brocades, chintz, resist dyeing, kalamkari were all India's specialties. Bharat Kamat, chairman of Indian Green Building Council Goa, emphasised the need for green buildings so as to conserve natural resources like water, which was important to do when talking about sustainability. Adrien Roberts, director of education at AC&M and trustee at Graduate Fashion Week, London showed a film on sustainable projects by Gucci and ACM students in pushing the recycle-and-reuse theme further.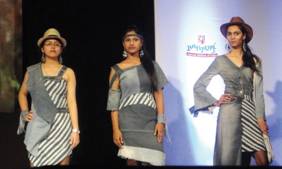 Rahul Bhajrekar, managing director of Global Organic Textile Standard (GOTS) and Hemang Agrawal, director of the Surekha Group of Industries, Varanasi moderated exciting panel discussions. On 'Practices and Innovation in Promotion of Green Fashion', Gautam Vazirani, strategist and curator (sustainable fashion) at IMG Reliance/Lakme Fashion Week, spoke about how for the past seven years sustainable fashion was being promoted from the smallest to the biggest fashion brands, media and consumers. He wondered if anyone knew about the background of the clothes that they were wearing when talking about sustainability.
Richa Bansal, Editor, Fibre2Fashion, dwelt on problems with the very way green fashion is promoted. By and large it remains a bit elitist, since it is promoted as something niche/aspirational. "Green fashion" is promoted as a "type" of fashion. But, there can be no such thing as "green" fashion; fashion itself needs to be "green," she argued. There cannot be such a thing as sustainable fashion; fashion itself has to become sustainable. "If it ain't sustainable, it ain't development. If it ain't sustainable, it ain't fashion," she said, and added, "If fashion has to be sustainable, then it is consumption which needs to be cut down. Consumption needs to be sustainable. Consumption needs to be circular." Green fashion, for the lack of a better term, needs be not a type of fashion, but a lifestyle in itself-for everyone.
The subject of 'Practices and Innovation in Crafts' was handled by Poonam Pandit, owner of the label Kalakar in Goa, who had moved to the state and found a family of weavers who were about to close shop. She had helped them create a demand for their work. Uma Prajapati, founder and creative director of Upasana in Auroville, said that for her the bottomline was all about people. She said that her work with farmers and weavers had enriched her with a great insight into sustainable fashion.
When it came to 'Practices and Innovations in Technology, Avinash Mane from Lenzing, spoke about the two new sustainable fibres from Lenzing. Refibra fibre is made from cotton waste mixed with Tencel pulp, and requires 95 per cent less water than cotton. Ecovero was the other fibre.
On 'Practices and Innovations in Education, Andre Matthes, deputy head for textile technologies at Chemnitz University, stated that when he brought things he always asked if he needed them and most times he realised that he didn't. On 'Practices and Innovations in Design', Apurva Kothari, founder of the No Nasties brand, spoke about how he had noticed that there was no awareness about sustainability on part of consumers. Manish Kelshikar, director and chief creative officer at DSGN Fashion Pvt Ltd, said that for his brand BagForEver he had used the power of design for problem-solving. The bags are made from plastic bottles by prisoners in Tihar Jail and are sold in 30 countries, with each bag having a carrying capacity of 25 kg. He also cautioned about the need for "sustainability" to be profitable, or it will nosedive. Nalini Sampat from Fairtrade India commented on 'Practices and Innovation in Social Design', which was important.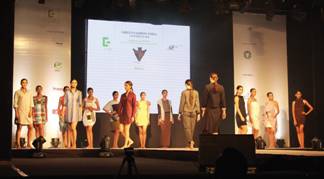 Sushanto Mitra, managing director of Mojo Panda Exim Pvt Ltd that deals in certified wool products, gave an interesting talk on wool. The products are mothproofed with herbs and turned into home linen, accessories footwear and active sportswear. The company has been in business for 36 years, with assignments from foreign brands like Habitat, Pottery Barn, John Lewis, Harrods and Ikea.
Neeta Deshpande of the Banjara store in Aundh, Pune spoke about the 26-yearold local brand that has worked with handcrafted fabrics from 15 states. The brand also works with three clusters.
Show, Contests, Presentations
The Students' Design Showcase titled My Own Way had 10 collections from six fashion institutes. The crafts and textiles of India inspired students, and so it was not surprising that Mesmerising Paithani from SOFT won the first prize. It was an ivory silk line with Paithani motifs and stripes for well-finished westernwear.
A close runner-up was Range from the Himalayas that featured the embroidery of Kullu Valley in black, white and grey for capes, jackets and shifts with quilting, and was created by students of MAEER's MIT Institute of Design, Pune. The special jury award went to Masters of Nuances, a Japan-inspired line in black wool, linen and ikat again by SOFT.
The other seven collections too were noteworthy. Recycled denim jeans for westernwear was presented as The Thick Skinned Collection by the students of Banasthali Vidyapith University, Rajasthan, who also created a second entry called Vilay Collection that featured cutwork of Rajasthan for dresses, lehengas and maxis.
Paintings of Uttarakhand inspired the Bhuli Art Painting collection in vegetable dyes on white muslin by the students of Sophia - Shree BD Somani Polytechnic, Mumbai. The institute also presented a second collection called Beyond Gender that featured eri silk and organic cotton. Students of MIT Institute of Design gave Toda fabrics for the Toda Collection a western touch. Satyam Fashion Institute, Noida created the Pattachitra collection, which was a mix of ethnic and westernwear, while the Heirloom of Kasavu collection by MGM Institute of Fashion Designing, Aurangabad worked with Kerala fabrics for westernwear.
Meanwhile, there was palpable excitement over contests and paper presentations in which the students and faculty members took part. The Green Weave, Green Print, Green Accessory, Green Promotion Film and Green Poster contests had active participation, while the paper presentations were from the students as well as faculty members from the various participating fashion institutes.
The final fashion presentation that concluded GFI 2018 was a visual delight with Indian and foreign designers unveiling their green and sustainable fashion collections. This writer interviewed each designer on the ramp after the presentation and discussed his/her visions and thoughts on green-sustainable fashion.
From Berlin, it was Philippe Werhahn who unveiled his sustainable Ting Ding brand as well as Kollateralschaden, and also curated seven other German brands for the event. From New York, it was Swati Argade who brought her Bhoomki label that featured westernwear in organic fabrics. Ninoshka Alvares from Goa unveiled her denim line with Shibori, pin tucks and origami detailing. Pune's Karishma Shahani Khan's Ka-Sha label worked with weavers of Kota Doriya and presented a heavily layered collection. Uma Prajapati's Upasana label was an easy, relaxed and youthful line in white, black and red made in khadi. Hemang Agrawal's Un-Revive line featured amazing weaves in pure organic cotton with silver and gold yarns woven in for a glittering formalwear collection. Sujata Tokey worked with the traditional Pipli work from Odisha on Munga Tussar for her Riwayaat collection in earthy hues.
Finally, the Grand Finale was reserved for ace designer Rajesh Pratap Singh who dazzled the audience with his all-white, layered, ethnic Tencel collection.