A tiny unit in the Western Ghats region of Karnataka produces naturally-dyed handlooms and tailored garments. Charaka is also into fabric designing, block printing, hand embroidery and tailoring. Rehmat Merchant reports on an initiative that is making a difference to the lives of weavers.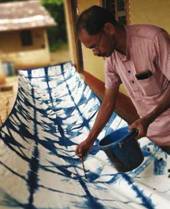 B Prasanna is a luminous figure of Kannada theatre- an alumnus of the National School of Drama (NSD) and a Sangeet Natak Akademi awardee. The 67-yearold artist-activist is also a social entrepreneur-the man behind Charaka, an industrial cooperative society for women with an annual turnover of ?6 crore. Its handloom unit at Bhimanakone village in the Western Ghats produces naturally dyed cotton handlooms and tailored garments. It has over 400 looms across Karnataka employing around 800 workers and churning out 32,000 metres of fabric every month. Its creations are sold at Desi stores (an affiliate marketing wing) in Bengaluru, Shivamogga, and Dharwad.
So, what is the story behind this wheel? Prasanna did his time in the big cities: director-playwright of the modern Kannada theatre movement, guest faculty at NSD, and top man at ITV. Somewhere along the way he founded Somudaya, a platform for modern Karnataka theatre. But life in the big city was not for him. So, leaving it all behind was just a matter of time, not intent.
In the Beginning
In the late 80s, Prasanna moved to Heggodu in the Western Ghats region of Karnataka. His new abode gave him the desired serenity of a slower pace, but this place was no hick town. In fact, Heggodu is an unmatched cultural hub: home to Ninasam, a drama institute, holding events and workshops the year round; and Akshara Prakashana, a Kannada publishing house, specialising in translations of stage-plays. Prasanna completed the sociocultural troika by adding Charaka to the map of this destination.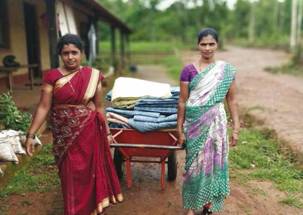 While breathing in the untainted air of the lush Western Ghats, he mused on the fate of this region. "The poor here did not know anything but farming, and were denuding this region. They were clearing patches in the forests for cultivation," he recollects. This was when he decided that an alternative ecologically and economically sustainable industry had to be created for the disadvantaged. Hence, Charaka was born. Today, Charaka is into the spectrum of plant-dyed fabrics, handloom weaving, fabric designing, block printing, hand embroidery and tailoring. But when it started out, it was a modest tailoring unit that outsourced its fabrics. The idea behind this was practical: "I wear kurtas and pyjamas and my friends dress similarly. So, I had ready consumers," says Prasanna.
The success of the clothes range and the need to generate more employment led to the idea of weaving fabrics in-house. The challenge lay in introducing the new skill-set of weaving into a nontraditional weaving community. Initially, yarns were procured from mills and dyed in a neighbouring village before being spun. The next logical step was to train their workers in the art of fabric dyeing. But that had an environmental downside. "The chemical colours were polluting the village waters. So, we decided to move to natural dyeing," explains Prasanna.