A tiny unit in the Western Ghats region of Karnataka produces naturally-dyed handlooms and tailored garments. Charaka is also into fabric designing, block printing, hand embroidery and tailoring. Rehmat Merchant reports on an initiative that is making a difference to the lives of weavers.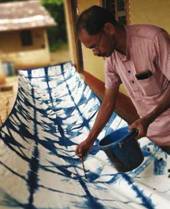 B Prasanna is a luminous figure of Kannada theatre- an alumnus of the National School of Drama (NSD) and a Sangeet Natak Akademi awardee. The 67-yearold artist-activist is also a social entrepreneur-the man behind Charaka, an industrial cooperative society for women with an annual turnover of ₹6 crore. Its handloom unit at Bhimanakone village in the Western Ghats produces naturally dyed cotton handlooms and tailored garments. It has over 400 looms across Karnataka employing around 800 workers and churning out 32,000 metres of fabric every month. Its creations are sold at Desi stores (an affiliate marketing wing) in Bengaluru, Shivamogga, and Dharwad.
So, what is the story behind this wheel? Prasanna did his time in the big cities: director-playwright of the modern Kannada theatre movement, guest faculty at NSD, and top man at ITV. Somewhere along the way he founded Somudaya, a platform for modern Karnataka theatre. But life in the big city was not for him. So, leaving it all behind was just a matter of time, not intent.
In the Beginning
In the late 80s, Prasanna moved to Heggodu in the Western Ghats region of Karnataka. His new abode gave him the desired serenity of a slower pace, but this place was no hick town. In fact, Heggodu is an unmatched cultural hub: home to Ninasam, a drama institute, holding events and workshops the year round; and Akshara Prakashana, a Kannada publishing house, specialising in translations of stage-plays. Prasanna completed the sociocultural troika by adding Charaka to the map of this destination.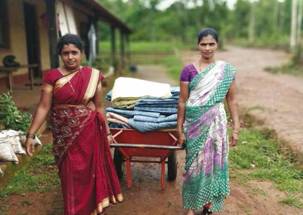 While breathing in the untainted air of the lush Western Ghats, he mused on the fate of this region. "The poor here did not know anything but farming, and were denuding this region. They were clearing patches in the forests for cultivation," he recollects. This was when he decided that an alternative ecologically and economically sustainable industry had to be created for the disadvantaged. Hence, Charaka was born. Today, Charaka is into the spectrum of plant-dyed fabrics, handloom weaving, fabric designing, block printing, hand embroidery and tailoring. But when it started out, it was a modest tailoring unit that outsourced its fabrics. The idea behind this was practical: "I wear kurtas and pyjamas and my friends dress similarly. So, I had ready consumers," says Prasanna.
The success of the clothes range and the need to generate more employment led to the idea of weaving fabrics in-house. The challenge lay in introducing the new skill-set of weaving into a nontraditional weaving community. Initially, yarns were procured from mills and dyed in a neighbouring village before being spun. The next logical step was to train their workers in the art of fabric dyeing. But that had an environmental downside. "The chemical colours were polluting the village waters. So, we decided to move to natural dyeing," explains Prasanna.
Women, Colours, Designs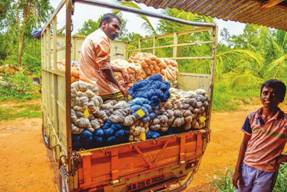 Charaka is responsive to the fact that women want economic resources to keep the home fires burning. "Charkha is a women's empowerment enterprise: eighty per cent of our employees are women. We have a centre where we train them," Prasanna says. Traditionally weavers and dyers are men, but at the Shramajeevi Ashram and Training Centre it is the women employees who get trained in the arts of dyeing and weaving, along with embroidery and tailoring.
To provide job opportunities for more people Charaka gets workers trained and helps them set up units in their own homes. Since most of these workers are women, decentralised operations facilitate a balance between work and household responsibilities. Charaka also outsources weaving to different self-help groups and individual weavers outside the district. Naturally-dyed yarn is supplied to neighbouring units and the woven fabric is bought from them. Charaka employs the traditional technique of vat-dyeing. The substance (in this case indigo) is put in a vat (or vessel), buried in the earth, and covered with sheep dung. When the indigo in the vessel starts fermenting, the dung holds the naturally generated heat.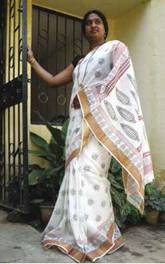 Though Charka's colour palette is limited, it is natural. The indigo colour is modified by adding herbs and plants for yellow tints, reddish browns hues, and pinkish red shades; besides the regular range of blues and blacks. "It is not that this colour palette cannot be increased. But that could result in an increase in cost too. We decided not to widen our palette but to keep costs d,own," he points out. They use plants that are easily available in the Ghats. Areca is the main cash crop here; so, it is cheaper to source. Trying to get plants from other regions only adds to the production cost.
Many of the emollients in natural dyeing-mangista, harda, eucalyptus pomegranate, jack wood, madder root-are also used in preparation of ayurvedic medicines. In America, in the Wild west, cowboys would go for months on horseback grazing cattle, and be prone to infection as there were no bathing facilities. It was discovered that the indigo used in denim prevented infections. Similarly, the natural dyes in fabrics are not only closer to nature, but also have a curative effect.
Charaka is also working on reviving the traditional saree designs of Karnataka. "Every region has a different weaving tradition that is peculiar to that part and has been handed down generations. We are trying to retain this heritage," says Prasanna. For example, an Ilkal sari has a cotton body and a silk pallu. Its distinctive feature is the tope teni technique: the part where the cotton body and silk pallu are joined by a series of loops.
Days to Come
What are the future plans of this enterprise? "We are doing research and development so that khadi can be made accessible to the lower-middle class too. We want to become the largest producers of naturally dyed fabric," says Prasanna. Moving in that direction, Charaka has begun selling its fabrics in wholesale to select designers and boutiques. The hand cards and hangtags accompanying the Charaka creations have information about the technique employed in making the products. In the pipeline is the idea of adding the weaver's details so that the customer can call the artisans to see if they have got a favourable payment or simply to say thank you.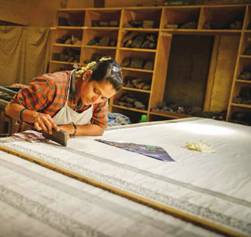 Charaka is just not about fabrics of India, but also about the culture of the country. Every year in January, there is a three-day cultural festival, called Charaka Utsava, where artists from all over India gather to perform musical recitals and dramas. Discussions on contemporary cultural and social issues are part of the fest. This is also the time to recognise the busy hands that keep the wheels moving through the distribution of awards to employees who stand out.