The latest Wazir Textiles Index (WTI) shows that there has been a double-digit growth in both sales and profitability among top Indian companies. Exports, however, remains a matter for worry.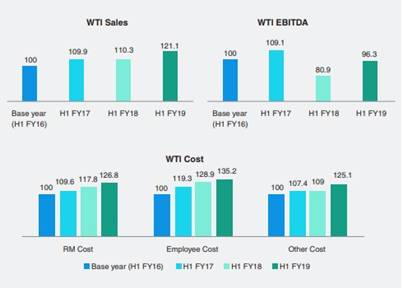 The Wazir Textiles Index (WTI), which assesses the cumulative financial performance of the top Indian textiles companies, has released its findings on the market performance of Indian textile sector for the first half of FY19. According to the findings, WTI Sales was calculated to be 121.1 in the first half of FY19 (base year H1 FY16=100), growing significantly by 10 per cent as compared to H1 FY18. The WTI EBITDA (earnings before interest, tax, depreciation and amortisation) was calculated to be 96.3 in H1 FY19. The EBITDA margins have witnessed an impressive growth of 19 per cent in H1 FY19 as compared to H1 FY18. The WTI Cost for raw material (RM), manpower and others were 126.8, 135.2 and 125.1, respectively, in H1 FY19. WTI costs have increased by roughly 5-15 per cent this half year, as compared to the same period last year.
The consolidated sales of the top 10 selected companies were ₹21,272 crore in H1 FY19 as compared to ₹19,378 crore in H1 FY18, growing by 10 per cent y-o-y (year-on-year). As compared to H1 FY18, the average EBITDA margin increased by 1.1 percentage points to reach 13.8 per cent in H1 FY19. Consolidated RM cost constituted 52.3 per cent of sales in H1 FY19, while consolidated manpower cost constituted 10.2 per cent of sales. Raw material and manpower cost as a percentage of sales have remained almost stagnant during H1 FY19 as compared to H1 FY18. This reflects in the growing profitability of the top Indian textile companies.
GDP and industrial production have grown in H1 FY19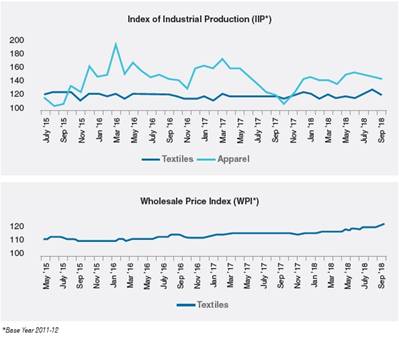 In H1 FY19, India's real gross domestic product (GDP) increased from ₹62.91 lakh crore to ₹67.72 lakh crore from H1 FY18, witnessing a growth of 7.1 per cent.
The average Index of Industrial Production (IIP) for textiles and apparel (T&A) increased by 2 per cent and 5 per cent respectively in H1 FY19 compared to H1 FY18. The Wholesale Price Index (WPI) for textiles registered an increase of 3 per cent in H1 FY19, indicating increase in prices.