More than 2,400 styles in over 800 fabrics and leathers - these figures already reflect at first glance the incredible diversity one of the largest furniture manufacturers in the world is offering. But there is a lot more to it: With Best Home Furnishings, customers can custom their furniture, but they will not have to wait two to three months for delivery. In just five business days, the family-owned US company based in Ferdinand manufactures chairs, recliners, sofas and glide rockers.
<![if !vml]>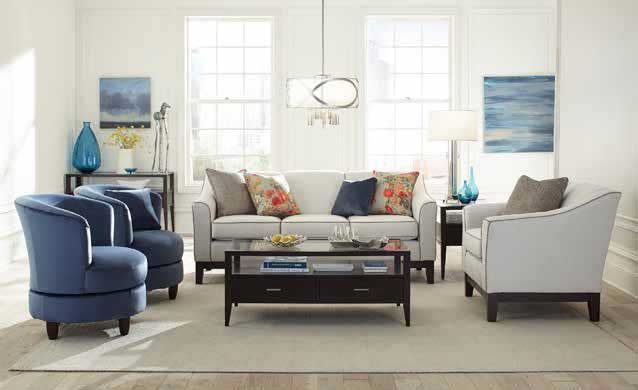 <![endif]>
The success story did not begin in a garage in 1962, but in an old cannery building where the founders Clem Lange and Ernie Prechtel repaired furniture and old truck seats. One year later, they moved to an old store building and opened a production line with three other employees in line with the motto, which today still reflects the basic principle of the American company: best quality products at the best price.
Best Chairs, Inc., doing business as Best Home Furnishings since 2004, is steadily improving its quality and delivery times. The company operates production facilities in Jasper, Paoli, Cannelton and Ferdinand in the US state of Indiana, for a total of over 335,000 sq m. Nearly 1,000 employees manufacture high-quality furniture for over 4,000 customers in 24 countries, distributed through a network of dealers as well as online.
Short delivery times
At a very early stage, Best Home Furnishings recognized that technologies play a major role in being able to operate successfully. As early as 1973, computers were used to track inventory in the 6,000 sq m warehouse as well as payroll and order processing. For example, Best Home Furnishings has been a Gerber Technology client and partner since 1996 and was thus able to realise real "lean production".
Speed to market is a critical differentiator for many furniture companies. Being able to customise, produce and deliver high quality products in a shortened period of time is the key to maintaining a competitive advantage. And this is precisely where the key to success of Best Home Furnishings lies: Automated processes make it possible to realise and deliver furniture extremely quickly from design to production in order to satisfy customers. Best had a four-week production time just 20 years ago and now they are down to five days. Without sacrificing selection and quality-on the contrary.
If the selection was made up of chairs in 325 fabrics (daily output: between 60 and 120 pieces) in 1968, today there are over 800 high-quality fabrics and leathers for a wide range of products, from chairs to sofas. Thus, retailers with thousands of style, cover, and finish combinations can quickly serve individual needs of different customers and benefit from not having to keep anything in stock. Best Home Furnishings offers one of the industry's fastest turnaround times and promises, "Depending on where your store is located, you may receive your shipment in less than two weeks."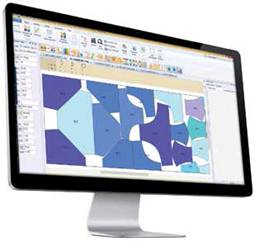 Transparency and reliability
However, with this immense selection, it is extremely important not to lose track. Best Home Furnishings gains transparency and reliability with a number of Gerber solutions, including AccuMark (pattern design/grading), AccuNest (marker making), MP Series plotters, Paragon cutters for upholstery, and Taurus II leather cutters. "With these automation solutions, combined with Gerber's three tiered service, we can keep costs down and minimize downtime," confirms CEO Glenn Lange, the eldest son of the company founder Clem Lange (in 1988, the Lange family became the sole owner). "We can easily gain insight into every step of the process today. So, it was possible to improve our throughput by 30 to 35 per cent," Lange continues.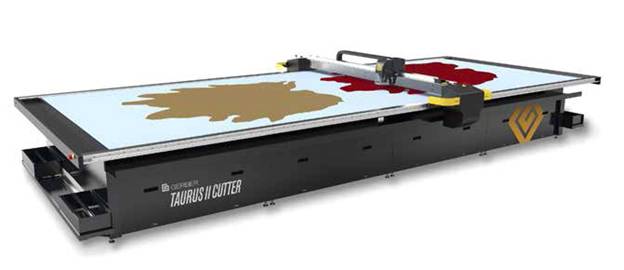 The process in the past required manual process which needed more skilled labour and could only offer extended delivery times. By streamlining and automating workflows, Best Home Furnishings now also requires fewer highly skilled people. Best Home Furnishings runs a very quick schedule, they build everything as a sold unit, holding nothing in stock, so they need to respond to customers very quickly. Embracing digitisation and integrating systems enables the company to automate processes, streamline data transfer and workflows, gather insight at any step of the process, maximise throughput, minimise errors and reduce labour costs.
The result: An impressive 95 per cent could be saved in time on markers. If this is already an impressive value, there are additionally positive effects on the material side: With Gerber's Digital Solutions, Best Home Furnishings has picked up 2 to 3 per cent on fabric utilisation. The versatility of the programs and how they integrate with various products throughout the organisation has allowed them to continue to offer quality products, timely.
Moreover, the accuracy of the cut has improved enhancing one more time the high standards of Best Home Furnishings, which already started in 1962 with the promise that is their name: to produce best quality products at the best price.
High quality
At Best Home Furnishings, hardwood frame parts using native trees provide the backbone to a sturdy frame. Fully automated computer scan and cut systems process nearly 20 miles of lumber per day to read and cut out defects. Joints are doweled, screwed, glued, stapled and corner blocked. High stress points are reinforced with deep penetrating truss plates.
Best employs over 60 seasoned upholsterers with an average of 16 years of experience. Sewing inspection utilises an 18-point checklist ranging from seam allowance to the number of stitches per inch. Each product that leaves the Best facility is inspected and must pass its quality standards.