From a 25,000 spindles unit in the year 2000 to a textile conglomerate comprising 11 units with a capacity of 150,000 spindles, 6,000 open end rotors, and 50 circular knitting machines - that is the incredible growth story of ST Cottex Exports Pvt Ltd, Ludhiana. Today, ST Cottex manufactures 100 per cent cotton and 100 per cent spun polyester greige fabrics with a total production of 130 tons of yarns per day.
ST Cottex has a wide customer base within India and abroad. Their regular markets are South Korea, Malaysia, Taiwan, China, Vietnam, Indonesia, Singapore, Egypt, Israel, Portugal, Italy, Spain, Germany, Columbia, Peru, Canada, the US, Brazil, and Bangladesh. The domestic markets of ST Cotttex include Ludhiana, Amritsar, Delhi, Panipat, Ahmedabad, Mumbai, Ichalkaranji, and Kolkata.
Since the beginning, ST Cottex believed in Truetzschler and Savio technologies. The mill in all has 45 Truetzschler cards, 60 Savio automatic winders and 32 Savio TFOs.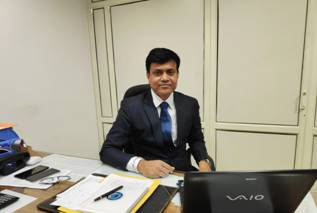 Aditya Sachan, executive director, handles the operation of all 11 units and is also responsible for the future project planning of the group. He has worked with the DK 780, DK 800 and TC 5 series of cards. He said, "Truetzschler is a world leader in carding technology and we are happy with the performance of the Truetzschler cards working in our units. The workers are also very happy because of the low maintenance of these cards."
Referring to Savio, Sachan said, "We have also grown with Savio technologies in ST Cottex. We have Savio winders and TFOs in our units. Since the beginning, we have Espero, Polar, and now the EcoPulsarS model winders in our units. The efficiency of Savio winders is very good and we have seen the latest features being upgraded in every new model which keep Savio ahead of its competitors. The packages and splicers are the best from Savio winders giving them an edge over other manufacturers. The winders are very user-friendly, and our technicians have positive experiences with both the round magazine and well as the link winders."
ST Cottex has Savio Cosmos TFOs running in all its units. The mills save on an average 10-12 per cent power due to Savio TFO's as compared to other makes of TFOs, according to Sachan.
He also appreciated the after-sales support provided by Savio India. "I should say that A.T.E. is playing its role very effectively. I am very happy that A.T.E. offers the right technologies and overall, we are happy with the services provided by A.T.E. We are now looking forward to ITMA Barcelona, and I am sure A.T.E.'s principals will once again showcase innovative technologies at the show," said Sachan.