Are you tired of seeing your fashion business not reaching its full potential because of:
Disparate or outdated IT systems?

Time-consuming double data entries?

Error-prone and slow manual tasks?

Overly complex workflows?

Lack of information and collaboration between departments?
What if you could streamline and optimise your business with a single software solution developed for your industry?
Fashion ERP System. Refined since 1990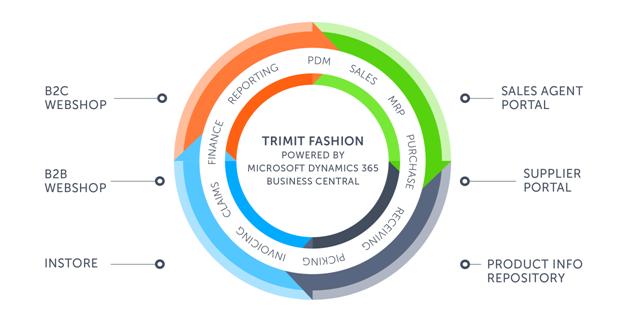 TRIMIT Fashion is an integrated software solution that helps apparel companies successfully manage their business - from design to delivery.
With TRIMIT Fashion, you don't have to worry about disconnected IT systems, double work etc. It helps you optimise your business and enhance efficiency by connecting people, processes, and information across departments, locations, and trade partners.
TRIMIT Fashion is built on the solid foundation Microsoft Dynamics 365 Business Central. This means that you get the power and familiarity of a world-renowned ERP system - with fashion-specific functionality developed and refined since 1990 in close collaboration with the fashion industry.
With Trimit Fashion you will…
Exceed customer expectations
If you improve customer service, you automatically boost revenue and retention. The single solution TRIMIT Fashion puts an end to the nightmare of disparate Excel sheets and the eternal threat of miscommunication. With "one version of the truth" interdepartmental workflows are optimised and buyers also receive real time information about variants, across channels without discrepancies.
Message, a top of the line fashion brand, says: "With our old system, we often had to do things three times and use home-made spreadsheets to analyse our data. Now, when we type in a set of data once, it's available in the entire system."
Invest in better things. Not overhead.
Automating workflows immediately reduces overhead and operational costs. Automations also reduce errors and expedite processes. Resource planning involves several mundane tasks that benefit the company greatly when they are put on auto-pilot and executed with a greater degree of precision.
Molo Kids, an urban design curator for kids, says: "Using TRIMIT Fashion has optimised and automated many processes in our company, making it possible to make a series of cost reductions and streamlining. We have been able to cut down our stock personnel from 20 to 7 people in the busy season despite a rise in turnover in that same period."
Never have an unfillable order
The main advantage of having a single solution where people can communicate product information in real time boils down to "adaptability". This enables managers and planners to account for fluctuations in demand and enforce pre-emptive or remedial measures that get units to shelves and orders to buyers, always on time.
Mos Mosh a high-end apparel and accessory design label says, "One of this solution's really big advantages is that it communicates with our warehouse in real time. Customers don't place orders that we can't fulfil. The orders are accurate because the system is constantly updated."
Never operate in the dark again
Get transparency of material flow and inventory status. Information is power and in TRIMIT Fashion, planners and managers have the freedom to view, track and modify the movement of parts and inventory levels. With this comes the flexibility to define manufacturing strategies that are informed by key factors like market demand and material levels.
Sisters Point, a young vibrant fashion brand for females, says: "With short delivery time on styles that are selling here and now, both our business and the shops need to meet demand fast. This requires an IT solution that is transparent and offers an overview at any given time, and that's exactly what TRIMIT Fashion gives us."
Work with a production network that gets it right all the time
Accuracy of data is fundamental to a manufacturing drive where value chain partners are nimble, responsive, and committed to quality. Only when every node of the network receives valid, up-to-date, detailed information without jumping through hoops can vagaries like on-spot modifications and alterations be handled swiftly and efficiently.
Molo Kids adds: "The implementation of the TRIMIT system together with strict quality control resulted in a historically low error rate of 0.03 per cent, which has actually resulted in a shutdown of our complaints department."
More information?
Contact TRIMIT for a free demo by a product specialist. See how TRIMIT Fashion can transform your business, growth, and profitability.