A fabric brand Jianna and an accessory brand Caressa have been launched by a Surat-based dyeing and processing house. What looked like an impossible dream has been made to come true by the Zenitex Group as it built on its strengths as a much-awarded MSME player for its sustainability initiatives.
"The brands were a natural extension of our activities as there was a lot of demand for fabrics from our windmill powered dyeing house because of our continuous and sustained efforts to reduce our carbon footprint," says the CEO of Zenitex, Viral Desai.
Talking about Jianna, ecopreneur Desai said, "While the other synthetic fabrics will continue in an array of prints and colours, the focus will be on the much in demand small lots of fabric in eco-friendly Archroma colours." And talking of small lots, he shares how Jianna has found shelf space at Creo, a Mumbai- based multidesigner store promoted by Ami Javeri.
A unique feature of Jianna is that it is among the handful of fabric companies that talk to the consumer directly about its initiatives through the hangtag that goes out with each garment.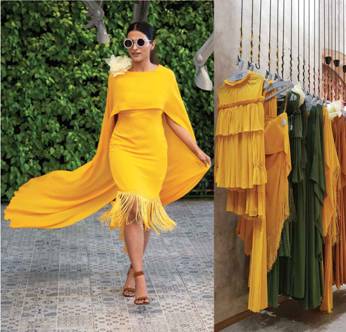 "This ingredient branding has been a breakthrough for us as the 'Jianna by Zenitex' tag is there on the garment, which specifically mentions that the garment is made out of fabric procured from Jianna by Zenitex. We will be trying to use more sustainable colours to further strengthen our green agenda. I would also like to add that a percentage from the sale of this fabric will go for charity and tree plantation through our Hearts@Work Foundation," Desai added.
"I believe in a sustainable and eco-friendly way of doing things. I have tried to implement these elements in my first collection as a designer. I was lured to Zenitex's luxe fabrics which use sustainable colours. The fabrics are lightweight and airy. The sustainable colours used by Zenitex have come out the way I wanted," said Ami Javeri, founder, Creo.
Desai said, "With increasing consciousness to conserve nature and the environment, the demand for sustainable fashion is rising. We at Zenitex think that what you wear matters and using our sustainable fabric does everyone a little bit of good. We are thankful to Ami Javeri at Creo for using our fabrics and helping us promote sustainability."
Talking about Caressa, the fashion accessory and apparel brand, co-founder Sonali Desai emphasised on how sustainability again is the bedrock. There is stress on introducing and promoting natural eco fabrics like aloe vera, bamboo, and also tulsi or basil for her line of scarves, stoles and garments. "A large part of the stoles and potlis are made from fabric scraps at Zenitex. We also source from all over the country, be it fabric, lace, buttons, beads or other such accessories."
The future plans for both the brands include looking for placement across major multibrand outlets across the country.
The sustainable fabrics from Jianna and Caressa use Archroma's Nylosan and Lanasyn metal-free dyes. "The Lanasyn and Nylosan range used in Jianna and Caressa fabrics are free from all heavy metals, offer very high wet fastness, excellent combinability, and outstanding build up," said Anjani Prasad, managing director, Archroma India.