The cotton industry in Mexico is booming and has reached its best since 1970. And, this rise has negatively impacted US cotton exports to Mexico. A Fibre2Fashion report.
Mexico is a major importer of value-added cotton yarn from the United States (US) as compared to the raw cotton fibre from that country. But then, raw cotton plays an important role for the cotton textiles business in the country as domestic production in Mexico is not enough to meet its own demand as a result of adverse weather conditions.
The Global Agricultural Information Network report released by the United States Department of Agriculture (USDA) recently pointed out that the rise in cotton production in Mexico from 2017 to 2019 has reduced the demand for US cotton. Concurrently, the cotton boom in Mexico has boosted it exports to the highest point in the last three decades, with China as the major importer in 2018.
According to Cotton Incorporated (non-profit organisation funded by cotton growers in the US), comfort, sustainability, durability, quality, affordable price and natural clothing determine the choice of Mexican textile consumers, and hence cotton-rich clothing is a perfect choice for them. Consequently, the cotton business accounts for the major part of Mexican textile business, and US cotton is preferred in the country. Strong promotional campaigns along with the presence of well-known US and European brands ensure Mexico a leading position in Latin America.
A Rise in Production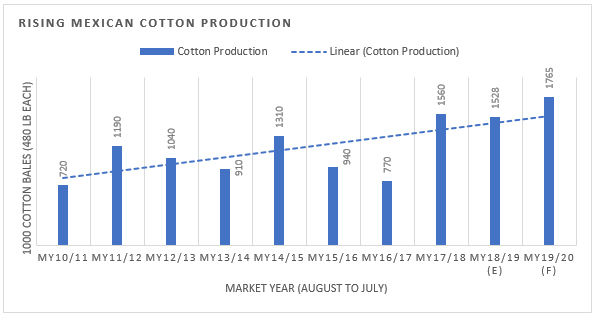 Source: TexPro
In market year (MY) 2017-18 (August to July), cotton production in the country showed a notable rise of 102.60 per cent-from 770,000 cotton bales (480 lbs each) in MY 2016-17 to 1,560,000 bales in MY 2017-18. The important factors that bolstered production include favourable weather conditions, continued use of GE (genetically engineered) seeds, a return to cotton planting as a result of competitive prices as compared to other products, and expanded use of the Forward Contract Program (FCP). A forward contract is a customised contract between two parties to buy or sell an asset at a specified price on a future date. This programme is used extensively by cotton importers in Mexico, which acts like an insurance cover for sales prices.
The National Service of Health, Safety and Agro-alimentary Quality (SENASICA, a decentralised administrative body of the Secretariat of Agriculture, Livestock, Rural Development, Fisheries and Food) recognised Chihuahua as a pink bollworm-free state in 2015. They added Baja California and Sonora to the list in February 2016. As per SENASICA, a 99 per cent reduction of the pink bollworm population was observed in the Laguna region (Durango and Coahuila) in January 2017.
These factors led farmers to concentrate more on the plantation of cotton despite other commercial crops like corn or sorghum. Also, better performance of the GE seeds against pests resulted in the higher yields. According to government officials, weather, pests and use of technology have pushed the production and yield levels in the country. Chihuahua became the leader in cotton production in Mexico, and higher yields have been seen in Durango and Coahuila.
Consumption: It is forecast that cotton consumption of Mexico for MY 2019-20 would be 1.9 million bales. Mexican denim producers have major buyers from the US (95 per cent), with only 5 per cent from the domestic market. A 40 per cent drop was reported by some denim producers during 2018 due to high US cotton prices, along with a decreased purchase power of American consumers.
Production forecast: As per the updated production data from SADER (the Secretariat of Agriculture and Rural Development) and other producers associations, cotton production for MY 2018-19 is forecast to be 2 per cent lower due to adverse climatic conditions and outbreak of a new pest in the region. The Mexico government's FCP strengthened domestic consumption, but the future prices for MY 2019-20 are not very attractive due to US-China trade pact and stronger dollar, and may nullify the push of the programme. Also, with the higher preference and lower prices of US cotton, Mexico is expected to look for more imports from the US. However, it is forecast that the total cotton production would remain at 1.7 million bales in MY 2019-20-2.3 percent higher than the previous MY with expectations of good weather conditions and better pest control means.
It is forecast that the cotton planted area in Mexico for MY 2019-20 would remain at the levels of MY 2018-19 due to expected growth in Chihuahua which offset lower production in other states. Apart from this, other states have been facing difficulties in escalating cotton production due to adverse weather conditions in respective countries. The entry of a new pest in the west region of the country and poor weather in the Laguna region damaged the fibre quality. However, a competitive advantage is being seen in the prices for cotton compared to other crops like wheat, sorghum and corn. A lower production has been observed in the states of Sonora and Baja California, with a reduction of one bale per hectare as compared to the last MY. Due to poor irrigation in Tamaulipas as compared to other states in Mexico, the yields have been affected.
The Trade Status
According to the USDA, the US produces 16 per cent of the world's cotton and is the world's largest exporter. With lower cotton prices in recent years, the US government has allowed producers to return to Farm Bill programmes in the form of seed cotton. Also, the US has maintained quotas on some cotton goods and specific tariffs ranging from 0-31.4 cents per kg.
Mexico became the sixth largest US customer with a purchase of $404 million in 2017. The North American Free Trade Agreement (NAFTA) guarantees that US cotton exporters are charged zero tariff on cotton exported to Mexico and Canada.
Moreover, Mexico is the seventh largest exporter of denim in the world, and one of the top suppliers to the US. According to the National Institute of Statistics and Geography in Mexico, 40 per cent of the denim produced by the country is consumed domestically or exported to nearby countries such as Peru, Chile and Colombia, and 60 percent is exported to the US alone.
However, many Mexican textile factories are currently facing issues of energy costs which accounts for 50-55 percent of overall production costs. The prices will come down once the new energy business supports the market. The cost of energy has risen from $3.60 in 2016 to $8.80 in 2018 per kg of thread. This has resulted in a shutdown of small businesses and increased capital investments by big players in modern machinery and alternative energy sources. This move also boosted production and energy efficiency.
Declining Cotton Imports
As cotton production of Mexico increased dramatically in MY 2017-18, US cotton imports went down. The imports in the MY 2017-18 showed a drop of 7 percent, from the 1,000,000 cotton bales in MY 2016-17 to 930,000 cotton bales. It is estimated that there would be a further drop of 8.6 per cent in MY 2017-18 to 850,000 cotton bales.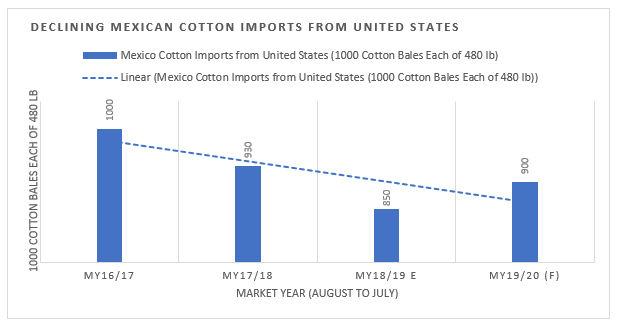 Source: TexPro
Cotton Import Forecast
The cotton imports for MY 2019-20 is forecast at 0.9 million bales-a rise of 5.8 per cent from the previous MY. As per data released by Global Trade Atlas, cotton exports for MY 2018-19 is estimated at 0.85 million bales.
Imports of US cotton into the country are expected to increase for MY 2019-20 due to an expected reduction of the FCP. Also, Mexico has preferred US cotton for many reasons including compliancy with origin content in case of re-exports, supply of unique standard degree cotton fibre to sustain in high-speed machines, and US cotton producers making yearly or twice a year contracts to provide monthly deliveries, which saves buyers the warehouse, insurance and financial expenses, and frequent shortfalls that occurred in the country due to poor forecast.
Mexico is now planning to expand and diversify its imports by looking at countries with a zero tariff such as Argentina, Brazil, Greece and Italy. Also, due to the recently signed Comprehensive and Progressive Agreement for Trans-Pacific Partnership (CPTPP), the imports of low-cost fabrics and apparel from Vietnam and Malaysia have already started impacting those from the US.
The extensive use of the FCP has facilitated domestic consumption. But dull future prices offset the use of the programme, leading to higher import forecast. The US is expected to remain the main supplier of cotton to Mexico, and would account for nearly 100 per cent of imports, due to the integration of the textiles industry in North America and top preference for US cotton in the country.