Vietnam's apparel exports have seen a methodical growth over the last five years. Exports for 2020 is forecast to be $39.89 billion. A Fibre2Fashion overview.
Global apparel exports have been growing steadily since 2017. The market size for 2018 was $488.81 billion with a growth rate of 7.55 per cent over the previous year. It is expected to grow at the compounded annual growth rate (CAGR) of 7.55 per cent to $565.41 billion in 2020. China, Europe, Bangladesh, Vietnam, India, Hong Kong, Turkey, Indonesia, Cambodia and the US are the top ten apparel exporters in the world. But the country that stands out in this trade surge is Vietnam-heavily dependent, though, it is on raw material imports from other countries.
The landscape of Vietnam is dotted. More than 200 foreign fashion brands are present in the country accounting for more than 60 per cent of the market, according to the Vietnam Association of Retailers. With the rise in global exports, a continual growth is also being seen in Vietnamese apparel exports. With technological development such as modern equipment for advanced wastewater treatment, abundance of skilled and relatively cheap labour, competitive wages, commercially viable trade agreements with developed countries, and incentives offered by state policies help Vietnam's apparel industry to thrive and ensure both domestic and export demand.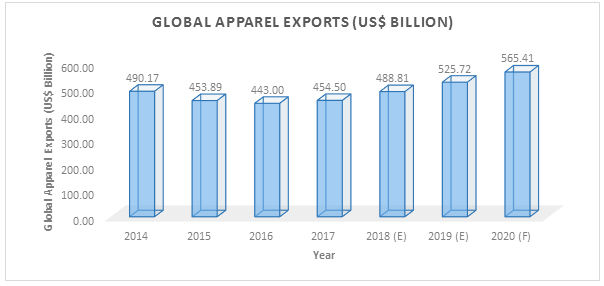 Source: TexPro & WTO
At present, Vietnam caters to 6-7 per cent of the global apparel demand. More than 5,000 apparel manufacturing factories are running in the country consisting of small enterprises, big corporates, units with 100 per cent foreign direct investment (FDI) (20 per cent of total units) and state-owned enterprises. Many state-owned enterprises have since been privatised. However, significant stakes are still owned by the government of Vietnam and about 12 per cent of the country's apparel business is generated by these enterprises. These enterprises operate under the name Vinatex.
Currently, apparel production in Vietnam is estimated at 5.7 billion products for 2018 with a growth rate of 12.65 per cent over the previous year. It is expected to grow at a CAGR of 12.47 per cent from 5.70 billion products in 2018 to 7.21 billion products in 2020. The country's ministry of trade and industry has set a target of 9 billion apparel products by the end of 2030. The key reasons for the industry flourishing in Vietnam is the availability of skilled and cheap labour and government support through skill training, decent wages, convenient factory norms and trade agreements.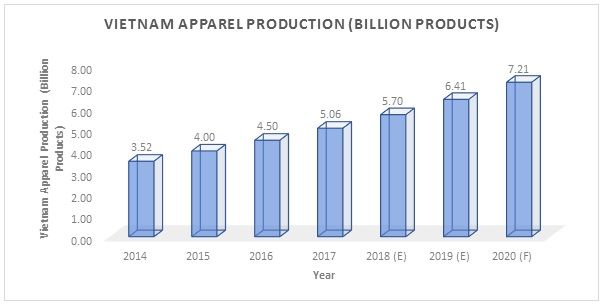 Source: Ministry of Trade and Industry, and Virac, Vietnam
The 2.5 million workers of the industry are provided with fair minimum wages, and insurance benefits like social security, health, employment, etc. The workers are outstanding with excellent analytical skills, work discipline, and attitude and commitment to the jobs they do. Almost all factories employ 70 per cent women workers and expats can work only in managerial categories. Factories follow modules such as line systems, lean manufacturing, 5S, visual control systems, data monitoring and rejection analysis in order to achieve a production efficiency of up to 95 per cent.
The National Wage Council (members from government, labour unions and industry) decides the minimum wage every year. Usually, they start discussions in July and submit a report to the government by September. The revised minimum wage is announced in January every year. A worker's average take-home sum is $240-330 per month, depending on the zones and policies of individual units. The government provides skills training and helps maintain the attrition level at 10 per cent. All factories have trade union representatives who act as mediators between workers and factory managements. They ensure the smooth running of factories.
Vietnam now has a high demand for "Made in Vietnam" tags in the international market. It is respected only because of efficiency and quality even though Vietnam depends on raw material sourcing from other countries.
Nevertheless, the industry faces some challenges in the international market. The spinning mills in Vietnam are unable to produce good quality yarn due to the use of obsolete machines. They have a limited fabric processing capacity; hence they import ready-to-cut fabric. China, Taiwan and Korea are the major suppliers of raw materials to Vietnam. But now, Vietnam is seeking a suitable source of high-quality raw materials for export production which depends heavily on imports (about 60-70 per cent). Labour costs are cheap in the country, but the average cost per unit of product is still higher as compared to China, India and Indonesia by 30-40 percent. Currently the increasing FDI in other sectors such as electronics and thus relatively better working conditions and job profiles are making it difficult for the textile industry to lure the right talent.
Apparel Trade
A massive and methodical growth has been observed in Vietnam's apparel exports in the last five years. Exports for 2018 stood at $31.80 billion with growth of 25.59 per cent over the previous year. The exports figure for year 2020 is forecast at $39.89 billion with a CAGR of 12 percent. Vietnam accounts for 11 percent of US apparel imports, followed by China.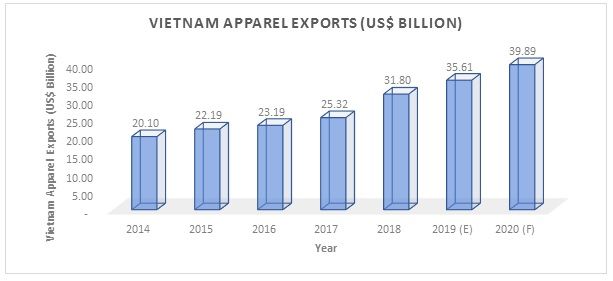 Source: TexPro and General Statistics Office of Vietnam
Vietnamese apparel comes with better quality and prestige. Also, it can meet the demand for large orders and has a flexible output. According to the Vietnam Textile and Apparel Association (VITAS), importers in Canada, Australia and New Zealand are no longer focused only on China and have turned towards Vietnam. Vietnam enterprises export only by CMT and FOB.
CMT (Cut-Make-Trim): Buyers, purchasing agents and buying organisations provide the processing business with all inputs to produce products including designs, materials, and transportation. Manufacturers only perform cutting, sewing and finishing products. Enterprises carrying out export under CMT only need to have production capacity and a little designing ability to implement the product model. Almost 90 per cent factories work on CMT-based productions. Fabrics are sourced mostly from China, South Korea, India, Pakistan, Italy and Turkey. The share of exports in this form accounts for about 70 per cent of the industry's export turnover. Therefore, the growth rate of the industry is high, but the added value of the industry is still low.
FOB (Free-On-Board): FOB is an export method at a higher level than CMT. The term FOB in the textiles industry is understood to be a form of buy-off-sale. Under the FOB method, businesses must actively participate in the production process-from buying raw materials to producing final products. Unlike CMT, FOB producers actively purchase necessary inputs instead of being supplied by buyers. FOB operations change significantly based on the actual contractual relationships.
On the other hand, Vietnamese apparel imports for year 2018 was valued at $4.98 billion with a growth rate of 44.77 per cent over the previous year. Imports for 2020 has been forecast at $6.03 billion with a CAGR of 12 percent.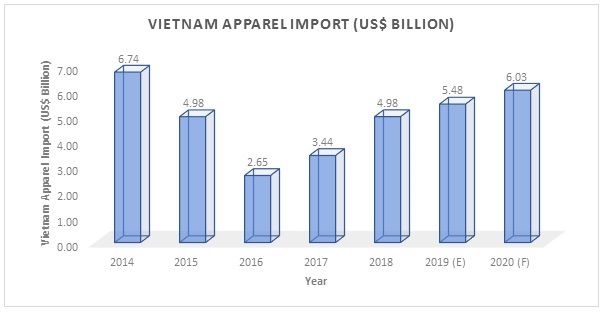 Source: TexPro and General Statistics Office of Vietnam
Vietnam's FTAs
China, South Korea, India, Japan, Turkey and Taiwan are the major FDI contributors. The Vietnamese apparel business will receive an investment up to $7 billion from China, $2.1 billion from South Korea, $1.6 billion from Taiwan and $0.75 billion from Japan.
This investment is the outcome of recently signed trade agreements between Vietnam and both developing and developed countries including ASEAN-Hong Kong, the China Free Trade Agreement of November 2017, the Comprehensive and Progressive Agreement for Trans-Pacific Partnership (CPTPP) of December 2018, the Eurasian Economic Union-Vietnam Free Trade Agreement of October 2016 and the Vietnam-European Union Free Trade Agreement (negotiations concluded in July 2018).
EU-Vietnam FTA
1. First ever FTA between European Union and a developing country.
2. Trade deal came into effect in 2018.
3. Import tariffs on textile fabrics from Vietnam into EU became zero.
4. Elimination of duties on imports of Vietnam apparels in EU will be subject to transition periods of up to seven years.
Eurasian Economic Union-Vietnam Free Trade Agreement
1. Agreement came into effect in October 2016.
2. Important tariffs have been reduced from 10 per cent to 0 per cent.
3. Upward trend in Vietnam apparel exports to Russia.
CPTPP/TPP11 (Comprehensive and Progressive Agreement for Trans-Pacific Partnership)
1. Came into effect formally on March 8, 2018 in Chile.
2. CPTPP accounts for the 13.5 per cent of global GDP and 15.2 per cent of global trade.
3. Under CPTPP, Vietnamese exports are expected to surge by 4.2 per cent.
4. Vietnamese enterprises become free from trade restrictions.
OUTLOOK 2019
Tran Thanh Hai
Deputy Director, Import-Export Department, Ministry of Industry and Trade
The apparel sector is mainly focused on outsourcing which is dependent on import of raw materials such as yarn and fabric, dyeing chemicals, etc.

Vietnam is not strong enough in marketing; this may increase the business of the value-added products

The government is focusing on free trade agreements (FTAs) and building large brand names which could help the country sustain in the global apparel value chain.

Vietnam needs additional investments to fulfil the export demand in a long term in a sustainable manner.

Local companies need to revamp their management capacities.
Than Duc Viet
Deputy General Director, Garment 10 Corporation Joint Stock Company
Labour and welfare laws need to be amended.
Nguyen Van Nam
President, Institute for Brand and Competitiveness Strategy
Backwardness and lack of consistency are the disadvantages of the apparel industry.

Investing in logistics and implementation of lean management can be significant solutions in optimising the supply chain which would solve the issues related to warehousing operations in order to reduce costs and increase competitiveness.
General Department of Customs, Vietnam
Vietnam is second largest garment supplier to South Korea accounting to 32.67 per cent after China and it is expected to boost garment exports to South Korea in the future.
VITAS
For the first six months of 2019, orders have already been received by textiles and clothing businesses.

The Vietnamese apparel industry is highly competitive and continuously works on the supply chain part with rising capital investment for raw materials and infrastructure.

VITAS has set a target of $40 billion in export turnover, up 10.8 per cent compared to 2018 for the textiles and clothing industry.

It is expected to enjoy a trade surplus of $20 billion and generate employment.

The sector is waiting for more orders to be shifted from China to Vietnam due to the US-China trade war.
Pham Xuan Hong
Chairman, Board of Directors, Saigon 3 Garment Joint Stock Company
Domestic enterprises would be ready to handle orders with high prices and convenience and ensure timely delivery when a lot of orders from China get shifted to Vietnam.
Hoang Van Cuong
Vice Rector, National Economics University
With the CPTPP, 55 per cent of the raw materials must be produced inside the bloc and a country can import a maximum of 45 per cent materials from outside to make a finished product.
Bui Kim Thuy
Chief Representative, US-ASEAN Business Council
Vietnam has participated in 16 FTAs. Most have been enforced, such as the ASEAN Trade in Goods Agreement (ATIGA), the ASEAN-China FTA, the ASEAN-Korea FTA and CPTPP, while ASEAN-Hong Kong (China) FTA have not yet come into force.
Ministry of Industry and Trade, Vietnam
With the expected higher growth rate, 2019 will continue to be a challenging year for the sector to integrate into the global textiles supply chain.