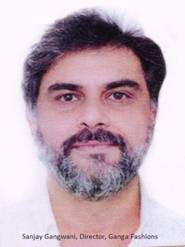 Surat-based textile manufacturer, Ganga Fashions Pvt Ltd, is a successful manufacturer and a pan India supplier of Indian ethnic traditional wear for women. The company was established in 1994 in Surat (Gujarat, India) and it is in the top 5 manufacturers in India.
The company started with nylon dyeing. In 1998, it started with printing by adding rotary printing and flatbed printing, to print sarees and suits. Under the leadership of Sanjay Gangwani in 2000, the manufacturing unit was upgraded steadily with 3 flatbed printing machine, soft flow jet dyeing machines and 16 embroidery machines. The company has become one of the renowned brands in the Indian dress segment for ladies' wear.
Digital journey
In 2009, to further add value to its production, the company entered into digital printing with its 1st digital machine from Atexco, China. In 2011, it added another digital printer from Digicolor, China. The company increased its focus in digital an added its 1st world-class digital printer JP7 from MS printing solutions Srl, Italy in 2015, along with a Monalisa digital printer.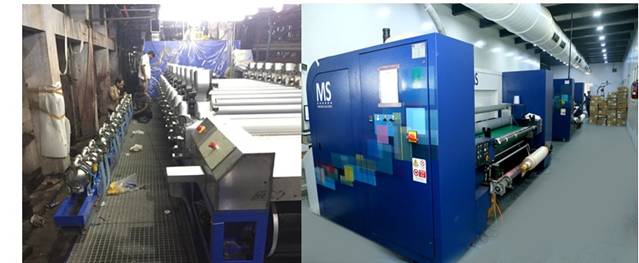 Old conventional factory New digital factory
Initially, the company started digital as a value addition to its unit, but due to its cost saving in manpower, energy, water, and zero damages, it continued in investing in digital printing.
In 2016, the company added high production machine JPK EVO from MS printing solutions. The company found minimum head cost, minimum consumables cost, and low ink cost per sq m without compromising on the high-quality printing.
Due to the fast changes in fashion world, and to stay ahead of competition, in 2018, the company completely stopped using its conventional flatbed printer and added another MS JP7.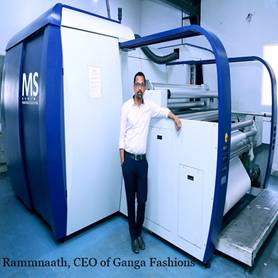 Rammnaath, CEO of Ganga Fashions said, "Limitations in conventional printing has led us to shift towards digital printing. Any design, colour is possible in MS digital machines. Finer geometries and full coverage blotch designs of any gradation are possible to print with the MS digital machines."
"Combining with exceptional MS machine experience, the after sales and service which we get from our India agent Orange O Tec has coerced us to repeat MS machines. We currently have three MS machines and are planning to expand in near future," he adds.
Aayush Rathi, director of Orange O Tec said, "We have a really long-term and strong relationship with our valued customer Ganga Fashions. We are very proud to associate with them."
Specifications

Features
Open ink system

Embedded remote diagnostic

Embedded web server for cost report

Uninterrupted service with 27 engineers across India

SPR (Same Print Result) is a very important concept which distinguishes the MS product range (from JP5 Evo to Lario)

New generation industrial printheads from Kyocera

Uninterrupted spare part supply

Profile experts to make sure your work is under check