A+A is the world's leading fair for safety, security and health at work. The 2019 edition will be held at Dusseldorf in November. A curtain-raiser.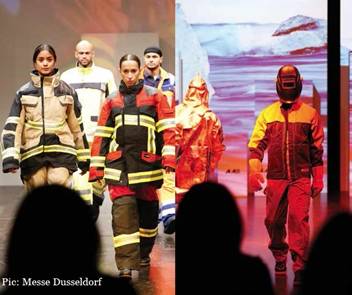 Today, from an international point of view, India isn't among the top investors in the field of workers' safety, business security and the physical and mental health of personnel. However, it's sure that in the near future the Indian market of workwear, corporatewear and all kinds of PPE (personal protective equipment) will significantly grow along with increasing awareness of safety, security and health issues. For Indian visitors, the bi-annual trade fair A, which takes place in Dusseldorf (Germany) from November 5 to 8 could function as an eye-opener.
A+A is a successful international trade fair. In its domain, it's the largest. In November, some 2,000 exhibitors will host over 70,000 visitors from all over the world, including from countries like China and India. In the past, satisfaction about A+A was impressively high as well among visitors (97 per cent of them expressed very high or high satisfaction in 2017) as among exhibitors (90 per cent).
Birgit Horn, director of A+A, thinks that it will continue attracting more exhibitors and visitors in the future. She argues that increasing international connectivity is changing company structures and production conditions— an evolution which of course has an effect on workers and workplaces. Therefore, company leaders who want to be informed about the best solutions that suppliers of PPE are offering should treat themselves on a ticket to Dusseldorf.
Worldwide Growth Market
Why can it be reasonably expected that the Indian market for workwear, corporatewear and a broad array of products and services aiming to boost the wellbeing of workers will significantly grow?
Because it's probably an inevitable consequence of GDP (gross domestic product) growth and increasing safety awareness. GDP annual growth rate in India averaged 6.21 per cent from 1951 until 2019 and is expected to remain among the highest in the world. This implies that masses of Indians are starting or continuing their climb on the famous Pyramid of Maslow. When their basic physiological needs are met (including food, water, sleep, clothes, shelter, sex), people everywhere tend to pursue safety, belongingness, esteem, and finally self-actualisation. It's clear that companies providing well-adapted workwear and shoewear to their employees respond to the latter's need of safety and that nice corporatewear boosts workers' company belongingness and self-esteem.
Much can also be expected from a pending—hopefully successful— accounting revolution. The highlyneeded transition towards a low carbon and circular economy can't succeed without new accounting methods which also tackle the taboo issue of "externalities". Until now, an enormous number of industrial and commercial activities negatively affect other parties without this being reflected in market prices. It can be expected that the calculation of the true cost of economic activities will teach companies and public organisations to better balance "hard" investments (buildings, equipment, machines, computers) to more "soft" investments like those in safety, security and workers' physical and mental health.
Building Safety Legislations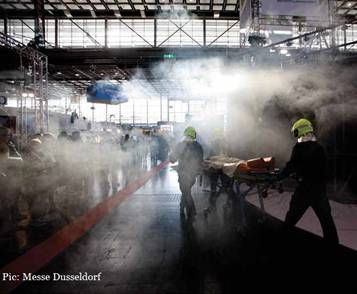 Klaus Bornack, managing director of Bornack GmbH, a European leader in rope protection systems, is also the president of the German organisation Basi eV (National Working Group for Safety and Health at Work). As a result, he's in an excellent position to assess worldwide market developments in the field of PPE.
The family company Bornack GmbH has been active for three years in the Indian market. According to Bornack, India is the most interesting but for several reasons a rather difficult market. However, the German entrepreneur is optimistic: the Indian market potential for the kind of sophisticated products that Bornack is producing will in future grow along with the gradual development of safety legislation and safety awareness.
ACI Garments (Kanpur), a specialist of workwear and safety clothing and one of the around 60 Indian companies which will show their products at A+A Dusseldorf in November 2019, explains why Indian companies should spend more on safety clothing and other PPE: "Different industries such as gas, construction, power, metal and healthcare require clothing and accessories that get along with their work. Normal clothing won't serve the purpose. While some industries demand a hi-visibility fabric, others ask for a fire-retardant one. Some others require water / oil repellent fabric."
Germany 10% of PPE Market
However, for the time being, A+A is looking for international expansion to Turkey, Singapore and China, not to India. Bornack agrees with the proposition that in the future more risky and heavy tasks will be executed by robots instead of humans. However, in many situations robots will not replace workers, but in a flexible way co-operate with them.
The highly needed transition from vertical to circular production will create new risks (e.g. in the recycling industry) and therefore new safety procedures and products will have to be developed.
Bornack says it's difficult to find reliable statistics about the PPE market. According to Basi eV's own research, around 75 per cent of the total PPE market consists of safety clothing and shoes. Global market volume is currently estimated at €18 billion. Germany alone (€1.8 billion) represents a tenth of the world market and the European Union (EU) (€5.8 billion) represents 38 per cent.
Also in Europe, the PPE market continues to grow. Bornack remarks that in their mutual competition for scarce workers, worker-friendly European companies increasingly draw attention to their safety and health strategies and corresponding investments. Also, workwear is more personalised.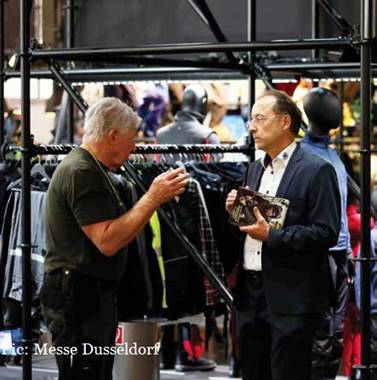 Gone is the time of the one-size-fitsall masks and workwear. More attention is given to the correct use of safety clothing and other PPE items. Every year Bornack GmbH trains more than 4,000 people teaching them how to use PPE items in high-risk situations.
New Problems, New Solutions
Horn encourages all visitors at A+A Dusseldorf 2019 to pay attention to the trade fair's Highlight Route where they will encounter the best products, concepts and solutions for future work situations. If in the past the physical health and safety of workers was the main focus of A+A exhibitors, today under the slogan 'People Matter' many exhibitors also show how to cope with permanent connectivity, digitalisation, robotics and artificial intelligence.
She says: "Since many employees are connected around the clock, the risk of psychic breakdown and illness is rising. New technologies tend to increase individual control. However, new forms of organisation allow to create working conditions which are healthier and less emotionally stressful."
Not only in countries like Germany, the Netherlands and Belgium, but as well in poorer European countries, companies have a hard time to attract and retain workers. Even in Romania and Bulgaria, garment factories complain they can't find enough workers (since millions of the most dynamic men and women have fled to Western Europe where they get better payment). It appears that companies which invest in safety and health have an edge attracting new workers and retaining them for a long time. Horn stresses that healthy working places have a positive impact on the engagement of workers and thus on the competitiveness of companies. She mentions the results of the research study published by the European Agency for Safety and Health at Work (EU-OSHA), concluding that every euro invested in stimulating health yields between €2.50 and €4.80.
In healthy workplaces, where workers feel they are cared for, staff performance is better. This has interesting financial consequences. European companies are encouraged to invest in ergonomy and health by arguments like this: a 5 per cent performance increase of a worker with a gross income of €3,000 means that an investment of €1,500 in a better workplace pays off in ten months.
Exchange of Ideas
While India has a young workforce, in Germany and other European countries the average age of workers is rising (also because in several countries people are expected to work until age 67 before they retire). According to A+A, an older workforce needs more and specific protection.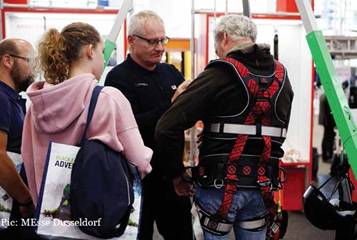 But also, the physical and even more mental health of employees in the prime of life needs more attention. German statistics for 2017 revealed that 16 per cent of workers felt tired at the start of the working day. German employees were in 2017 on average 16.7 days incapacitated for work.
When comparing company expenses for safety clothing and workers' health in Europe and India, the question may arise if there might be "overconsumption" of PPE in Europe, like there's clearly overconsumption of, for example, food and medicines. Do national and EU legislators cooperate with lobbies of PPE suppliers in order to force companies to expend more on safety and health than common sense would recommend?
This question and a lot of other difficult questions can be discussed in Dusseldorf during the A+A trade fair where a simultaneous Congress for occupational safety and medicine will lure more than 5,000 visitors to 40 different ranges of topics. Specialists will explain that modern workwear should do more than protect workers.
It must also be chic, fit well, provide comfort and freedom of movement, and respond to high washing and sustainability requirements. Other specialists will focus on the special needs of workers in different industries, of fire brigades and of workers who need protection against explosions, toxic products, radiation, polluted air, noise, vibrations, etc.
It's a sad fact that, at least in Europe, in many companies and even in fire brigades' fitness is decreasing. This trend can also increasingly be observed among young people. As a consequence, the requirements made on safety clothing and respiratory protection increase.