One can't hope to remain relevant in the textiles-apparel-fashion industry by giving the four-yearly ITMA a miss. ITMA 2019 at Barcelona this June underscored this fact.
The import and the scale of the event was such that even as it was palpably drawing to an end, no one was talking of the goings-on at ITMA 2019 Barcelona, but ITMA Milan 2023. Indeed. Textile technology-textile innovation, if you may-is moving at such a frenetic pace that what you would have seen today in Barcelona might just as well be obsolete by the time you are home. That, of course, is a hyperbole, but you get the drift.
Themed around 'Innovating the World of Textiles', the 18th edition of ITMA, the world's most established and anticipated textiles and garment technology exhibition, drew to a close on June 26 in Barcelona, Spain, leaving thousands of industry visitors thirsting for more. The next ITMA has been announced: it will be held in Fiera Milano, Milan, Italy, from June 8-14, 2023. An ITMA press release declared, "Some exhibitors, happy with their participation, have already started making plans for the next show." And so is industry. Four years would have gone by before you know it.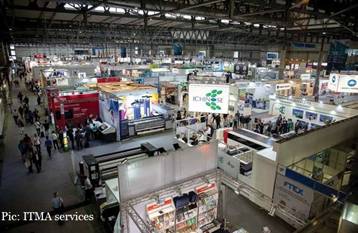 The global textiles and apparel manufacturing industry had converged at the Catalonian city on the Mediterranean coast, "chalking up new records for the exhibition which has been held every four years since 1951." According to the organiser, the event featured many exciting new product launches and innovative technologies and products, including those that leverage the Internet of Things, by 1717 exhibitors from 45 countries.
CEMATEX, the European Committee of Textile Machinery Manufacturers, and owner of ITMA and ITMA ASIA, reported that the industry support from visitors and exhibitors was "tremendous," resulting in a record-breaking number of exhibitors. CEMATEX president, Fritz P Mayer, gushed, "The digital transformation of the textile and garment manufacturing value chain and sustainability concerns of the industry have driven up visitor interests in ITMA 2019. We had a strong turnout, despite trade tensions and poor business sentiments. Many of our exhibitors were pleasantly surprised with the large number of serious buyers attending the exhibition. They were also impressed with presence of new visitor segments, such as bigger numbers of fashion and sports brands. Considering that for this ITMA edition, the exhibition duration has been shortened from eight to seven days, we still enjoyed good visitorship."
Yet, a week was not enough for the 105,000 visitors who flew in from as many as 137 countries after four years of planning ahead. The top five countries where visitors came from were Spain (11 per cent), Italy (10 per cent), India (8 per cent), Turkey and Germany (7 per cent). They were followed by France, United States, Portugal, Brazil, Pakistan, China and the United Kingdom.
Confluence of Innovations
Many new technologies were launched at the event, ranging from 3D weaving and knitting to hi-tech nonwovens processes, sustainable chemicals and state-of-the-art garment-making technologies, and wide range of software-powered automation solutions. No one wanted to give those a go by.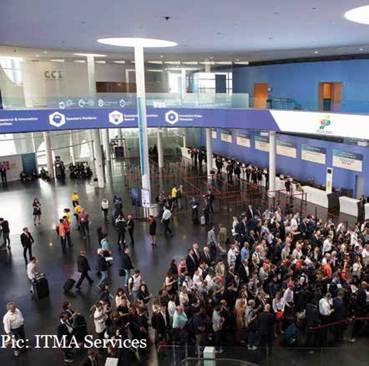 Kihak Sung, founder of Youngone Corporation and President of International Textile Manufacturers Federation, had missed the last ITMA in Milan, and did not want to be left behind once again. "After eight years, I find there is a big jump in technology. There are many interesting new developments, such as digitalisation and automation, as well as more eco-friendly products. I came here to also buy equipment for my factories, so this has been a fruitful trip for me."
Time flies real fast in the textile machinery space, and new attractions emerge from nowhere. One remarkable development seen this time was in the sphere of printing. Launched as a dedicated sector this year, the printing and inks chapter was seen to have grown by 40 per cent compared with ITMA 2015, and featured many established and new exhibitors keen to exploit the digital printing sector. Besides, ITMA 2019 also provided the platform for the announcement of a comprehensive modernisation programme for Egypt's textile industry valued at around €1 billion.
Another new feature-the ITMA Innovation Lab-was launched at this year's exhibition. The platform drew strong interest and participation. It featured about 60 presentations, and was attended by over 900 participants. A number of ITMA and co-located events held over the week drew over 1,000 delegates. Among these events were the ITMA-EDANA Nonwovens Forum, Textile Colourant and Chemical Leaders Forum, Better Cotton Initiative Seminar, European Digital Textile Conference, TexSummit Global, Planet Textiles, SAC & ZDHC Manufacturer Forum and Texmeeting by TEXFOR. ITMA collaborated with supporting organisations, many of which sent visiting delegations from Central Asia, South Asia, Turkey and the Mediterranean countries.
Charles Beauduin, chairman of ITMA Services, which organises ITMA 2019, said: "We are extremely glad that many industry stakeholders see ITMA as an excellent platform for collaboration and sharing of ideas to make the industry more competitive in the face of digital transformation and to explore cutting-edge solutions to future proof their business."
Association of Italian Textile Machinery Manufacturers (ACIMIT) president Alex Zucchi concurred: "This Barcelona edition has confirmed ITMA as the main B2B platform in the textile industry. The many innovations seen here, especially in the field of sustainability and digitalisation, have increased the interest of visitors. It is essential to focus on these issues also for the next edition of ITMA to be held in Milan in 2023."
Innovations were recognised as well. Candiani SpA, one of Europe's biggest denim producers, won the ITMA Sustainable Innovation Award. Its innovative product, Candiani Re-Gen is a 'circular denim' fabric created from regenerated and recycled raw materials. Fifty per cent of the Re-Gen fabric comprises Tencel x Refibra Lyocell made of pulp from cotton scraps and wood pulp using Lenzing's efficient closed-loop process; the other 5 per cent consists of post-industrial recycled Candiani fibres. Candiani's fabrics are also dyed using green technologies, resulting in substantial reduction in the use of water and chemicals in the fabric production and jean washing process.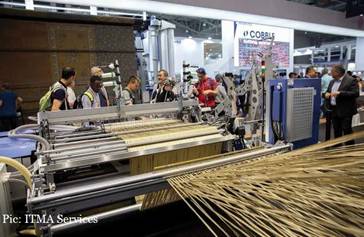 According to Alberto Candiani, president of Candiani SpA, the fabric was created to commemorate Candiani's 80th anniversary. He said, "We are a strong believer in sustainability. In creating the Re-Gen fabric, we leveraged Lenzing's Tencel Lyocell fibres with Refibra technology, and combined it with our in-house expertise to create an innovative product that is fashionable and environmentally friendly at the same time." The Candiani effort came out a clear winner.
Nominated for the award by Lenzing Ag, Candiani SpA received the trophy from CEMATEX president Mayer, who remarked: "We congratulate both Candiani and Lenzing for their excellent collaboration. CEMATEX launched the ITMA Sustainable Innovation Award in 2015 as we would like to encourage greater industry collaboration and synergies, as well as spur more research and development efforts. Ultimately, we need innovation to drive our business and contribute to a more circular economy."
The two other finalists of the ITMA Industry Excellence Award-Levi Strauss & Co, and Lee-were also praised for their efforts to introduce green innovations into their products and processes.
Winner of the first ITMA Sustainable Innovation Award in 2015, Levi Strauss & Co launched FLX Customisation Studio which revolutionalises in-store customisation by allowing customers to pick their denim finish and create a unique pair of jeans in less than two hours. The mobile studio uses sustainable garment finishing technologies and operates on 100 per cent recycled water. On the other hand, Lee leverages Tonello's innovative garment finishing system for its denim jeans. The All-in-One System combines four technologies that drastically reduces the water needed in the finishing stages of jean manufacturing thus reducing processing time and total production cost.
There was a surfeit of innovations also from tomorrow's leaders-the ITMA Research & Innovation Excellence Award was won by Mathias Zidda, Institut Fur Textiltechnik, RWTH Aachen University for his thesis: Development of a gear driven 3D rotational braiding machine and its control concept. Quite a galore of inventions, as it turned out.
Looking Forward
Leading global manufacturer of circular knitting machines Mayer & Cie participated at ITMA 1951 for the first time. Recounts head of sales, Wolfgang Muller, "ITMA is the Olympics of textile machine engineering. It is where all manufacturers show their best. ITMA, unlike trade fairs some of which are regional, is an electrifying international meeting point where innovations are exhibited and further ideas on future innovations discussed. ITMA is also a barometer of the current state of the global textiles industry and the performance of our competitors. Mostly, however, ITMA is also a meeting 'among friends' who have known each other for years and, in some cases, for decades. ITMA is also the event at which Mayer & Cie can present itself as a united family."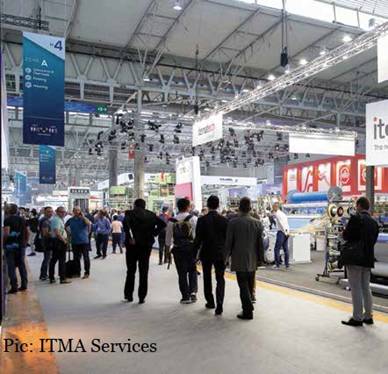 Marzoli too has been participating in ITMA probably since its inception. Marketing head Francesco Gozio describes ITMA as "the most important exhibition in our field. Participating in a prestigious event like this is fundamental to our company as we can compare with industry standards, and also meet (current) customers and potential customers. Moreover, ITMA is an occasion to share the high value of our digitalised solutions for the spinning of the future."
Groz-Beckert has been participating "for a very long time." Eric Schoeller, member of its executive board, says, "Unfortunately, it is not possible to say with certainty when our first ITMA appearance took place, but we can say with conviction that we have been present since 1963. ITMA is still one of the most important international trade fairs for textile machinery worldwide. ITMA is highly significant for us. ITMA 2019 has been a real success for Groz-Beckert."
Also participating since 1963 is SPGPrints. Marketing manager Jos Notermans underlines, "Through the years we have seen that ITMA has always been a trendbreaking event. In 2015, we saw the breakthrough of larger scale digital production, and 2019 is showing that the technology is addressing all the main concerns that printing companies still might have about digital. We expect that the outcome of the ITMA will show an increase in investments in digital production."
Since taking part for the first time in 2015, Zaitex SpA participates only at ITMA. Asserts Zaitex SpA marketing manager Alessandro Marengo: "We only take part in ITMA and no other exhibitions. We have realised that it is the best platform to promote our dyes and chemicals."
Another relative newcomer is Sedo Engineering, founded in 2014. It participated in ITMA 2015 and is back again. The reason, according to managing director Herbert Guebeli, is that "we meet buyers from far away countries even in exhibitions held in India, Turkey or China; however, the quality of buyers visiting ITMA is very high since only decisionmakers visit."
It is the need to be there-certainly for Sensient Imaging Technologies, as marketing manager Simon Daplyn explains: "It is such an important show for the textile printing industry, with manufacturers, original equipment manufacturers (OEMs) and brands all looking for the latest innovations in textile machinery and printing. As a company with a global reach, it is vital for us to meet buyers and customers from all corners of the world and all the key manufacturers of printers and inks are present at ITMA. With many shows, you often only meet buyers who are from that specific region, but at ITMA, buyers from both Europe and further afield are in attendance."
Besides, there is that perceptible difference from other events. Says Valter De Carli, regional sales vice-president at Savio Macchine Tessili, "There is always something special at ITMA. We meet all our customers from around the world, while in regional exhibitions, we meet customers only from that country or from neighbouring countries. The buyer also gets to see the latest developments at ITMA. In regional shows, the exhibitor shows only those technologies that appeal to the industry in that country, while at ITMA exhibitors show their whole range."
Plus, it about seeing it in action. Outlines Ken Butts, global key account manager at Datacolor, "Everybody comes to ITMA to see technology in action. In most other shows, they get to see only brochures or videos. At ITMA, they get the actual experience of witnessing a running machine. ITMA is like a production factory, where in each hall, you see machines operating."
It remains relevant too. Davide Maccabruni, chief executive of Scherer Schweiter Mettler (SSM), thinks it is a matter of surprise that ITMA remains relevant for buyers after so many editions. "Buyers wait for ITMA, before they finalise their investments plans, so that they can see and buy the latest technologies. This can be seen partially in exhibitions held in various other countries. Since ITMA is held every four years, it adds to the importance of the exhibition. The quality of the buyers is also very good. ITMA is a perfect place to meet buyers and agents from all over the world. We can also measure our competitors in terms of technology that we and they offer."
Sums up Paolo Crespi, DTF sales & marketing director for EMEAR and Americas at Epson Europe: "ITMA is a special exhibition and one of the most important events in the textiles sector. Since it is held every four years, all companies launch new products to be presented to buyers from nearly 100 countries from all over the world. Of course, the regional exhibitions are also important to us, especially for local markets. So, when we exhibit in regional shows, we have to display and promote the right solution for that market, while at ITMA we try to show our full range."
The watchwords remain: range, scale, relevance, futuristic, variety and quality. As all roads lead to Milan.