Most Indian ready-to-wear labels do not have the wherewithal or their own design studios to produce the garments, leave alone manufacture them-the needful is done by fashion vendors. A peek into the world of fashion vendors who keep the labels fluttering.
The ready-to-wear (RTW) segment, especially in ethnic womenswear or indutvas, has been booming with stores and brands offering round the year collections to women. But while some brands and retailers may have their in-house design studios, most Indian RTW labels prefer vendors who not only present stylish collections season after season, but also have great facilities to produce them.
Order quantities vary from a few hundred to a few thousand per style and come in a variety of colours. Fabrics and embellishments remain the basis, along with prompt deliveries. The competition among vendors is keen-there is obviously a race to grab the biggest piece of the fashion pie. Four women running super-efficient factories and catering to the needs of top stores and brands reveal their stories on what it is like to be a successful vendor, and still remain in business.
Nupur Poddar
NAV Aesthetics Llp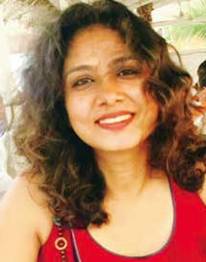 She was one of the most talented design graduates to have emerged from the Premlila Vithaldas Polytechnic, SNDT Women's University, Mumbai in 1990. Nupur Poddar's career graph was always on a steady rise-first as the creative head of the multi-designer fashion store Eternia in Mumbai, and then in 2004 as supplier of indutva garments to top stores and womenswear brands like Shristi, Morpankh, Navras, Ethnicity, Haute Curry, Kashish and Vark.
In 2018, Poddar launched Nav Aesthetics LLP with an 8,000 sq ft factory, a staff strength of 100 and 70 machines. Poddar is the designing force of her company with an in-house quality control (QC) team, which coordinates with the brands' QC inspectors to ensure perfect garments.
As a vendor to top womenswear brands, Poddar's regular collections are eagerly awaited and the brands make their seasonal selections from the styles she creates. "We take orders of a minimum of 600 pieces per style, which can go up to 20,000," informs Poddar. With women's indutvas as her fort, Poddar's collections comprise mix-and-match kurtas, kurtis, palazzos, dhoti and kurti sets, kurta and dupatta sets, dupattas and the salwar-kameezdupatta trios.
Fabrics form the basis of the garments, and sourcing is done from various parts of India. "Fabrics are sourced from Surat, Varanasi, Bhiwandi and Erode, while laces are also from Surat. Embroidery is normally outsourced from Surat and Mumbai, while printing is done in Mumbai, Ahmedabad and Surat. Tassels, which are an integral part of the designs, are procured in Mumbai. We don't get fabrics specially woven. The favoured fabrics are cotton and polycotton and orders are completed in 90 days. The minimum lead time for 1,000 pieces is also 90 days," adds Poddar.
When catering to so many brands, confidentiality is of utmost importance; so, she confides, "Once a design is selected by one fashion house, we do not show it to another."
Prices for garments range between ₹300-1,500 and are offered in XS, S, M, L, XL and XXL sizes, but in a single colour way.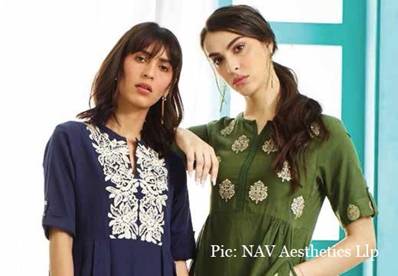 Being a fashion vendor is exciting work, and there has to be a constant flow of orders to keep things running. "Fortunately, the business of fashion is all-year round with the peak months being from June to September. There is a slight lean season just after Diwali, but to ensure a constant flow of orders we have a regular line of new designs coming in nearly every month," states Poddar, who does not have promotional programmes to push her company to buyers, and relies on word of mouth.
In spite of her vast experience Poddar confesses that she prefers being a vendor to top labels and attaching their labels rather than having one of her own, as she admits, "Starting my label would require high capital and an inventory, which can be quite difficult (at times)."
Meanwhile, there are of course advantages and disadvantages of being a fashion vendor with problems being part of the business, which have to be handled with utmost care.
"The advantages are that quantities are good; so, I can plan production capacities and there is no dead stock to worry about. The disadvantage is that money can be stuck if buyers don't pay on time, and so one needs a big capital investment. We also need a continuous flow of orders to increase the per day efficiency without periods of discontinued operations. At times, periods of fluctuating deliveries could affect the brand's image, which in turn can affect our business as well."
Running a factory means handling labour, which need care and attention. "Since this industry is very labourintensive it requires manpower on a daily basis, but the labour is very 'singleskilled' type. Festivals like Ramzan, Diwali, etc, also affect the production and business," observes Poddar.
Getting a break as a vendor to big stores like Shoppers Stop is not as easy as many may think, since "the requirements of top stores and brands are at times hard to match. They want factories with large production capacities and have different health and safety requirements. Then, there is the question of different product styles; each retailer has its own priority of time, cost and quantity."
Now, with an annual growth rate of 20 per cent, Poddar's plans are optimistic. "I want to expand NAV Aesthetics LLP into new and larger markets, while retaining current customers," she concludes.
Sadhana Goradia
Maithili's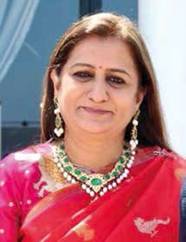 Designing has always been a passion for fashion and textile designer Sadhana Goradia, and her experience in the field is extensive. After graduating from Sophia Polytechnic in the fashion and textiles disciplines, her career started with the well-known British brand Laura Ashley in London.
Soon it was fashion designing for family and friends, which led her to start her store Maithili's named after her daughter in 1996 and then a factory in 1998. It was her chance meeting however with Simone Tata of Westside where her samples were approved instantly and she started with 36 pieces per style that brought her into the fashion vendor business. Today, Goradia produces 3,000 pieces per style for brands like Project Eve, Swadesh, Jabong and Crafts Villa, and from the Future Group it is Mother Earth and Neelangan who book from Goradia's colourful collections.
Running a 3,500 sq ft factory with 35 employees and 20 machines, Goradia heads the design studio with a strict 100 per cent QC check on all garments. While the brands select from her collection, very often Goradia has been entrusted with the assignment of creating specific collection stories exclusively for stores and brands when they have wanted special promotions.
For the 300-5,000 pieces per style, Goradia sources fabrics from Bhiwandi in Maharashtra, Bihar, Madhya Pradesh, Uttar Pradesh or the states of South India with some specially woven for the brands. Cotton is Goradia's favourite base, though she does work with a few synthetics too.
When it comes to delivery, "it depends on the style. We work with powerloom fabrics and computer embroideries, which would take 2-3 months for manufacturing. We also work with handwoven and handprinted fabrics with hand embroideries that could take up to five months to manufacture."
Of course, confidentiality is a given. "Creativity is an unlimited resource. We keep coming up with new designs that brands can choose from. Even if they like the design of another brand, we make enough changes for it to not look similar. But at the end of the day we have our signature style and that remains constant throughout with all brands. Sizes and colourways vary from brand to brand, but generally we produce five sizes in 2-3 colourways," relates she.
When it comes to the garment categories, Goradia says, "Indianwear is challenging due to the multiple elements that go into it, but we love a challenge and specially if it includes Indian clothing. Westernwear is challenging too, but due to the lack of experienced karigars it is not easy. Right now, we make only kurtas in indutvas. However, we are touching upon a Bohemian look that comes under IndoWestern, including kaftans, and shirts with an Indian touch."
As indutvas are heavily embellished with embroidery and prints, Goradia gets them done with a few select vendors of her own who know the company's requirements. "In fact, engineering fabrics and embroideries to make our production easier is one of our biggest strengths. We do not have our own units. However, we have vendors who have worked with us for over 20 years and they know our requirements perfectly."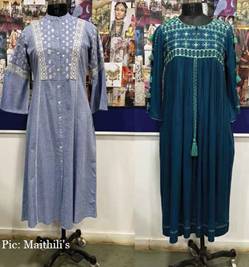 Goradia observes that to be in the game one has to keep many factors in mind. "To maintain quality, it is important to manufacture in-house. Quality should be the #1 priority if you want to be in the game for the long run. It is important to choose, which companies to work for as the quality expectation of that company trains the hands of your labourers, and those hands can't be ruined for any amount of money. Advantages would be that you get to learn so many new things through brands, in terms of management, QC, pricing, averaging. Disadvantages would be not being paid enough to survive through inflation and higher expectations of the labourers. Lack of buyers' understanding of ground problems, such as labour issues, variations in woven fabrics, and a general sense of the time it takes to put things together are all part of the pros and cons. Maintaining a balance between good quality staff and the CMTs (cut-make-trim) offered by brands is another factor. Finally, managing the financial cycle of 90 days is a real challenge. With good quality products and styles, it is easy to get work. In fact, you get recognised and approached by brands too."
Goradia's business has had a 30 per cent growth, and she ensures that orders have a constant flow, though the monsoons tend to be lean. Diwali is the peak season for her company. Since the fashion business is labouroriented, keeping the staff satisfied can be a trying task at times. "The problems come on a daily basis. It is very, very hard to keep them pleased and to get good quality labour."
Why Goradia has not launched her own label despite having over 20 years' experience is a question that many have asked and the reply is honest, "Time is a limited resource. However, I am training my daughter in the fashion business and she has started her own RTW collection." Goradia's plans for her company Maithili's include moving aggressively into exports.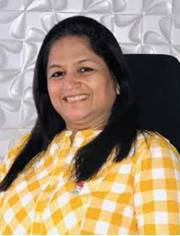 Sunita Ruia
Krishna Collections
Sunita Ruia of Krishna Collections started making kurtas as a hobby in the early 1990s. And by 1998-99 this passion had become a business! "When I started supplying to Shoppers Stop in 1993-94, I was among the first few vendors supplying indutvas," reveals Ruia.
Now two decades later, Ruia has three factories in Mumbai for sampling and administration (6,000 sq ft), and the other two in Vapi (9,000 sq ft and 13,000 sq ft respectively). Ruia creates her collections with her small team of designers, while a staff of 50 manages the designing and production. "In some cases, the brands employ their own designers who work with us on product development and at other times they select from a set of samples, which are developed by us," she informs.
With 350 machines under her control, the QC is strict. "This is tricky. We learn and we improve. As the nature of products is such that every design has different complications, we are processoriented in quality management. We have to try and stay a step ahead of the issues we face in the production line. We have our own quality checkers and the brands also deploy their own QCs."
Ruia accepts 400-500 pieces per style, which can go up to 16,000- 18,000. Delivery can be 90-120 days.
"But if the fabric is ready, we can also do it in 45-60 days," assures she. When it comes to the lead time for 1,000-pieces it could be 45-60 days for embellished garments or even faster at 20-25 days for directly stitched ones. The orders are in XS, S, M, L, XL and XXL in 2-3 colourways with prices that start at ₹250 and move upwards depending on the work involved. Since printing and embellishments are 'a must' for Indian garments, "we have teams for development of designs; the production happens with outsourced vendors who have worked with us for over a decade."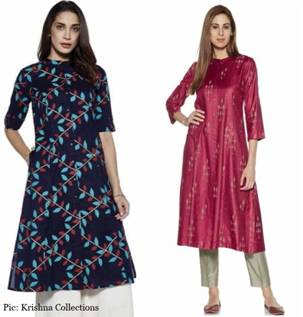 Krishna Collections supplies to Utsa and Zuba (Trent Ltd), Max, Milange and Easybuy (Landmark Group), Project Eve (Reliance), Shatranj and Shrishti (FBB), Ethnicity, Kashish (Shoppers Stop) and a few others. Fabrics are sourced from Mumbai, Surat, Bhagalpur, Bhiwandi and South India, while raw materials are procured locally. When it comes to special fabrics, "we do get them woven given the variety available and the changing fashion trends; we prefer to get fabrics woven rather than procuring them in ready form. There are several players known for their quality and processes. We mainly work with cotton-based fabrics. For premium styles, we use silks, chanderis, slub fabrics, cambric, bhagalpur silks, polyester, rayon, flex cotton, linen and cotton."
Being a vendor has been a great opportunity. "The advantage is that I get to work and learn with the best and also we don't have to worry about recovering dues. The disadvantage is that we are usually between a rock and a hard place in terms of working with corporates and dealing with local small players, but-like I said-we have to deal with professionals at one end, while the local suppliers have their own ways of doing things. Also, add to that the handling of labour and bureaucrats. It is easier to start a facility and very difficult to sustainably function for a long term."
Besides running an organised production of garments, Ruia confides that labour issues crop up often. "Yes, it's always waiting to rear its head due to the archaic laws that we have."
Confidentiality is another issue that vendors have to take care of. "It's harder now that people have phones that allow them to click images. However, within the plant or even with the outsourced processes, we try and work in the most ethical manner and have several systems in place to maintain confidentiality."
When it comes to a choice between westernwear and indutvas, the latter is the favoured category. "I would think westernwear since the standardised nature of the garments makes it easier. But I have little experience with that category myself; so, my opinion is not very strong on this. We only do indutvas for men and women. We have kurtis, kurtas, palazzos, salwars, kameezes, dupattas and sometimes we design lehengas, cholis and dupattas."
Getting a foothold as a vendor into big stores is not easy, but for Ruia it was. "Fortunately, we have worked long enough to have the goodwill to be able to connect with buyers. After that it is just about us being able to perform to their expectations." And, starting a label has been an idea always on the burner: "I have always thought and wanted to start one, but honestly, we don't get the time to invest in anything else."
Ruia's business has grown well. "We have had a volatile graph. It is easier to grow now than it was 15 years back, but also now the challenges are more macro than micro factors. The business has grown annually by 10 per cent." Therefore, there is no need to do any marketing or promotion. With a constant flow of orders Ruia reveals, "It's easier now due to the volumes that some of these brands offer. We keep our developments ongoing to meet the buyers' requirements."
Business is good throughout the year with peak seasons being between April and August due to the festive orders, while October and November are lean months.
The plans for Krishna Collections: "We have expanded in the last two years and are now looking to stabilise our growth. Going forward, we have a cautious approach due to the increasing issues with the manufacturing sector in India."
Ojaswita Shah
Oja's Designs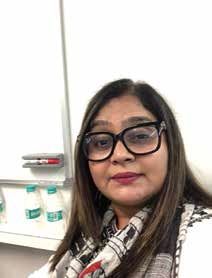 As an 18-year-old Ojaswita Shah had a passion for designing. She started creating from her home and it was in 2002, that the passion turned into a company-Oja's Designs. In 2009, Shah moved further into the fashion business and started supplying to brands pan-India. The company has now grown into three factories, each approximately 10,000 sq ft in area with 500 machines and 700 persons manufacturing glamorous womenswear for Reliance Trends, Max Lifestyle, Pantaloons, Westside, Ethnicity and other brands.
With a team of five designers, Shah and a specialised group in each unit ensures that there is QC at every stage from fabric to final product with checkers keeping a strict vigil. At times, the brands have their own teams to check the quality. While the brands make their selection from Shah's creations, often they give their own designs too but the labels are always that of the buyers'.
The fabrics favoured by Shah are different types of cambric, chanderis, rayon, crepe, flex and other assorted varieties, which are sourced from Varanasi, Surat, Mumbai, Bhagalpur and South India. "At times some special weaves are created from my reliable vendors too," says she. The printing and embellishments systems are also handled in-house so that production moves at a faster pace.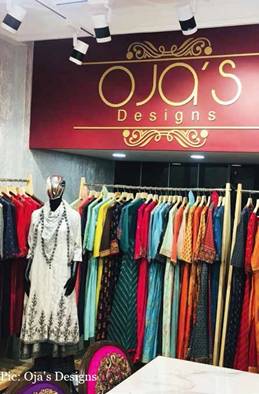 Working as a vendor has its pros and cons. "Advantages are that you get business throughout the year. Disadvantages are that you get a low fixed margin, which at times becomes difficult to work on. Also, meeting timely deliveries with quality is important when working as a vendor."
The minimum quantity accepted by Oja's is 500, while maximum could be 15,000 per style in sizes, which are between XS to XXL in 1-2 colours. Delivery is done in approximately 90 days from start to finish and Shah ensures that secrecy is maintained at every step as far as designs are concerned. "Ethics do not permit to do so otherwise," she maintains.
Handling labour comes easily to Shah. "There are problems in April and May due to vacations and marriage seasons and once again in the month of Ramzan." While the peak months are from May to September and November to March, the lean seasons are Diwali and April, but Shah works six months in advance to ensure that there is a constant flow of orders throughout the year.
Since it is easier for Oja's to produce indutvas instead of westerns, there is a wide collection of salwar-kameezdupatta sets as well as cropped tops, kurtas and skirts. The prices range at ₹350-2,200 and the company's business has seen an annual growth of 25 per cent.
Marketing and promotions are in place to get orders. "We take part in B2B exhibitions all over India and are in contact touch with wholesalers panIndia."
When it comes to breaking into the fashion vendor business, Shah advises, "It is extremely difficult since there are too many SOPs (standard operating procedures). Also, the label of the brands has to go on the garments. The important points to be kept in mind as a vendor are that we have to take into consideration the quality as well as quantity of fabric, along with the availability of skilled labour."
With a vast experience in the fashion business, Shah is one of the few vendors who started her exclusive label Oja's Designs in 2017 and retails through 350 outlets across India in the price range of ₹1,200-12,000. So, it is little wonder that Ojaswita Shah's plans are to open an EBO (exclusive brand outlet) as Oja's Designs and consolidate the business of supplying to brands and stores.