In October-November this year, pollution levels in Delhi-NCR reached alarming proportions with stubble burning by farmers in Punjab and Haryana being one of the prime reasons for the hazardous haze that hung around the region for weeks. The textiles industry has a solution.
For one week the air pollution levels in Delhi and the NCR (National Capital Region) shot through the roof, forcing authorities to declare a public health emergency. Schools and colleges remained closed as Delhi-NCR choked under the dense fumes puffing in from neighbouring Punjab and Haryana. The capital region had its sources of pollution (from vehicular emissions to pollution caused by power plants), but the stubble burning in the two Northern states came as the last straw.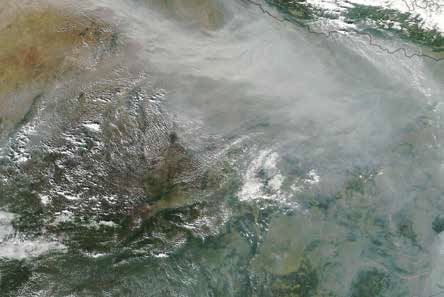 A satellite picture showing the extent and intensity of the smog hovering over Delhi and the National Capital Region (NCR) on November 4. Air pollution has reached hazardous levels in some areas. Pic: Nasa Earth Observatory
Even though, at its peak, stubble burning accounted for only 35 per cent share of the hazardous haze, it were the farmers of the two states who became the villains of the entire piece. Social media went into a tizzy and furiously-contested television debates kept flogging a dead horse-something that they had done last year as well. As also in the previous years. Worse, there had been early warnings in September itself about farm fires being recorded in the two states.
During a crisis it is easy to play the blame game. The point, however, is that the problem has existed for a while now, and nothing has been done about it. The same set of solutions (particularly those related to stubble burning) that were thrown around last year were discussed this year as well. All direct stakeholders have a role to play, but then also do some others who apparently do not come across as stakeholders. The textiles industry, for instance. Yes, it can indeed play a role.
Take this emphatic statement: "Agricultural waste which is burned in fields across states around Delhi would be enough to replace over half of global cotton production by building bio-refineries and textile fibre production plants to make efficient use of biomass." The words come from the head of the Bio2X programme at Fortum India, Faizur Rehman.
Fortum Oyj is a Finnish state-owned energy company focusing on the Nordic and Baltic countries, Poland, Russia and India. It operates power plants, and sells waste services such as recycling, final disposal solutions and soil remediation and environmental constructions services.