The corononavirus pandemic is being tackled at many levels-from governmental regulations to medical interventions. As the battle rages on, PPEs and facemasks are omnipresent. A quick look.
Towards the end of January, when the covid-19 epidemic (which it was at that point, medically speaking) had brought life and business to a grinding halt in the Wuhan city of China and was fast spreading to other cities in that country, the pictures that emerged from China had that one thing in common that you could not miss: you could see healthcare professionals in professional protective equipment (PPE) and ordinary people wearing facemasks. PPEs and masks were ubiquitous.
Four months later, PPEs and masks have become part and parcel of the lives of healthcare professionals as well as ordinary people as the covid-19 pandemic rages on unabated across the world, with over 6 million confirmed cases so far and more than 370,000 COVID-19-related deaths. With the pandemic showing no signs of ebbing (except in a handful of countries) and the possibility of similar viral outbreaks menacingly hanging like the sword of Damocles over Earth, PPEs and masks as also other medical and hygiene textiles are here to stay.
The first five months into the year have brought a number of facts to the fore: there have been reports from many countries about the shortage of PPEs and masks; many apparel manufacturers have switched over to making PPEs and masks; there have been many innovations in PPEs, and masks are already becoming fashion accessories. The mass production and unchecked manufacturing have also resulted in innumerable—damning—reports of poor-quality PPEs, and disposal of medical waste will soon be a healthcare issue everywhere.
In early March, the World Health Organization(WHO) warned that severe and mounting disruption to the global supply of PPE—caused by rising demand, panic buying, hoarding and misuse—was putting lives at risk from covid-19 and other infectious diseases. It also said in the same statement, "Based on WHO modelling, an estimated 89 million medical masks are required for the covid-19 response each month. For examination gloves, that figure goes up to 76 million, while international demand for goggles stands at 1.6 million per month." That's a staggering number by any standard.
It is a happening market, and it is evolving by the day; in the context of the viral outbreak—it is mutating too. For this reason, it is difficult to keep track of developments. Some snapshots, nevertheless.
Masked by the Garments Business
When lockdowns were clamped in one city / region / country after another, apparel manufacturing came to a standstill. Workers remained unpaid, the migrants among them fled for their homes, and revenues went through a precipitous drop. There were some companies that were quick on the uptake, thinking as they were on their feet. Many companies switched over almost immediately to manufacturing PPEs and / or facemasks. There were others who were either too slow on the draw, or were caught in the quagmire of governmental regulations or simply did not have enough staff.
By the time the WHO declared the 2019- nCoV outbreak (which was the interim name for the covid-19) a public health emergency of international concern, the total confirmed cases in China had reached 9,692, with 213 associated deaths. The first companies to react, for good reason, were those based in China. According to the National Development and Reform Commission (NDRC), the country's top economic planner, China was already producing about half of the world's masks with a daily output of 20 million. This was insufficient to meet the demand even in China.
Many factories there stopped normal production and switched over to making masks. A garment factory at Fushun in northeast China's Liaoning province, purchased 10 tonnes of medical nonwoven fabric and began producing masks. About 20 workers went about producing 5,000 masks every day. Liuzhou-based auto maker SGMW in south China's Guangxi Zhuang Autonomous Region revamped its 14 production lines to produce N95 and other surgical masks with a daily output of 1.7 million. According to ianyancha.com, over 3,000 companies added "masks, protective clothing, disinfectant, thermometers and medical equipment" to their business scope between January 1 and February 7.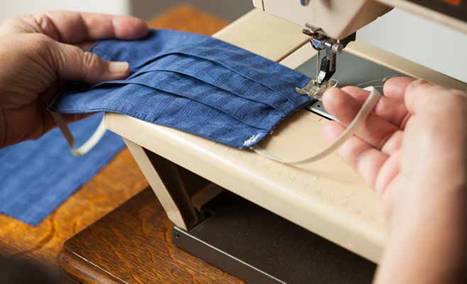 Shortly after the first WHO announcement, the covid-19 disease had Italy, Spain and other European countries in its vice-like grip. The "black swan" moment caught all napping; no one was prepared for the shortage of PPEs and facemasks that became acute with every passing day.
And, countries began stopping exports. India in early February prohibited the export of all types of PPEs, including masks and clothing. "Export of all varieties of PPE including clothing and masks used to protect the wearer from airborne particles and /or any other respiratory masks or any other personal protective clothing [including coveralls (class 2/3/4) and N95 masks] is prohibited with immediate effect till further orders," a notification by the ministry of commerce and industry said.
Improvisations continued, especially by those who had nothing to do with this business. Electronics manufacturer Sharp announced in February-end that it would start making surgical masks in Japan the next month onwards. It became the first company outside the ambit of health industry to do so in response to a government call of increased production, news reports said. Sharp planned a daily capacity of 150,000 masks. The gravity of the situation could be gauged from the fact that Japanese mask manufacturers were already producing 20 million units a week before the covid-19 outbreak hit Japan. With the government's call, the output jumped to 100 million units per week.
As the disease spread to neighbouring countries, the Vietnam National Textile and Garment Group (VINATEX) announced that textile manufacturers there were ramping up production of masks. VINATEX set a target of about 6 million masks by the end of February, "while maintaining a steady supply of 10 tonnes of anti-bacterial cotton for medical mask makers across the country, enough to produce up to three million masks daily."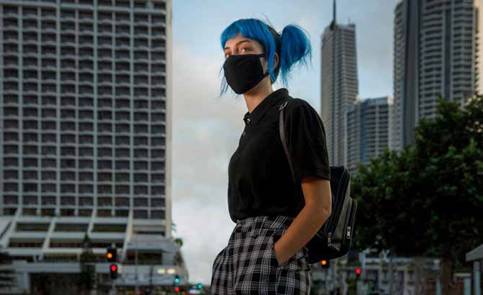 All through this, there was a catch that many outside China had missed. With the locking down of scores of cities and shuttering of thousands of factories in China, the discourse outside hovered more around either taking the lead from China in the textiles-apparel race or finding ways to meet the shortfall of raw materials from that country. There were few who thought of shifting tack or ramping up production of PPEs and masks. So, when the covid-19 outbreak spread to the other countries, a substantial number were caught on the wrong foot. By the time that the covid-19 had been declared a pandemic by the WHO on March 31, factories especially in the smaller countries were forced to close business. And ironically, China at the same time was already getting back on track.
By the end of the third week of March, China had already given Spain 500,000 facemasks and dispatched 1 million to France. The wider European Union (EU) was earmarked for 2 million surgical masks, 200,000 N95 face masks and 50,000 testing kits. Japan had for 100,000 facemasks, and South Korea a whopping 5 million facemasks. Billionaire and Alibaba co-founder Jack Ma alone donated 500,000 testing kits and 1 million facemasks to the United States (US). That, of course, was a fortnight before the covid-19 had been declared a pandemic, and well before US President Donald Trump was to squarely blame China for the disease.
Since then, particularly in April and May, many countries have been able to get their act together, and begun their own production of PPEs and facemasks. On May 21, the Indian ministry of textile claimed that India had become the world's second largest manufacturer of PPE coveralls (behind China) within the timespan of two months. The ministry said it had been taking several steps to ensure that both quality and quantity of PPE coveralls going up to the desired levels within a very short span of two months, "thereby catapulting India into the world's second largest manufacturer of body coveralls, next only to China."
As the disease spreads to every nook and corner of the earth, facemasks have become indispensable. According to a blog post on the World Economic Forum (WEF) website, "Last year, China made just over half of the world's masks. This year, the share is expected to climb to 85 per cent. The global market for disposable masks was worth $75 billion in the first quarter of this year and is expected to grow at a rate of over 50 per cent for the next seven years." The numbers are guesstimates at best, but they do indicate that the trends will continue, maybe even expand.
Old Product, New Market
Both PPEs and facemasks have always existed, but their requirement almost as a daily necessity has created a market out of thin air. From the very beginning experts have advocated the usage of facemasks to limit the spread of the covid-19. According to the Masks4All website which has been tracking usage, roughly 88 per cent of the world's population lives in countries that recommend or mandate the use of masks in public. The WHO has been vocal about the usage of masks.
Among masks, the cloth facemasks are more popularly used, possibly because those are both low-cost as well as reusable. The N95 and FFP variants have been both in high demand as well as short supply from the beginning because of the limited supply of the nonwoven polypropylene fabric (which is used as the primary filter), as well as limited exports from China. Many countries have been easing their lockdowns since early May to put their economies back on the rails, but restrictions are likely to remain for a long while, particularly those mandating the usage of facemasks in public spaces and offices / factories. After all, any potential vaccine is probably still months away, and the disease is still spreading.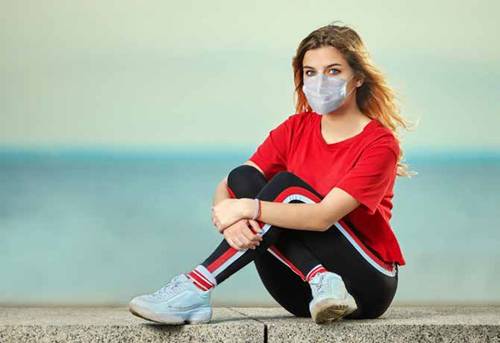 With the initial panic having subsided and confusion eased, innovations have been flooding the market. Many of these are driven by necessity. The Masks4Medicine is one such campaign which took off after the aunt of a dermatologist at a New York hospital asked if she could sew homemade masks for her niece. The campaign has its own set of guidelines on a website, and similar efforts have struck roots in other cities. There are, of course, innumerable, all heart-warming and heart-breaking at the same time, efforts being made by people across the world. Hardly any of these are up for sale, and most of these efforts are nowhere to be caught by the public eye.
It is not that homemade masks are below standard. Most campaigns have been citing a 2013 study by researchers in the United Kingdom (UK) who found that homemade masks filtered particles, though surgical masks were definitely more effective. The point, however, is not about all masks having to be homemade, but that facemasks need to be accessible as well as affordable. The study had concluded, "A homemade mask should only be considered as a last resort to prevent droplet transmission from infected individuals, but it would be better than no protection." The economics of facemasks, as also their politics, are a subject in itself.
On the industry front, reports of innovations have been pouring in. Researchers at the Israeli Institute of Technology – Technion have developed a facemask that can be cleaned and re-used using the electrical current of a mobile phone charger. It has been developed by the institute's Faculty of Materials Science and Engineering and can decimate pathogens that accumulate on the mask's surface. It is effective against the SARS-CoV-2, the virus that causes covid-19. Technion says the product utilises an internal carbon fibre layer that can be heated up by plugging the mask into a standard 2A power source including a mobile charger, laptop USB port, or even a power bank.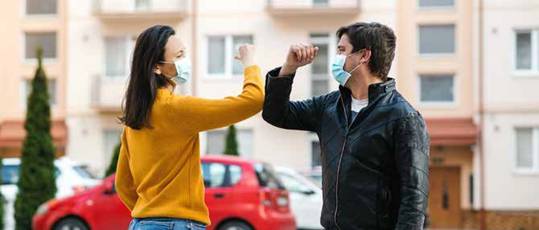 In England, a young designer from the University of Lincoln has produced a facemask to protect children from pollution. The mask designed by Owen Phillips is called Polligon, which is a highly efficient, N95 grade filtration mask designed for children to protect them from harmful pollution on their walk to school. It can be reversed into a neckerchief to be worn throughout the day, and even be customised by the user or their school to be part of the school uniform. Meanwhile, a senior at the Eastern Kentucky University, majoring in deaf education, has created innovative new face masks that are ideal for the hearing impaired. Ashley Lawrence shared the masks, "showing how they have a transparent area around the mouth to allow the hearing impaired to read lips."
There are utility-driven facemasks, and there are the fancy, designer ones. The markets are now flooded with facemasks to suit ages and tastes. Not that these ideas are new. In early February, a bank called the police after a woman in a designer mask refused to take it off. Amanda Ulmen was wearing a black mask that featured a set of sharp teeth on the front. There had been only a dozen or so covid-19 cases in the US at that time, but Ulmen had the foresight to not only use one, but be insistent about it too.
What Cannot be Masked
Everyone has to mask up now, and practically everywhere. It is not just about a new product or a new market, but that it is everywhere. Facemasks are not meant to be used or last long; meaning, their disposal is a waste problem especially for those cities and towns already sinking under the weight and volume of garbage that they already generate on a daily basis.
An editorial in the South China Morning Post in early March noted: "The huge amounts of clinical waste being produced dramatically heightens the risk. Wuhan, the city of 11 million people that has been the focus of the disease with 75 per cent of all the nation's deaths occurring there, is reported to have produced 200 tonnes on February 24 alone, four times the amount the city's only dedicated facility is able to handle each day. The nation generated 2 million tonnes of medical waste in 2018, but has yet to put in place a specific pollution control standard for its disposal."
In early April, the Dublin City Council and the Waterford City and County Council in Ireland expressed concern over the dumping of masks and gloves all around. "Our enemy is a virus and as such it is unseen. Our invisible enemy lurks around a lot of corners. We need to be mindful about how we dispose of used latex gloves and masks as they could contain the virus," Dublin's Lord Mayor Tom Brabazon said. A spokesperson for the Waterford Council said: "There is evidence of disposable gloves and masks being discarded on the streets instead of being placed in litter bins or the users domestic refuse." The problem, needless to say, is not unique to Ireland.
The litter has been making way into–yes— oceans. In March, environmental group OceansAsia conducted a survey in the Soko's islands in Hong Kong where it found masks washed up on the shore. Gary Stokes, OceanAsia's Founder, told Energy Live News: "We have found 70 discarded masks within 100 metres of the beach and an additional 30 masks when we returned a week later. Over time the team has seen the odd mask here and now, however this time they were all along the high tide line and foreshore with new arrivals coming in on the current. When you suddenly have a population of seven million people wearing one to two masks per day the amount of trash generated is going to be substantial. The masks were not that old, some almost looked brand new meaning they were not in the water long."
Manufacturers, therefore, need to keep sustainability in mind before it is once again—too ate. Those have to be as biodegradable as possible. The textiles-apparel-fashion industry already has a "polluting" tag that it has still not been able to shrug off. The last thing it would now need is to be accused of contributing to medical waste. As tempers run high and trust is in a deficit, an accusation like thatwill stick—for good.
This article was first published in the June2020 edition of the print magazine.