This is the story of the top UK food retailer which chose to be a fashion retailer in India and how it behaved during the COVID-19 crisis.
M&S, owned by Marks & Spencer Group Plc, is a 135-year-old British 'value for money' retailer. Globally, the brand retails own label businesses, including food, clothing & home (C&H) in the UK and 62 international markets through 1,519 stores and 44 websites. Today, M&S is worth £10 billion with the retailer drawing 90 per cent of business from the UK market alone. Despite food being the mainstay of the retailer's business fetching 63 per cent of UK revenue, it sees fashion as a better option for the Indian market.
M&S Journey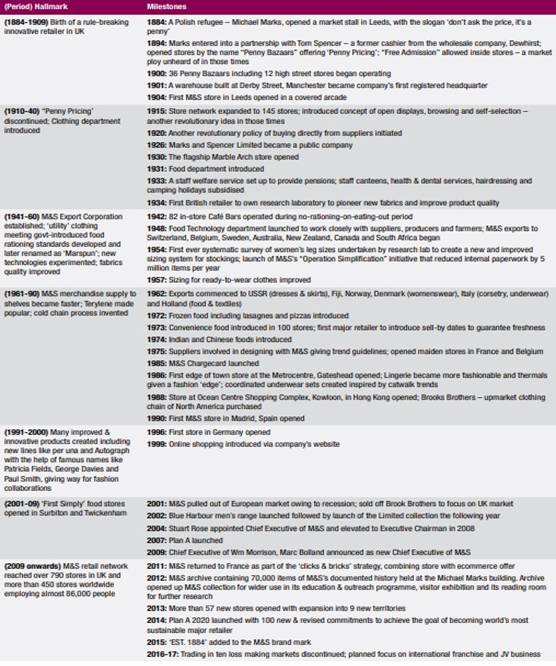 Global Snapshot

M&S is big and ranks among the top ten retailers in the UK. Despite its strong market standing, the brand's recent performance has been soft. The group's sales for the last five fiscals have declined at a CAGR of -0.9 per cent from £10,555 million in FY16 to £10,181 million in FY20. This performance is inclusive of the decline in the UK and international sales at respective CAGRs of -0.6 per cent and -3.4 per cent. Category-wise, sales of UK food increased at 0.7 per cent while that of the UK C&H declined at -6.5 per cent. Profit after tax (PAT) shares also proved to be disappointing with figures of 3.8 per cent (FY16), 1.1 per cent (FY17), 0.3 per cent (FY18), 0.4 per cent (FY19) and 0.3 per cent (FY20), registering the CAGR of -49 per cent.
Stores

The present global store network reached 1,519 stores from 1,383 stores five years back, expanding at a CAGR of 2.4 per cent while the store network expanded in the UK market at a CAGR of 3.2 per cent. The international stores, on the other hand, expanded at a CAGR of 0.6 per cent from 469 stores in FY16 to 481 stores in FY20. The current global retail space of 22 million sq ft yields average store size of 14,000 sq ft. The average UK store size of 16,000 sq ft has declined at a rate of -3.4 per cent between FY16 and FY20. As of 2019, C&H occupies 62 per cent of the UK retail space.

Fluctuating business aside, M&S is also known to be responsibly particular about the cause of sustainability being a complete retailer dealing in both food and fashion. To achieve its sustainability goals the retailer has devised a focused 'Plan A'.
Sustainability 'plan A'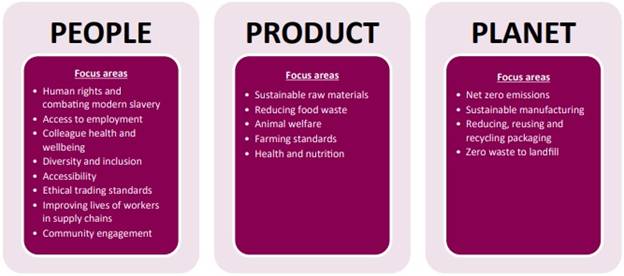 In 2007, M&S launched Plan A, a sustainability initiative, which aims at working with M&S customers and suppliers to combat climate change, reduce waste, use sustainable raw materials and trade ethically. Today, the initiative encompasses every aspect of its business operation from in-store heating to product labelling, and from waste management to manufacturing. Subsequently, Plan A 2020 was launched in 2014 with 100 new, revised and existing commitments. Plan caring for people, product and planet involves measurable set goals and pre-defined focus areas.
Efficiency performance

Sustainable supplier and product: Plan A requires M&S suppliers to develop sustainable characteristics too. In the C&H segment, M&S made it compulsory for all key tier-l suppliers and tier-ll fabric mills to submit their Sustainable Apparel Coalition's Higg Index Facility Environmental Module (FEM) w.e.f. April 2020. The action covers over 50 tier-l product suppliers and around 20 tier-ll fabric mills totaling around 200 locations. Additionally, tier-ll fabric mills are also required to complete the Higg Index Facility Social and Labour Module (FSLM). Plan A 2020 also targets all M&S products to have at least one special social or environmental quality i.e. 100 per cent of M&S products to have at least one Plan A special quality by 2020.
Circular fashion: M&S accepts customer donation of clothes, shoes and accessories from any brand in any condition at 'Shwopping' bins in its stores. It received respective donations of 1.8 million and 2.8 million garments during 2019-20 and 2018-19. Launched in 2008, the Shwopping scheme of reusing and recycling clothes has, since then, collected 35 million garments to be resold or given to needy people or recycled thereby raising around 22 million for the people living in extreme poverty. To avoid clothes wastage of any sort, the surplus stock is sold through sales and outlet centres while unsold stock is sent for reuse and recycling to charity partners Oxfam, Newlife and SmartWorks. To make fashion more sustainable, the recycled textiles are used in M&S products as is the case with men's suits that are made from 100 per cent recycled materials.
Material matters too: Great care is taken in sourcing sustainable materials for M&S products. Neither materials like angora or mulesing wool is used nor testing of any of M&S products is done on animals. M&S works in collaboration with the Leather Working Group and members of the Sustainable Fibre Alliance which develops standards for cashmere production. M&S wool products, covered by the Responsible Wool Standard, can be traced back to the farm of its origin establishing procurement transparency. To rule out sourcing of any animal derived products, their suitable alternatives are developed for customers such as Cashmilon for cashmere wool. All M&S synthetic footwear and accessories are 100 per cent vegan-friendly including the dyes, glues, trims and fillers.
Cotton policy: M&S introduced its cotton policy in 2017 that emphasises on procuring 100 per cent of cotton fibre from more sustainable sources in all areas of C&H. The sustainable cotton is the one that must have been cultivated by meeting at least one of the four principles-reducing water use, reducing the dependency on pesticides and synthetic fertilisers, improving social conditions for farmers or supporting the economic sustainability of farmers.
Respecting human rights: Adhering to the cause of human rights, M&S discontinued cotton fibre and fabric sourcing from Turkmenistan and Uzbekistan for undertaking and encouraging government-backed forced child labour during cotton-picking seasons. Correspondingly, the company policy calls for declaration of the Country-of-Origin (COO) of the fibre on the fabric submission documentation failing which the fabric submission is not approved.
India Chapter
Marks & Spencer forayed into India in 2001; and, by 2007, there were 20 Planet Retail-run franchise stores. In April 2008 the company formed a joint venture Marks & Spencer Reliance India (MSRI) with Reliance Retail, retaining a 51 per cent stake. The JV operates under the mandate of India's FDI rules for the retail sector whereby the company procures 30 per cent of its supplies locally, allowing the balance 70 per cent to be imported. Today, India is among top five sourcing hubs for M&S where it works with more than 100 factories employing around a lakh people.
Why no food for India
Overall, food dominates M&S retail unlike in India where it does not deal in food at all. In 2019, the Indian government invited M&S to locate food units in India. The offer did not impress the retailer as it wants to restrict food manufacturing to its home market-the UK, to maintain quality standards. India permits 100 per cent FDI in the food sector but for the food produced, processed and manufactured in the country it is a condition that departs from the M&S food retail strategy. The government's invitation also included giving charge of one of India's mega food parks, under the supervision of M&S experts, to the company which refused to compromise its guidelines for any market. The decision left Indian consumers to buy M&S fashion alone.
M&S Fashion
As luck would have it, the M&S fashion bet clicked and elevated India to a significant position in its international business. India, its second largest store network outside the UK, sells fashion clothing for men, women and kids, besides beauty products. The company plans its store offering largely driven by local taste and demand like its Kochi store that offers linen clothing throughout the year owing to the local climatic conditions. Such a strategy also means not to take full line fashion to all locations in India. This is why not all stores offer complete fashion merchandise. For instance, not all stores offer footwear collections. Those which do so, offer a limited range for men and women. Similarly, it runs exclusive beauty and lingerie stores which do not sell a range of apparel at all. Some stores do not sell kidswear.
The India template
When M&S entered India, it did so with the UK offering and pricing. After realising that India was a different market, both were revamped and sizing was also worked on to suit Indian bodies. Initially, local sourcing and supplies were additional pain areas. A course correction resulted in a competitive M&S pricing. Local procurement helped reduce prices in womenswear and kidswear. Not only products, but service offering too transformed with the introduction of in-store stylists for fashion customers. The company has a customer-friendly exchange policy that allows pan-India return or exchange of products within 35 days if bought at the full price and 14 days for discounted products with exception to the merchandise sold on a flat rate markdown.
Sales Performance
Sales in India grew at a CAGR of 24 per cent between FY13 and FY18. Rivals Zara and H&M crossed ₹1,000 crore sales in a relatively much shorter period which M&S could only achieve after a decade of its India entry (in FY19). It ended FY18 with a sales revenue of ₹908 crore and profit of ₹66.3 crore against a previous year's loss of ₹4 crore. The growth turnaround can be attributed to price restructuring, local sourcing and a strong focus on women's fashion. For M&S, womenswear and lingerie are fast-growing categories forming a substantial part of the business with the latter's growth peaking at 40 per cent. Business wise, womenswear and menswear contribute equally.
Retail Presence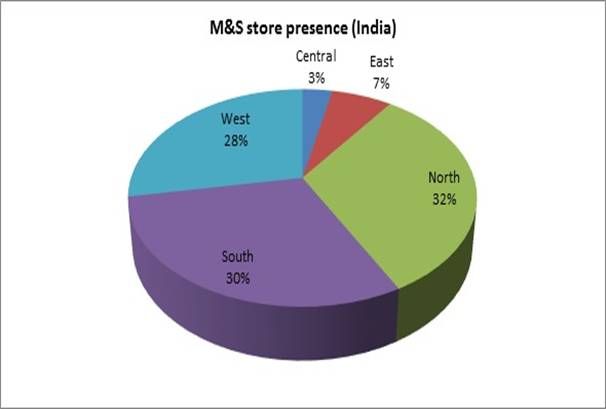 India emerged as a high potential market for M&S marked by steady expansion. As per the latest reports, M&S operates 94 stores in India, more than 60 per cent of which lie in the northern and southern regions. Maharashtra, Karnataka and Delhi are the top states with the maximum number of stores, together hosting close to 50 per cent of them. Although most of the stores are located in metro cities, fast-emerging markets in tier-II and tier-III cities are the focus areas for further expansion. In these cities, womenswear and lingerie are the main business drivers. Around 20 per cent of MSRI business and more than 40 per cent of its online sales also come from non-metro cities. Overall, online sales for M&S India have grown at 75 per cent y-o-y. M&S understands the power of the booming e-commerce and is present on online platforms such as Amazon, Flipkart, Myntra, Ajio and Jabong.
Fy20 At A Glance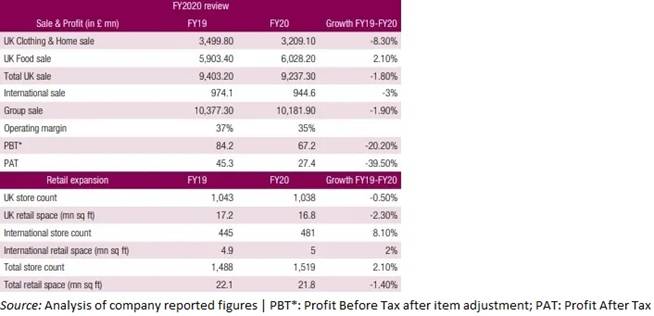 The M&S FY20 performance, no different from its five-year performance, saw both topline and bottomline registering negative growth. The fiscal ended with the emergence of COVID-19 and subsequent lockdowns disrupting the entire retail world, including that of M&S which further continued facing lingering challenges entering the new fiscal beginning April 2020.
C&H, FY20
The UK C&H trading in the first half of FY20 was impacted by poor availability in womenswear and second half, with issues of style and fit in menswear. However, all clothing segments began showing encouraging results towards the year-end which were, unfortunately, undone by COVID-19. Overall revenue declined by 8.3 per cent, like-for-like (LFL) revenue by 6.2 per cent and revenue in COVID-led March by an estimated 2.2 per cent; only consolation was levelled online revenues. Operating profits (before adjusting items) also declined by 37 per cent owing to lower sales, gross margin losses related to sourcing and promotions, and the pandemic crisis. International revenues at constant currency also decreased by 2.5 per cent, and operating profits (before adjusting items) by 15.2 per cent, mainly due to a disturbed March. This resulted in a changed international strategy that calls for moving away from direct ownership to a franchise and JV model with strong partners in high potential markets. Now the focus is on localising ranges and price reduction, besides developing online sales.
H1, FY21 UPDATE

During first half (H1) (April-September) of FY21, international M&S revenues were down by 24.7 per cent at constant currency due to COVID-19 restrictions in the first quarter (April-June), followed by improved results in the second quarter (July-September) with relaxed restrictions and stores reopening as well. Online sales continued to grow through partner websites. India, considered as an M&S-owned market, suffered from one of the strictest and longest lockdowns. Operating profits (before adjusting items) also registered a decrease of 64.7 per cent. However, the profitability coming from franchising and online sales did compensate for some sale losses. The UK government support and rent reliefs also mitigated the COVID-19 cost to a large extent.
C&H, H1,FY21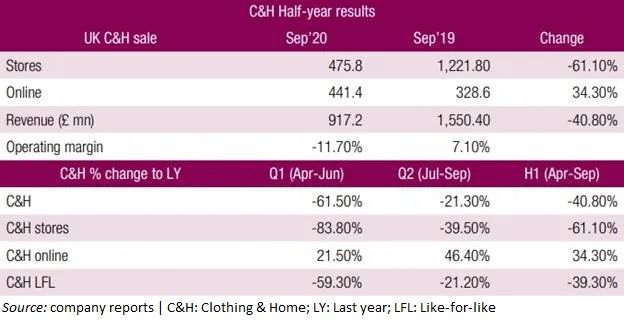 The COVID-19 crisis began impacting business in the first week of March with a decline in UK C&H sales by 6.2 per cent and 26.9 per cent the week after. Clothing sales, at the lowest point, dropped to 16 per cent of the level in the previous year. UK C&H revenues decreased by 40.8 per cent in the first half of the year. Except for the turbulence in April, online sales remained strong throughout the period. Full price sales decreased by 43.4 per cent with discounted sales outperforming total sales thanks to a strategically planned 'Rainbow sale' at stores that cleared surplus stock and generated 8 million worth of charitable donation for the National Health Services (NHS) charities. The C&H business generated an operating loss (before adjusting items) of 107.5 million.
Moreover, COVID-19 pushed M&S to shut stores and operations as part of government directives, including C&H sections of larger stores, resulting in a greater number of consumers making purchases online. Consumer spend saw a shift too, from formal and suiting to loungewear, babywear and bedding products, as a result of changed life at home and new consumption behaviour. By March-end, a large part of the UK online clothing market was discounted as an outcome of store closures. The period also coincided with the implementation of strict social distancing norms that propelled M&S online trading operations. To meet growing demand of online purchases, M&S rolled out brands on M&S.com and additional 850 C&H products on Ocado Retail from September.
Excess Stock
During the pandemic, ordered supplies and inventories on hand became liabilities. UK C&H also ended up with a backlog of unsold stock worth 500 million for SS2020 and the forward pipeline orders for AW worth 560 million, scheduled to arrive in the next six months. This prompted M&S to cancel late summer stock which was no longer required and reduce forward orders costing 100 million. Arrangements were made to hole up the unsold seasonal stock at around 200 million until spring 2021, secure storage facilities and plan for the cost of these actions.
Meanwhile in India
To contain the pandemic spread, the Indian stores, mostly mall-located, operated business as per the government guidelines. They worked collectively with mall managements in implementing industry SOPs. A major part of this responsibility also rested with M&S as the anchor tenant in many malls. The responsibility made the retailer introduce general as well as store-specific SOPs. Some stores restricted female entry after 8 pm to avoid crowding of accompanying family members, including children. The SOP for safe clothes trial was introduced which involved mandatory steaming of customer-tried clothes followed by strict time gap of 24 hours before putting them back on display. Similarly, beauty stores offered product testing under necessary precaution of product and space sanitisation and social distancing.
Never the Same Again
The transformed mindset of the consumer and general shopping behaviour during the corona times made M&S sense an unfolding of different future. This pre-empted the group to draw up its 'Never the Same Again' plan to fasten its transformation to suit the new retail world order. The UK retailer has decided to never be the same again in culture, organisation and work habits to begin with. The new focus is on becoming an online winner in C&H and food. Rightly so, M&S bought 50 per cent share of Ocado's retail business to boost its food market through online and home delivery. A significantly renewed management team is in place to implement the programme.