China, South Korea, Japan and Taiwan are the four dominant players in textile and garments in East Asia. Taiwan is a technical textile powerhouse; South Korean companies are into manufacturing, with a sizable production base outside their country; and Japan is more into retailing. Let us see how each of these countries fared this year:
China, South Korea, Japan and Taiwan are the four dominant players in textile and garments in East Asia. The Regional Comprehensive Economic Partnership (RCEP), signed on November 15, is expected to come into full effect after at least two years. As the first three nations above have problematic and challenging bilateral relationships, RCEP will be the first trade agreement to bring them together into a single FTA platform. The deal is also the largest non-bilateral trade agreement for China, the region's largest economy.
Despite several governments praising the benefits of RCEP, one of the most common criticisms is its lack of coverage in reducing non-tariff barriers. Among the 15 signatories of RCEP, China, which dominates the raw material supply chain for the textile industry across the world, has the largest number of sanitary & phytosanitary (SPS) and technical barriers to trade.
Taiwan is a technical textile powerhouse; South Korean companies are into manufacturing, with a sizable production base outside their country; and Japan is more into retailing. Let us see how each of these countries fared this year:
China: Xuar Firms In Limemight Due To Us Restrictions
The Chinese economy—the world's second-largest—shrank by 6.8 per cent in the first quarter of 2020 compared with a year ago. The contraction was the first economic shrinkage acknowledged in official statistics since 1976.
But China is the only country in the world whose industry witnessed the quickest revival after being the first to be hit by the novel coronavirus. It will also be the only major economy in the world reporting a positive growth in 2020, the IMF forecast. China is currently leading the pace in terms of consumer market recovery as well, Nielsen found.
In the first few months of 2020, as the country imposed lockdowns, the TPT industry across the world dependent on Chinese raw materials was severely jeopardised. But exports of textiles from the Asian giant to advanced countries grew sharply between January and June, according to statistics compiled by the China Chamber of Commerce for Import & Export of Textile & Apparel, which noted a trend of advanced nations cutting down on their apparel import during the period.
Textile exports to France registered the highest growth of 548 per cent to $2.863 billion during the six-month period, whereas exports to Germany and Canada were up by 290 per cent to $4.261 billion and 155 per cent to $1.5 billion respectively. These were followed by the United Kingdom and Japan. Garment exports during the period to Russia, the United States, France and Germany saw drops of 34 per cent, 30 per cent, 18 per cent and 14.6 per cent respectively during the period. August showed the first increase in apparel exports since the beginning of the year.
Revenues of major Chinese textile companies with an annual turnover of at least 20 million yuan declined by 16.4 per cent YoY to $278.07 billion during the first-half, government data showed. Profits of these companies dipped by 19 per cent and value-added output fell by 6.7 per cent YoY. However, value-added output of the country's technical textiles sector witnessed a sharp growth of 57.8 per cent owing to increase in demand of these goods for COVID-19 prevention and control.
While ReportLinker projects the Chinese textile market to grow at 5 per cent CAGR between 2020 and 2027, reaching a market size of $228.3 billion, according to Fitch Solutions, while Asia is likely to dominate garment production over the coming decade, China looks at reducing its apparel manufacturing operations and move up the value chain. China's textile and dyeing industry has a capacity of 80 billion metres of fabric a year.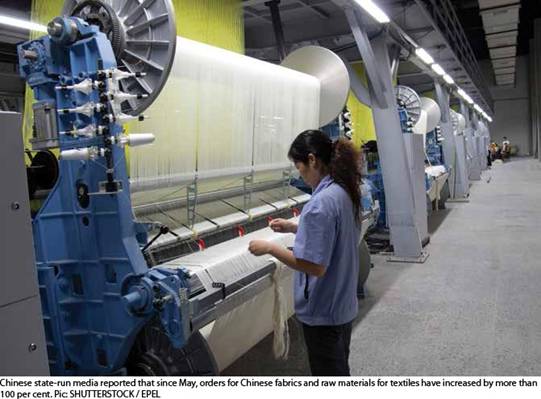 Chinese state-run media reported that since May, orders for Chinese fabrics and raw materials for textiles have increased by more than 100 per cent. Clothing industry orders have undergone a YoY increase of more than 200 per cent, quadrupling in July, said Alibaba.com.
Many Chinese textile companies, such as home textile manufacturer Sunvim Group Co. Ltd., picked up orders that the COVID-hit industry in India and Pakistan were unable to fulfil.
But what kept China in global attention was US restrictions on Chinese companies allegedly involved in use of forced labour by ethnic Muslim minorities in the Xinjiang Uyghur Autonomous Region (XUAR). The US House of Representatives almost unanimously passed in September the Uyghur Forced Labor Prevention Act, which aims to curb imports from the region. Under the bill, goods manufactured or produced in XUAR will not be allowed into the United States unless US Customs and Border Protection (CBP) determines they were not made by forced or indentured labour.
In July, the US commerce department imposed restrictions on 11 Chinese companies on access to US-origin items alleging human rights violations and abuses on Muslim minorities in XUAR. The 11 included three textile-garment companies: Changji Esquel Textile Co, Hetian Taida Apparel Co. Ltd and Nanjing Synergy Textiles Co. Ltd.
Hong Kong-based textile and apparel manufacturer Esquel Group, which supplies clothing to brands like Ralph Lauren, Hugo Boss and Tommy Hilfiger, wrote to US secretary of commerce Wilbur Ross to remove its subsidiary Changji Esquel Textile Co from the list of 11 entities. Esquel claimed it set up Changji Esquel Textile as a highly automated spinning mill in 2009, employing skilled technicians and a leading global audit firm audited the company in 2019 and confirmed no use of forced labour.
On December 2, CBP issued a withhold release order (WRO) against cotton products made by the Xinjiang Production and Construction Corps (XPCC) or any of its affiliates. The new WRO could affect a significant share of all US textile imports from China and possibly other cotton products from other countries made from cotton or cotton items originating in XPCC.
Chinese textile producers have cut their prices to tackle these tensions and weak demand. "The unit price of the US apparel imports from China dropped from $2.25 per square meter last year to around $1.88 in the first half of 2020," reported the South China Morning Post. "Prices offered by Chinese suppliers have been around 30 per cent lower than other Asian countries this year," it said.
An impact of the US restrictions was seen in Chinese yarn company Texhong's decision to shift its production line to Vietnam. It started recruiting labourers in Vietnam's Quang Ninh province for its latest $214-million project, Texhong Knitting Vietnam Ltd, part of its $500 million investment plan in the South-east Asian nation this year. The first phase will get operational in late 2021, and the second phase will be constructed 20 months after that.
The Chinese government is trying to build a more competitive mulberry silk industry by 2025. It plans to scale up silkworm breeding and mulberry growing and make silk production intelligent over the next five years, according to the government action plan. The country will reportedly establish a batch of mulberry fields each with an area of over 6,666.67 hectares by 2025. China's output of cocoons and raw silk both accounted for over four-fifths of the world's total last year.
China continued its heavy involvement and assistance in developing industrial parks and other infrastructure in Ethiopia, which is focused on nurturing a domestic textile and garment industry to boost its economy and generate jobs. The industrial parks have been attracting many Chinese investors.
Private sector
Chinese apparel brand Zenph, which specialises in functional garments for sportswear and outdoor products, launched a new range of anti-microbial jeans, developed with Amicor fibre. Amicor, a specialty anti-microbial fibre, is a flagship product of TAF or Thai Acrylic Fibre Co Ltd of India's Aditya Birla Group. Women's fashion brand Gloria also launched a new denim collection with Amicor, with fabric produced by Prosperity Textiles. Italian denim expert Paolo Gnutti and China's Advance Denim joined hands to create capsule collections for both the US and Asian markets.
Shanghai-based Sateri, the world's largest viscose producer, hogged the limelight in the year. It opened a new research and development innovation centre in Rizhao, Shandong, where its 20,000 tonnes per annum Lyocell production facility is present. Its Sateri Jiujiang mill and Sateri Jiangxi mill received verification of compliance to the emissions limits set out in European Union Best Available Techniques Reference Document on Polymers.
The company unveiled 'Fibre Next', or Finex, as its new brand for recycled cellulosic fibre. Outdoor brand Lafuma and Chinese designer Rico Lee are using the fibe in their apparel. Sateri also signed the fashion industry charter for climate action, becoming the first viscose producer in China to support this global fashion agenda, an initiative convened by the United Nations Framework Convention on Climate Change. The charter calls on fashion industry to support the goals of the Paris Agreement.
Eurofins Softlines & Leather, a part of Luxembourg-based Eurofins' consumer product testing division that delivers comprehensive quality, safety and sustainability solutions for textiles and footwear, announced in December that new accreditations have been awarded by the China National Accreditation Service to two Eurofins laboratories in Hangzhou and Shanghai.
For the first time in September, the Lenzing Group delivered wood-based cellulosic fibres produced at the Austrian sites in Lenzing and Heiligenkreuz directly to China by train. Through this new transport route, Lenzing now meets urgent demand for sustainably-produced fibres from Chinese customers twice as quickly as by usual sea freight.
Sustainability
A new report outlining the prospects for circularity in the Chinese textile and apparel industry was released in October by the China National Textile and Apparel Council in conjunction with the Ellen MacArthur Foundation and the Lenzing Group. It explores good practices, achievements and opportunities, while proposing a vision for a transition to an industrial circular economy based on international trends.
Sateri launched its sustainability vision for 2030, anchored around four key pillars: climate and ecosystem protection, closed loop production, innovation and circularity, and inclusive growth. The vision comes with a time-bound roadmap and measurable targets. It encompasses notable targets including net-zero carbon emissions by 2050, achieving 98 per cent sulphur recovery rate at all its mills by 2025, utilising textile waste and produce viscose products with 50 per cent recycled content by 2025 and 100 per cent by 2030.
Swedish fashion recycling innovator Renewcell signed an agreement in October with Chinese viscose manufacturer Tangshan Sanyou to supply 175,000 tonnes of Circulose dissolving pulp recycled 100 per cent from discarded textiles. The five-year deal is a significant milestone in the scaling of circular and biodegradable materials for the fashion industry.
In a move that will make environmental campaigners disconsolate, Jiangsu-based synthetic textile giant Hengli announced plans to tap China's abundant coal reserves–instead of oil–to produce polyester yarns. Oil is the popular raw material feedstock to make the ethylene glycol intermediate used to produce polyester.
The Hengli Group has joined a growing number of other businesses in the country that are moving into the coal-to-chemicals business as the country has abundant reserves of highly polluting coal. The move, however, is likely to ruffle the feathers of many apparel retailers and brands that have set specific targets to reduce carbon emissions in their supply chains.
Statistics
• Textiles-garment exports increased by 9.9 per cent YoY to $265.2 billion in first 11 months of 2020; Textile exports recorded a 31 per cent YoY growth to $141.6 billion, while garment exports fell by 7.2 per cent to $123.6 billion
• In November 2020, textile exports increased 22.2 per cent YoY to $12 billion, while apparel exports rose by 6.9 per cent to $12.6 billion
• China made up a little over 22 per cent of world cotton production volume in 2019
Taiwan: Keen To Join Cptpp To Cushion Impact Of Rcep
A survey of 157 Taiwanese companies released by the country's Chinese National Federation of Industries (CNFI) in October found four-fifths of respondents, particularly small- and medium-sized businesses, reported a decline in their investments and business operations in China because of the pandemic's impact on their bottom lines. The survey, carried out between July 7 and August 25, found the pandemic caused impeded labour flows and logistics, losses of overseas orders and an inability to perform transactions on time.
As the country continues discussion with various industries to fully understand the impact of the RCEP, its minister of economic affairs Wang Mei-hua said Taiwan will continue its efforts to join the Comprehensive and Progressive Agreement for Trans-Pacific Partnership (CPTPP), a free trade agreement involving 11 countries in the Asia Pacific region, to cushion the impact of the RCEP.
CPTPP 11 signatories are Australia, Brunei, Canada, Chile, Japan, Malaysia, Mexico, New Zealand, Peru, Singapore and Vietnam.
As China, Japan and South Korea form closer economic ties through the RCEP, Taiwan may find it difficult to maintain a presence in these markets, according to Lee Chun, deputy director of Taiwan WTO & RTA Centre of Chung Hua Institution for Economic Research.
The government feels Taiwan's products manufactured by petrochemical and upstream textile businesses that are mostly exported to China could face fierce competition from those produced in Japan and South Korea in light of those countries' reduced tariffs with China following the RCEP.
Meanwhile, Taiwanese enterprises continued investing in Vietnam's garment-textile and footwear industries in 2020 to take advantage of the opportunities offered by FTAs that the latter has signed. Typically, they have been investing in the country's Southern Key Economic Region comprising Ho Chi Minh City and the provinces of Binh Duong and Dong Nai key due to market-related advantages and supporting industries.
Vietnam is an investment destination Taiwan targets in its development strategy, CNFI chairman Wang Wen-yuan said. Polytex Far Eastern Viet Nam has a plant to manufacture feedstock like cotton and polyester yarn in Binh Duong's Bau Bang Industrial Zone. Over $274 million has been invested in its first phase, and the total registered investment is $760 million. Another Taiwanese giant, Tainan Spinning Company Ltd., has increased its investment in its Long Thai Tu Spinning Factory at the Long Khanh Industrial Zone in Dong Nai to $100 million.
In April, the Taiwan Textile Federation (TTF) claimed transforming the country from a surgical mask importing country to the second-largest surgical mask manufacturer in the world with a daily production capacity of 15 million units. It formed a complete surgical mask supply chain by integrating upstream, mid-stream and downstream textile industries.
The federation took the help of textile manufacturers like the Formosa Plastic Group, the Formosa Chemicals & Fibre Corporation, the Far Eastern New Century Corporation, KNH Enterprise Co., Ltd., China Surgical Dressings Center Co., Ltd. and Chang Hong Machinery Co., Ltd. These companies modified production lines and ramped up output.
Private sector
Top manufacturers in the functional textile industry produced a variety of functional and anti-bacterial fabrics, ready-to-wear and eco-friendly textiles, and developed brands to create greater business opportunities with partners in the global textile industry.
Nan Ya Plastics, a branch of the Formosa Plastics Group and a global leader in performance fibres, launched Saya, a new brand of recycled fibre, at the Taipei Innovative Textile Application Show (TITAS) in October. Saya Rscuw is recycled polyester fibre from cutting scrap that is bleached and dyeable to whatever vibrant colour the brand chooses. It is available in ultrafine microfibre filaments and can be enhanced with performance applications such as stretch, colour protection, quick-dry, or anti-bacterial. Saya also offers Rscuw Raw, which is mechanically recycled cutting scrap and yardage without the chemical treatment.
The Taiwan External Trade Development Council (TAITRA), the foremost non-profit, semi-governmental trade promotion organisation, hosted the Taiwan Excellence Functional Fabric Online Press Conference in August, featuring five of the industry's functional fabrics leaders.
Singtex introduced its AIRMEM COLORSHELL coffee bio-jacket, made from recycled coffee grounds and bottles. The jacket uses microporous membrane technology that is not only windproof, waterproof and oil repellent, but is also designed to provide excellent moisture vapour permeability to keep the wearer dry and warm.
Sun Own, a sporting goods manufacturer that sells products under the ATUNAS brand name, presented two collections: Supercooling and Pretty Skin Light shirts, which are UPF 50 resistant and can block 70 per cent of infrared and harmful UV Rays.
Asiatic Fiber Corporation showcased its iQmax Wearable Smart Textiles, which combine textiles and wearable devices to give massages for pain and discomfort and activate and stimulate muscles during workouts.
Professional athleisure yarn supplier Toung Loong Textile, showcased three of the company's most innovative yarn products: the Yarn Dye, Alpha Yarn and Cotton Hand. Yarn Dye obtains colour before fabrics are made and can be applied on stripes, checks, plaids and special pattern fabrics. Alpha Yarn maintains the property of draw-textured yarn, which is fully drawn, polyester multifilament yarn with soft crimp, while still offering better coverage, better bulkiness and is more long-lasting. The third, Springfil, is a comfort stretch yarn made from a special texturising process that does not stick to skin when you sweat.
The last presenter at the event, BenQ Materials Corp., a manufacturer specialising in material science, introduced Xpore, an eco-sustainable, waterproof and breathable textile technology that can be used for raincoats and jackets.
The waste from fish products in the country is currently 35 per cent, of which 1-5 per cent are scales. Camangi Corporation uses these fish scales for its Umorfil Bionic fibre. The company cleans the fish scales and then extracts ocean collagen peptide amino acids from them. Using supramolecular technology, they are then mixed with textile materials like viscose or filament chips to create a bionic functional fibre that is comfortable, skin friendly, naturally deodorising and moisturising, thus well suited for face masks, innerwear, baby wear, etc.
Future
TTF recommends the country's textile manufacturers further differentiate themselves by creating added value from selection of unique materials through technology and alertness to fashion trends to develop functional materials and garments for more business opportunities. They should master the trends in global business and environmental regulations to consolidate and strengthen a global production-distribution supply chain. As smart textiles featuring multiple functions like performance, comfort, sensing and monitoring and intelligent interpretation will dominate the future product and technology scene, Taiwan's success ahead will depend on the ability to innovate through cross-disciplinary collaboration, the federation feels.
Statistics:
• Nearly 75 per cent of apparel produced is exported; major export markets are Vietnam, China, US, Indonesia and Hong Kong
• Textile-apparel production value was NT$360.7 billion in 2019
Japan: Boycott By Rok Consumers Hits Apparel Retailers
Japanese Prime Minister Yoshihide Suga wants to expand the CPTPP. "Japan will aspire for the Free Trade Area of the Asia-Pacific through the early conclusion of the RCEP agreement and the steady implementation and expansion of the CPTPP as next year's chair," he said.
Apparel retail sales in the country fell by 40 per cent in the first half of 2020 compared to the same time in 2019, according to data from the Japan Department Stores Association (JDSA). The decline was witnessed both in the first and second quarters. A monthly surge could be seen from mid-May onwards, as the state of emergency was lifted in phases across the country since May 14, before being finally ended on May 25. A monthly rise of 217 per cent in apparel retail sales June over May was an apparent signal of the rebounding of the apparel industry after the lockdowns.
The month of May was a turning point. Government trade statistics show the value of Japan's textiles-apparel exports dropped by 26 per cent in May 2020 to $441.46 million compared to the same month in the previous year. The exports of textile fibres, yarns and woven and knitted fabrics also decreased, while exports of non-woven fabrics increased in volume but decreased in value.
Japan's textile fibre exports in May declined by 41 per cent in volume to 10,792 tonnes. Exports of rayon staple fiber dropped 77 per cent, and those of acrylic staple fibre by 55 per cent. Though the country's exports of polyester staple fiber grew by 16 per cent quantitatively, it fell by 2 per cent in value. According to ReportLinker, the textile market in Japan is projected to grow at 0.6 per cent CAGR between 2020 and 2027.
The pandemic-induced lockdowns badly affected several top apparel retailers in the country. Apparel maker Renown Inc. will go into liquidation amid plunging sales, it announced in November. It had sought court protection to revive its century-old business, but the Tokyo district court decided to discontinue court protection after a sponsor could not be found. In August, it announced it would sell some of its main brands, including the D'urban suit brand, Aquascutum luxury clothing and Simple Life causal clothing, to Koizumi Co. apparel group in Osaka.
Manufacturer and retailer Fast Retailing posted 12.3 per cent decline in its revenue to 2,008.8 billion during fiscal 2019-2020 that ended on August 31 compared to yuan 22,90.5 billion in previous fiscal. Profit for the fiscal dropped by 35.9 per cent to yuan 170.0 billion from yuan 265 billion in the previous.
Kobe-headquartered apparel firm World Co decided to close 358 stores in the country by the end of March 2021. The decision was part of its structural reform measures undertaken due to the pandemic. The company, which owns a number of brands, will also discard five clothing brands and is considering scrapping more.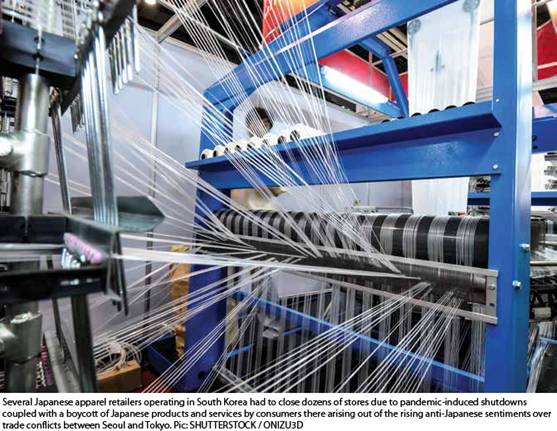 The US arm of Japanese home goods chain Muji filed for bankruptcy protection as the pandemic forced it to close stores while it continued to pay high rents for its retail locations. Muji USA listed a debt of $64 million at the time of its Chapter 11 protection filing.
Several Japanese apparel retailers operating in South Korea had to close dozens of stores due to pandemic-induced shutdowns coupled with a boycott of Japanese products and services by consumers there arising out of the rising anti-Japanese sentiments over trade conflicts between Seoul and Tokyo. Sports fashion brand Descente decided to shut down 47 independent 'Young Athlete' outlets exclusively dedicated to kidswear in major department stores and malls in South Korea due to sluggish sales.
Other Japanese fashion labels are also having a hard time there. GU, a budget brand under Japanese casual wear designer, manufacturer and retailer Uniqlo, said it would pull out all of the three offline stores in just less than two years since it was launched in Korea in September 2018. Uniqlo also shuttered 13 outlets between February and May, and bringing down the number of its stores in South Korea from 190 in August 2019 to 163 in August 2020, with plans to close more.
Asics Corporation, a true sport performance brand, became the first Japanese company to join The Fashion Pact, a global coalition of companies in the fashion and textile industries that have all committed to a common core of key environmental goals in three areas: mitigating climate change, restoring biodiversity and protecting the oceans. The pact was created and presented to heads of state during the G7 summit in Biarritz in 2019.
Japanese technical and sports apparel brand Goldwin released the world's first sweater knitted with innovative fabric produced through microbial fermentation, in partnership with Spiber, a Japanese biotechnology company producing biopolymer materials. Called the Sweater, it is the world's first knitted garment made with Brewed Protein, a biopolymer by Spiber whose plant-based microbial fermentation process delivers significant contributions to animal- and plastic-free initiatives in a range of fields and industries.
ApparelX released global apparel sourcing platform ApparelX Global, a cross border e-commerce solution to bring the best service for worldwide ApparelX's users. ApparelX Global launched the worldwide version in English and localised e-commerce sites for China, the United States, the United Kingdom, Vietnam, Hong Kong, and Taiwan.
ApparelX Global is a global apparel sourcing platform that aims to export Japanese products to international market, import international products to Japan, and create a true global network for the apparel industry by opening office branches, warehouses and building distribution channels in each country.
Yusaku Maezawa, the Japanese billionaire who sold his online apparel company to Masayoshi Son and is preparing to ride around the moon on Elon Musk's spacecraft, rejoined the country's business scene in mid-2020 by acquiring stakes in fashion retailers United Arrows Ltd and Adastria Co. The holdings are worth a combined yuan 7.6 billion ($71 million). This made Maezawa the third-largest shareholder in the brick-and-mortar fashion retailers.
Uniqlo began a new initiative, RE Uniqlo, under which Uniqlo clothing that is no longer needed by customers is collected and given new life and value. The effort aims at benefiting the environment and communities by keeping valuable resources out of landfills. Recycled Down Jackets, launched by the company in November, were the first items from this initiative. Uniqlo is also initiating a new down product collection campaign in stores across 21 markets, including Japan, beginning late September.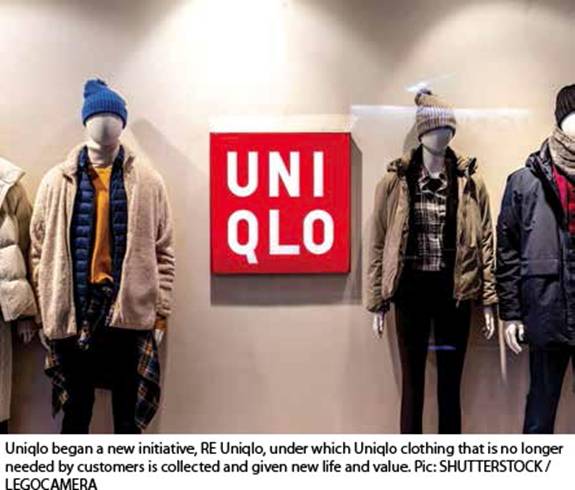 Wakayama-based Shima Seiki, which offers solutions to the fashion textile industry, launched yarnbank, its digital yarn sourcing web service for searching and viewing the latest yarns. It has been developed with cooperation from yarn companies from around the world.
Tokyo-based casual apparel retailer ANAP Inc. plans to enter the Philippines to seek growth in foreign markets, pitching mainstay spring and summer clothes in the fast-growing economy. The company says it will form a business alliance with Tokyo-based ASEAN Beauty Holdings Inc. to launch franchise outlets for its ANAP brand as the partner runs 13 beauty salons in the Southeast Asian country and also plans to start a retail business in the region.
ANAP mainly operates stores at shopping malls in Japan. Likewise, the two plan to open stores at malls in the greater Manila region, Cebu and other cities in a year as the Philippines has a number of large malls with over 100,000 visitors each per day.
South Korea: Labour-Intensive Businesses Shift Operations From China To Se Asia
As labour costs in South Korea are relatively higher, many South Korean labour-intensive businesses were seen moving their operations from China to Southeast Asia, especially Vietnam, due to rising labour cost in China. For example, in September, garment company PT Sejin Fashion Indonesia, a subsidiary of South Korean footwear manufacturer Parkland Co., decided to relocate its production base from China to Indonesia. Sejin plans to relocate its factory from Dalian city in China to Pati regency in Central Java.
Over 70 per cent of South Koreans participated in a nationwide boycott of Japan-made goods in one form or another amid an ongoing trade dispute between Seoul and Tokyo, a December survey showed. Japanese clothing retailer Uniqlo was mentioned most frequented as the boycotted brand, at 75.7 per cent. Shoe store ABC mart and retailer Muji were also among the most shunned brands. The survey also showed that over half of South Koreans nationals expect the boycott to continue in the long term.
Vietnam and South Korea signed an exchange letter on the implementation of the cumulation of origin of textile materials between the two countries in the EVFTA. The provision will allow Vietnamese enterprises to add the content of origin of textile materials imported from South Korea, which has an FTA with the EU, into the garment items produced in Vietnam to enjoy preferential import tariffs while exporting to the EU.
This would benefit Vietnam-based South Korean garment companies, the Korea International Trade Association (KITA) said. Clothes produced with Chinese materials, on the other hand, cannot enjoy the benefits of the EVFTA, as China does not have a pact with the EU. South Korea implemented its own FTA with the EU in 2015.
To better serve apparel brands who rely on South American and European-made textiles in manufacturing performance materials, Hyosung is expanding its units in Araquari, Brazil, and the Cerkezkoy area of Turkey to manufacture creora elastane. The expansion project in its Brazil will allow the plant to increase annual elastane capacity from 12,000 metric tonnes to nearly 22,000 metric tonnes. Completion of the project is scheduled for mid-2022. Its expansion in Turkey, expected to be complete by the third quarter of 2021, will allow the facility to raise annual capacity from 25,000 metric tonnes to 40,000 metric tonnes.
Arket, a Swedish modern-day market and lifestyle destination offering essential products, announced it will open its first store in South Korea in 2021. The new physical store will introduce the brand's collections of New Nordic everyday design for men, women, children and the home.
The Carlyle Group, a US multinational private equity, alternative asset management and financial services corporation, sold off its stake in South Korea's Yakjin Trading Corp., which undertakes manufacturing for global brands like Old Navy, GAP and Banana Republic, to JS Corporation, divesting of the Korean investment in seven years. Carlyle has agreed to sell 70 per cent of its stake, as well as the remaining 30 per cent stake held by the company's chief executive officer, to JS Corp for a combined $12 million.
South Korea is one of the top sources of FDI in Bangladesh, especially in the textile and garment sector. The former was the first to set up an exclusive foreign export processing zone in the latter.
Six South Korean garment companies operating in Indonesia's West Java delivered some 927,500 PPE items to the country's National Disaster Mitigation Agency amid the pandemic.
This article was first published in the January 2021 edition of the print magazine.